Last updated on June 30th, 2022.
These Brownie S'mores Pies are what I believe to be the ultimate American dream. Just think about it, a layer of Brownie sandwiched between a layer of graham crackers crust and a layer of fluffy, gooey marshmallows.
You can bake this recipe as mini s'mores pies, miniature pies, in a large 9-inch pie plate, and even in a brownie pan for some s'mores chocolate bars to please a crowd.
My favorite thing about this s'mores pies recipe is that the critical ingredient is nothing fancy, it is easy to find, and I bet you have some in your candy jar: milk chocolate. The combination of milk chocolate and dark brown sugar creates a deep rich chocolate flavor that resembles the chard taste we get when we roast marshmallows in a campfire. So it is a chocolaty campfire s'more.
If you are a big chocolate and S'mores fan you should really check out my Brownie Cake, Orange Chocolate Cake, Pizza Brownie, S'mores Babka, S'mores Bars, and S'mores Hamentaschen.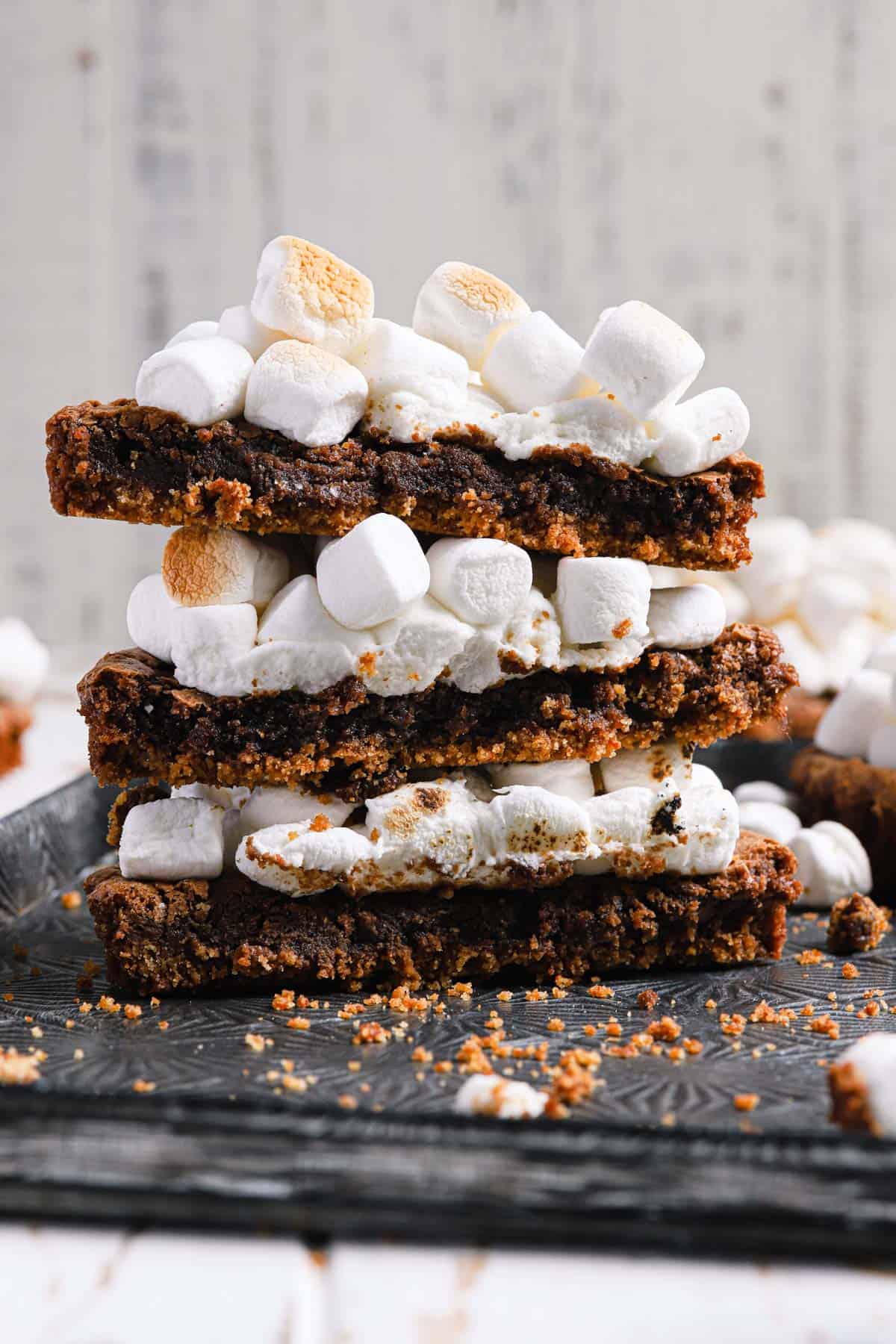 Why Should You Make These Smores Mini Pie?
If I didn't have you with Brownie and not even with Brownie S'mores Pies, then here are a few more reasons:
It's homemade. So while this is not as simple as three ingredients s'mores pie, this recipe is just as easy, plus the benefits of a homebaked pie. However, you can make some shortcuts (and still call it a homebaked pie).
Versatile. Mainly when it comes to the size and shapes. You can bake it for a family dinner, a romantic date, and even for your neighborhood's picnic.
Traditional. It's Brownies plus s'mores in an oven with a graham cracker crust.
Make it your own. You can mix in some reese's peanut butter cups or some chocolate chips, sup with ice cream or chocolate ganache instead of marshmallows. You can even add some cayenne pepper to the brownie batter.
It's a double dessert. Fill the tarts with your favorite brownie recipes like this Matcha Brownies Recipe, these Biscoff Brownies, and even these Brownie Blondies.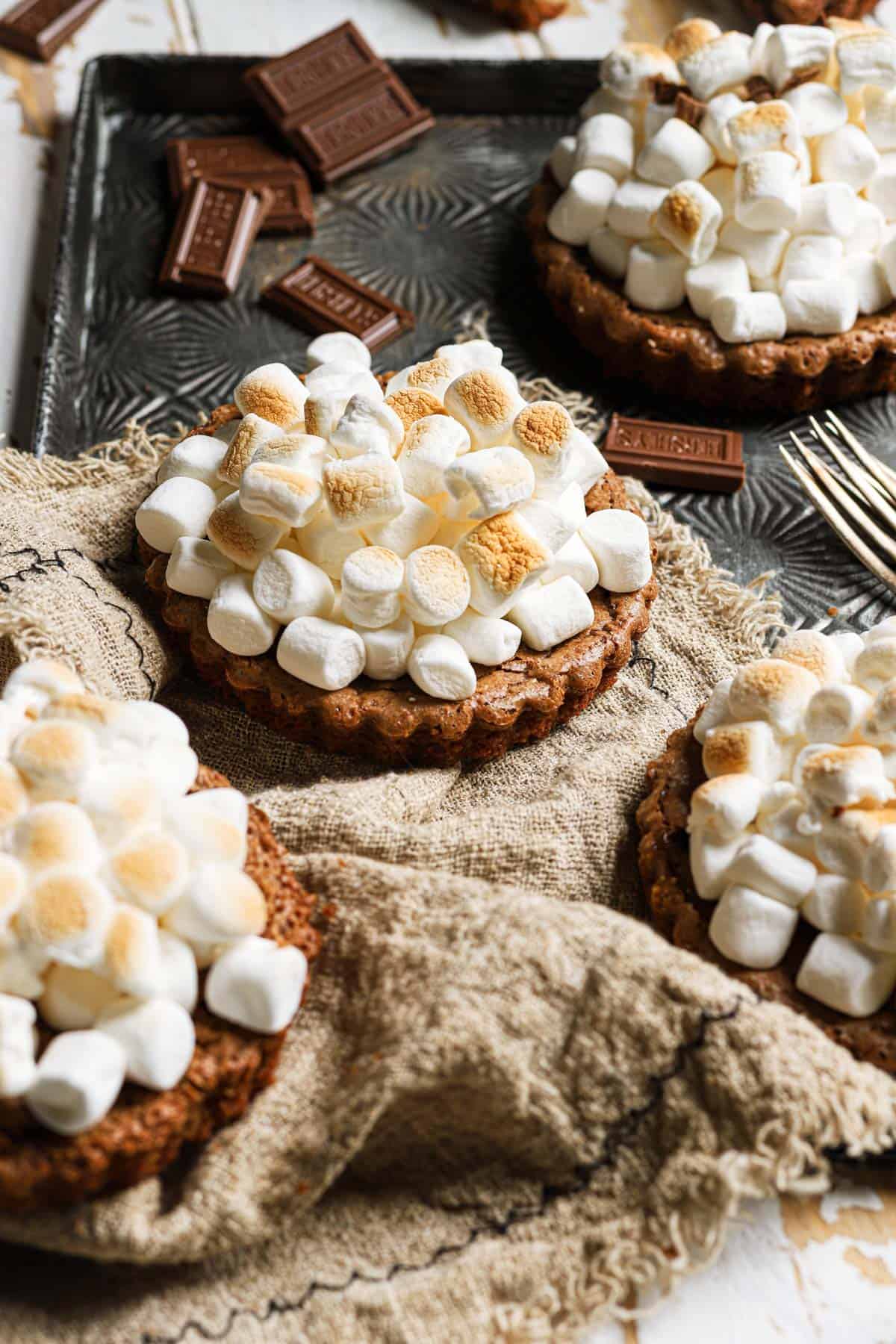 Ingredients You'll Need
The recipe calls for simple ingredients. Please see the complete list, including the instructions on the recipe card.
For the Homemade Graham Cracker Crust
Graham Cracker Crumbs. You can buy some at your local market, but I found it to be more economical to process a few Graham Crackers in the food processor.
Dry milk powder is for extra flavors, and you can skip it.
As the crust bakes, the powder will bake as well and release deep rich flavors.
Melted Butter. You can use either salted or unsalted.
Granulated Sugar. In this case, it provides more than just sweetness. Once the crust is chilled, the sugar will crystalize and give us a nice brittle texture, and it will also help to maintain the crispiness and prevent it from turning soggy.
For the Brownie Filling
Milk Chocolate. Use the brand you love. I go for Hershey's chocolate.
Unsalted butter. The recipe does call for salt, so avoid using salted butter if you do skip the salt.
Instant coffee or espresso powder. You can easily find instant coffee is easily found in most markets, unlike espresso powder. Since we are using milk chocolate, it is a good idea to bring out the chocolate flavors.
Cake flour. If you don't have it available, you can use bleached all-purpose flour. Unbleached is also a good option; please know that the Brownie will come out more fudgy.
Cocoa Powder. You can use Dutch cocoa or natural cocoa. You can even use Black or raw, for more information read my article about Cocoa Powder In Baking.
Dark brown sugar. The molasses in the sugar is what makes this recipe a campfire favorite.
Baking powder, vanilla extract, and salt.
Eggs, at room temperature.
Mini Marshmallows. We will use a layer of mini marshmallows to sprinkle at the top of the pie.
Substitutions
Use mini-read graham pie shells and a large one (such as Keebler's) instead of making your own. No need to prebake it.
Use malted powder instead of dry milk powder. Both are optional.
Instant coffee/espresso powder is optional.
Use marshmallow fluff or meringue or marshmallow creme instead of the mini marshmallow. And yes, you can also use large marshmallows.
Dark chocolate is also a great option, I recommend semi-sweet.
How to make mini s'mores pies?
The process is the same regardless of the type of pan you are using. However, the baking time might change. Please read below to know how to tell that the pies are ready.
Making The Buttery Graham Cracker Crust
Place all of the ingredients in the food processor and process until it all comes together. (If using large Graham Crackers, be sure to process them into crumbs first).
Divide the crumbs between the pans and use the back of a spoon to press it against the bottom of the pans. Place the pans over a large cookie sheet and bake. You can use 4″ pies, individual pies in a cupcake pan, a large 9-inch tart, and a 9-inch brownie pan for bars (I recommend slicing the Brownie before topping with marshmallows.
Making The Brownies
As always, make sure all of the ingredients are at room temperature before starting.
Sift together the flour, baking powder, cocoa powder, and salt in a bowl and set aside. Place the chopped chocolate and butter in a large bowl, dissolve the vanilla and instant coffee, then add it to the bowl in the microwave using 30 seconds increments to melt the butter and chocolate.
Mix in the sugar, followed by the eggs.
Fold in the dry ingredients. Add any ad-on if using.
Pour the batter into the par-baked pie shell and bake.
Remove from the oven and immediately sprinkle the top of your pie with the mini marshmallows. If using meringue, marshmallow fluff, or marshmallow cream, make sure to wait until the pie is completely cool.
Optional. Once the pies are cooled, use a kitchen torch to torch the tops of each pie. If using the oven, use the broiling option for 1 minute. Make sure the pie is completely cool; otherwise, the Brownie will continue to bake once back in the oven, and it might dry out.
How To Know The Brownie Is Ready?
Your environment, the size and shape of the pan, and your oven are all different than mine. But the rule is pretty simple. If a toothpick comes out of the center of the pie with moist crumbs, then it is ready. If it comes out completely raw, then it needs more time. A dry toothpick means it is overbaked.
Expert Tips
Make sure all of the ingredients are at room temperature.
The edges of the brownies are chewy, keep that in mind and know that the mini pies will have a chewier texture.
Do not fill the pans over 3/4 full.
Here are the different times for different bakes:
Individual pies will yield about 27 pies. Bake the crust for 3-4 minutes and the pies for 18-22 minutes.
9-inch pie shell: follow the recipe as is, and press the crust about 1-inch towards the sides of the pan. Bake for 22-25 minutes.
9-inch brownie pan: use 2/3 the amount of graham cracker mixture for the crust. Bake for 22-25 minutes.
13×9-inch brownie pan: double the recipe and bake for 25-28 minutes.
Storing
Store the pies at room temperature, covered or in a lightly sealed container.
FAQ
How do you get graham cracker crust from getting soggy?
Prebake it and add granulated sugar to the crumbs.
Should I bake graham crackers crust before fulling?
Yes, it will prevent it from becoming soggy.
Can I bake this recipe using a 9x-13-inch brownie pan?
Yes. You'll need to double the recipe.
Check out more of our articles and chocolate recipes
DID YOU TRY THIS RECIPE?
If you tried this recipe or any other recipe by One sarcastic Baker baking blog, please take a movement to rate and comment at the end of each recipe. Your questions, ideas, and thoughts are priceless, and here at OSB we value them more than butter!
And don't forget to tag me on Instagram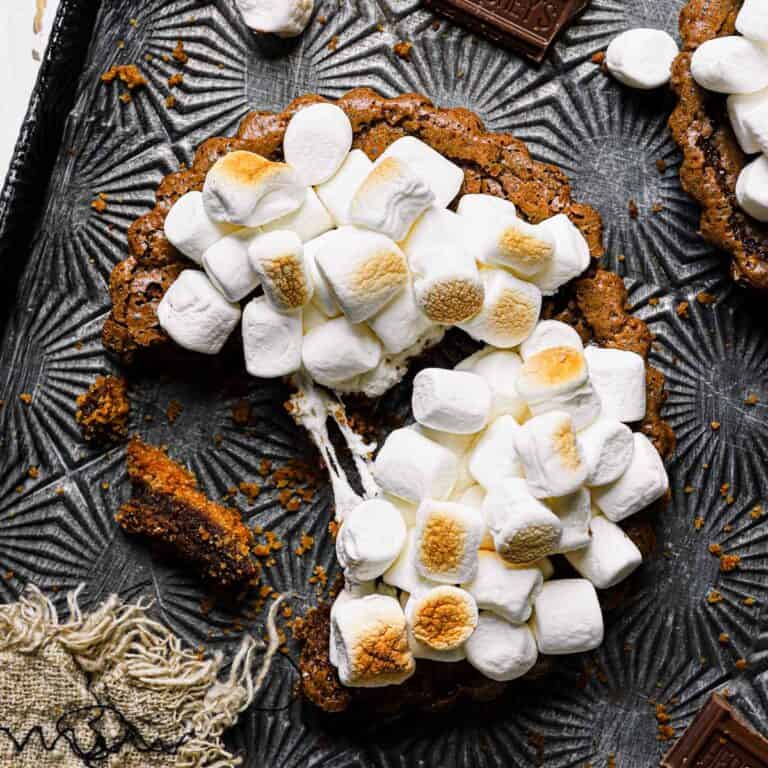 Hershey Brownie S'mores Pie
Easy and fun mini and individual s'more pie baked for every occasion.
Ingredients
Pie Crust
1 3/4

Cups

Graham Cracker Crumbs (about 10 crackers)

(151 g / 5.5 oz)

8

Tablespoons

Melted Butter

(113 g / 4 oz)

2

Tablespoons

Granulated sugar

(30 g / 1 oz)

1/4

Cup

Dry milk powder

(28 g / 1 oz)
For the Brownie
3/4

Cup

Cake Flour

(80 g / 3 oz)

1 1/2

Tablespoons

Cocoa Powder, Dutch or Natural

(7 g)

1/4

tsp

Baking Powder

1/4

tsp

salt

2/3

Cup

Chopped Milk Chocolate (semi-sweet is also ok)

(130 g / 4.5 oz)

9

Tablespoons

Unsalted Butter, cut into 1-inch pieces

(124 g / 4 oz)

1

teaspoon

Instant coffee powder

1

teaspoon

Van. Extract

1 1/2

Cup

Dark Brown Sugar

(300 g / 10.5 oz)

3

Large

Eggs, at room temperature

1

Bag

Mini marshmallows

(300 g / 10.5 oz)
Instructions
For time and quantities if baking different sized pans, please see notes at the bottom of the recipe.

Preheat the oven to 350F (180C). Set 9 4-inch tartlet pans over 2 large baking sheets, lightly grease the pans and set aside.
The Make the Pie Crust
Place the Graham cracker, sugar, and dry milk powder in the food processor and turn on until sand-like crumbs had formed.

Add the melted butter and process to evenly distribute the butter.

Divide the crumbs between the pans (about 3 Tablespoons for each pan) and using the back of a spoon press into the pan and the sides. Set aside.

Bake for 7 minutes, remove from the oven and reduce the temperature to 325F (160C)
To Make the Brownie
In a bowl, sift the flour, cocoa powder, baking powder and salt and set a side.

In a large bowl, place the chopped chocolate and butter. Dissolve the instant coffee with the vanilla extract and pour it over the chocolate and butter.

Melt the butter and chocolate in the microwave using 30 seconds increments. Make sure the butter and chocolate have completely melted, before moving on.

Add the sugar to the melted chocolate and mix to combine.

Add the eggs and mix to combine.

Use a rubber spatula to gently fold the flour mixture into the chocolate mixture.

Gently pour the brownie mix on top of the par-baked graham crusts and bake for 20-22 minutes. 

The pies are ready when a toothpick comes out with just a few moist crumbs from the center of each pie.

Immediately upon removing the pie from the oven, sprinkle the mini marshmallows. Turn your oven off and place the pies back in the oven with the door open to allow the mini marshmallow to melt.

Once cooled, and before serving, torch the mini marshmallows.
Recipe Notes
Make sure to check the center of the brownies, if it comes out with a few moist crumbs then it is ready. Since we all have different ovens, use this technique to check your pies.
To bake individual pies, yields 27:
line 2 12-count cupcake pans with cupcake liners. You can use a third 6-count pan or bake in two separate batches.
Place 1 Tablespoon of graham cracker mixture into each liner, press, and bake for 6 minutes.
Pour the batter over the par-baked crusts and bake for. Continue with the recipe as is.
Make sure to pay attention when torching the pies, you don't want the flame to set the liners on fire.
To bake a large 9″ pie:
Follow the recipe as is, but press the graham mixture towards the sides of the pan as well.
Fill the pie pan 3/4 full and bake for 22-25 minutes. Continue with the recipe as is.
To bake a 9-inch brownie pan for bars:
Use 2/3 of the graham mixture.
Fill the pie pan 3/4 full and bake for 22-25 minutes. You might have some batter left over, use it to bake individual pies.
To bake a 9×13-inch brownie pan for bars:
Double the recipe by 50% and increase the baking time to 25-28 minutes.
More notes:
Make sure all of the ingredients are at room temperature.
You can top the pies with marshmallow fluff, marshmallow creme, or even ice cream instead of mini marshmallows.