Last updated on November 14th, 2022.
This easy recipe of homemade Chocolate covered pecans is such a delicious treat. Toasted pecans coated with dark chocolate, sprinkled with a hint of salt or cinnamon and you have the perfect crunchy, bite-sized chocolate treats.
Chocolate pecans have a reputation as a healthy dessert, and it totally makes sense that this chocolate covered pecans recipe is a great special diets recipe such as the Keto diet. But also it is without a doubt a great snack and one of the most indulging ways of satisfying our sweet tooth and getting our daily values of chocolate.
I absolutely love a good candied nuts recipe, like these Candied cashews, honey roasted cashews, Candied pecans on stovetop recipe, but also Chocolate covered graham crackers.
Why should you make these homemade chocolate pecans?
Well, I've already listed a few great reasons above, but that is not all. Here are a few more:
Simple recipe. This is a simple pecan recipe that calls for 2-3 ingredients (pecans and chocolate plus your choice of toppings) and 4 simple tools we can find in every kitchen.
Easy. It doesn't get easier than that. Melt and dip. And that is that.
Versatile. You can use dark chocolate, white chocolate, and even velvety rich milk chocolate which I personally think goes so well with the awesome flavor of pecan.
Other uses. The awesome thing about this recipe is that it is great for other uses like ice-cream topping, cupcakes toppers, and cake decorating. You can also chop the pecans and fold them into your cake batter.
Cost-efficient. Buying a small amount can get pricey, with this recipe you can enjoy a large batch for much less of the cost.
Great gift idea. Pack it up with a fancy cookie bag and you have a delicious thank you note, a sweet happy birthday wish or an edible holiday gift.
What ingredients and tools are needed for this recipe?
Ingredients:
Chopped chocolate
Pecan halves, roasted or toasted. Learn How To Toast Pecans using three methods.
You choice of toppings, see list below
Tools:
Baking sheet
Parchment paper (wax paper or a silicone mat are also ok)
Microwave-safe bowl
A fork
Toppings variations
Freeze dried strawberries or raspberries.
Sea salt
Cayenne pepper
Cinnamon
Drizzle with other types of chocolate.
How to make this recipe?
As mentioned above, it is super easy to make this chocolate coated pecans recipe, and not only that you can up your game and use tempered chocolate (you can also learn what is tempered chocolate), for an extra snap and glossy look. The full recipe you find below at the recipe card.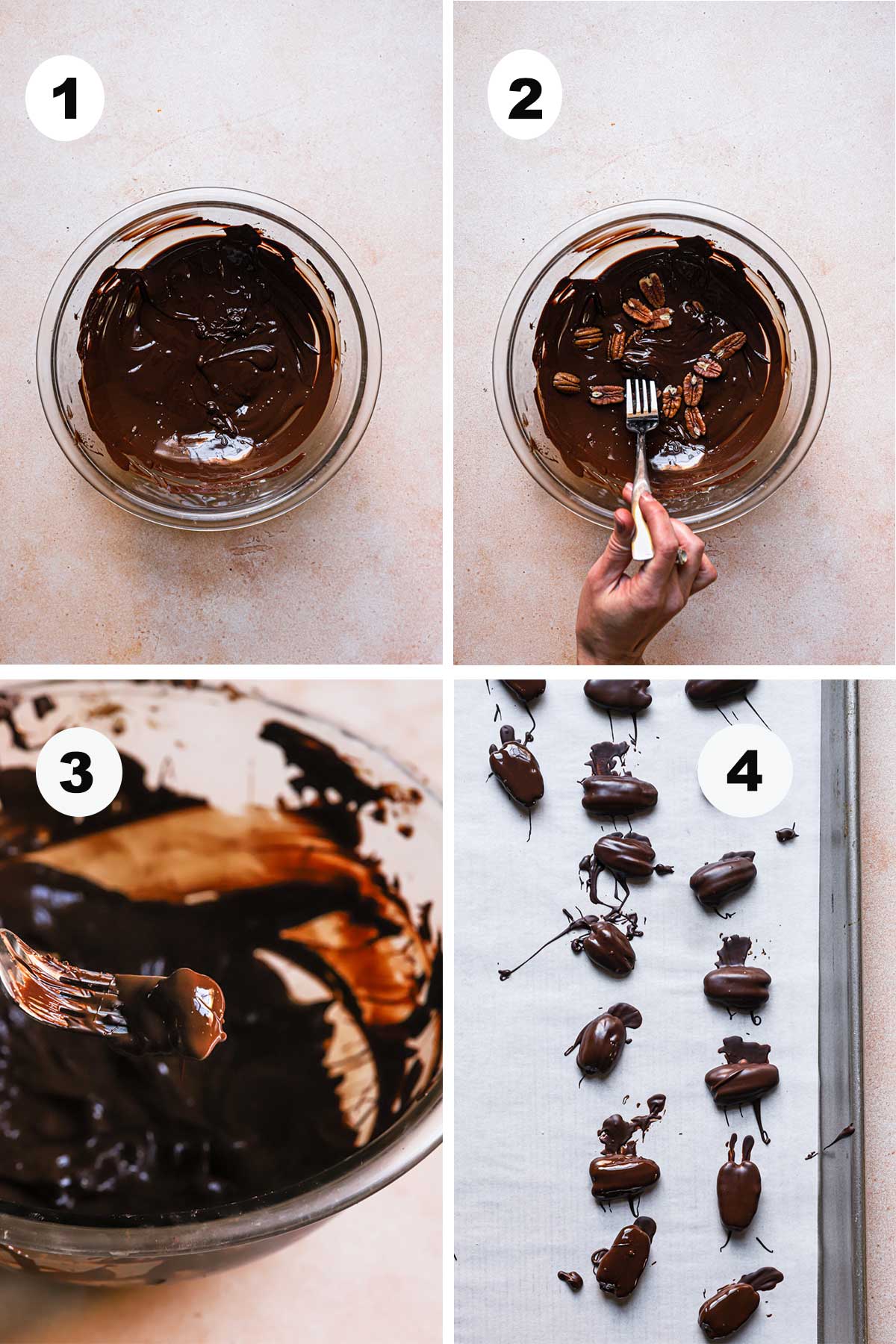 Place the chopped chocolate in a large bowl and melt in the microwave using 30 seconds short increments.
Count 10-15 pecan halves and drop them in the melted chocolate.
Use a fork to gently dip and remove the pecans from the chocolate, then tap the fork against the bowl's edges to remove excess chocolate. Alternatively, you can also use a slotted spoon to lift a few at a time.
Place the coated pecans on top of the prepared baking sheet in a single layer, sprinkle your topping, and allow it to reach room temperature and re-solidify.
Variations
Use different types of chocolate.
Use other tree nuts to make chocolate-covered almonds, walnuts, chocolate covered cashews, or even brazil nuts..
Storing
The best way to store these chocolate covered roasted pecans is at room temperature, in a paper bag especially if you use tempered chocolate.
However, if you did not temper the chocolate, you can store the pecans in the refrigerator or freezer, inside an airtight container.
How long do chocolate covered pecans last?
Room temperature (70-72F) 4-6 weeks
Refrigerator – up to 6 weeks
Freezer – up to 8 weeks.
Expert tips
Be sure to carefully read the following tips for best results:
It is best to remove the chocolate from the microwave before it is fully melted and use a spatula to mix using the heat residue to fully melt.
Tempering the chocolate is not nessasery however, the chocolate will set faster and have a smoother, melt in the mouth textue.
If you choose, you can also melt the chocolate using a double broiler.
For a different aesthetic, you can dip half of each pecan half way.
Be sure to separate pecans halved from pecan pieces.
Use the leftover melted chocolate to make a chocolate bark or a homemade chocolate bar.
As you move the pecans during storing, they will rub against each other and have a "dusty" looking appearance. It does not effect the flavor or texture and to avod it use plastic gloves when handling and make sure to store them in one layer.
FAQ:
Can I use this recipe to make milk chocolate pecan halves?
Yes, use milk chocolate.
Can I use macadamia nuts instead of pecans?
Yes
Can chocolate covered pecans be frozen?
Yes, in a freezer bag.
Can I add flavoring to the chocolate?
Only flavored oils, using extract will seize the chocolate.
How can I add flavors?
Sprinkle sea salt, freeze-dried fruits, sprinkles, or even pink himalayan salt.
Can this be a Keto recipe?
Yes, use Keto special chocolate.
DID YOU TRY THIS RECIPE?
If you tried this recipe or any other recipe by One sarcastic Baker baking blog, please take a movement to rate and comment at the end of each recipe. Your questions, ideas, and thoughts are priceless, and here at OSB we value them more than butter!
And if you snapped some images, be sure to tag me on Instagram.
More recipes you might like:
Chocolate Gin Cake, Chocolate Rolled Cookies, Orange chocolate cake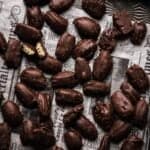 Chocolate covered pecan
Crunchy, delicious, and easy to make chocolate coated pecans.
Ingredients
2

Cups

Roasted pecan halves

(200 g / 7 oz)

2

Cups

Chopped chocolate

(340g / 12 oz)
Instructions
Place the chocolate in a microwave-safe bowl, and melt the chocolate using 30 seconds increments.

Place 10 pecan halves in the melted chocolate and use a fork to dip the pecans and coat them with chocolate.

Tap the pecans against the edge of the bowl to remove access chocolate.

Place the pecans on top of the parchment paper, sprinkle with your choice of toppings and allow to set and cool.
Recipe Notes
Remove the chocolate from the microwave before it is fully melted and use a rubber spatula to distribute the heat residue and melt.
For smooth chocolate, use plastic gloves when handling and make sure to store them in one layer.
Tempered chocolate will set faster and have a smoother, melt-in-the-mouth texture.