Last updated on April 25th, 2023.
It doesn't get easier than this Chocolate Covered cashews recipe. Only two, maybe three simple ingredients, and you get a deliciously easy recipe in ten minutes that is also an edible holiday gift.
Here are more delicious recipes: candied cashews and honey-roasted cashews.
How to make Chocolate Covered Cashew Recipe
You only need two ingredients and 10 minutes to decide ahead of time if you want chocolate-covered cashews cluster or individuals. Here is the step-by-step process.
Measure your roasted cashews and chopped chocolate, and place the chopped chocolate in a deep microwave-safe bowl. Line two baking sheets with parchment paper and set them aside.
Temper the chocolate. It is a super simple process. Remove about 1/4 cup of the chocolate and melt the rest in the microwave in increments of 30 seconds until it reaches 115F. Then add the unmelted chocolate and stir until it reaches 92-90F.
Fold in the cashews, then use a kitchen spoon (the size you want) to scoop a few cashews.
Drop the nuts on the prepared baking sheet and allow them to cool to room temperature and set.
Tips, Variations, and ingredients substitutions
Cashews. Use roasted cashews for the best flavor. Learn how to roast cashews five ways.
Chocolate. You can use dark, semi-sweet milk chocolate and white chocolate (do not use chocolate chips). Check out my post about How to Temper Chocolate (and What Is Temper Chocolate) for each type's heating/cooling temperature.
Toppings such as sea salt flakes, dried fruit, and spices are all great options. I recommend waiting 2-3 minutes so the clusters have cooled slightly and will not melt the toppings.
Nuts. Use the same recipe and technique to make chocolate-covered pecans, hazelnuts, pumpkin seeds, and even almond bark.
To make Vegan chocolate cashew clusters, use vegan chocolate (the same goes for Keto and Paleo).
Make sure the nuts are at room temperature and not warm or cold.
Storing
Store the nuts at room temperature for up to 10 days to keep the chocolate crispy and melt-in-the-mouth texture. You can place them in a plastic bag or an airtight container. In the refrigerator for up to two weeks and the freezer for up to 2 months.
FAQ
Do I have to temper the chocolate?
No, but it is the best way to ensure the chocolate will set evenly and won't melt fast.
Can I double this recipe?
Yes, follow the same recipe.
Here are more delicious recipes and posts you might like
Chocolate covered graham crackers, candied pecans. And please don't forget to follow and tag me on Instagram whenever you make one of my recipes.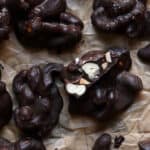 Chocolate Covered Cashews Recipe
Delicous and easy cashews treats
Ingredients
2

Cups

Roasted cashews

(280g / 10 oz)

2

Cups

Chopped chocolate (65-85%)

(340g / 12oz)

2

teaspoons

Sea Salt Flakes
Instructions
Line two cookie sheets with parchment paper (wax paper is also ok) and set aside.

Place the chopped chocolate in a deep, large heat resistant bowl. Measure half a cup and place it aside.

and warm in the microwave using 30-second increments until it reaches 115F (46C).

Add the unmelted chocolate and stir it into the melted chocolate until it reaches 92F (33C).

Fold in the cashews in the tempered chocolate.

Use a spoon (as small or as big as you wish) to scoop some coshews then drop them in the prepared pan and allow them to cool and set.

About 3-4 minutes into the cooling process, sprinkle the clusters with a dash of sea salt flakes, or spices.
Recipe Notes
Use the same method to make chocolate-covered almonds or pecans.
You can replace 1 cup of the cashews with 1/2 cup of pumpkin or sunflowers seeds and 1/2 cup of dried cranberries for trail mix clusters.
You can make this recipe using milk chocolate or white chocolate.
Use specialty chocolate to make this a vegan recipe or keto/Paleo.
Best to keep the clusters at room temperature (65-70F); if placed in the refrigerator or freezer, the chocolate might lose its smooth texture.