Last updated on May 26th, 2023.
To make this candied pecans recipe on stovetop, you only need a skillet and a stovetop.
Yep, this is a simple candied pecans recipe made in a skillet in less than 10 minutes. It is easy, fast, egg-free, gluten-free, the perfect addition to your favorite summer salad, dips, cheese boards, and a great edible gift addition to your holiday basket. These stove top sugared pecans are glossy, shiny, and have a crunchy candy-like bite.
Check out this post to learn how to toast pecans.
A while back, I shared this Candied cashews recipe and since then I learned that there are many ways to upgrade any type of nuts (including Chocolate covered pecans and Honey Roasted Cashews). Especially when it comes to these amazing nuts hence: Candied pecans. In fact, there are as many recipes as there are names, and candied pecans on stovetop is just one. Many of you might know it as caramelized pecans, fried pecans, sautéed pecans, sugar coated nuts, glazed, and even pan-fry nuts.
So, if you ever wondered "what can I do with pecans?", if you always wanted to know how to make caramelized pecans, or maybe even wondered how to glaze pecans for salads? then here is the ultimate easy recipe for you, all you need is a wide pan or a skillet, a stovetop, and 10 minutes.
Why Should You Make this recipe
This candied pecans on stove top recipe is a sweet, full of flavor delicious snack with crunchy toppings. You can master this simple recipe in no time and add it to your holiday season or any occasion recipes repertoire.
This is a quick stovetop candied pecans recipe, takes 10 minutes to make either a small, medium or a large batch. No need to preheat the oven or set the timer.
It calls for simple ingredients. Ingredients You probably already have in hand.
This recipe yields sugar coated pecans without eggs, or egg whites and can also be made vegan.
Great for making a head. You can make this recipe up to 6 weeks ahead (or 8, I won't tell) and store it in the freezer. It only gets better.
Use any nut you want. This recipe will work with any type of nuts: almonds, walnuts and also hazelnuts.
Ingredients
To make this stove top sugar coated pecans you only need 4 ingredients: nuts, white sugar, dried milk powder (optional), and water. This great snack is as simple as it is delicious.
Pecan halves: It is important that they are either roasted or toasted. Raw pecans have a chewy texture, we want a nice brittle texture much like a crunchy candy.
Granulated white sugar, most recipes include pecans with brown sugar and butter, but I decided to use regular granulated white sugar because it is the best way to have a beautiful shiny and crunchy coating..
Dried milk powder. This is an optional ingredient and it is also my secret ingredient, however if you do not have any or cannot find it in your local market, no worries at all feel free to skip it. I love adding it because it provides extra flavor.
Water, the water is the best way to insure a cohesive caramelization of the sugar.
Variations:
It is fun to have a go-to recipe you can personalize and make your own. Here are some simple ways to some scrumptious modifications:
To make candied pecans with brown sugar, replace the granulated sugar with the same amount of light brown sugar. Follow the recipe as is adding the nuts when the brown sugar starts to caramelize. Add ½ tsp of cinnamon to the sugar to make cinnamon brown sugar glazed pecans.
Butter, while the butter is going to add flavor, please note that as it solidifies as the nuts cool, it will change the nuts' appearance from shiny glossy to opaque.If you wish to add butter to recipe add 2 TBSP (25 g) of unsalted room temperature butter cut into 1/4" cubes and add it instead of the dried milk powder. No need to stir or wait for the butter to melt, add the nuts immediately.
Spice it up, and make Spiced pecans on stovetop, mix your choice of spices such as cinnamon, nutmeg, gingerbread spice, pumpkin pie spice or even cayenne to the dried milk powder. If not using the powder add the spices to the skillet along with the nuts.
Using a variety of nuts. Anoter option is to use you favorite nuts. Amonds, walnuts, hazelnut or maybe a mix to make candied nuts on stovetop.
Vegan. For a vegan option, do not use the dry milk powder and add 2 tbsp of vegan butter cut into ¼" cubes instead of the dried milk. No need to stir or wait for the butter to melt, add the nuts immediately, then stir vigorously.
Sweet and salty pan candied pecans, sprinkle ½ tsp sea salt flakes or a pinch of salt (kosher) 10 minutes into the cooling process.
How to make this easy Candied pecans on stovetop recipe?
There are two parts to this recipe. Part one: (the easy and fun part) making the caramel and glazing the nuts. Part two: (the hard part), waiting for the caramelized pecans to cool, recrystallize and become candy. Now let's get to it.
Place the granulated sugar in the middle of the pan/skillet and pour the water on top.
Allow the sugar to absorb the water, then place the skillet on the stove, medium-high heat.
3. You will notice that as the sugar dissolves it starts to bubble from the sides of the skillet towards the center. If needed, reduce to medium heat.
4. After about 5 minutes the caramelization process begins, and you will notice the sides starting to lightly brown. Stay close by because once this process starts it goes by fast.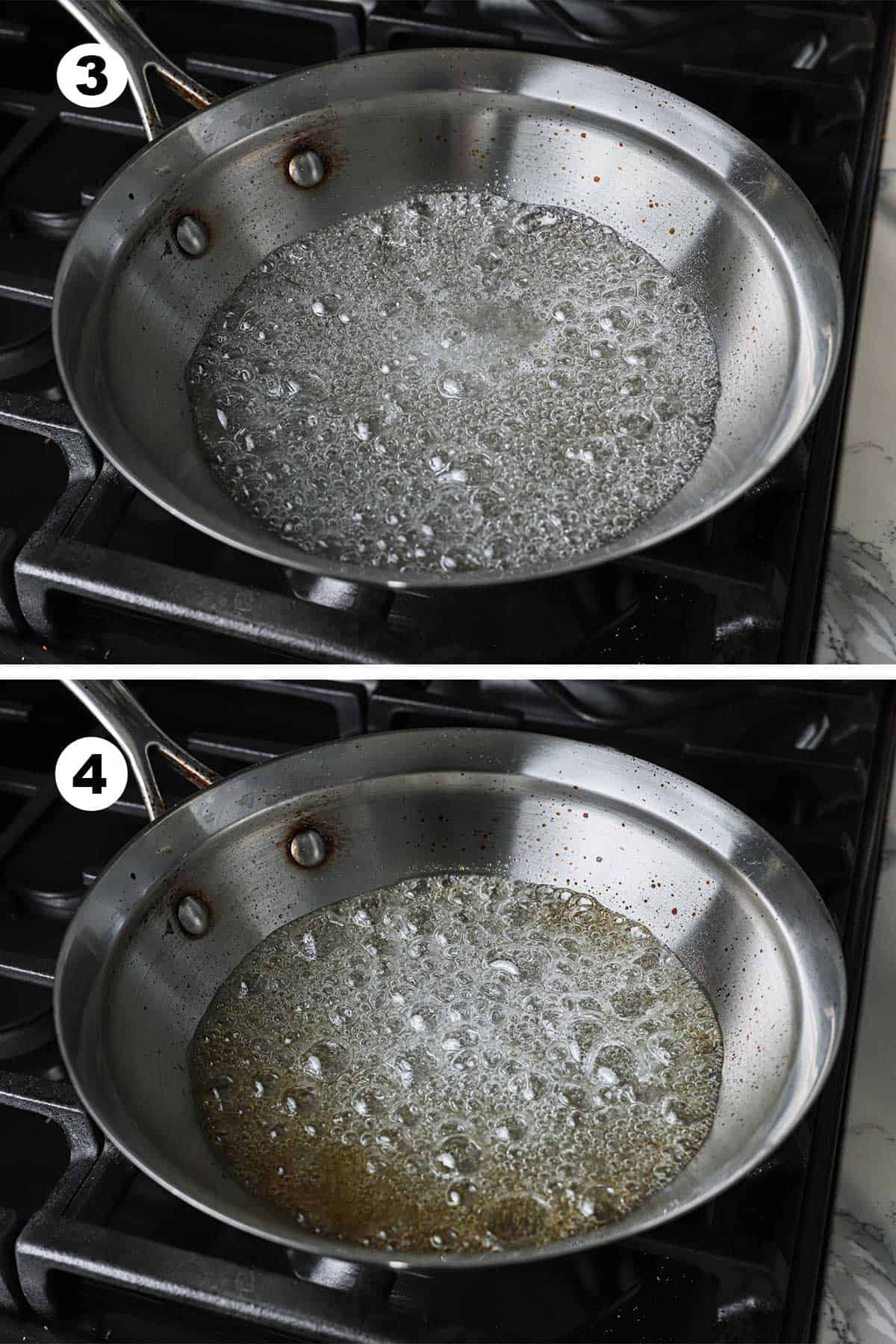 5. Once you notice that the sides are lightly golden, add the powdered sugar.
6. Add the nuts, at this point the sugar should be golden and it is time to remove from heat,
7. Vigorously stir the pecans.
8. Spread the caramelized nuts on top of a cookie sheet lined with parchment paper in a single layer and let cool for about 2-3 hours.
What to do with these Stove top sugared pecans?
These stove top candied pecans are not only delicious and an easy dessert but also versatile and can be a great option for many uses such as:
Add ons. Add the pecans to cake fillings, cookies (like these Coffee Cookies), cake batter or even to the frosting, like I did with this Pumpkin Cake with cream cheese frosting. Also, it is a must for any Charcuterie board.
Additions. You can process it in the food processor and mix it with your flour when baking a cake.
Toppings These pecans are a great topping idea to your Easy fluffy pancakes recipe, or Ginger scones, ice cream or even yogurt.
For savory dishes like sweet potato casserole, or roasted carrots hummus, you.
Gift it. This is the ultimate homemade food gift idea and below you can find some packaging ideas and recommendations.
Make Ahead, Store, Freeze (and Thaw)
The best part about this easy recipe is that it is great to make ahead and freeze.
You can make this recipe for up to 6 weeks ahead. Once the nuts have cooled and crystallized, bag them in a freezable bag, airtight container, or even in small plastic giveaway bags and just place in the freezer.
Thaw. When ready to eat (or gift as a holiday treat), remove from the freezer and enjoy immediately or allow it to thaw.
In the refrigerator these candied nuts can be stored for up to 4 weeks.
At room temperature up to 3 days but note that they can get sticky (much like any candy).
How to package these Candied Pecans?
Whether you decide to use toasted pecans or make roasted pecans with brown sugar, this simple stove top sugared pecans recipe is a great way to show you care. Think about adding it to any care package or holiday gifts. This is a great edible gift to your private home chef and the best homemade gift for a mom.
Here are three ways to pack these Candied pecans on stovetop recipe that will scream "Best candied pecans "
1. A mason jar. Is the traditional and most common way to store nuts. It gives a rustic homemade feel to the nuts. Look at your local market next to the pectin bags.
2. A cellophane bag. you can find it in any hobby store, or on Amazon (affiliate link) tie it with a pretty ribbon for an extra touch. I like to add a not that includes storage instructions, and it is great for storing in the fridge or the freezer.
3. A simple tin container is one of my favorites. I found this one at Michaels in the wedding aisle.
Expert tips
To make this candied pecans recipe in a skillet it is important that you will read the tips and notes. It is a simple way to ensure your success.
Do not stir the sugar before it has been caramelized. This is very important. If you do, the sugar will sezzle, and you end up with an unpleasant grainy texture instead of a smooth shiny caramel. If that happens you need to start the oven.
Remove from stovetop on time. The way to know it is time to remove these candied pecans on stovetop from heat is when the sugar has turned a golden color. Make sure to stir and remove from heat, the caramel will turn from golden brown to dark brown very fast. The darker the color the bitter the flavor.
Save time and divide the full portion into small portions, and freeze. When ready to eat or gift, simply remove from the freezer and enjoy.
Carefull. The caramlezied sugar is extremly hot and can easily burn the skin so make sure to use a wooden spoon and not your fingers.
FAQ's:
How do you keep candied pecans from sticking together?

Much like any other candy that sticks together if not wrapped, the nuts will stick together as well. However, they should be separated very easily without leaving any sticky mess on your fingers.
Try this Candied cashew recipe for a dry non-sticky caramelized pecan nuts recipe.

How long do candied pecans last?

At room temperature, between 2-3 days, in the refrigerator 2-3 weeks, and in the freezer up to 6 weeks.


Can I add butter to the recipe? If so, how much?

Yes, you can add up to 2 tbsp of unsalted butter cut into ¼" cubes right along with the nuts.

My recipe came out sticky, is there any way to get them to harden?

If the pecans are sticky and chewy it means the sugar did not caramelize enough or have been stored in a warm environment. Place them in the freezer.
Why are my candied pecans soft?

Either you used raw nuts, or you added them before the sugar had a chance to fully caramelize.
Why is the sugar all crystallized and grainy looking?

It means that the sugar has crystallized before caramelizing. Avoid stirring it before it changes its color.
Can I double the recipe or cut it in half?

Yes, increase or decrease the ingredients by the same ratio. If doubling it make sure to use a large enough skillet.
Can I bake them for extra crunchiness?

No. They get their crunchy texture from the caramelization process that should be made on the stove.

Can I use a cast iron skillet?

No. Cast iron skillets reach up to 500F, which is too high and will burn the sugar.
The ingredients stick to the skillet, how to clean the dishes after use?

Fill the skillet with warm water, place the spoon in the skillet and allow to soak until the sugar dissolves. Rinse and wash.
Can I add salt for a sweet and salty treat?

Sprinkle ½ tsp of sea salt flakes 10 minutes into the cooling process.


Can I make this recipe on an eclectic stove?

Yes. Either an electric stove or a gas stove would be just fine.

Do I need a candy thermometer to make this easy stovetop candied pecans?

No. This sweet treat recipe does not call for a candy thermometer.

Here are some more recipes I think you might enjoy:
If you love to bake with nuts and can't get enough of the crunchy goodness try these recipes: Candied Cashew recipe, Coffee Pecans Cookies recipe, Hazelnut cookies, Pistachio Muffins recipe
Did you try this recipe?
If you tried this recipe or any other recipe by One sarcastic Baker baking blog, please take a movement to rate and comment at the end of each recipe. Your questions, ideas, and thoughts are priceless, and here at OSB we value them more than butter!
And if you snapped some images, be sure to tag me on Instagram.

Candied pecans on stovetop
Easy and simple candied pecans recipe made in 10 minutes.
Ingredients
3/4

Cup

Granulated sugar

(150 g / 5 oz)

3

tbsp

Water

(45 ml)

1

TBSP

Dried milk powder (optional, see notes)

(7 g / 0.25 oz)

2

Cups

Toasted pecans

(120 g / 4 oz)
Instructions
At the center of a large wide skillet, mount the sugar and drizzle the water on top.

Place the sillet ontop of the stove over medium-high heat.

As the sugar dissolve it will bubble from the sides of the pan towards the center a, then change it color from transperent to golden brown.

Once the sides of the sugar turn to golden brown, sprinkle in the dried milk powder followed by the nuts.

Remove from heat and vigorously stir with a wooden spoon.

Spread the now caramelized pecans ontop of a baking sheet lined with parchment paper in a single layer and let cool until crystalize.
Recipe Notes
Do not stir the sugar with a spoon before adding the nuts, it will cause the sugar to crystalize and have a gritty unpleasant texture, if needed swirl the pan.
Make sure to remove the skillet from the stove as soon as the sugar is golden brown. The darker the sugar the more bitter the flavor.
Allow the nuts to fully cool for a crunchy texture.
Caramelized sugar is extremely hot when firstly made and during the process, it can burn the skin pretty hard, so make sure not to touch it with your fingers.