These Candied Ginger Pecan Scones are tender, buttery, and full of unusual and unique flavor combinations.
If you like me, and you enjoy a trip to Trader Joe's as much as a trip to Disney Land your kitchen pantry is probably an obvious testimony for just that.
Which is how I ended up with few bags of Candied Ginger. The keyword being Ginger, not candy…
I realized that when I tried a piece thinking it is candy. It is not.
I'm talking about one S P I C Y bite!
So, there was only one alternative left for this purchase. Bake some ginger pecan scones.
And the result? Super delicious, extra tender, and dangerously addicting scones I can not stop nibbling on. Even more so you can use this recipe as a template for endless scones options. To clarify replace the ginger(s) and pecans with your favorite add ons.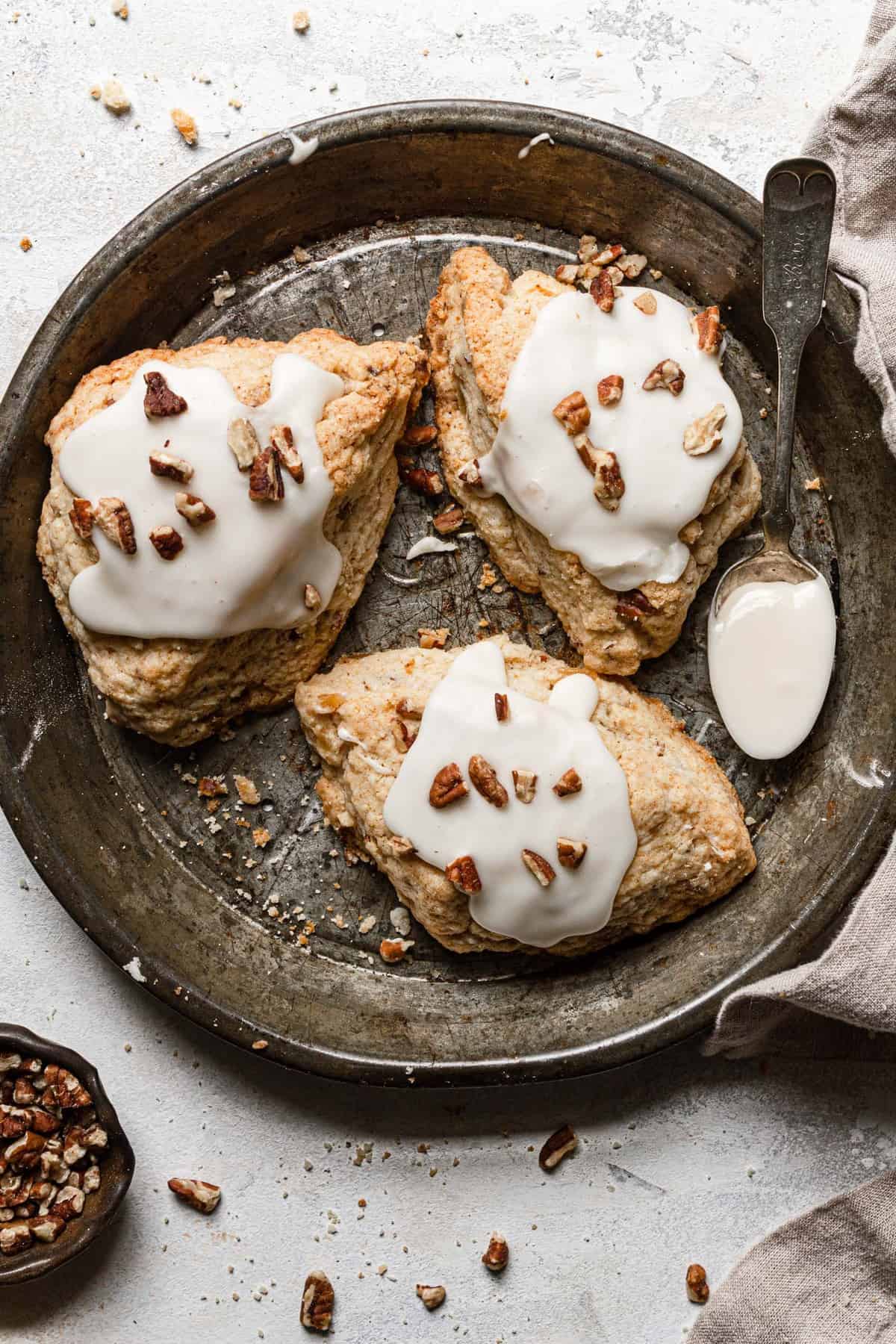 Ingredients In This Recipe:
AP Flour
Sugar
Baking powder
Salt
Ground Ginger
Turbinado Sugar
Unsalted butter, cut into small pieces
Heavy Cream
Chopped toasted pecans
Chopped Candied Ginger
How To Bake This Recipe
When making scones, it is important that the butter is cold and that we mix the dough the lowest amount if time.
Firstly, we mix the dry ingredients in a large bowl. Secondly, we will add the small pieces of butter and will incorporate it into the flour by using our fingers or a fork until the flour looks like a coarse meal.
Next we will add the chopped pecans and ginger and last we will drizzle the heavy cream a 1/4 cup at a time.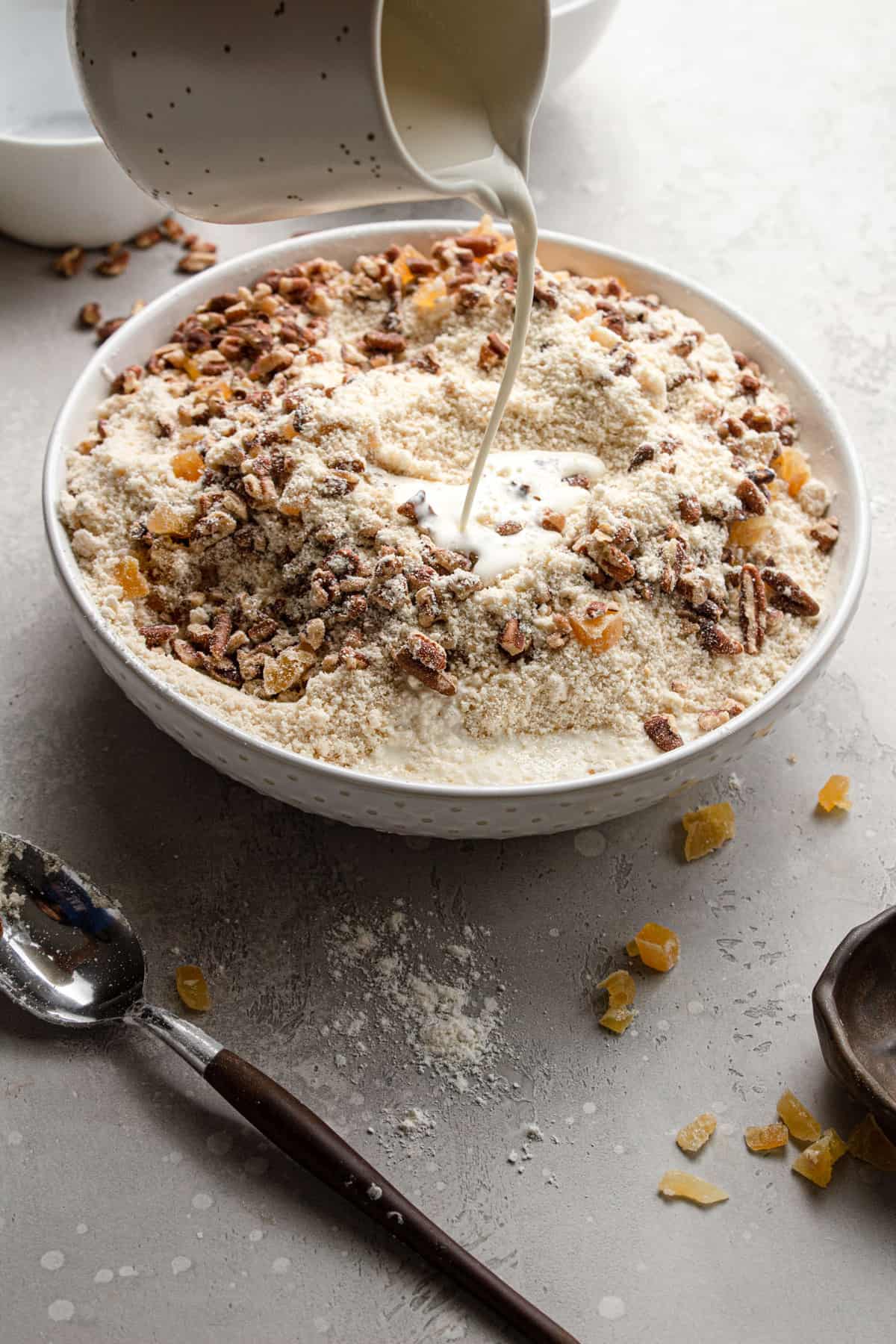 VERY IMPORTANT:
The recipe calls for 1/2-3/4 cup of heavy cream. However. you might not need to use the full amount. The idea is to only hydrate the dough so it should be barely moist.
Once the dough is hydrated we will shape, cut and bake it.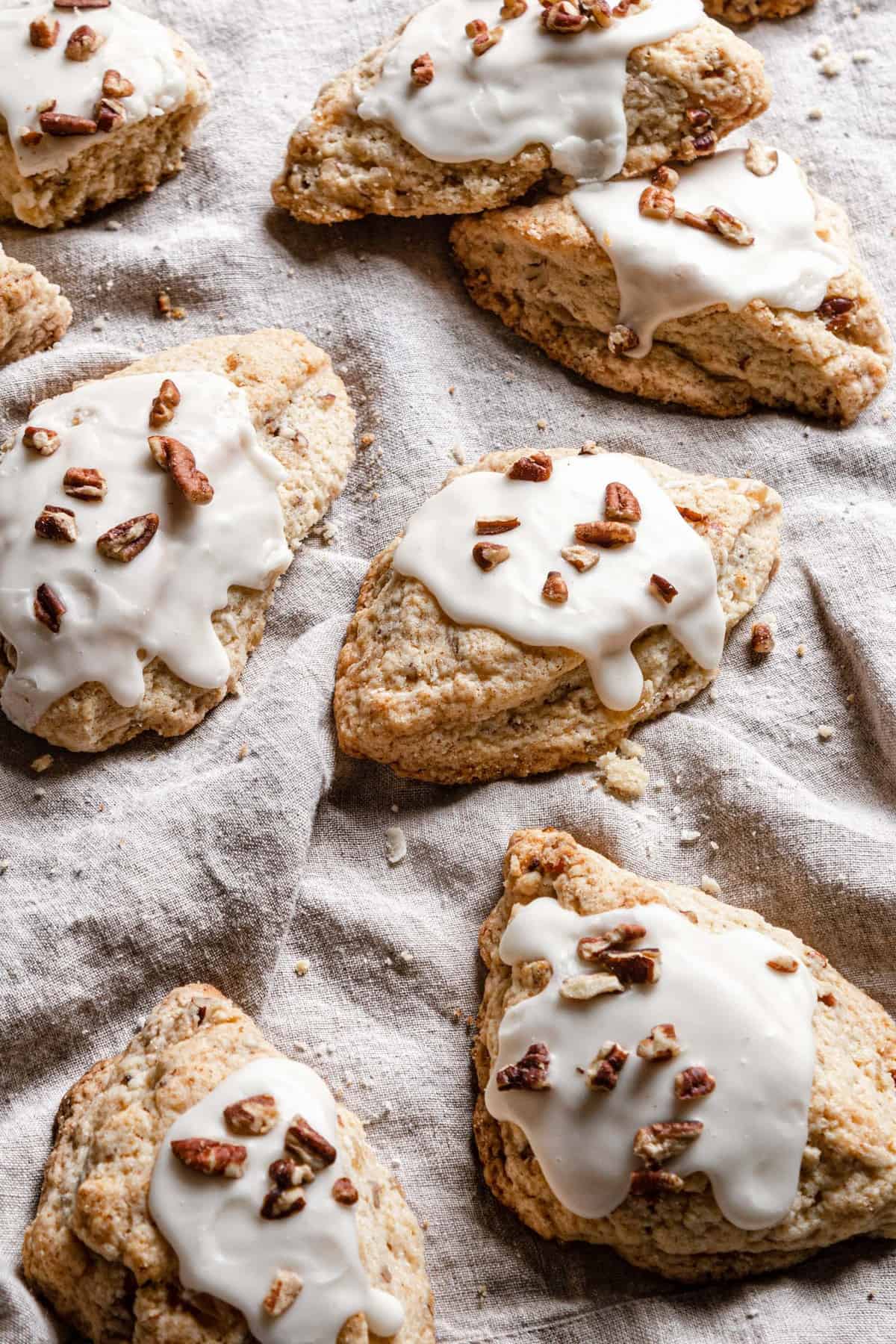 Storing The Scones:
Firstly, the scones can be stored at room temperature for up to 3 days in a covered container. In the refrigerator for up to 5 days and also in the freezer inside a freezable bag.
I Have Few More Notes About This Ginger Pecan Scones Recipe:
This recipe was adapted from Cake Love In The Morning by Warren Brown. (His first recipe book Cake Love is one of my favorite all-time baking books and I can not praise it enough.)
The recipe is instructing to use your finger to make the dough but you can also use a pastry cutter or a standing mixer using the low speed.
The icing adds a great texture however, it is optional.
HAPPY BAKING!
Also, here are few more recipe you might enjoy:
Lastly, did you like this recipe and inspiring? Save THIS PIN to your Scones, or baking boards.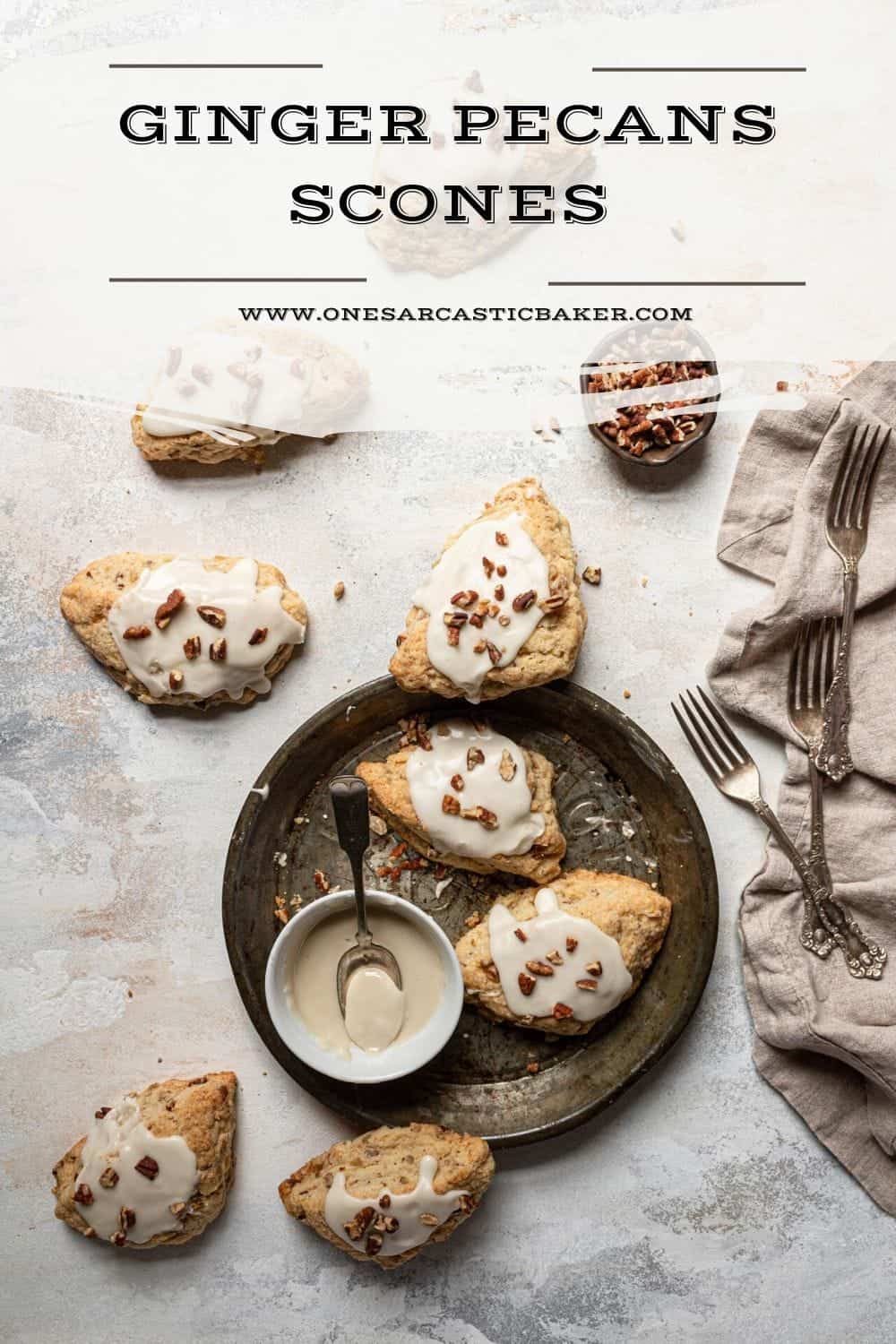 Ginger Pecan Scones
Ingredients
2 1/2

Cups

AP Flour

(300 g /11 oz)

1/3

Cup

Sugar

(70 g / 2.5 oz)

2

TBSP

Turbinado Sugar

1

tsp

Baking Powder

2

tsp

Ground Ginger

1/2

tsp

Sea Salt

7

TBSP

Cold butter

(100 / 3.5 oz)

1/2

Cup

Chopped Pecans

(65 g /2.25 oz)

1/4

Cup

Candied Ginger, finely chopped

(60 g / 2 oz)

1/2-3/4

Cup

Heavy Cream

1

Large

Egg
Maple Icing
1

Cup

Powdered Sugar

(125 g / 4.5 oz)

1

TBSP

Maple syrup

1

TBSP

Milk
Instructions
Line a large cookie sheet with parchment paper.

In a large bowl, mix the flour, sugars, baking powder, salt and ground ginger.

Chop the candied ginger into small pieces and set a side.

In a large measuring cup, mix the egg and heavy cream until fully incorporated, place the cup in the refrigerator.

Cut the butter into small pieces and add it to the flour. Using a fork or a pastry knife cut the butter into the flour mixture until the flour is fully coated with the butter and the flour resembles wet sand.

Add the chopped pecans and chopped candied ginger and mix to distribute.

Slowly add the heavy cream 1/4 cup at a time and stop to mix the dough. Once the dough forms a ball that is barley moist, stop adding the heavy cream. You may not need to add the full amount.

Shape the dough into a 6" square and 3/4" thick. Cut the dough in the middle vertical way and horizontal way, you will have 4 squares. Cut each square from corner to corner diagonally to form triangles.

Place the pan with the scones on it in the refrigerator, or freezer and heat the oven to 375F.

Once ready to bake, brush the scones with any of the cream leftovers you might have and bake for 15-18 minutes. The scones are ready when the bottom is golden brown and the top is lightly golden.
To make the icing
In a medium bowl place the powdered sugar and add the maple, stir to mix. If the mix does not form a smooth icing add the milk and stir a gain.

Using a spoon drizzle the icing on the scones after reaching room temperature.