Last updated on November 10th, 2023.
These Candied Ginger Pecan Scones are tender, buttery, and full of unusual and unique flavor combinations.
If you like me, and you enjoy a trip to Trader Joe's as much as a trip to Disney Land your kitchen pantry is probably an obvious testimony for just that.
Which is how I ended up with a few bags of Candied Ginger. The keyword being Ginger, not candy…
I realized that when I tried a piece thinking it is candy. It is not.
I'm talking about one S P I C Y bite!
So, there was only one alternative left for this purchase. Bake some ginger pecan scones.
And the result? Super delicious, extra tender, and dangerously addicting scones I cannot stop nibbling on. Even more so you can use this recipe as a template for endless scones options. To clarify; replace the ginger(s) and pecans with your favorite add ons.
Why this Ginger Pecan Scones recipe?
I'm just going to state the obvious and say that these scones are addictively delicious, especially in the morning with a cup of coffee (or tea).
Like these Mini Pancakes and these Cream Cheese Pastries, It is easy and fast to bake and even more so comforting to enjoy.
Not only the combination of Ginger pecan is unique in flavor, but it also provides an extra texture.
They are just the right amount of sweet for a breakfast/brunch/snack treat.
You can use this recipe as a base for endless other flavoring and combinations.
More recipes you might like: 5-minute scones, Pistachio muffins, apple muffins, bakery-style cinnamon rolls.
Ingredients in this Ginger Pecan Scones recipe
Unbleached AP Flour, use a brand you like and are familiar with, and make sure it is not bleached. Bleached flour has a lower percentage of protein and might not hold the scones well.
Granulated Sugar helps sweeten ANDalso leaven! The space between the sugar crystals will evaporate during baking and leaven the scones.
Baking powder is the main source of leavening in this recipe, use a brand you like and have used before as some might leave a metallic unpleasant aftertaste. Trader joes is a great one as well as Bob's mill (affiliate link).
Salt,like always brings out the flavors.
Ground Ginger for extra ginger flavor.
Turbinado Sugar like sugar helps with the leaving of the scones.
Unsalted butter, cut into small pieces or grated with a cheese grater.
Chopped toasted pecans , be sure to check out my post about How To Toast Pecans.
Chopped Candied Ginger
Heavy Cream is the main source of liquid and since it is high in fat it contributes to flavor.
The Egg helps the scones keep their shape and not spread too much.
Ingredient's substitutions:
Note that this recipe is pretty basic, and I do not recommend making any changes since it will alter the texture and taste of the scones. Please avoid replacing more than 1 ingredient.
However, here are some ingredients that can be replaced:
Butter can be replaced with the same amount of vegetable shortening, but make sure the shortening is super cold!.
Heavy cream can be replaced with full-fat coconut milk.
The toasted pecan and candied ginger can be replaced with the same amount of your choice of dry additions such as chocolate chips, walnuts, fried bananas, raisins, etc. Please make sure to adjust the spices accordantly.
Mixing and baking the scones
Firstly, and this is VERY IMPORTANT: when making scones, it is important that the butter is cold and that we mix the dough the lowest amount of time.
---
Expert note:
If you wish to take an extra step, measure and refrigerate the rest of the ingredients about 30-60 minutes ahead of time.
---
Now that we are ready to get to work, we mix the dry ingredients in a large bowl then add the small pieces of butter. Using a fork, a pastry cutter or our fingers will incorporate it into the flour until the flour looks moist. The goal is to coat the flours with the butter, so if you notice some dry flour make sure to cut the butter into it.
This is when we toss the chopped pecans and ginger and last, we will drizzle the heavy cream a 1/4 cup at a time. Use a large wooden spoon or a fork to do this, and much like with the butter, if you notice that there is some dehydrated flour, drizzle some heavy cream. The dough should be fully hydrated but should not stick to your fingers.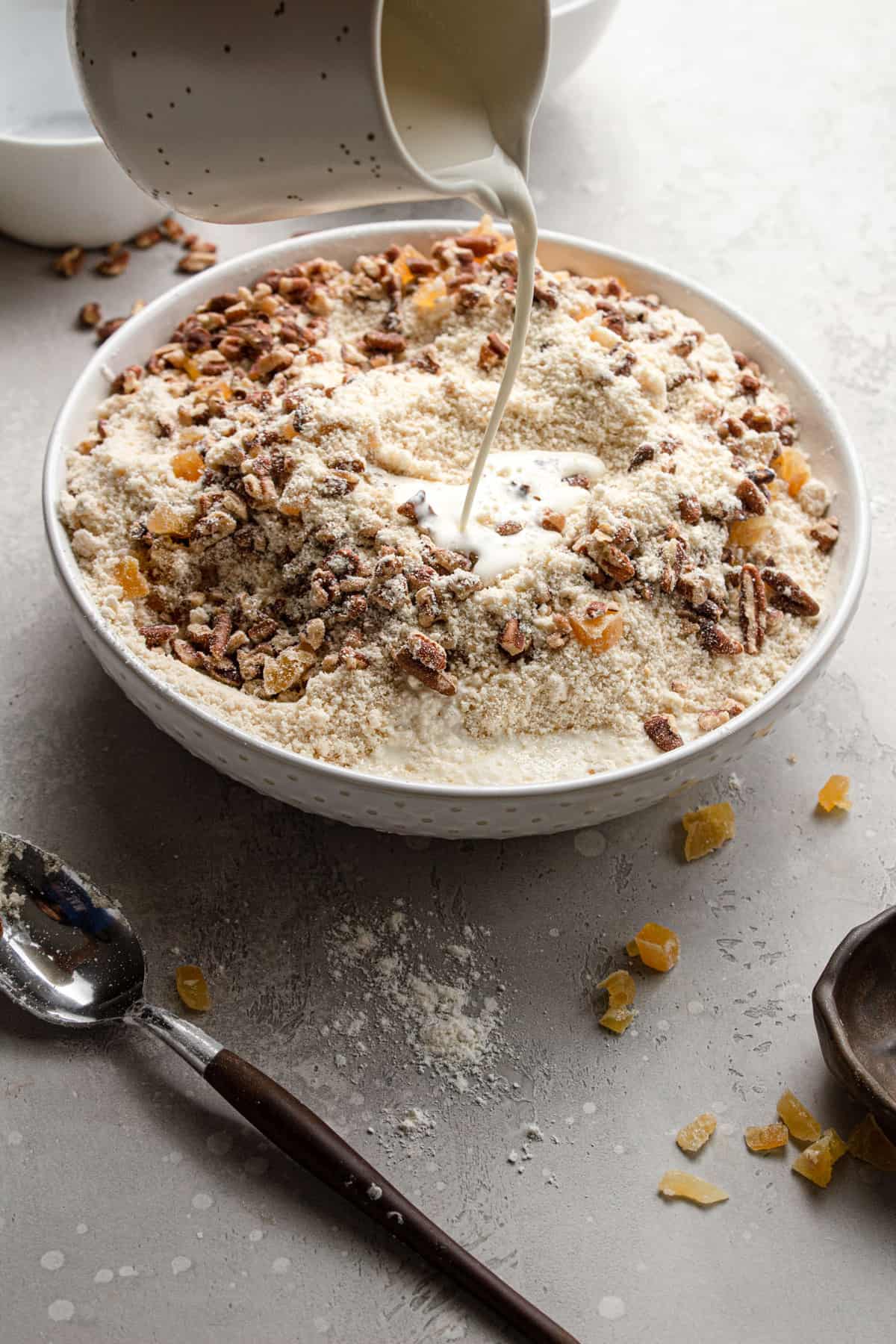 ---
EXPERT NOTE:
The recipe calls for 1/2-3/4 cup of heavy cream. However. you might not need to use the full amount. The idea is to only hydrate the dough so it should be barely moist.
---
Once the dough is hydrated, we will shape, cut, and bake it. I like to shape the dough into a square and then divide it but you can shape it how into a circle.
Before baking these scones, I like to let them cool in the refrigerator while the oven is heating.
Storing these Ginger Pecan Scones:
Firstly, it is best to store the scones at room temperature for up to 3 days in a covered container. You can also freeze them (unfrosted) for up to 3 weeks wrapped in a plastic wrap then placed in a freezable bag.
Another option is to refrigerate overnight or freeze for up to 5 days the scones raw (before baking). When you are ready to bake, simply lined them on a baking sheet, brush them with heavy cream and bake. The baking time will increase by 5-10 minutes.
FAQ:
Do I have to use cold butter?
Yes! This is the key to the success of the recipe. Warm butter will release its liquid that then will be absorbed by the flour and start the formation of gluten. The result might be a tough chewy scone.
Does grating the butter helps?
Yes! It shortens the time it takes the butter to coat the flour, however, it does require one more step of preparation. (Which I HIGHLY recommend)
Are there other steps I can take for the best results?
Absolutely! The one thing I found to help the most is measuring and refrigerating the ingredient for about 30-60 minutes ahead of time. Yes, even the pecans and candied ginger.
Also, pay attention to how the dough looks and feels throw-out the mixing process. Make sure there is no dry flour that was not coated with butter and monitor the amount of liquid.
Can I skip the ground ginger?
Yes, you can but if you choose to add toasted pecans and candied ginger to the dough, I recommend that you will not.
I like my scones with no frosting, is that ok?
For sure! Feel free to skip it, or frost with your favorite drizzle.
One more thing before you bake: please rate and comment on this recipe if you like it, and don't forget to tag me on Instagram, I would love to see your creations!
And last, thank you for visiting and supporting One Sarcastic Baker!

Ginger Pecan Scones
Ingredients
2 1/2

Cups

AP Flour

(300 g /11 oz)

1/3

Cup

Sugar

(70 g / 2.5 oz)

2

TBSP

Turbinado Sugar

1

tsp

Baking Powder

2

tsp

Ground Ginger

1/2

tsp

Sea Salt

7

TBSP

Cold butter

(100 / 3.5 oz)

1/2

Cup

Chopped Pecans

(65 g /2.25 oz)

1/4

Cup

Candied Ginger, finely chopped

(60 g / 2 oz)

1/2-3/4

Cup

Heavy Cream

1

Large

Egg
Maple Icing
1

Cup

Powdered Sugar

(125 g / 4.5 oz)

1

TBSP

Maple syrup

1

TBSP

Milk
Instructions
Line a large cookie sheet with parchment paper.

In a large bowl, mix the flour, sugars, baking powder, salt and ground ginger.

Chop the candied ginger into small pieces and set a side.

In a large measuring cup, mix the egg and heavy cream until fully incorporated, place the cup in the refrigerator.

Cut the butter into small pieces and add it to the flour. Using a fork or a pastry knife cut the butter into the flour mixture until the flour is fully coated with the butter and the flour resembles wet sand.

Add the chopped pecans and chopped candied ginger and mix to distribute.

Slowly add the heavy cream 1/4 cup at a time and stop to mix the dough. Once the dough forms a ball that is barley moist, stop adding the heavy cream. You may not need to add the full amount.

Shape the dough into a 6" square and 3/4" thick. Cut the dough in the middle vertical way and horizontal way, you will have 4 squares. Cut each square from corner to corner diagonally to form triangles.

Place the pan with the scones on it in the refrigerator, or freezer and heat the oven to 375F.

Once ready to bake, brush the scones with any of the cream leftovers you might have and bake for 15-18 minutes. The scones are ready when the bottom is golden brown and the top is lightly golden.
To make the icing
In a medium bowl place the powdered sugar and add the maple, stir to mix. If the mix does not form a smooth icing add the milk and stir a gain.

Using a spoon drizzle the icing on the scones after reaching room temperature.