Last updated on November 10th, 2023.
These Fluffy pancakes are the real deal! I am talking about fluffy, tender, mile-high thick pancakes that are slightly sweetened and so good you can eat them on the go with no add ons or topping!
Florida Crystals® is the sponsor of this post however all thoughts and opinions are my own. Thank you for supporting the brands that make One Sarcastic Baker possible.
I am so thrilled to share this recipe with you! This recipe has been patiently sitting in my archive waiting for the right moment to make its grand appearance.
And when I had another great opportunity to work with my friends at Florida Crystals®, I knew this is the best recipe for the job. As you will read the key for this recipe is sugar, a small amount but this is what makes these pancakes so glorious.
Florida Crystals® Organic Raw Cane Sugar is always organic, non-GMO, and grown right here in the USA. When you use a high-quality ingredient you can clearly see the result in the appearance, texture, and taste.
Also, I just love how they practice sustainable farming every step of the way including using barn owls to naturally control pests in their farms!
So what is the secret of this recipe?
Lots of love.
JK,JK,JK! To make these pancakes as thick and tender as a cake there is one extra step.
Making meringue.
As we whip the egg whites with the sugar, the air is trapped inside the sugar crystals and created volume. Now that air turns into steam during cooking and as it escapes the batter, you guessed it leavens the pancakes! TA-DA!
Can I make this recipe the "old fashion" way?
Yes, absolutely. Skip the meringue part. Add the sugar to the dry mixture and instead of 2 egg yolks and 4 egg whites, use 2 whole eggs.
Can I add topping?
For sure! Large toppings such as Chocolate chips and blueberries are best to add right after you pour the batter into the pan. Small topping or flavoring such as poppyseeds or zest best to add with the dry/wet ingredients.
Ingredients in these Fluffy Pancakes:
AP Flour
Baking powder, in this recipe the baking powder has two important rules. Firstly it helps the pancake to rise, and secondly, it gives the pancakes a pleasant tender bite.
Salt
Vegetable Oil, sorry butter but this time it's vegetable oil for the win. The vegetable oil will contribute to the pancakes' soft and fluffy texture.
Egg yolk
Egg whites, we are using the egg whites to make meringue and trap air into the sugar's crystals.
Butter, for frying the pancakes
Florida Crystals® Organic Raw Cane Sugar is how we will trap all the much-needed air and in addition, will sweeten the pancakes and add extra flavor.
How to make this fluffy pancakes recipe?
Tho make this recipe you will need two large bowls and one medium bowl plus a hand mixer. And you can use it to make Mini Pancakes.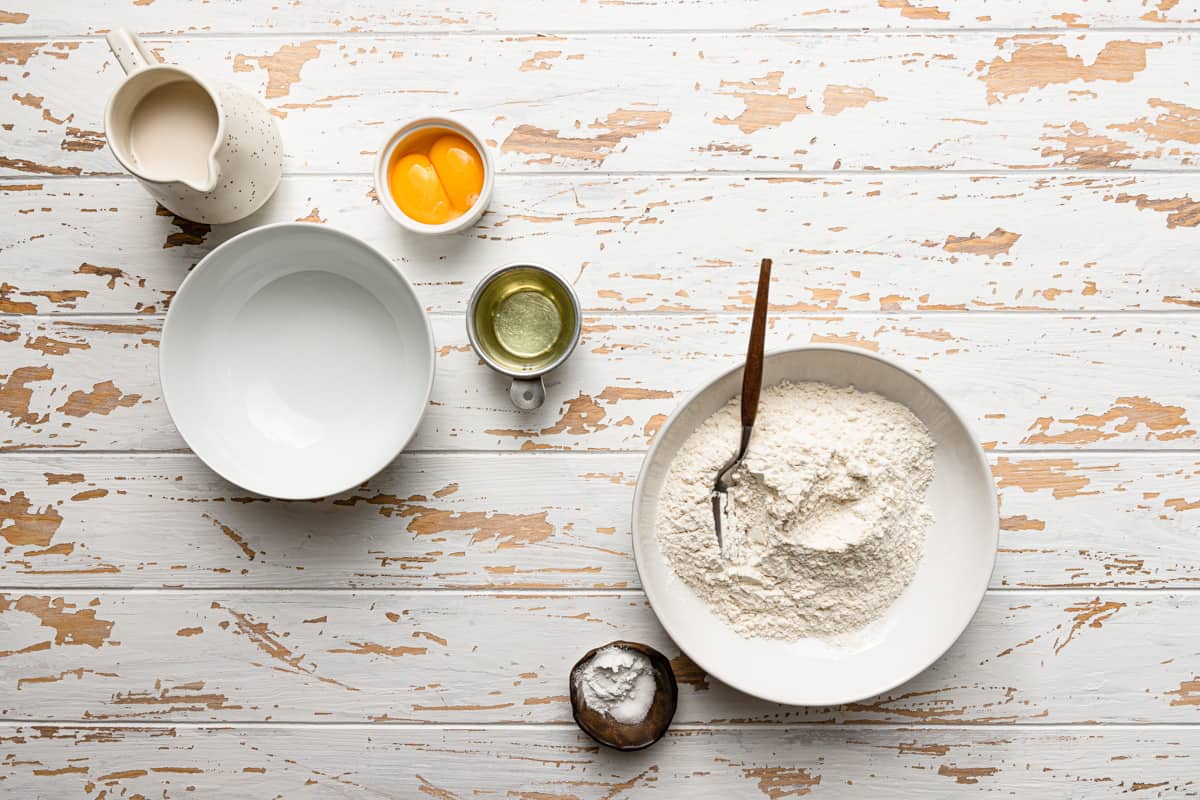 The first step is to measure and sift the dry ingredients (flour, baking powder, and salt) together in a large bowl. And to do the same separately with the wet ingredients (milk, egg yolks and vegetable oil).
Now we will use the second large bowl to make the meringue by whipping the egg whites using the hand mixer (a staring mixer is ok). Once the egg whites are no longer transparent and frothy we will gradually sprinkle
Florida Crystals® Organic Raw Cane Sugar and continue whipping until a stiff peak is formed.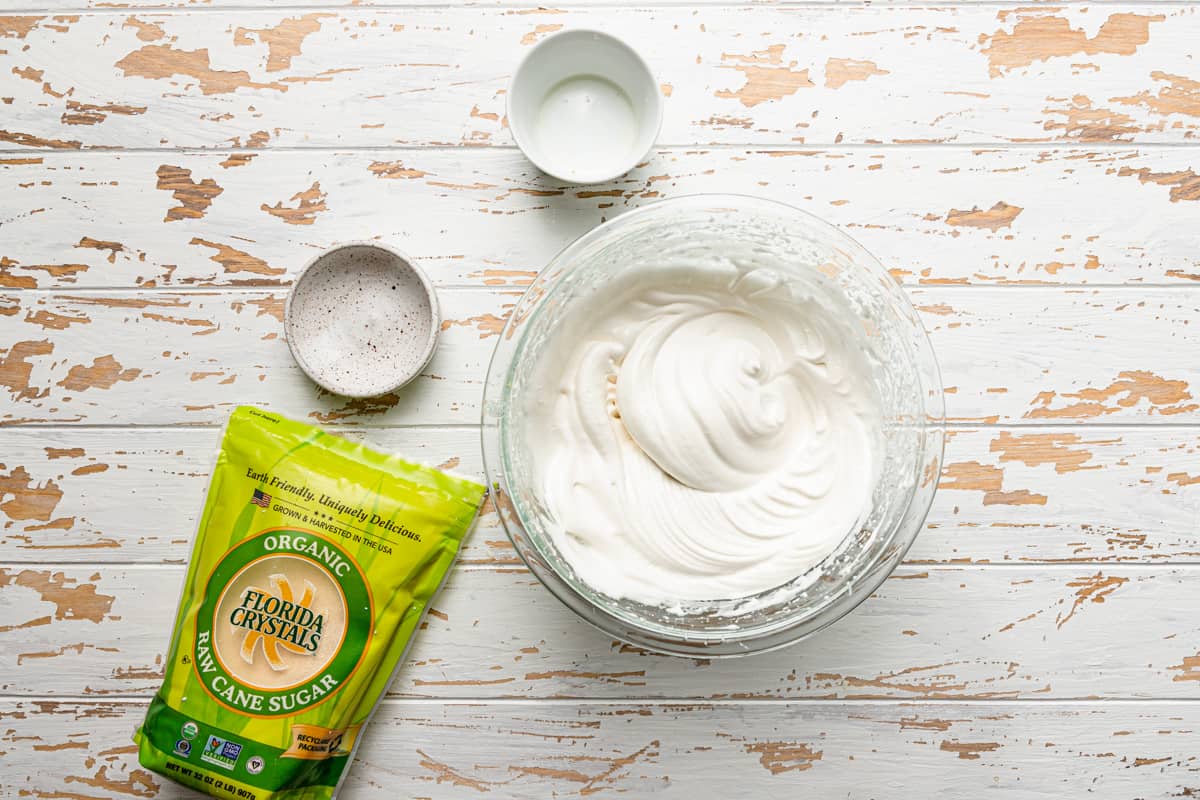 Next, we will pour the liquid mixture into the dry mixture and blend using a fork and last fold in the meringue.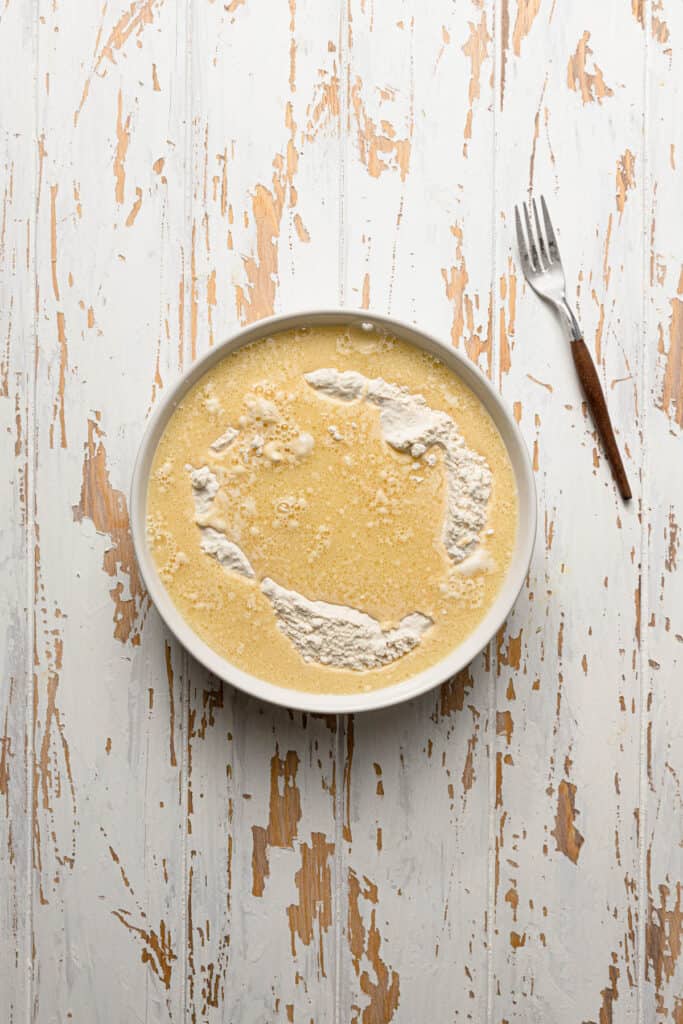 Frying the pancakes:
In order to keep each pancake as fluffy and thick as possible, I highly recommend using a Blini pan.
The more batter you will pour into the pan the thicker the pancake will be so keep in mind the height of the pan as the pancakes will leaven as it cooks. Start with 1/2 cup of batter.
Medium-low heat is best. Cooking high heat might not cook the pancakes all the way through.
Storing the Pancakes:
The pancakes are best eating right away. However, I found that storing in a tight container in the refrigerator then warming it in the microwave is a great option.
The Pan-wich (Pancake-Sandwich):
Just another way of enjoying this treat. If you choose to make your own pan-wich here are few tips:
Please use a tip of a sharp knife to gently make an insertion from one side to the other side and into the pancake. (much like you would when filling a pita bread)
Please remember that this is not bread and can easily break, so gentle is key.
Best to wait for the pancake to cool to room temperature before filling it.
HAPPY BAKING!!!
lso, don't forget to tag @OneSarcasticBaker on Instagram if you bake this recipe. I would love to see your creations!
Here are some more breakfast recipes you might enjoy:
Thinking of baking this recipe soon? Pin THIS pin on your Breakfast or Baking boards.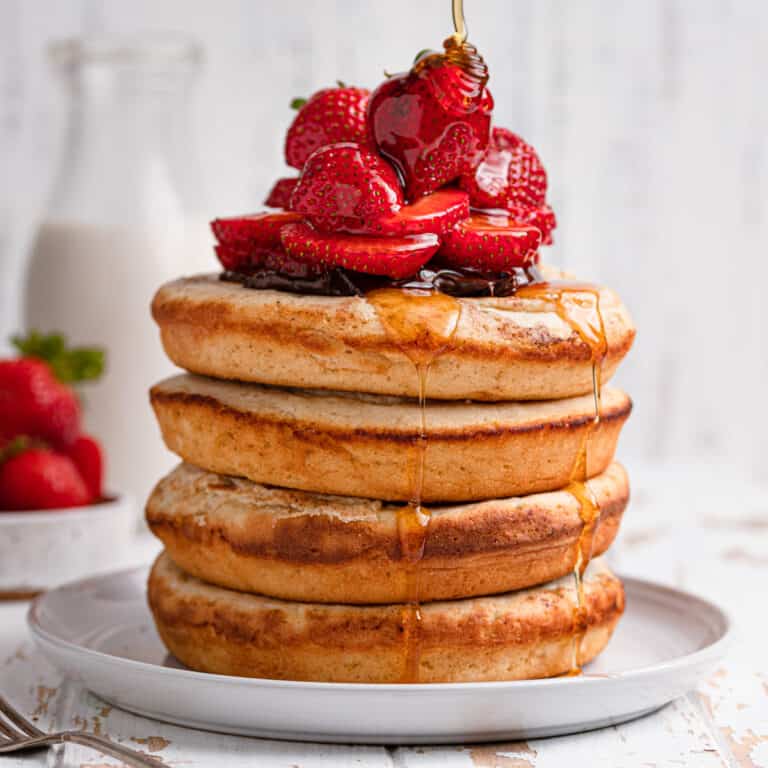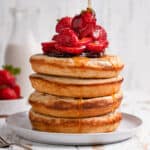 Fluffy Pancakes
fluffy, tender, mile-high thick pancakes that are slightly sweetened and so good you can eat them on the go with no add ons or topping!
Ingredients
2

Cups

AP Flour

(240 g / 8 oz)

2 1/4

tsp

Baking powder

1/2

tsp

Salt

1/4

Cup

Vegetable oil

(60 ml / 2 oz)

1

Cup

Almond milk / Milk (reduced fat is ok)

(240 ml / 8 oz)

2

Large

Egg yolks

4

Large

Egg whites

4

TBS

Florida Crystals® Organic Raw Cane Sugar

(60 g / 2 oz)

1/2

Stick

Butter, for frying the pancakes
Instructions
In a large bowl, sift together the flour, baking powder, and salt. Set aside.

In another bowl, mix together the vegetable oil, egg yolks, and milk until combined. Set aside.

In a large bowl beat the egg whites using a hand mixer until frothy. Gradually add Florida Crystals® Organic Raw Cane Sugar one tablespoon at a time and mix until a stiff peak has formed.

Pour the milk mixture made in step one into the flour mixture made in step two and use a fork to incorporate (do not over mix). Using a large rubber spatula, fold in the egg whites.

Over low heat, warm 2 tsp of butter. Once warmed, pour in 1/2-3/4 cup of the pancake mixture (you can use a ladle if you'd like) into the pan.

Increase heat to medium-low and let the pancake mix cook for about 4-6 minutes, until you about 1" from the sides are dry and bubbly.

Gently flip the pancake and cook for additional 1-2 minutes.