Last updated on November 29th, 2022.
Delicious crispy and melt in your mouth Hazelnut Shortbread Cookies, made with toasted hazelnuts and only 4 ingredients!
If you are a shortbread cookie fan and love Hazelnuts, then you will LOVE this recipe. Not only this recipe requires only four ingredients, but it is also super easy (and fun) to make. You can also make this Hazelnut Cake or this Hazelnut chocolate chip Bread.
And guess what? If you are NOT a hazelnut fan, you will still love this recipe. Just drop the nuts and follow the recipe. Or replace the hazelnuts with your choice of nuts, for example, almonds or pecans.
This recipe is an excellent example of how I am using the Baking Ration Chart. To get a copy, click HERE.
What Ingredients Are In These Hazelnut Shortbread Cookies: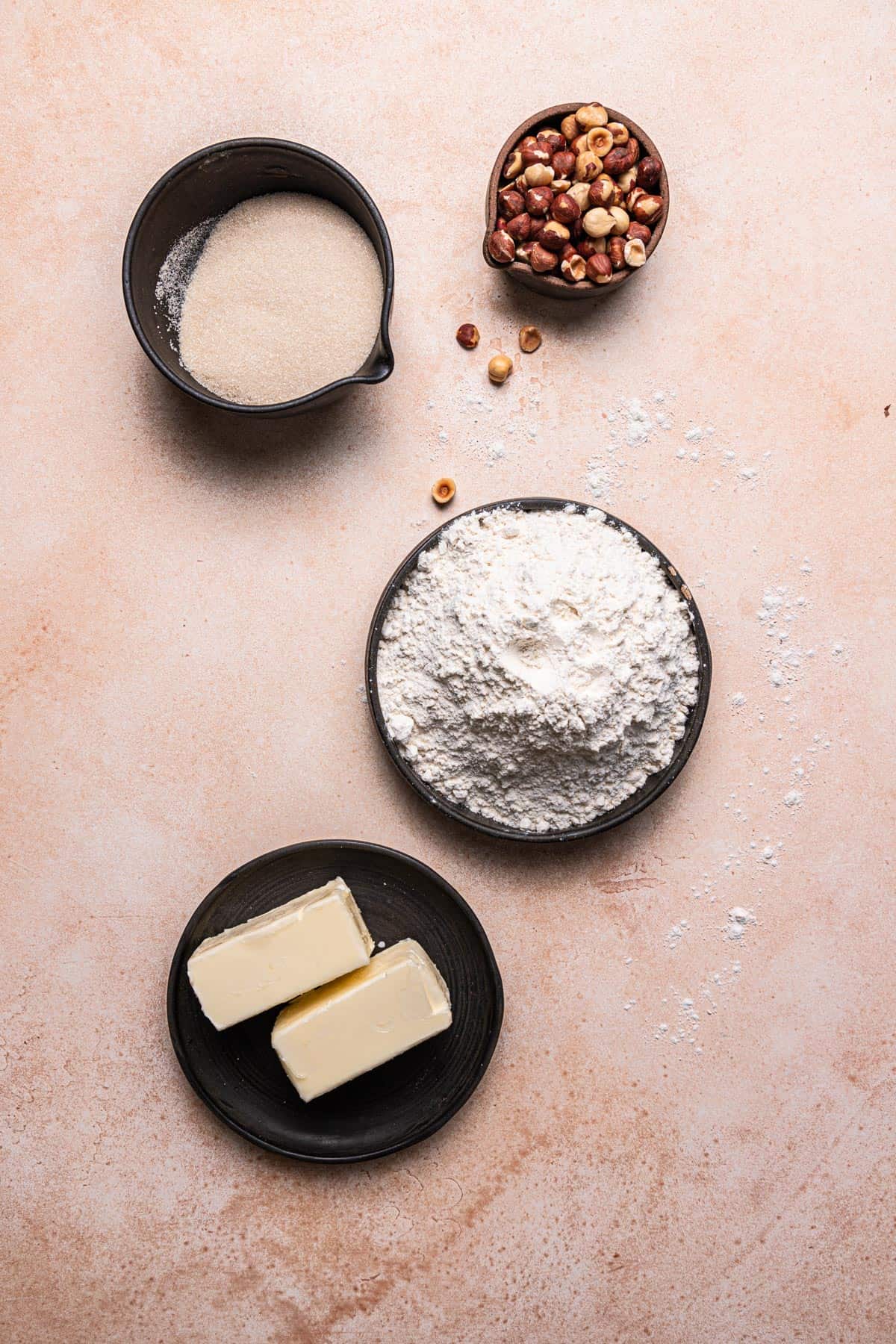 Roasted Hazelnuts, I have the full guide for you on How To Roast Hazelnuts
AP Flour
Butter, the butter should be "Playable," which means that the butter is soft like play dough, so when pressed it does not lose its shape. About 68F (20C)
Sugar
Even though I used Nutella to fill the cookies, I am not listing it as an ingredient for a few reasons. Firstly, you can use whatever brand you like. Secondly, you can playground and have fun with the flavors, for example, you can add 1/8 tsp of nutmeg and raspberries to preserve. But you can skip the filling and enjoy the cookie as is.
BTW, if you are looking for an impressive cake, check out this Hazelnut Butter Cake.
How To Make These Hazelnut Shortbread Cookies:
Place the hazelnut in the food processor and process for about 8 seconds then add the sugar and process again for additional 10 seconds. It should resemble a coarse meal. Add the flour and butter and process again just until a dough is formed.
Empty the bowl on a clean work surface and press the dough with your hand. Place the dough between two pieces of parchment paper and roll to 1/4″ thick. Place in the refrigerator for about 1 hour.
Preheat the oven to 350F and line two baking pans with parchment paper. Use a 2″ cookie cutter to cut the rolled dough, place it on the lined pans, and bake.
Please know that you can make this recipe using a food processor or a bowl and a pastry cutter/with your hands. If you want to use a standing mixer, make sure the butter is soft, but please note the cookie might lose some of its tenderness.
Few Important Notes About Cutting the Dough:
The dough is crumbly and can break easily, so please be gentle when handling it. Also, if the dough starts to warm up, you may need to use an offset spatula to lift it and place it on the pan.
When cutting the "window," I recommend cutting the small shape first and then cutting the large one around it to avoid it from breaking.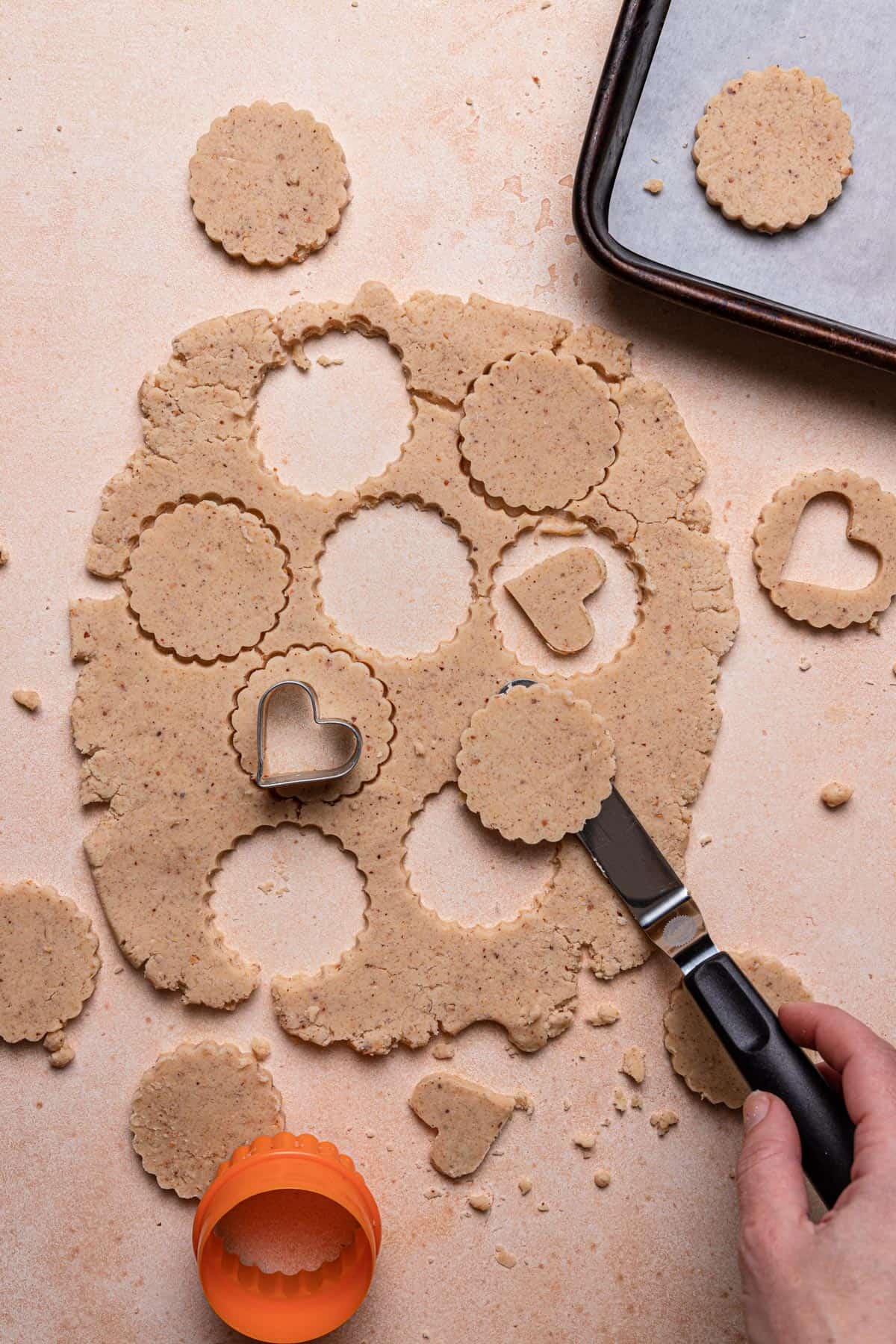 Baking And Cooling The Cookies:
350F on the middle oven shelf, for about 10-12 minutes. The cookies are ready when they have a very light golden color. I will add and say that it is a bit hard to tell when the cookies are ready as the color changes very slightly and you can not lift them until they get cool. But truth to be told is that since there is no egg/liquids/baking powder in the cookies they should be done and crispy even if you do not notice any color change. Make sure to check that the cookies are not over-baked halfway through baking time since every oven is different.
Pro Tip:
Most experienced bakers use their noises to tell if the cake/cookies are ready. When your kitchen starts to smell like sweet hazelnut goodness, you know that the cookies are about done!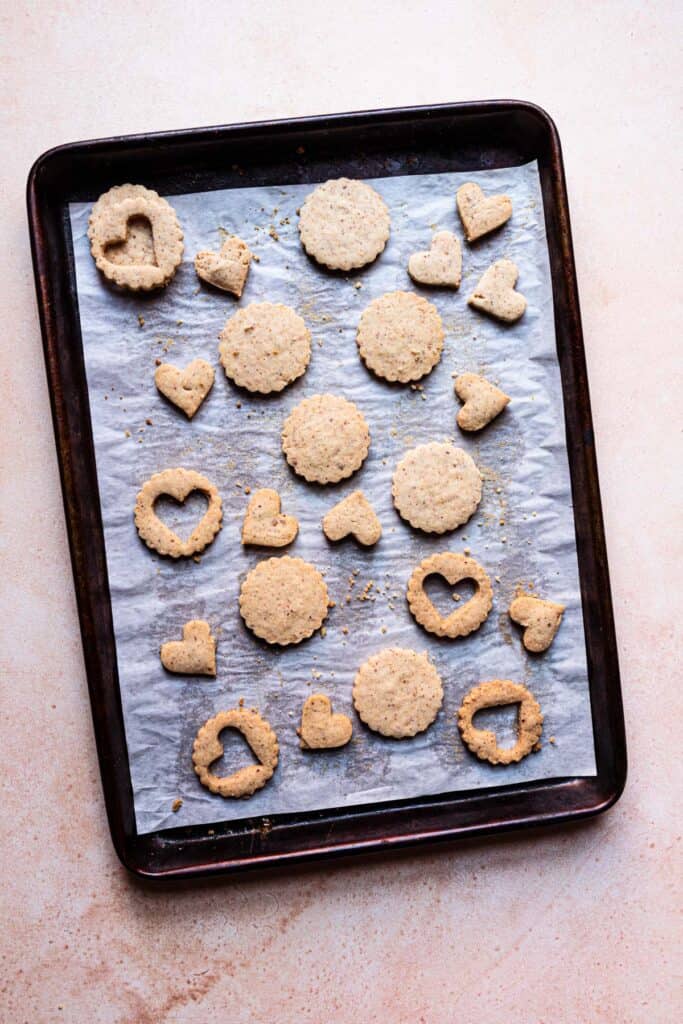 Once you remove the cookies from the oven, allow 10 minutes for the cookies to cool. If you try to move or hold them too soon they will break as they have yet to set.
Filling and Storing The Cookies:
If you chose to fill the cookies with something other than Chocolate filling, I recommend that you do so as to close to serving time as possible since the filling might soften the cookies.
The cookies can be stored at room temperature for up to 7 days or In the refrigerator for up to two weeks. (serve at room temperature)
HAPPY BAKING!!!
One more thing…
Don't forget to tag @OneSarcasticBaker on Instagram if you bake this recipe. I would love to see your creations!
Here are some more recipes you might enjoy:
PIN FOR LATER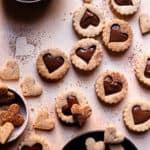 Hazelnut Shortbread Cookies
Servings
18
Double Cookies
Ingredients
1 1/2

Cup

AP Flour

(170 g / 6 oz)

1/2

Cup

Hazelnuts Toasted and peeled

(56 g / 2 oz)

1

Stick

Unsalted Butter, playable

(113 g / 4 oz)

1/4

Cup

Sugar

(56 g / 2 oz)

1

Cup

Hazelnut Spread
Instructions
Place Hazelnut in a food processor and pulse until finely ground.

Add flour, butter and sugar and pulse until a ball of dough is formed.

Roll the dough between 2 sheets of parchment paper to 1/4" thick and place in the refrigerator for about 1 hour. (or overnight)

Preheat oven to 350F and line a baking pan with parchment paper.

Remove dough from the refrigerator use a cookie-cutter to cut cookies.

Cut half of the circles with 1/2" circles in the center. 

Bake for 10-12 minutes on the middle rack. The cookies are ready when the sides are golden and are puffed in the center.

Remove from the oven and allow to cool completely.

Spread 1 tsp of Hazelnut spread on half the cookies, dust the rest of the cookies with confectionary sugar and place on top to create a sandwich cookie.