Last updated on May 7th, 2021.
Chocolate Halva Sandwich Cookies, Soft, crispy and melt in your mouth chocolate shortbread cookies filled with sweet Halva filling. These cookies are easy, fun to make, and a also huge crowd-pleaser.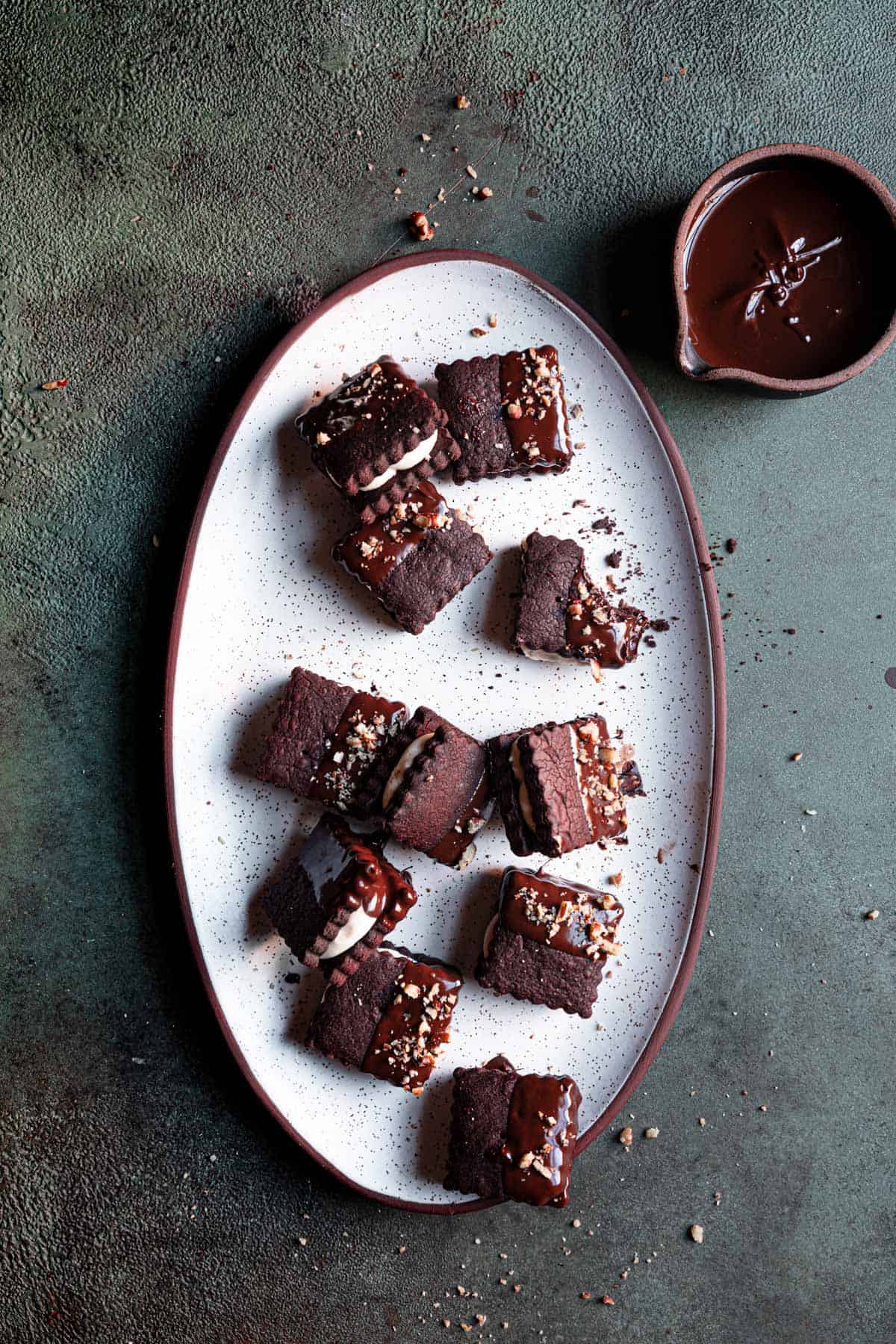 In recent years Halva (sweet Tahini candy) has gained popularity, and for a good reason. For me, growing up Chocolate Halva sandwich was THE go-to school lunch. The credit goes fully to my worried mom who wanted to make sure her beloved daughter gets her daily dose of iron. Like many other mothers, she wisely chose her battles and spoke my language. She put some sugar in it, AKA "Chocolate Halva Sandwich".
As you may have guessed I still speak the language of sweet and it is only fitting to have some chocolate-halva love or Chocolate Halva Sandwich Cookies.
What are Chocolate Halva Sandwich Cookies?
Super simple. These cookies are made of 2 chocolate shortbread cookies filled with a smooth Halva flavored filling. You can dip them with some extra chocolate but you skip that part all together.
What is Halva:
Halva is a dense, sweet confection that is originated in the Middle East and is made by mixing tahini (sesame paste) and sugar.
You can find Halva in most markets in the Middle Eastern or Kosher section and many times it comes with the addition of chocolate or nuts. You will see that the texture is solid and crumbly and often it is eaten as candy. When buying, I highly recommend that you take a look at the ingredients list and get the one that contains real sugar vs. corn syrup, there is a huge difference in flavor.
These cookies do not contain any Halva, instead, I used Tahini paste which I mixed with sugar to create the flavor and butter for the right filling consistency. But, if you wish, you can crumble some Halva candy you have at hand into the filling mix.
Now Let's Talk About This Recipe
What Ingredients Are In This Recipe:
AP Flour
Cocoa powder
Unsalted butter, room temperature
Powdered Sugar, which I used instead of regular sugar firstly, have a nice and soft texture. Also, prevent the cookie from puff and spread.
For the filling:
Powdered Sugar
Butter, soft
Tahini Use the brand that you love but make sure it is plain.
How To Make These Chocolate Halva Sandwich Cookies:
Start by mixing the sugar and butter until smooth, then add the flour and cocoa. Mix until you have a smooth dough. Next, shape the dough into a rectangle and place it in between two pieces of parchment paper. Then roll the dough into a 1/4″ thick.
Now, if your dough is very sticky then place it in the refrigerator for about 45 minutes. But if the dough is smooth and does not stick to your hands, go ahead and use a 2″ cookie cutter (your choice of shape) to cut the cookies. Place the cut dough on a cookie pan lined with parchment paper and bake. Also, to avoid the cookies from puffing, use a toothpick to poke the cookies 2-3 times.
When ready, remove from the oven and allow 7-10 minutes for the cookies to set before moving them.
When the cookies have completely cooled, beat the butter and sugar then add the Tahini. Start with 2 TBS then add more if you feel the filling is too thick.
Baking and Storing The Cookies:
Bake the cookies at 350F on the middle open shelf and they are ready when they appear puffed and no longer shiny. You can store the cookies, not filled at room temperature in a container for up to 4 days. When filled, since the tahini needs to be refrigerated, make sure to place it in the refrigerator within 6 hours.
Two More Important Notes About These Chocolate Halva Sandwich Cookies:
Best to bake the cut cookies within 2 after they are ready. Sometimes the dough gets dry which cracks the cookies during baking.
The cookies are crispy and crumbly however, they might get soft after a day or two when you fill them (still super delicious)
HAPPY BAKING!!!
Here are some more recipes you might enjoy:
Also, one more thing…
Don't forget to tag @OneSarcasticBaker on Instagram if you bake this recipe. Would love to see your creations!
And did you like this recipe and inspiring? Save THIS PIN to your cookies, or baking boards
Chocolate Halva Sandwich Cookie
Servings
10
2″ Double Cookies
Ingredients
To Make the Cookies
1 + 2 TBS

Cup

AP Flour

(140 g / 5 oz)

1/4

Cup

Cocoa Powder

(28 g / 1 oz)

1/2

Cup

Powdered Sugar

(60 g / 2 oz)

1

Stick

Unsalted Butter, Soften

(113 g / 4 oz)
To Make the Halva Filling
1

Stick

Unsalted Butter, soften

(113 g / 4 oz)

1 1/2

Cups

Powdered Sugar

(180 g / 6 oz)

3

TBS

Tahini Paste
For the dipping chocolate (optional)
1

Cup

Dark Chocolate chips

(170 g / 6 oz)

1

tsp

vegetable shortening

1/2

Cup

Chopped nuts (optional)
Instructions
In a bowl of a standing mixer, beat the butter and powdered sugar until well mixed.

Add the flour and cocoa mix  (Scrap the sides and bottom of the bowl if needed) and beat just until you get a moist dough. 

Place the dough in between two large pieces of parchment paper (about the size of a large cookie sheet) and using a rolling pin, smooth the dough to 1/4" thick.

Allow the dough to cool in the refrigerator for a minimum of 30-45 minutes.

Remove the dough from the refrigerator and preheat the oven to 350F.

Cut the dough using a 2" square cookie cutter (or your choice of shape and size) and place on a cookie sheet that is lined with parchment paper.

Bake in the middle rack for 8-12 minutes. The cookie should look shiny with golden edges.

Remove from the oven and wait 10-15 minutes before transferring the cookie to a cooling rack.
To Make the Filling
In a bowl of a standing mixer, beat the butter and sugar at high speed.

Once the butter a sugar have combine add the tahini paste (start with 2 TBS and add the 3rd if you feel the filling is too stiff) and beat on high for about 5 extra minutes.
Assembling
Spread about 1 tsp on the back of a cookie and line another cookie on top.

Melt the chocolate chip and shortening and dip the edge of each sandwich cookie. Place on a cooling rack to the firm.