Last updated on December 3rd, 2021.
These Easy Decorated Halloween Sandwich Cookies are a fun and creative way grown ups and kids can enjoy everyone's favorites holiday, Halloween.
Two Crispy biscuits coated with a layer of smooth and dark chocolate and filled with creamy Pepper mint candy Filling
This post is sponsored by Bahlsen Leibniz Dark cookies..
Being a baker and a cake decorated sometimes I found myself in a frustrating situation where I avoid baking or decorating for special occasions since it can be such a time consuming and not a very kid friendly activity.
But that kind of an attitude takes out all the fun, and Halloween is all about the fun!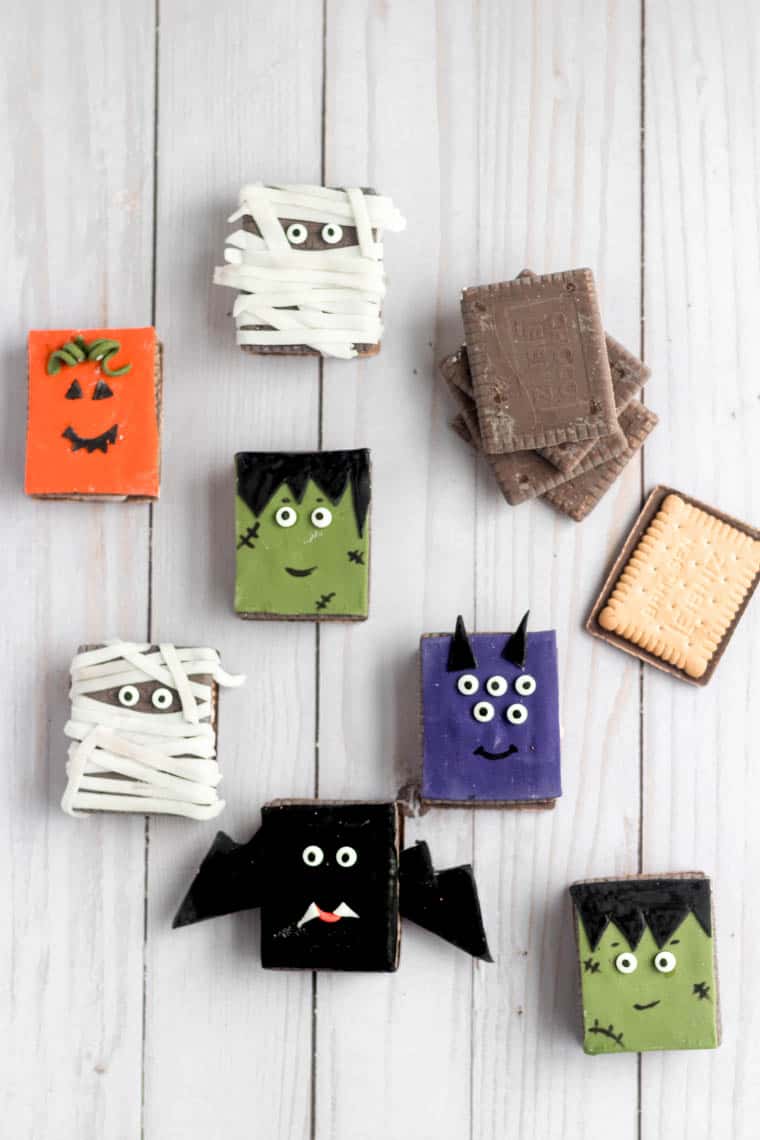 Which is why I am so happy I discovered Bahlsen Leibniz Dark . You know the kind of cookies that you dip in your coffee and the chocolate melts in your mouth but the cookie is crispy enough to crumble as you bite into it?!
This cookie is perfect to be paired with Pepper mint Candy filling and is the perfect size to be decorated.
The decoration is super simple and requires a little patience and lots of imagination.
You will need:
Leibniz dark chocolate biscuits.
Different colored Fondant.
Sharp knife.
Small rolling pin.
Cornstarch.
Edible eyes.
Small paint Brush.
Edible black marker.
The Steps: (for tips on how to create the cookies you see in images, see some detail below the image.)
Roll a piece of fondant (your choice of color) into 1/4″ thick. (powder you surface with some cornstarch so it won't stick)
Place 1 Leibniz dark chocolate biscuit and trace it with a knife.
Place 1 Leibniz dark chocolate biscuit, in the microwave for about 15 seconds, the melted chocolate will be used as glue.
Using the small paint brush, apply some melted chocolate on a biscuit (chocolate side), and top it with the cut piece of fondant.
Continue decorating the cookies to your liking.
To create the Mummy:
Glue two edible eyes, and cut white fondant into small stripes. Add stripes randomly avoiding the eyes. (Best to first add a stripe above and under the eyes and continue from there.)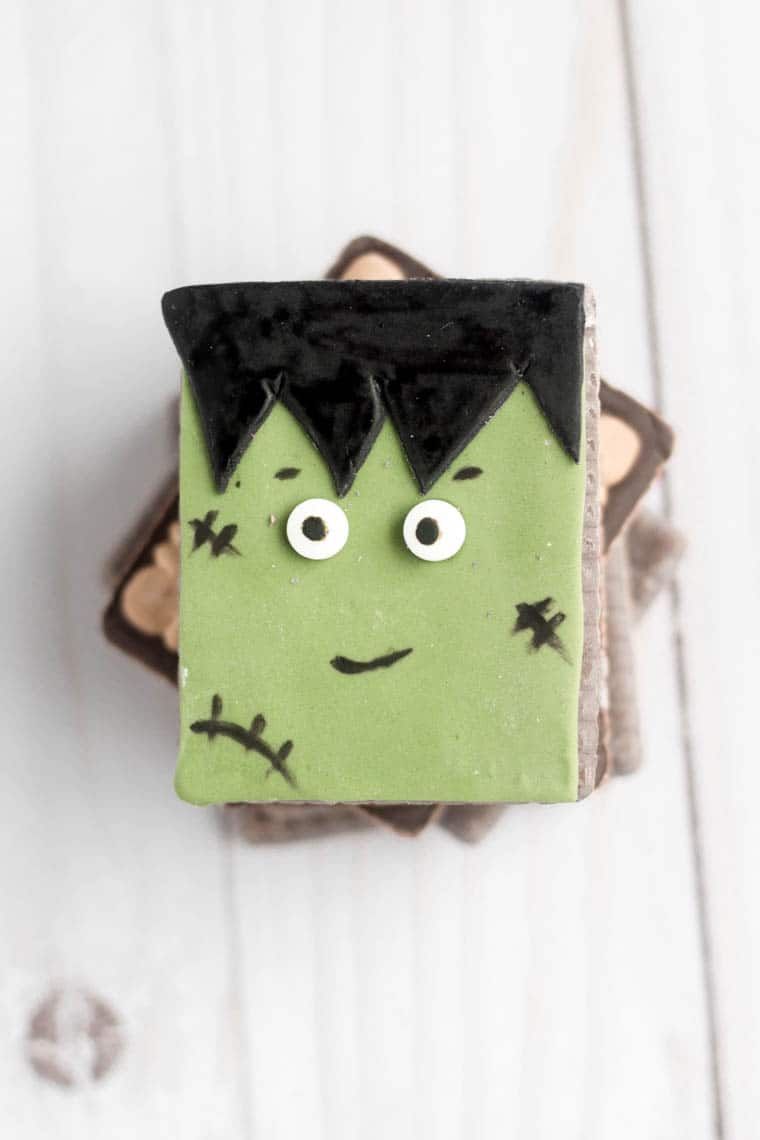 To create the Frankenstein Cookie:
Cut and glue a green piece of fondant. Cut a piece of black fondant, and using a sharp knife cut is in the center creating triangle shapes. Glue one piece on the top of the green cookie. Glue the eyes, and draw the scars and mount with an edible marker.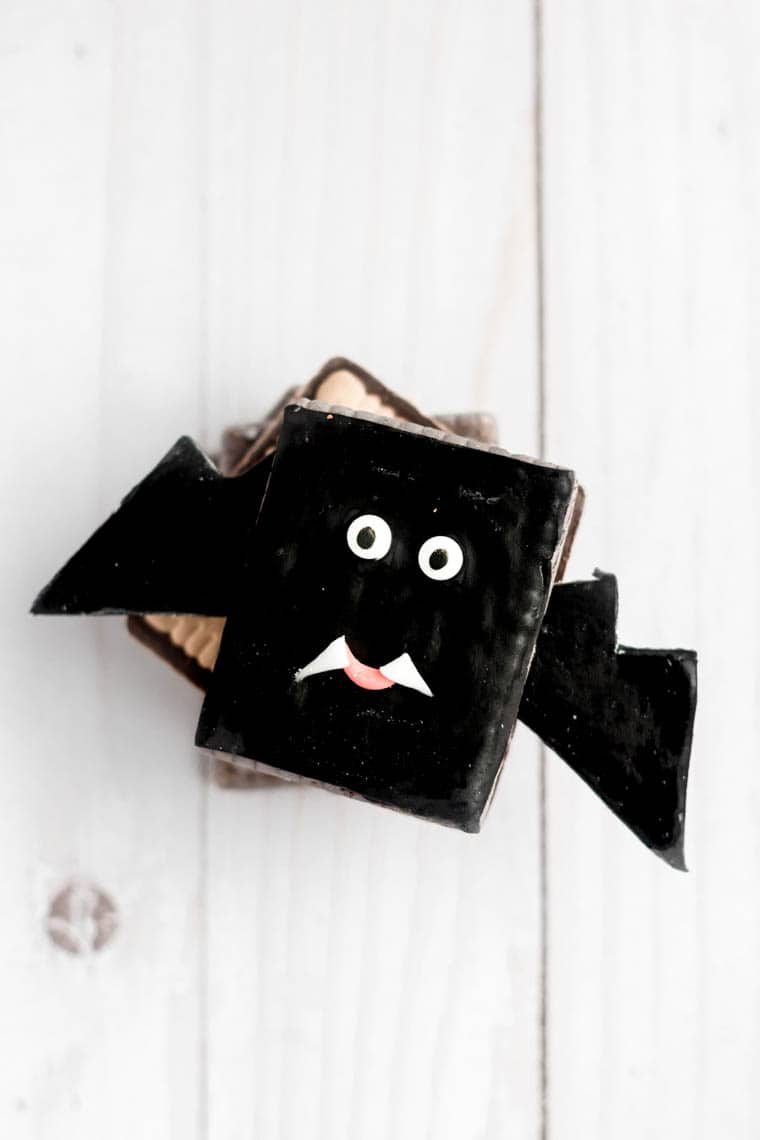 To create the Vampire Cookie:
Cut and glue black piece of fondant and 2 triangles making sure one side is longer than the others. Cut the angle where the two shorter sides meet (and create 2 extra triangles). Place the wings on top of the filling and add the decorated cookie on top.
Glue the eyes and using small pieces of fondant make the mouth and fangs.
About the recipe:
You will need to grind the Pepper Mint candy in a food processor. Sometimes the food processor can not process a whole hard candy, in that case place the candy inside a zip lock bag and the bag between two kitchen towels. Using a rolling pin bang the candy until roughly crushed. Place the crushed candy in the food processor.
For the Pepper Mint candy Lovers among us, feel free to increase the pepper mint extract to 2 tsp.
When adding the milk, make sure to add it a table spoon at a time, to avoid a runny filling.
If after adding the crushed candy the filling seems too stiff add more milk starting with 1 tea spoon.
Because there is milk in the filling, it needs to be refrigerated. To avoid that, use water instead of milk. (you might need less amount of water than milk).
Take the filling out of the refrigerator about an hour before using it. (it will be very stiff when coming out of the refrigerator).
Here are some more seasonal recipes you might enjoy:
Pepper Mint Candy Filling
Halloween decorated cookies
Ingredients
2

Sticks

Unsalted Butter, Soften

(225 g / 8 oz)

4

Cups

Powdered Sugar

(450 g / 16 oz)

pinch

salt

1

tsp

Pepper Mint Extract

36

Pepper Mint Candy (such as Starlight), Crushed*

(200 g / 7 oz)

1-2

TBS

Milk
Instructions
Place the Pepper Mint candy in a food processor and process to get a powder.

In a bowl of a standing mixer, beat butter on high until smooth.

Change speed to low and add the powdered sugar 1 cup at a time. Once the sugar has been added fully, increase speed back to high.

Add the salt and peppermint extract.

Add the milk, a table spoon at a time, to avoid a runny filling. Beat the filling for about 5 minutes.

Add the crushed Candy and mix to incorporate.