Last updated on October 18th, 2022.
These Pumpkin Butter Cookies are a bit different. Not only are these cookies, but they are also a mini pavlova dessert. A cloud of fluffy Pavlova can only get better when adding a swirl of spicy sweet Pumpkin Butter.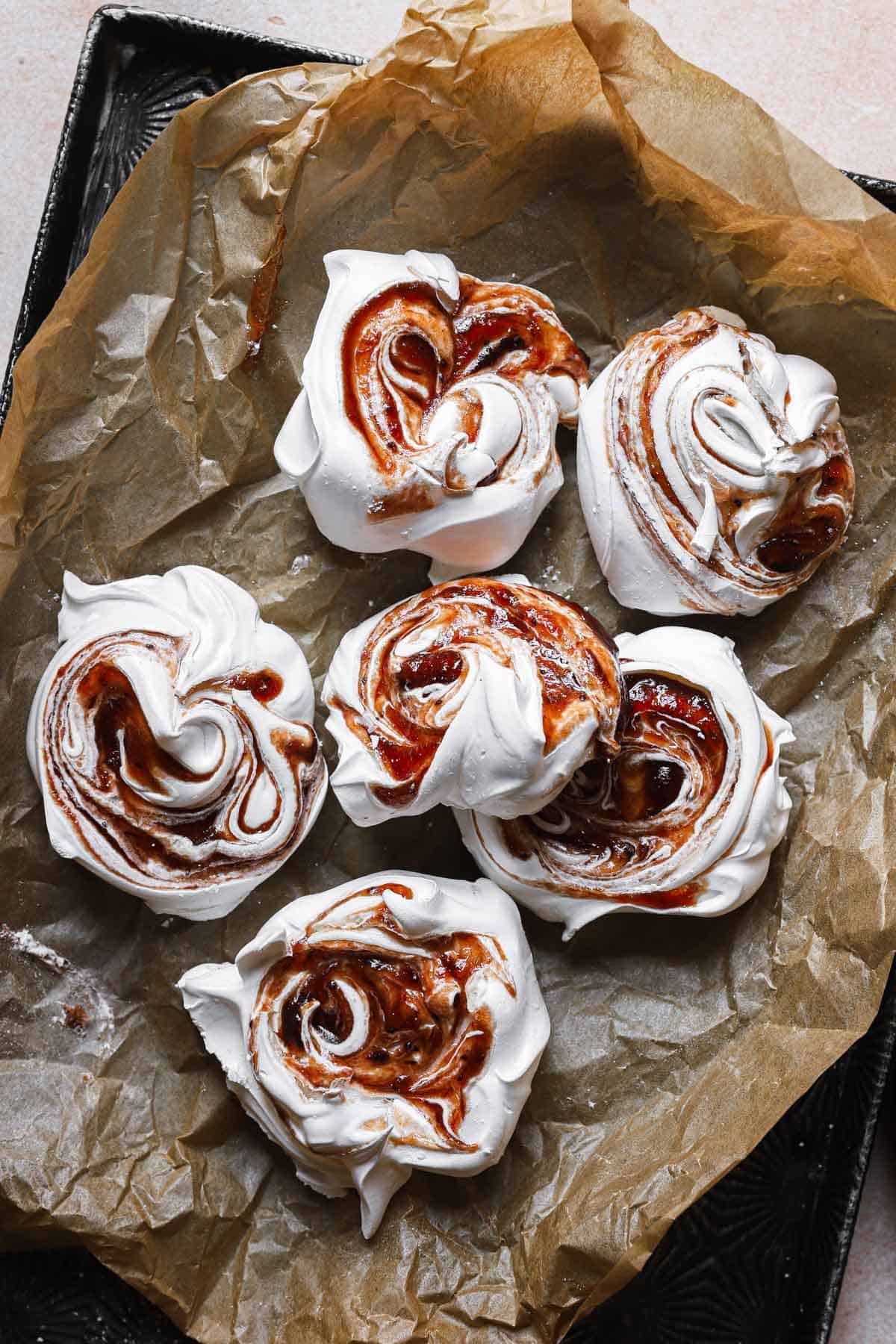 Crunchy on the outside and gooey on the inside, this treat is so impressive and just as easy to make.
A couple of weeks ago, I posted a Ginger Pecan Scones recipe and shared my fondness for anything Trader Joe's. So no surprise that on my last trip, I filled my cart with everything pumpkin it had to offer.
When I got home, my husband looked at the bag and declared: "You only bought it because it says pumpkin and Trader Joe's; you don't need it."
Proper and accurate, but my ego would not allow defeat, and I replied: "no way, I am baking Pumpkin Butter pavlovas tonight, you know, for the blog!".
As you can see, not a lie!
I am so happy I said pavlova (it was 9 pm); it is easy to make with minimum ingredients. The best part is catching up on my Netflix while waiting for it to bake. Plus. There are always some leftover egg whites, right?
About the Recipe:
The baking time will determent the texture of the pavlovas. If you follow this recipe and bake for two hours, the Palovas will be crunchy on the outside and gooey on the inside. Increase the baking time to 2 and a half minutes for a firm pavlova from the inside out.
The eggs and sugar mixture should be cooked over a double broiler until it reaches 150F. If you don't have a candy thermometer, the best way to know you have reached the correct temperature is by dipping the tip of your finger. Once you feel like it is too hot and want to take your finger out immediately, it is ready.
If you wish, skip the pumpkin butter and use chocolate syrup, cranberry preserves, or any other flavor you want.
When mixing the pumpkin butter into the meringue, use a swirl motion and avoid over-mixing. You just want to distribute the pumpkin butter and create the swirl design gently.
HAPPY BAKING!!!
If you like these Pumpkin Butter Cookies, here are some more pumpkin recipes you will enjoy
Pumpkin Scones, Pumpkin Cake, Pumpkin Streusel Snack Cake, Classic Pumpkin Pie.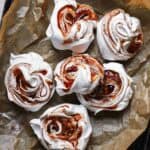 Pumpkin Butter Cookies
Easy 15 minutes light and airy pavlova loaded with pumpin flavors
Servings
10
Individual Pvlovas
Ingredients
5

Large

Egg Whites

(150g / 5 oz)

1 1/2

Cups

Sugar

(300 g / 11 0z)

1

tsp

Cornstarch

1/2

Cup

Pumpkin Butter
Instructions
Preheat oven to 200F. Line 2 cookie sheet pans with parchment paper and set aside.

In a large mixing bowl, place the egg whites and sugar and mix to combine.

Place the bowl over a pot filled with simmering water (the water should not touch the bottom of the bowl) over the stove on low-medium heat.

While constantly beating, allow the egg whites mixture to reach 150F*.

*See recipe notes.

Remove the egg whites mixture from the double broiler and place in a bowl of a standing mixture, beat on high.

Beat for 2 minutes, stop to add the cornstarch.

Keep beating on high until a cool, stiff, and shiny meringue has formed.

Have 2 regular soup spoons on hand. With one scoop some meringue and using the back of the second drop the meringue on the prepared baking sheet.

Leave 2" between each meringue "mountain."

Place 1 tsp of pumpkin butter at the center top of each meringue, and using a toothpick gently stir the pumpkin butter into the meringue to create swirls. 

Bake for 2 hours and allow the pavlovas to completely cool before removing from the pan.