Last updated on May 7th, 2021.
This post is sponsored by Bahlsen cookies. All thoughts and opinions are my own! Thank you for supporting the brands that help make One Sarcastic Baker possible.
This Pumpkin Cookie Streusels cake is a combination of soft and tender pumpkin cake filled and layered with crunchy cookie streusels.
For many of us, if not all us, Fall represents the most delicious time of the year. I even dare to say it is actually the most beloved season.
Having said that there is something to be said about the lack of originality during pumpkin season when it comes to creativity.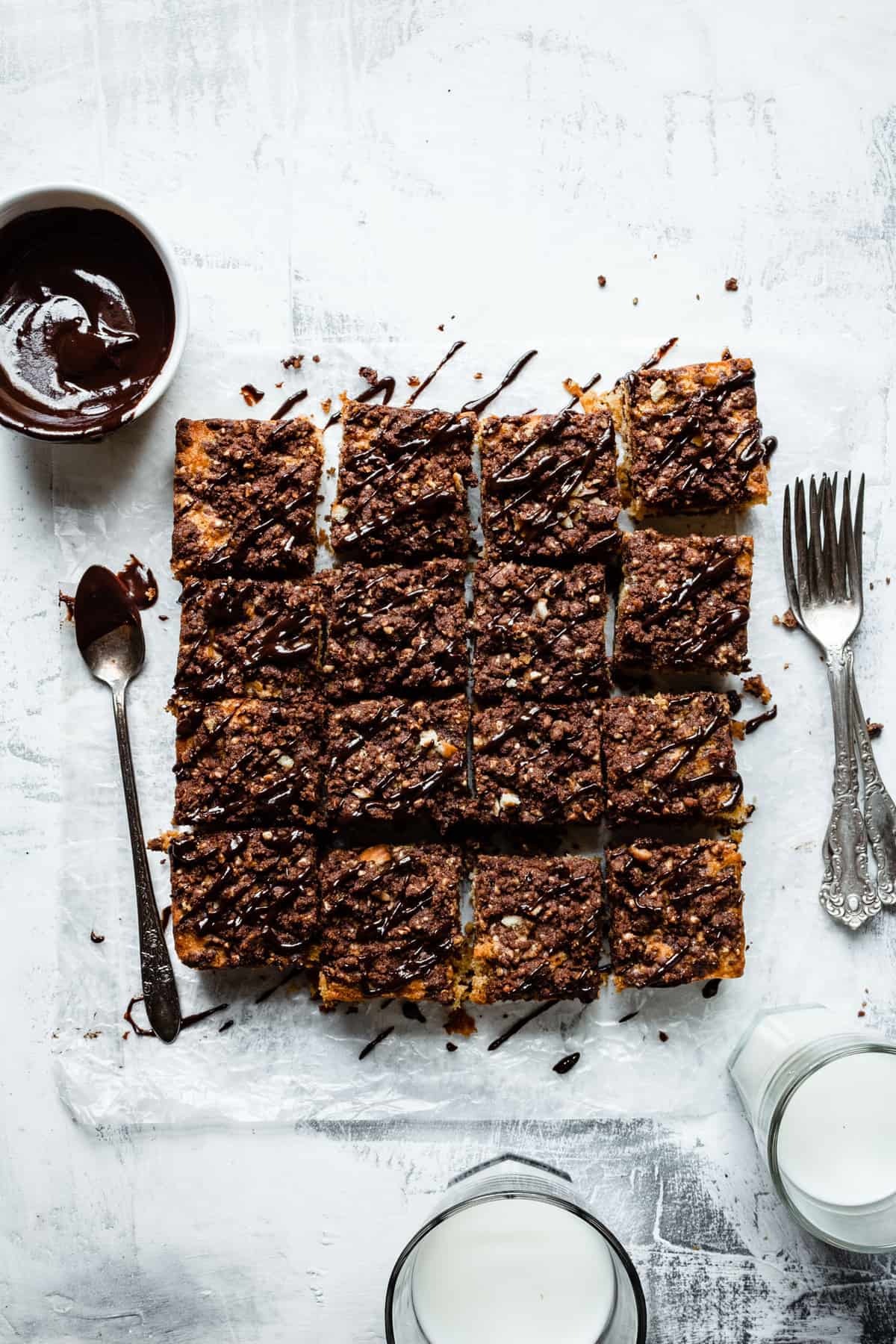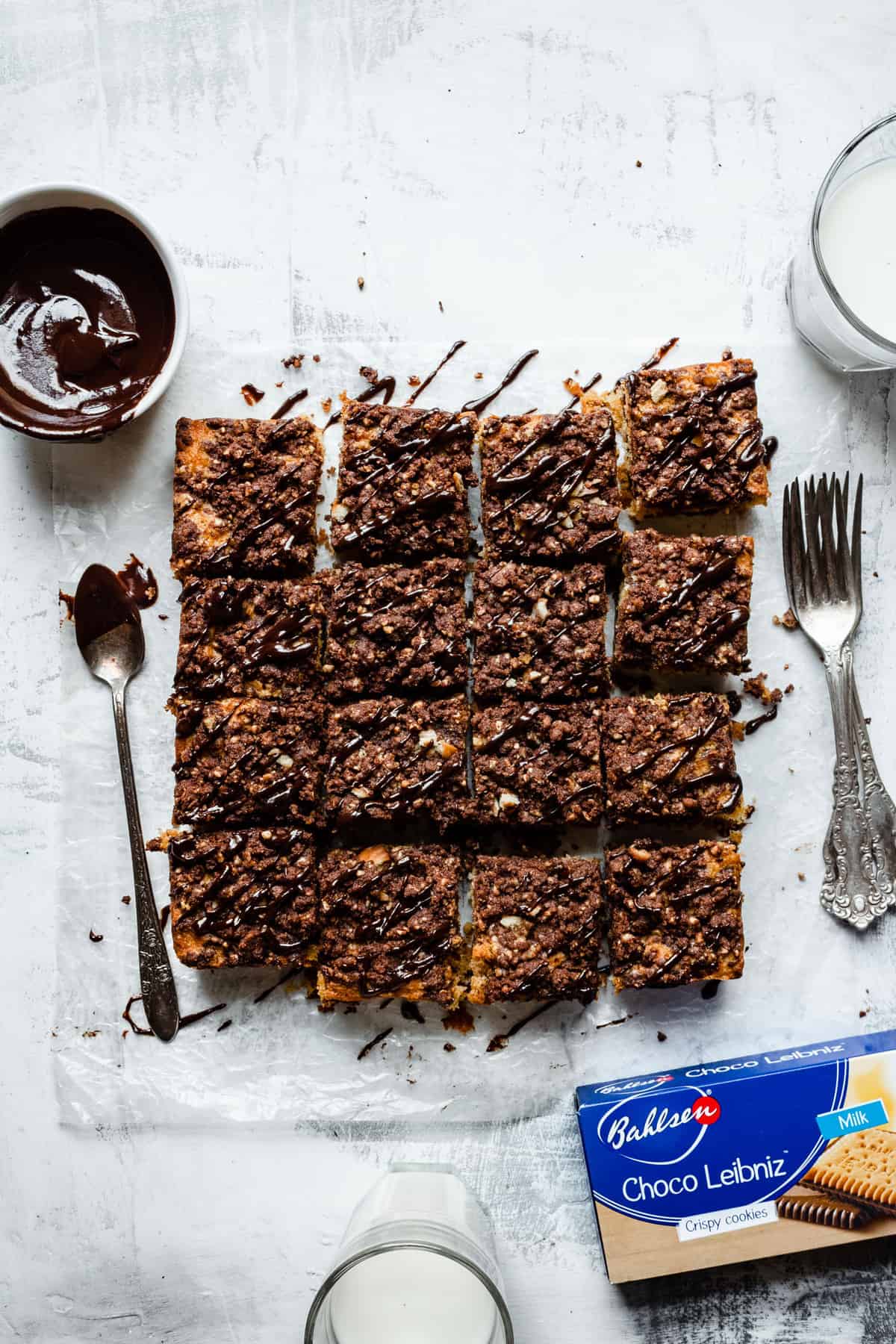 We all had that "A-ha" fall moment when we think to ourself: " I'll bake something-something pumpkin that will shake everybody's ground and will award me 5 pumpkin starts". Only to find out that Google, Pinterest and even the 1957 vintage cook book sitting on our shelf all had that exact same idea before us.
And I am no different. When Bahlsen asked me to develop a fall recipe using their chocolate covered cookies, the first, second and last idea was Pumpkin. Pumpkin filled chocolate cookies, pumpkin muffins, pumpkin pie, pumpkin cake roll, pumpkin ice cream, pumpkin Napoleon, (still thinking about this one) yada yada, yada.
Meanwhile, I ended up going with Pumpkin cake filled and topped with cookie Streusels. No rounds of applause are expected. But you know what? Who cares? Pumpkin fall recipes are so freaking delicious I want them all!
And despite the fact that no fireworks or blue ribbons are on the horizon, I can honestly say that this cake will rock your pumpkin season!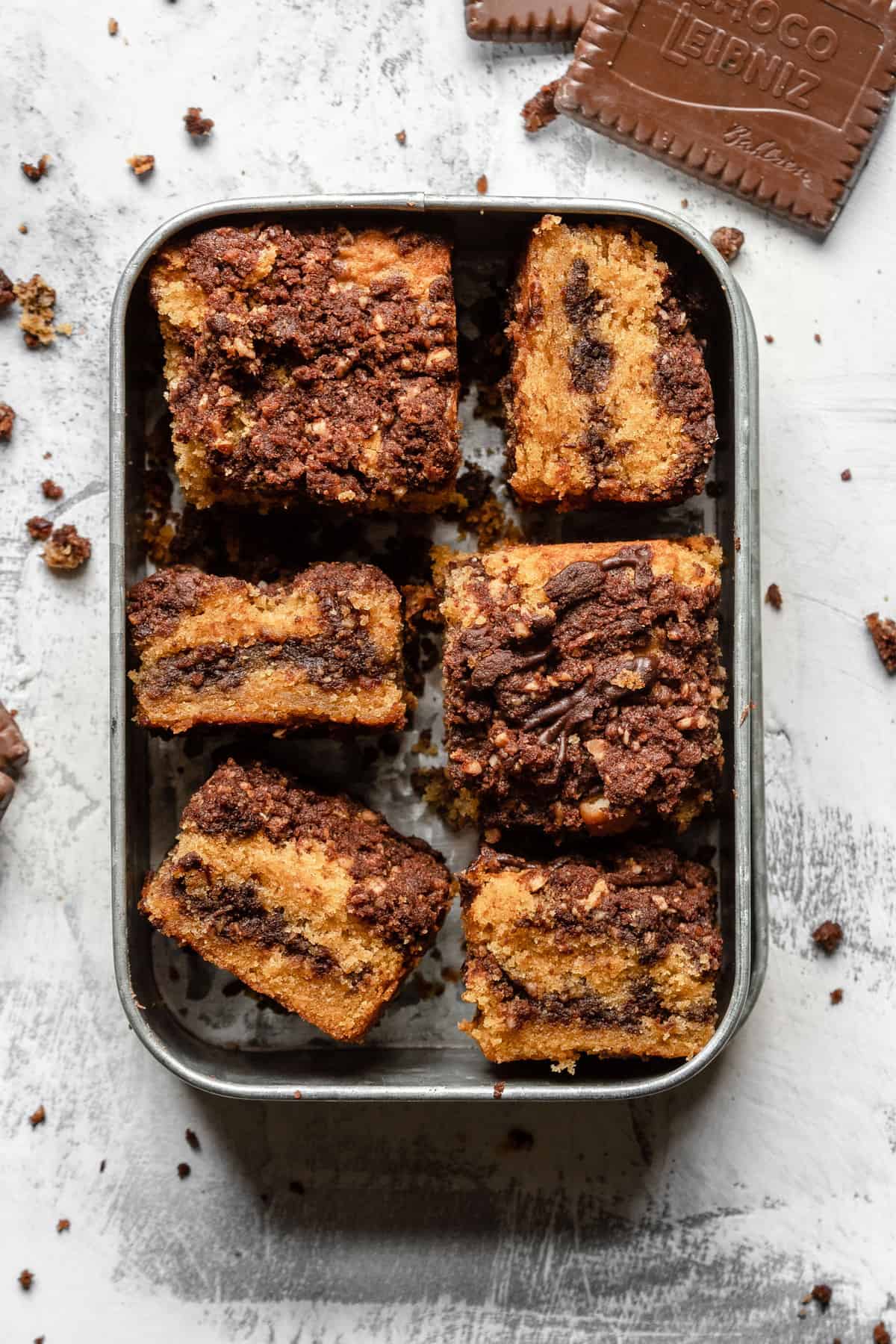 There is something so comforting about a cake topped with streusels, it's like the ultimate coffee cake crown. And what better jewels for a streusels crown than chocolate covered cookies?
Now Let's Talk About This Pumpkin Cookie Streusels Cake:
You can bake the cake in a 13″x9″ pan, two 8″x8″ round or square pans and or loaf/bundt pans. Please make sure to adjust the baking time accordingly.
For big streusels crumbs, grind the cookies and/or pecans into larger pieces.
I used pumpkin spice however, feel free to add your favorite choice of spices.
If you do not have potato starch just skip it. BUT, do not replace it with corn starch.
You can bake the cake without the streusel or with only top streusel.
HAPPY BAKING!!!
Here are some more fun recipes you might enjoy:
One more thing…
Don't forget to tag @OneSarcasticBaker on Instagram if you bake this recipe. Would love to see your creations!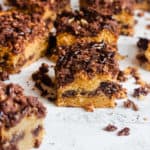 Pumpkin Cookie streusel cake
Ingredients
To Make the Streusel
1

PKG

Bahlsen chocolate leibniz cookies

(125 g / 4.5 oz)

3/4

Cup

AP Flour

(90 g / 3 oz)

2

TBS

Cocoa powder

1

Cup

Finely chopped toasted pecans

1/3

Cup

Light Brown Sugar

(70 g / 2.5 oz)

1/3

Cup

Sugar

(70 g / 2.5 oz)

1/2

Cup

Unsalted Melted Butter

(113 g / 4 oz)
Pumpkin Cake
1 3/4

Cups

AP Flour

(200 g / 7 oz)

1

tsp

Baking Powder

2 1/2

tsp

Pumpkin Spice

1

tsp

Potato Starch

3/4

Cup

Pumpkin Puree

(200 g / 7 oz)

1

tsp

Vanilla Extract

6

TBS

Unsalted butter, soften

(90 g / 3 oz)

1/2 cup – 1 TBS

Cup

Vegetable oil

( 90 g / 3 oz)

1

Cup

Sugar

(200 g / 7 oz)

3/4

Cup

Light brown sugar

(150 g / 5 oz)

4

Large

Eggs, room temperature.
Instructions
To Make The Streusel
Roughly break the cookies with your hands and place the broken pieces in a food processor, grind to a fine crumbs.

Place the cookies crumbs in a medium bowl and add the flour, cocoa powder, sugars and pecans.

Pour in the melted butter and use your fingers or a fork to incorporate all.
To Make the Punkin Cake
Preheat oven to 350F and line 2 8"x8" square pans with parchment paper, grease the sides.

In a medium bowl, sift the flour, baking powder and pumpkin spice, use a fork to stir and set aside.

Mix together the pumpkin puree and vanilla extract. Set aside.

In a bowl of a standing mixer, fitted with the paddle attachment mix the sugar and butter until incorporated. Slowly drizzle the oil and mix until light and fluffy.

Reduce speed to low, add eggs one at a time waiting for each egg to fully incorporate before adding the next. Scrap the sides and bottom of the bowl.

Add the flour mix in three additions alternating with the pumpkin puree. Once you added the last portion of the flour, stop the mixer and use a rubber spatula to incorporate any flour strikes.

Pour 1/4 of the batter into prepared pans, smooth it with a spatula and evenly sprinkle 1/4 of the streusels ontop. Repeat this step with the remaining batter and streusels.

Bake for 35-40 minutes or until toothpick comes out with a few moist crumbs from the center of the cake.

Allow to cool completely before slicing.