Last updated on May 7th, 2021.
What do I mean when I say Chestnut Filled Madeleines? Well, imagine orange coffee flavors infused into soft, fluffy and tender Madeleines. And as you bite into this harmony of flavors a warm sweet stream of smooth chestnut paste is slowly dripping down.
This post and Chestnut Madeleines recipe is sponsored by Eagle Brand® Sweetened Condensed Milk, thank you for supporting the brands that make One Sarcastic Baker possible.
It is called the "most wonderful time of the year" for many good reasons. And Chestnut is definitely one of those reasons.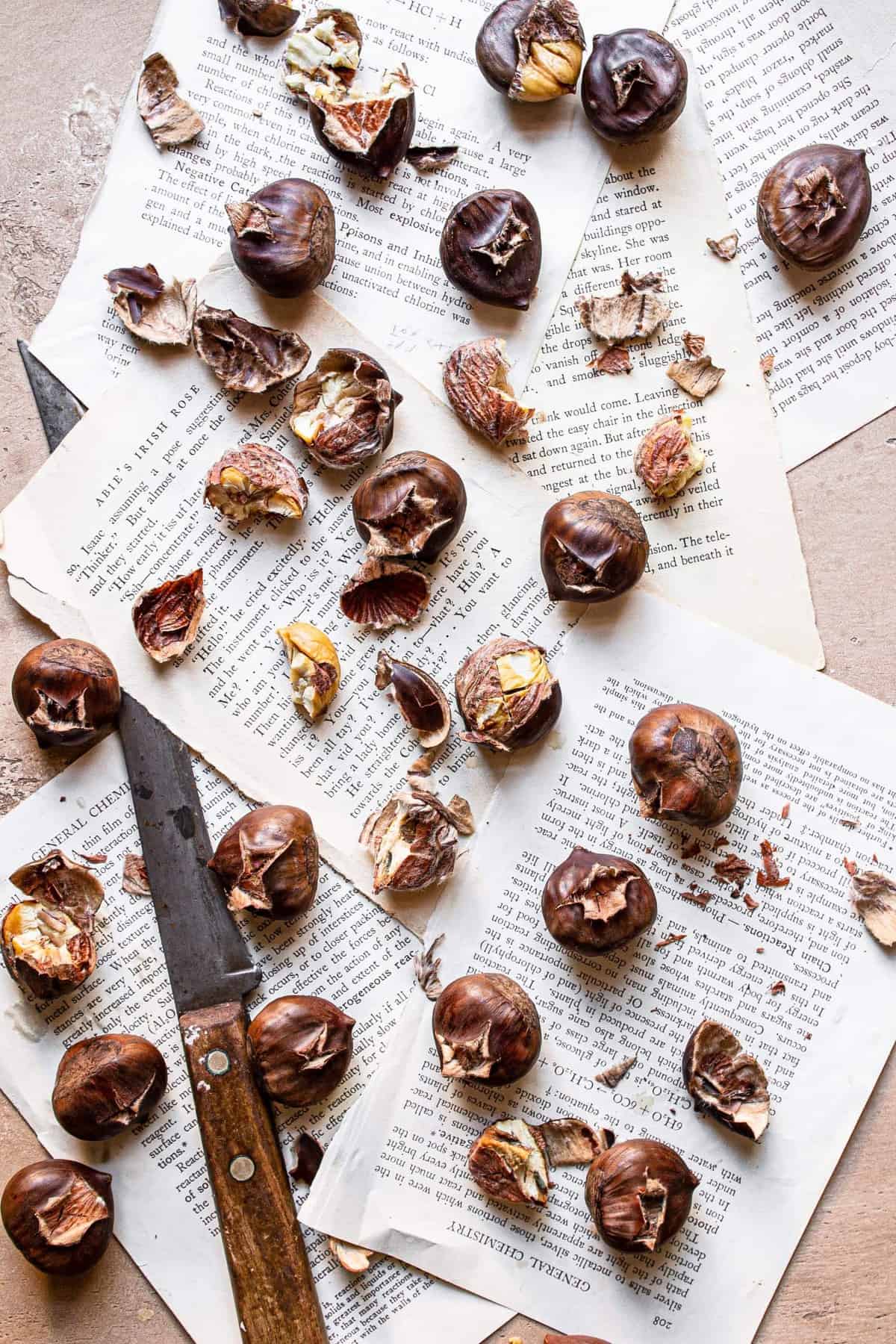 This beautiful, soft and flavorful fruit calls for a unique recipe, one that will actually make you want to celebrate. So Chestnut paste it is. Not only it is so delicious and versatile, but also it is a great way to prolong chestnut's short season for a while longer. To create this paste I used Eagle Brand® Sweetened Condensed Milk, it is the best way to achieve smooth silky texture while maintaining the flavors.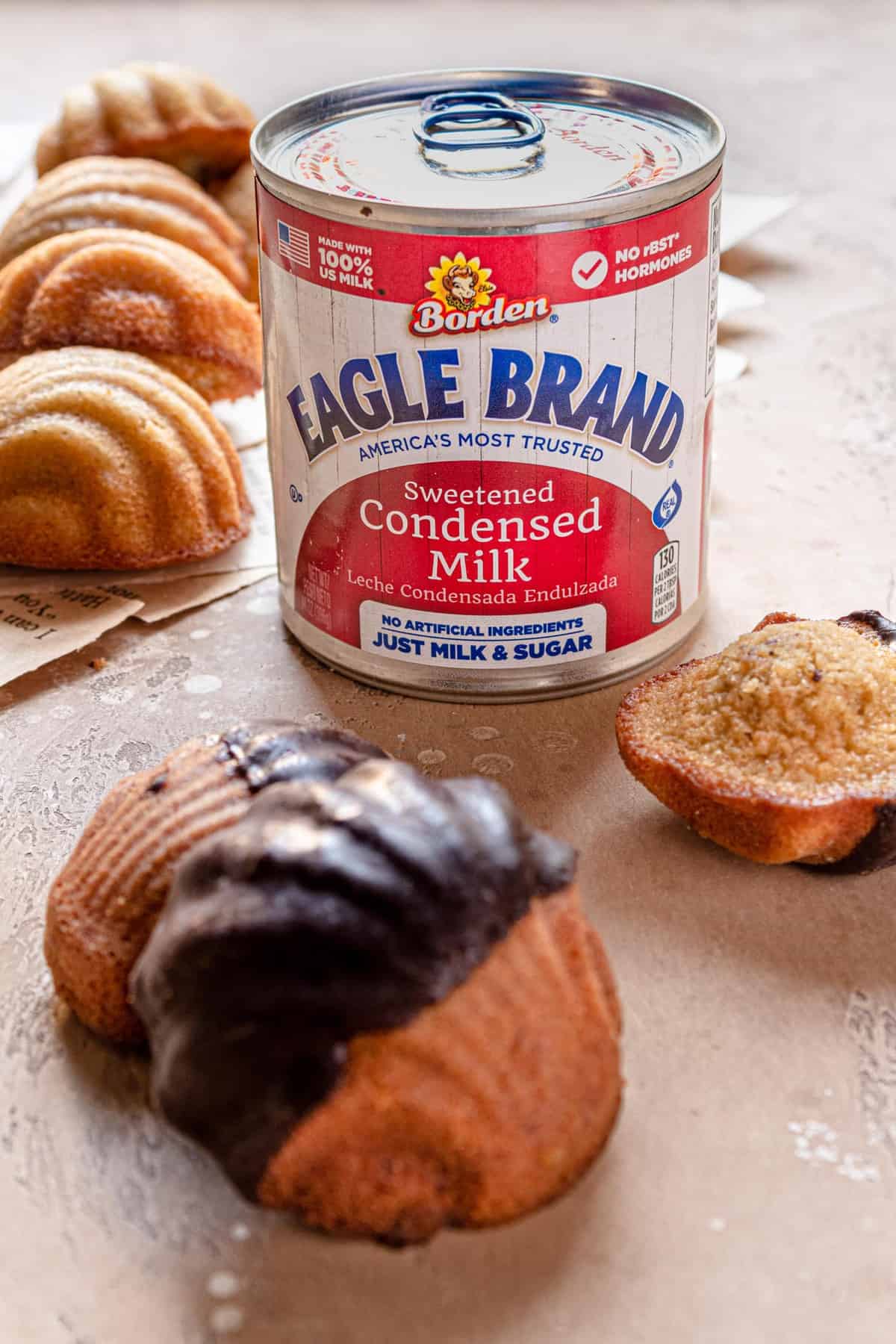 Now Let's Talk About This Chestnut Madeleines Recipe:
For the Chestnut paste, I used cooked and boiled chestnuts packed in a vacuum-packed I got at my local Trader Joe's.
You can use homemade baked chestnuts instead of the store-bought. To bake Chestnuts, firstly mark an X with a knife on the flat side of the chestnuts, and bake for 25-20 minutes at 400F preheated oven.
Feel free to skip browning the butter and just use melted butter.
The recipe calls to refrigerate the madeleines batter for 1 hour before scooping it into the pans. The reason for that is so the liquid in the batter can soak up the flour.
You can skip the second refrigerating (after scooping into the pans). However, if you really love the bumpy bottom, freeze the pans with the batter for about 10 minutes before baking. (also, make sure to fill the cavities only halfway)
Use all-purpose flour in case you do not have cake flour available to you.
Best to eat the Madeleines warm right out of the oven. But, I found that if I warp some in a lightly damp kitchen towel and warm in the microwave they are still super delicious even a few days later.
The filling will harden as the Madeleines get cold. Another way to insert the paste is by using a piping bag. Allow the Madeleines to cool and fill the cookies using a small round tip.
More ways to use this Chestnut Paste:
Chocolate Fudge:
Place a large bowl on top of a double boiler, add 12 oz semi-sweet chocolate chip, 1 14 oz Eagle Brand® Sweetened Condensed Milk can, 3/4 cup chestnut paste,1/2 stick butter, 1 tsp of orange zest and 1/2 tsp of nutmeg. Let cook while occasionally string until the chocolate and butter have melted. Pour the mix in an 8″x8″ pan lined with parchment paper smooth the top and let cool until firm.
Chestnut Buttercream:
Add 2 TBS – 1/4 cup Chestnut paste into any plain buttercream recipe.
Cake fillings:
Spread 1/4 cup of chestnut filling between two 8″ cake layers (but make sure to border the bottom cake with buttercream).
Hot Drinks:
Add 1 TBS to a warm cup of milk, hot cocoa or even your coffee.
HAPPY BAKING!!!
Here are some more recipes you might enjoy:
One more thing…
Don't forget to tag @OneSarcasticBaker on Instagram if you bake this recipe. Would love to see your creations!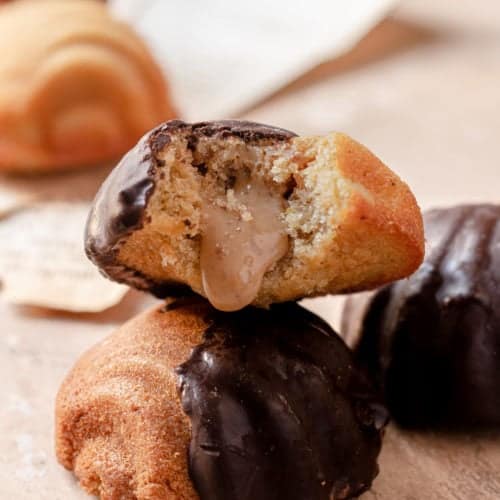 Chestnut Madeleines
Ingredients
Chestnut Paste
1

PKG

Vacumed cooked chestnuts

(225 g / 8 oz)

3/4

Cup

Water

(180 ml / 6 oz)

1

14 oz can

Eagle brand Sweeten condensed milk

(60 ml / 2 oz)

1

tsp

Orange Zest
Madeleines
1

TBS

Butter, unsalted

(100 g / 3.5 oz)

2

Large

Eggs, room temperature.

1/2

Cup

Sugar

(100 g / 3.5 oz)

1

tsp

Orange Zest

2/3

Cup

Cake Flour

(80 g / 3 oz)

3/4

tsp

Baking powder

1/8

tsp

Baking soda

3/4

tsp

Espresso powder OR Instant coffee

1

tsp

Vanilla extract

2

TBSP

Orange Juice
Chocolate dip
1

Cup

Semi-sweet or Bittersweet chocolate chips

(170 g / 6 oz)

2

tsp

Vegetable shortening
Instructions
To make the Chestnut paste
In a small pan, place chestnuts, water and 1/4 cup of sweetened condensed milk.

Cook over medium heat. Once starting to boil reduce heat to low and cook for about 15-20 minutes. Until liquids have reduced and thickened a bit.

Place the chestnut along with the liquids in a bowl of a food processor and pulse until smooth.

Pour the remaining of the sweetened condensed milk in a medium boil over a pan with boiling water (double boiler) and add the chestnut paste and orange zest.

Cook for about 12-15 minutes stirring occasionally. Until the paste has thickened.

Remove from heat and store in a container until ready to use.
To Make the Madeleines
In a small pan add butter and cook over medium heat until the butter is brown and has a nutty aroma. Pour into a cup and allow it to cool.

Sift together flour, baking powder, and baking soda.

In a bowl of a standing mixer, add the sugar and orange zest and rub the sugar with your fingers to infuse the zest.

Add the eggs and beat using the whisk attachment medium speed for about 2 minutes.

Stop the mixer and add the coffee, orange juice, and vanilla extract. Gently stir with a rubber spatula.

Gently fold in the flour mix.

Place the batter in the refrigerator for 1 hour.

Butter and sprinkle with flour 12 cavities madeleines pan.

Fill each cavity halfway with batter and scoop 1/2 – 1 tsp of chestnut madeleine. If time permits, place back in the refrigerator for 1 hour.

Preheat oven to 400F and bake for 10 minutes.

Remove from the oven and let cool for 5-10 minutes before removing from pan.

Melt chocolate and vegetable shortening dip Madeleines halfway in.