Last updated on April 24th, 2023.
This Hazelnut cake is the next best thing to come out of your oven. I am talking about a tender, soft and crumbly cake loaded with ground hazelnuts and spices, then topped with sticky sweet syrup and even more hazelnuts. This delicious cake is perfect for an afternoon snack, a birthday cake, or even breakfast!
This post is sponsored by Spice Islands, however, all thoughts and opinions are my own, thank you for supporting One Sarcastic Baker.
I have to say I am super excited about this recipe, it is unique and even more delicious, for two reasons: the amazing flavor of hazelnuts (without using hazelnut extract) and Spice Islands spices. I am not going to lie, I spent quite a bit of time on their website trying to select which spice I wanted to bake with. After all, I am a huge spice fan. Not only do spices provide flavor to our baked goods, but they also increase the moistness and delay the staling and spoilage process.
But when I came across Orange Peel it was a no-brainer: Hazelnut cake with orange peel and nutmeg cake. I wanted to create a cake you probably ate growing up when visiting your grandma. Something simple that will leave a lasting impression.
I also had in mind torta di nocciole, a hazelnut torte. A torte is a cake with a small amount of flour or no flour at all.
This cake is impressive, easy to make, loaded with flavors, and perfect for a special occasion or to simply celebrate a lazy afternoon. I have no doubt you will collect rave reviews.
If you are a fan of Hazelnuts, check out these Hazelnut shortbread cookies, and this Hazelnut chocolate chips bread. Adding some spices to both recipes might be a nice addition.
Key ingredients for the cake
Please note: the full ingredients list you can find below on the recipe card. And as always make sure all of the ingredients are at room temperature!
Roasted hazelnuts. Make sure the nuts are roasted, it is the best way to bring out the hazelnuts' amazing flavors. I have a post all about How To Roast Hazelnuts.
Potato starch. Is the most important ingredient to make this cake tender and crumbly and not too dense.
Nutmeg and Orange zest. My secret is to give the cake its unique warm and homemade taste.
All-purpose flour. Unbleached is my go-to option.
Honey. Another way to round up all of the natural ingredients, use the honey you like.
Ingredients For The Topping
Light brown sugar
Butter
Honey, use a brand you like, and remember the darker it is the darker the topping will turn out.
Roasted whole, or chopped hazelnuts
Substitutions
I highly recommend that you will not make any changes to the ingredients unless you have no other option. The cake was tested a few times and I chose each ingredient for its unique contribution.
Potato starch. Please don't. It is one of my favorite baking ingredients and I highly recommend investing in buying it. But if you cannot find it in your local grocery store, replace it with bleached all-purpose flour.
Sour cream. Use buttermilk instead of full fat plain Greek yogurt. For a non-dairy option use unsweetened plain apple sauce.
How to make this Hazelnut Cake Recipe (Hazelnut Torte)
Even though this cake looks "fancy-schmancy", it is quite easy to make, be sure to carefully read the recipe and recipe tips for the best results.
Make the topping
Place the ingredients in a medium saucepan and cook over medium-low heat until the butter has melted and the sugar has dissolved.
Pour the syrup into an 8-inch cake pan lined with parchment paper. Evenly spread the whole hazelnuts (you can also use chopped hazelnuts.) Set aside.
Make the cake
Process the roasted hazelnuts and potato starch using a food processor until the nuts are fine and resemble coarse cornmeal.
In a large bowl, mix the ground hazelnuts with the rest of the dry ingredients and spices, and set aside.
Beat the butter, sugar, and honey on high or medium speed until light and fluffy, about 3-4 minutes. Add the egg one at a time, waiting for the first egg to fully incorporate before adding the second. Mix in the vanilla extract.
Add the hazelnut meal mixture in three additions alternating with the sour cream.
Scoop the cake batter into the prepared pan and use an offset spatula to evenly spread it.
Bake until a toothpick comes out clean from the center of the cake. Remove from the oven and make sure to invert the cake onto your serving dish within 5 minutes.
Variations
Nuts. You can use other ground nuts such as pecans or walnuts if you are not a fan of hazelnuts. Almonds and almond flour are a good option but note that they are very mild in flavor.
Spices. I LOVE nutmeg, and I think it goes so well with hazelnut flour. But other good options would be Spice Islands Ground Saigon Cinnamon and even Spice Islands Pumpkin Pie Spice.
Chocolate hazelnut cake. Omit the potato starch with cocoa powder and fold in ½ cup (85 g) of mini chocolate chips.
Gluten-free. Replace the flour with 1×1 gluten-free flour.
Topping and serving ideas
If I am honest, the cake is amazing with none. But if you bake it for a special occasion it will be a nice addition.
Powdered sugar. I think it is the best option when you sip the topping.
Whipped cream. Of course, you can use Stabilized whipped cream. But I like a soft peak whipped cream, simply whip until soft whip forms and serve immediately.
Chocolate ganache. Might be a better idea for when you bake this cake without the topping.
Ice cream. This would be the ultimate way to enjoy this dessert. Warm up the cake then scoop vanilla ice cream on top!
Storing the cake
The cake is best when stored at room temperature, and covered for up to 3 days. It is best eaten when fresh, within a few hours after coming out of the oven.
Expert tips
You can bake this cake using a stand mixer or an electric mixer ( a hand mixer).
A springform pan is also a good option, release the sides of the pan, place a plate over the cake then turn it upside down. Place the pan over a baking sheet lined with parchment paper to avoid leaking.
If you choose to bake the cake without the topping, make sure to reduce the bake time to 25-28 minutes.
This cake is not a good candidate for a layer cake. If you wish to bake a layer cake, This Hazelnut Butter Cake is the ultimate hazelnut cake for you.
FAQ
How long does Hazelnut cake last?
Up to 3 days at room temperature, covered
What does Hazelnut go well with?
Chocolate, nutmeg, cinnamon, orange, and coffee
Can I bake this recipe as cupcakes or a layer cake?
Not a good idea. Use this Hazelnut Butter Cake if you wish to bake cupcakes or layer cake.
As soon as I turned the cake over the nuts fell off, what can I do?
That might happen if the cake is very hot and have yet to set. Make sure you remember to line the pan with parchment paper and allow the cake to cook for 10-12 minutes before inverting it.
MORE RECIPES YOU MIGHT LIKE
Walnut chocolate tart, Honey Roasted Cashews
DID YOU TRY THIS RECIPE?
If you tried this recipe or any other recipe by One sarcastic Baker baking blog, please take a movement to rate and comment at the end of each recipe. Your questions, ideas, and thoughts are priceless, and here at OSB we value them more than butter!
And don't forget to tag me on Instagram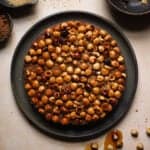 Hazelnut cake
Tender, and light hazelnut cake sprinkled with nutmeg and orange zest.
Ingredients
For the syrup and toppings
1/2

Cup

Light brown sugar

(100 g / 3 oz)

1/4

Cup

Honey

(85 g / 3 oz)

6

tablespoons

Unsalted butter, cut into 1-inch pieces

(85 g / 3 oz)

1/2

teaspoon

Salt

1

Cup

Whole roasted hazelnuts

(140 g / 5 oz)
For the cake
2/3

Cup

Roasted hazelnuts

(90 g / 3 oz)

3

Tablespoons

Potato starch

(27 g / 1 oz)

1/2

Cup

All-purpose flour

(60 g / 2 oz)

1

teaspoon

Clabber Girl® Baking Powder

1/4

teaspoon

Clabber Girl® Baking Soda

3/4-1

teaspoon

Spice Islands® Ground Nutmeg

2

teaspoons

Spice Islands® Orange Zest

1/2

Cup

Unsalted butter, softened

(113 g / 4 oz)

1/4

Cup

Granulated sugar

(50 g / 2 oz)

1/3

Cup

Honey

(85 g / 3 oz)

2

Large

Eggs, at room temperature

1/2

Cup (- 2 tablespoons)

Full fat sour cream, at room temperature

(100 g / 3.25 oz)

1

teaspoon

Spice Islands® Pure Vanilla Extract
Instructions
To make the syrup
In a medium sauce pan, pour the honey then add the light brown sugar, butter pieces, and salt.

Cook over medium heat, stirring occasionally until the butter has melted and the sugar has dissolved.

Line an 8-inch round pan with parchment paper, pour the syrup into the pan then evenly spread the hazelnuts over. Set aside.
To make the cake
Using a food processor, process the hazelnuts and potato starch until finley ground.

Move the ground hazelnuts into a medium bowl, then mix in the flour, baking powder, baking soda, nutmeg, and orange zest, set aside

In a bowl of a standing mixer, fitted with the paddle attachment, beat the butter, sugar, and honey on medium speed for 4-5 minutes or until light and fluffy.

Increase speed to medium-high and add the vanilla extract followed by the eggs, one at a time waiting for the first egg to fully incorporate before adding the second. Scrape the sides and bottom of the bowl.

Reduce speed to low, and add the hazelnuts-flour mixture in three additions altering with the sour cream starting and end ending with the dry mixture. Add the last portion of the flour mixture using a rubber spatula.

Scoop the cake batter into the prepared pan over the syrup and hazelnuts, then use an offset spatula to evenly spread it.

Bake for 35-40 minutes or until a toothpick comes out clean at the center of the cake.

Remove, allow to cool for 2-3 minutes then invert the cake onto your serving plate, or an 8-inch cake board.
Recipe Notes
Make sure all of the ingredients are at room temperature.
If you do not have a stand mixer, you can use a hand mixer.
The cake is also great when baked "naked" meaning without the syrup or extra hazelnuts. You may need to reduce the baking time to 25 minutes.
If you do not have potato starch do not replace it with cornstarch. Increase the amount of flour to 3/4 cup (90 g) instead