Last updated on May 7th, 2021.
Soft and chewy Moroccan Peanuts cookies coated with sugar and loaded with peanuts and spices.
Growing ups these cookies were a staple in my grandmother's kitchen, one of her many Moroccan origin recipes.
Don't you just love how a recipe can help you re-live some of your favorites moments in life? It's kind of having a secret life away from the daily hustle. It's just you and the magic of baking (or cooking) and your favorite family members that may to may not be around anymore.
Ingredients in the Moroccan Peanuts Cookies
Toasted peanuts, skin off.
Sugar
Egg
Egg yolks
Cinnamon
Ginger
Salt
Powdered sugar
How to make Moroccan Peanuts Cookies:
Firstly, place the peanuts in a food processor then process for about 1 minute. Next, add the sugar and process until it resembles coarse cornmeal.
Next, add the egg, egg yolk, spices, and salt then mix it all using a wooden spoon or your hands. Allow the mixture to rest for about 20-30 minutes.
Last step: use your hands to make small balls (the size of the mini cupcakes liners) and roll each ball in the powdered sugar then place it in the mini cupcake liner.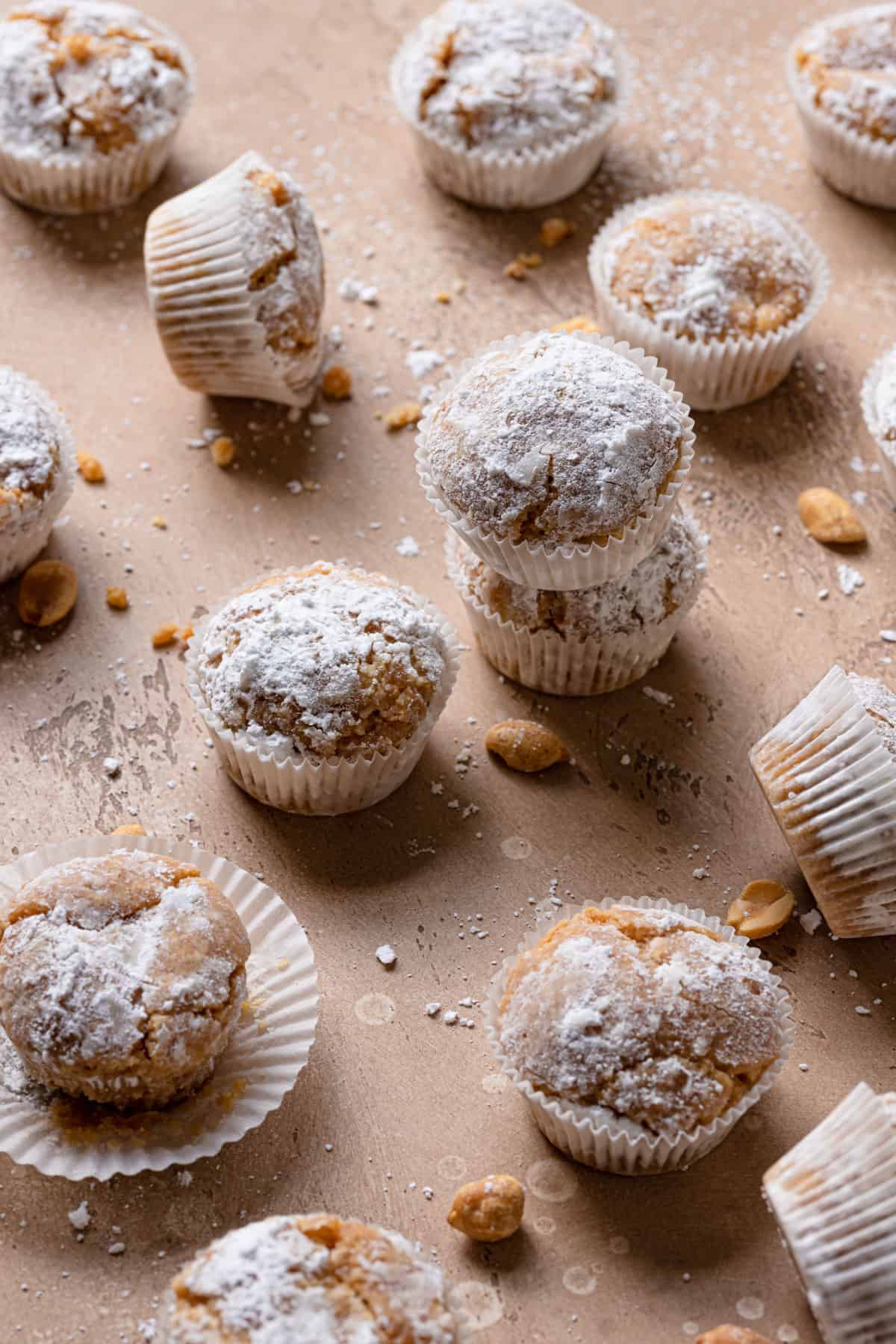 Baking and storing the cookies:
These cookies are baked at low oven temperatures. Starting with 300F for 8-10 minutes then reducing the oven temperature to 215F and baking for additional 20 minutes. You will know that the cookies are ready when they are cracked at the top are firm on the outside and soft on the inside. Meaning, when you press the top it is hard but you can feel how soft the inside of the cookie is.
In addition, you can prepare the dough a day ahead, place it in the refrigerator, and bake the following day.
The cookies can be stored at room temperature, in a container for 7-10 days. Also, you can freeze the cookies in a sealed container for up to 2 months. When ready to serve, remove from the freezer, uncover the cookies, and allow to reach room temperature.
HAPPY BAKING!!!
Also, one more thing…
Don't forget to tag @OneSarcasticBaker on Instagram if you bake this recipe. Would love to see your creations!
Here are some more cookie recipes you might enjoy:
Lastly, did you like this recipe and find inspiring? Save THIS PIN to your Baking or Cookies boards.
Moroccan Peanuts Cookies
Ingredients
2

Cups

Toasted Peanuts, (no skin)

(250 g / 11 oz)

3/4

Cup

Sugar

(150 g / 5.5 oz)

1

Large

Egg

2

Large

Egg Yolks

1/4

tsp

Baking Powder

1/4

tsp

Ground Ginger

1/4

tsp

Cinnamon

1

Cup

Powdered Sugar (to roll the shaped cookies in)

(125 g / 4.5 oz)

30

small

Paper baking cups
Instructions
Place the peanuts in the food processor and process for about 10-15 seconds. Add the sugar and process for the second time until you have a fine meal.

Place the peanuts and sugar mix in a medium bowl and add the remaing of the ingredients. Using your hand mix to evenly distribute. Set a side for 30 minutes.

When ready to bake, preheat oven to 300F and place the powdered sugar in a medium deep bowl.

Roll the cookie dough into small balls (about the same size of the baking cups),roll each cookie in the powdered sugar and place in a baking cup.

Bake for 8 minutes until the cookies start to Harden and some cracks start to forms. Reduce oven heat to 215F and bake for extra 20 minutes.