Last updated on November 14th, 2022.
Chocolate Covered Graham Crackers are the ultimate no-bake nostalgic treat. These crisp graham crackers are a delicious chocolate treat and your daily value of happiness.
Check out this Chocolate Covered Pecans, and Chocolate Covered Cashews for another recipe idea
Why this chocolate graham crackers recipe?
There are many reasons you should make this recipe, and chances are I will not surprise you with a fact you didn't already know. But just for the fun of it let's give it a go:
Homemade. This is a simple, fun, and easy recipe for a homemade recipe. We all know there is nothing better than a homemade delicious treat.
Versatile. To make this chocolate covered grahams, you can use any chocolate: dark chocolate, milk chocolate, and even white chocolate. So you can alter the title and name it: "dark chocolate covered graham cracker" or even: "milk chocolate covered graham crackers recipe".
Nostalgic. Our favorite childhood treats stay with us, especially graham crackers treats coated with rich chocolate. Unfortunately, these are not as common to find in candy stores anymore but fortunately, they are even easier to recreate.
Easy. The search for easy recipes is endless and now you can add one more to your recipe repertoire. All you need is melted chocolate and a few graham cracker sheets.
Kids favorites. Not only to eat but also to make, this is a great way to spend some quality time with your family.
Perfect gift. Wrap some of these chocolate covered graham cracker cookies in snack bags as a holiday treat or just a fun way to show love.
Ingredients
To make this chocolate-dipped graham crackers recipe you will need to prepare your ingredients and equipment at the same time. With this one, the organization is key. The good news is that the recipe calls for simple ingredients and tools.
Ingredients:
Chocolate (kind of chocolate is up to you)
Graham crackers
Your favorite toppings (optional)
Tools:
Baking sheet
Parchment paper
Microwave-safe bowl
Rubber spatula
A fork
Substitutions:
Different types of chocolate are a great option but make sure to use real, cocoa butter base chocolate. Also, for different colors you can use candy melts.
Tea biscuits are a great alternative if Graham squares are not available to you.
What chocolate should I use?
The one you like and enjoy eating. It can be dark, milk or white, and even colorful candy melts.
How to melt the chocolate?
Place it in a large glass bowl then heat in the microwave using 30 seconds increments. Make sure to swirl the bowl or stir the chocolate between each segment to prevent the chocolate from melting. Once the chocolate is mostly melted, you can use a spatula to melt any small pieces by stirring and distributing heat residue.
Make sure the spatula is completely dry, even the tiniest drop will seize the chocolate and you'll have to start again.
To have a beautiful glossy appearance to your chocolate check out this post on How to temper chocolate. And even a post explaining what is tempered chocolate.
How to make this chocolate covered Graham crackers recipe?
Use this short tutorial as your base recipe, from there you can upgrade it or personalize it as I did below with the S'mores variations.
Line a baking sheet with parchment paper and set it aside. Have a large fork ready to be used.
Place the chocolate callets (chocolate wafers), candy melts or chopped chocolate in a large microwave-safe bowl and microwave until melted, using 30-second increments.
Place the bowl next to the prepared baking sheet then use the fork to gently press the graham cracker in the melted chocolate.
Slowly lift the cracker and tap the fork on the sides of the bowl to remove excess chocolate drip.
Gently place the now dipped graham cracker on the parchment paper. If you are using any decorating add-ons, now is the time to add them.
Leave at room temperature until the chocolate sets.
Topping and decoration ideas for:
Below is a fun tutorial of how I made S'mores chocolate Grahams, but there are so many other fun ideas, and here are a few:
Almond bark. Sprinkle some chopped toasted almonds.
Sweet and salty. Sprinkle some sea salt.
Festive sprinkles are always a fun option for a special occasion or as a holiday treat.
Colorful chocolate candy coating. A great option if you want to make holiday chocolate covered graham cracker, or even as a way to cheer your favorite sports team.
Flavor. Add 1 drop of flavored oil such as mint, strawberry, or raspberries.
Mini chocolate chips
Crushed oreo cookies
Making S'mores Treats
This is super easy and calls for two extra steps. You can definitely pipe some fresh homemade marshmallows and let it set instead of using mini-marshmallows.
Place a few crackers in a pan lined with parchment paper and top with mini marshmallows.
Bake for 2 minutes using the broil option in your oven.
Once cooled completely, dip in the melted chocolate marshmallow face up.
Lift with a fork, tap, and place in the pan to set.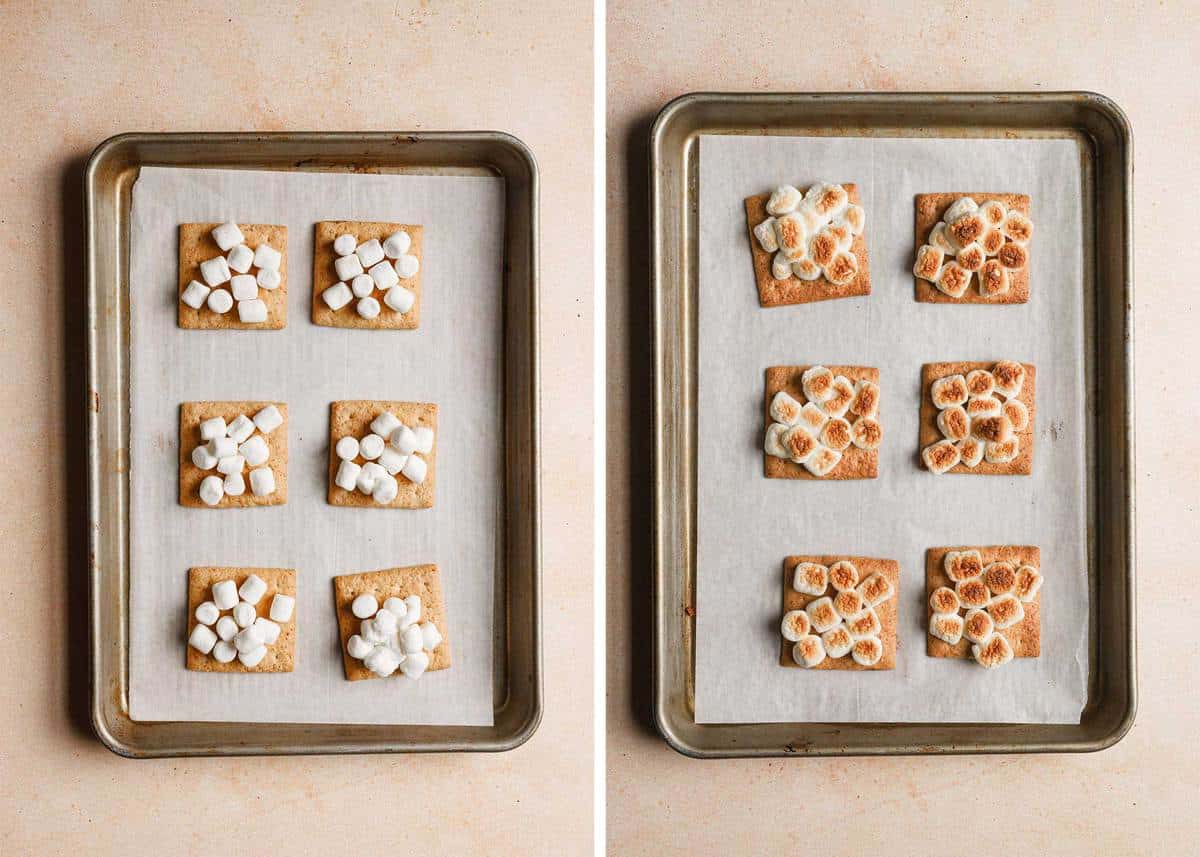 How to store the cookies?
Using an airtight container placed in a nice cool spot in your pantry is the best option. I do not recommend placing it in the refrigerator or in the freezer since the chocolate might change its appearance and collect white powdery to the surface as well as change its texture to a grainy one.
Tips:
Here are a few fun tips to help you get the best chocolate dipped graham crackers.
Use a glass microwave bowl. Glass retains heat, this is great since we do not want our chocolate to set too soon.
Avoid using chocolate chips. They contain stabilizers preventing them from melting easily.
No need for a cooling rack, the cracks might stick to the rack as they cool.
Flavoring.If you wish to add flavoring, make sure to use oil-based flavoring. Extracts contain water which will seize the chocolate.
FAQ
Where can I buy this treat?
Trader joes is a great option. Amazon has a few good options such as this (affiliate link)
What goes well on graham crackers?
Chocolate chips, marshmallows, peanut butter chips, and sprinkles.
Can I use cinnamon Graham crackers for this recipe?
Yes!
How do you hold the crackers while dipping?
Use a kitchen fork to dip the crackers. Tap it against the bowl edges to remove excess chocolate.
Can I use extracts for flavoring?
No extract will seize the chocolate, use oil-based flavoring.
Which are the best graham crackers to use?
Your favorite brand is just fine. Break it into medium-small sizes.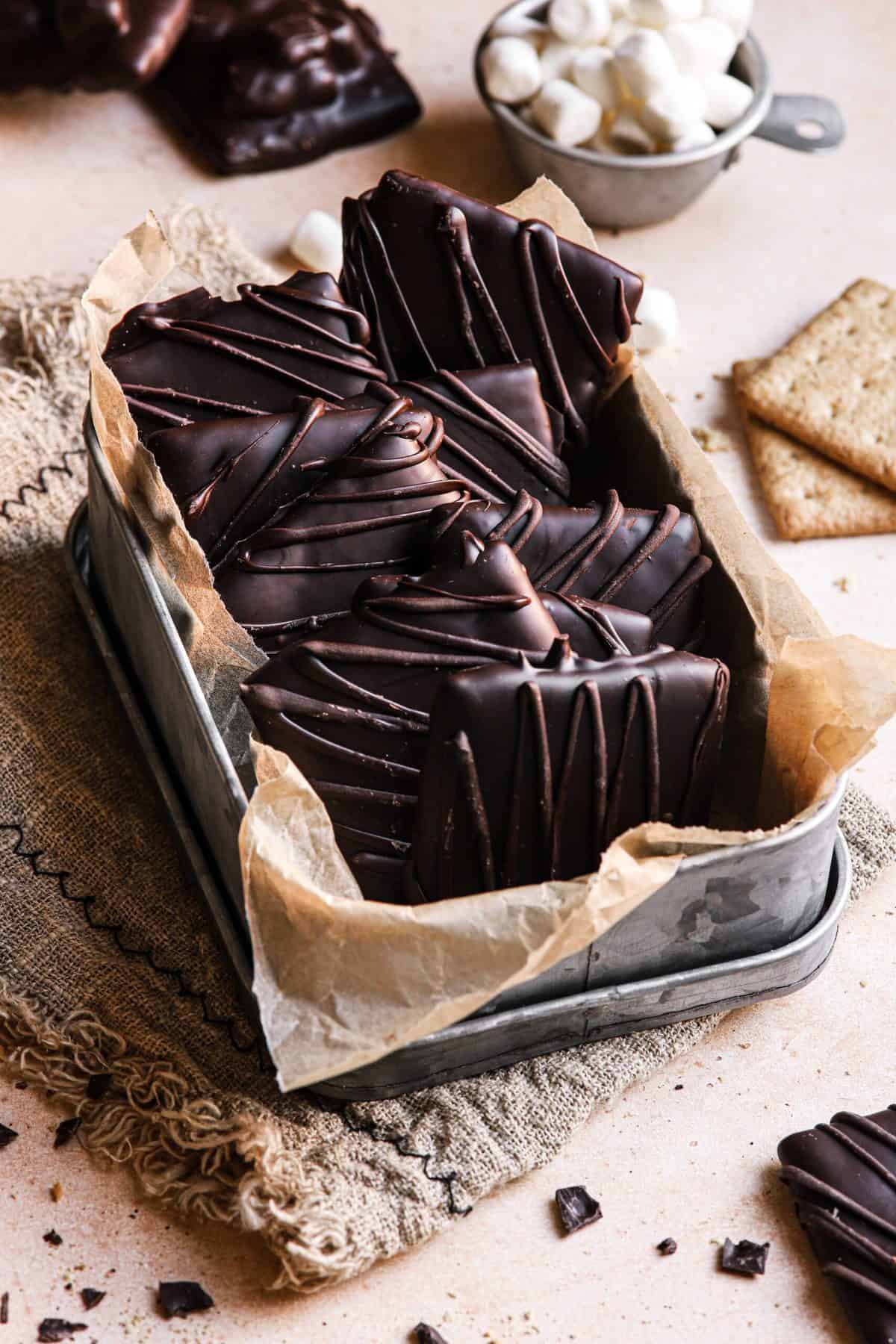 More recipes you might like
S'more chocolate chips cookies bars, Candied cashews, Stovetop caramelized pecans
Did you try this recipe?
If you tried this recipe or any other recipe by One sarcastic Baker baking blog, please take a movement to rate and comment at the end of each recipe. Your questions, ideas, and thoughts are priceless, and here at OSB we value them more than butter!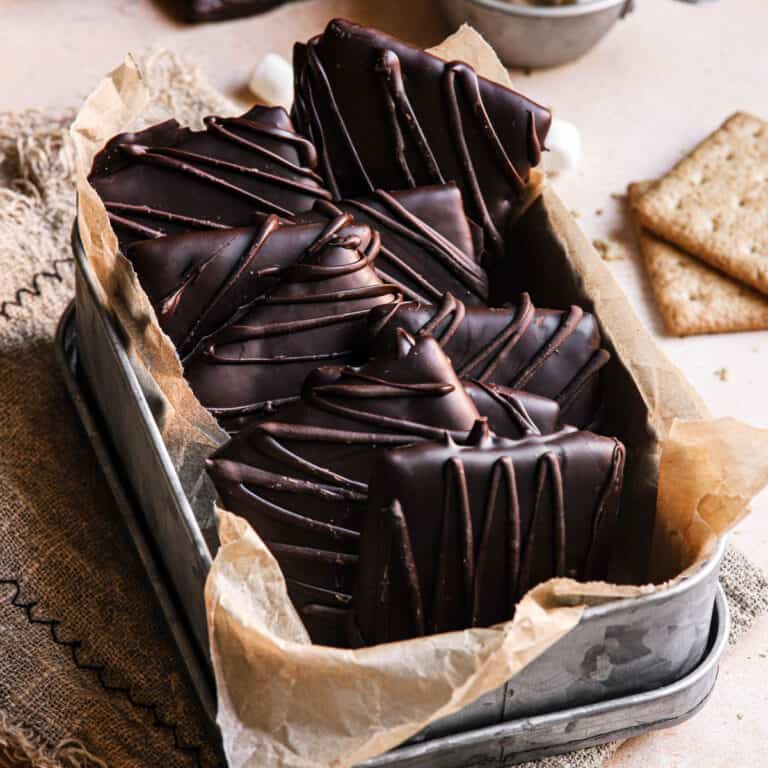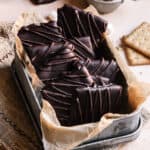 Chocolate covered graham crackers
Easy and nostalgic chocolate covered graham crackes no bake recipe.
Ingredients
6

Cups

Chopped chocolate

(672 g / 24 oz)

12

Graham crackers cut in half (total 24)

1

Cup

Topping such as sprinkle, mini marshmallows, crush crackers or chocolate chips.
Instructions
Line the baking sheets with parchment paper and set aside along with the fork and your toppings.

Place the chocolate in a large microwave-safe bowl and melt using 30 seconds increments. Make sure to stir between each time. You can also temper your chocolate.

Use your fork to gently dip a cracker in the chocolate.

Lift the cracker using the fork then gently tap it against the edges of the bowl to remove access chocolate.

Place the dipped cracker on the lined baking sheet, sprinkle your adons (if using) and allow to set.
Recipe Notes
A Glass bowl is the best option since glass retains heat.
Chocolate chips are not a good option, use chocolate bars or wafers.
A cooling rack is not a good idea, the chocolate to stick to it as it sets.
For flavor add oil-based flavors, extract will seize the chocolate.