Last updated on July 18th, 2022.
When you are looking for a way to truly indulge this Chocolate Orange Cake is the best way. A rich cake made with two types of chocolate, two types of orange flavoring, and topped with the smoothest chocolate ganache.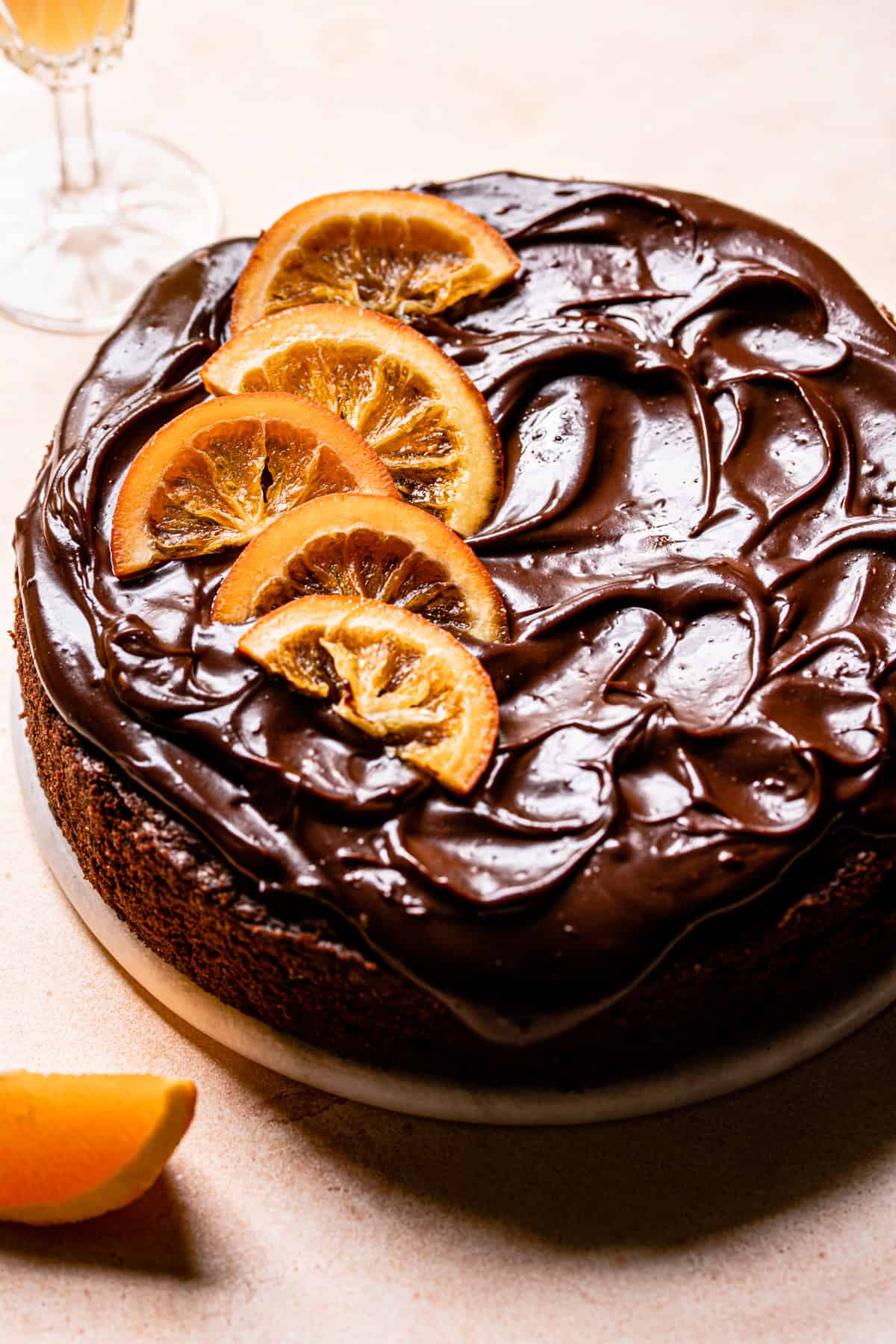 When I think about it, there is only one thing better than the smell of a fresh orange zest spraying the air. Chocolate. I guess this is why chocolate and orange desserts are so popular worldwide.
So why not bring them both together for an epic dessert? It is simple math.
This cake my friends is not for the weak-hearted (much like these Biscoff Brownies, and these Chocolate Drop Cookies). This chocolate orange cake is rich, delicious and a mouthful of chocolate cake accompanied by fresh orange flavors. Plus it is loaded with the smoothest, most indulging chocolate ganache, and I love that it calls for fresh oranges.
If you are in the mood for something a bit more traditional, try this Chocolate Poundcake, or these Chocolate Muffins.
Why this chocolate orange recipe?
If I didn't have you in chocolate, then here are a few other reasons you should bake this chocolate orange cake recipe:
Easy to make. As easy as baking a simple pound cake, you can use a stand mixer, an electric mixer, or even a whisk.
Comforting. This cake is the most comforting and warming homemade recipe. Not too sweet. And perfect for those who are not a fan of straightforward sweets.
Any-time dessert. While it's rich and indulging, the cake can be served any day for any occasion. Dinner dessert, family gathering, or birthdays. Go ahead and bake this recipe as an orange chocolate birthday cake, I'll say it was your idea.
Impressive and therapeutic. Baking is therapy, that is no secret, but it is nice to get some compliments and "wows", this choc orange cake recipe will do just that!
Delicious. This cake is moist, tender, and full of flavors, but not too much. Not too much chocolate flavor and not too much orange flavor. Just the right amount of both.
Ingredients used for this simple orange chocolate cake recipe
The cake calls for simple ingredients you most likely already have in your pantry.
Cake flour and AP (All purpose flour). The combination of the two types of flour will give us a tender crumbly cake texture. See below for the substation.
Baking powder
Baking soda
Salt
Sugar
Orange zest
Eggs
Olive oil. The olive oil really complements and brings out all of the chocolate flavors.
Cocoa Powder, I like to use dark cocoa powder. Make sure to learn more about Dark Dutch Cocoa Powder vs. Natural Cocoa Powder and also What Is Cocoa Powder.
Half and Half
Chopped candied orange slices. The chopped slices will add flavor and texture to the cake. However, please note that the small bites are very chewy for those who are not fans.
For the ganache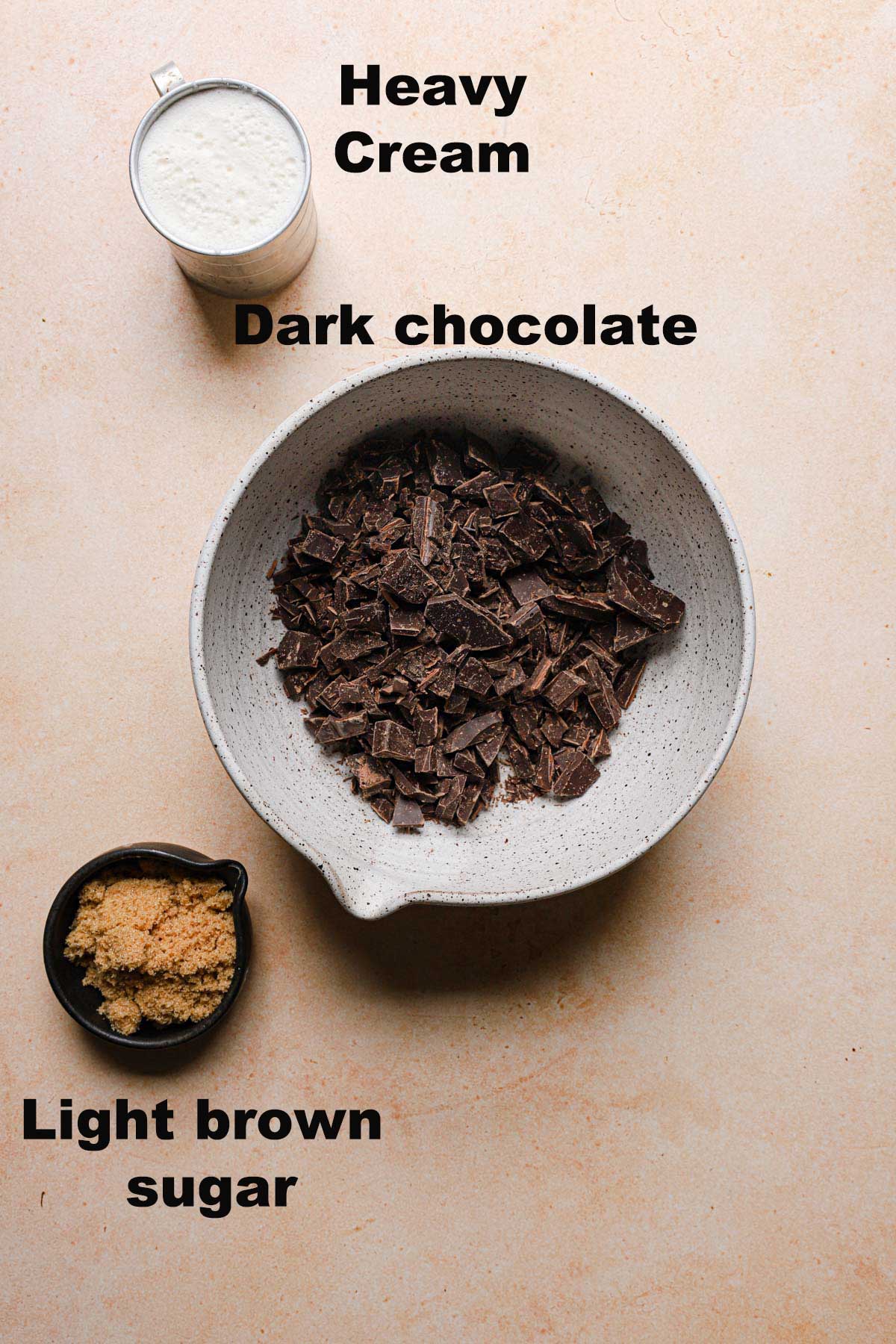 Substitutions:
The chocolate and orange are key ingredients in this chocolate orange dessert, but there are a few substitutions options for them as well:
Use semi-sweet chocolate instead of unsweetened chocolate.
Replace the half and half with hot coffee or warm milk.
Use chocolate chips instead of chopped candied orange slices.
Add two tsp of orange extract or orange oil instead of the orange zest.
Use vegetable oil instead of olive oil.
How to make this chocolate orange cake?
The secret in this recipe is the very first step of blooming the cocoa powder and chopped chocolate with half and a half and by doing so we bring out all the flavors. You can find the full recipe at the bottom of this post in the recipe card.
Sift the flour, baking powder, and baking soda together and set aside.
In a separate bowl, place the cocoa powder, unsweetened chocolate, and pour over the half and half. Let sit for a few minutes then use a fork to mix it all into a smooth paste. Set aside.
In a large bowl or a bowl of a standing mixer place the sugar and use a fork to rub the orange zest in. Add the eggs and beat on low until light and fluffy, about 4-5 minutes.
At low speed then drizzle in the olive oil.
Once the oil has been fully incorporated add the dry ingredients alternating with the wet ingredients (chocolate mixture) starting and finishing with the flour mixture.
Next, fold in the chopped candied oranges.
pour the batter into the pan.
MAKING THE CHOCOLATE GANACHE
This chocolate ganache is a fantastic recipe I use to frost many other cakes, such as THIS chocolate celebration cake. The ganache takes about 1-2 hours to reach room temperature and be ready to apply on the cake, so plan.
Bring the heavy cream and sugar to a simmer, then pour it over the chocolate.
Allow a few minutes for the hot mixture to melt the chocolate, then use a small whisk to mix it all.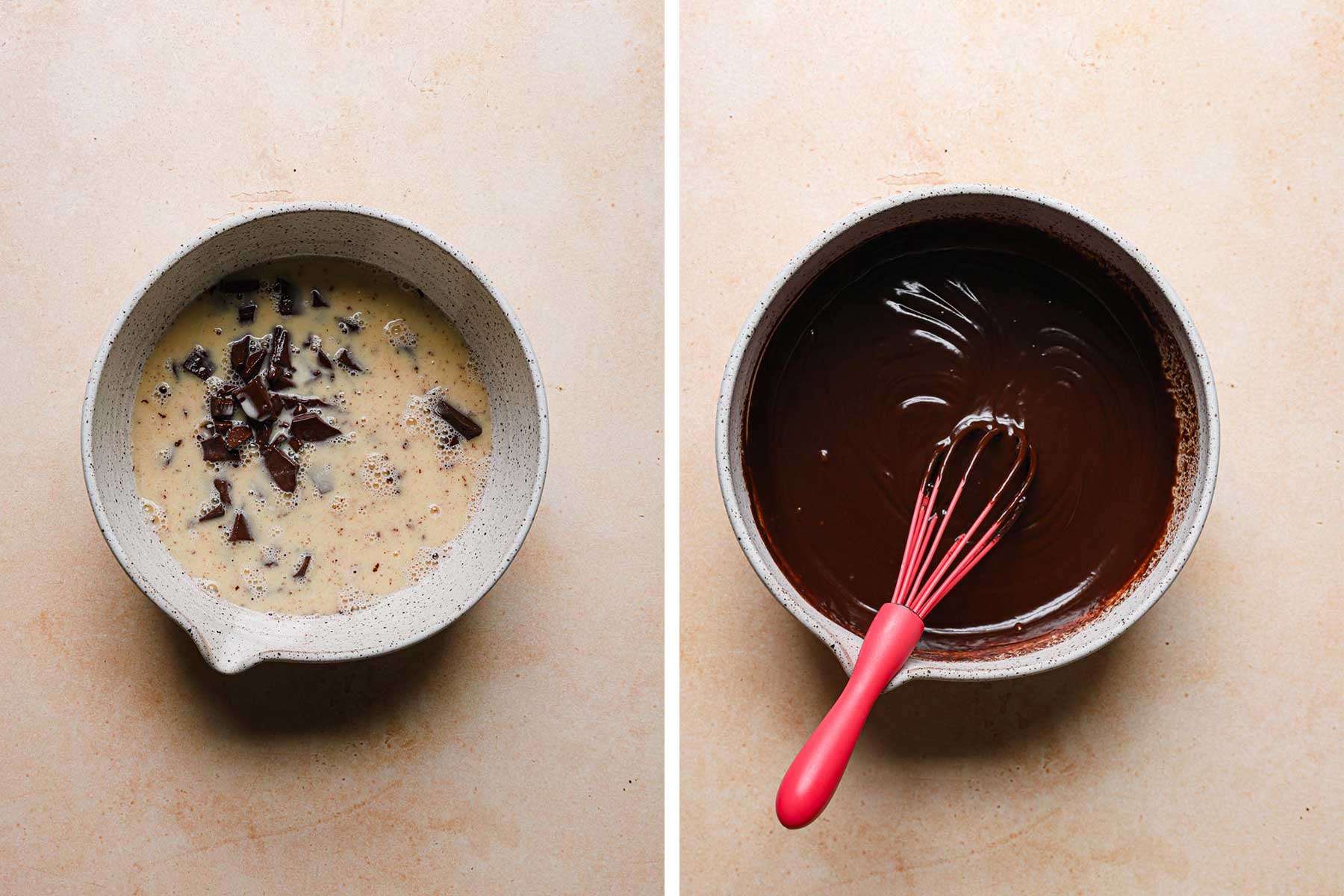 Variations
This cake is all about the flavor combination of chocolate and orange, so there is not my wiggling space. But here are some of my tips:
Cupcakes. Bake the cake batter as cupcakes and top with chocolate ganache. Fill the cupcakes liners 3/4 full and bake for 15-20 minutes, until a toothpick comes out clean from the center of the cupcakes.
Skip the oranges. Instead of chocolate and orange cake, you can make it chocolate cake only. Do not add the orange zest and chopped orange slices. Add 1 tbsp of vanilla extract.
Different toppings. Top the cake with chocolate whipped cream, orange frosting, or orange buttercream.
Flavored ganache. Add 1 tsp of orange oil to the ganache to make the orange ganache.
Mix it up. This recipe can easily be made as a chocolate citrus cake. Simply replace the oranges with blood orange, lime, grapefruit, or even lemon.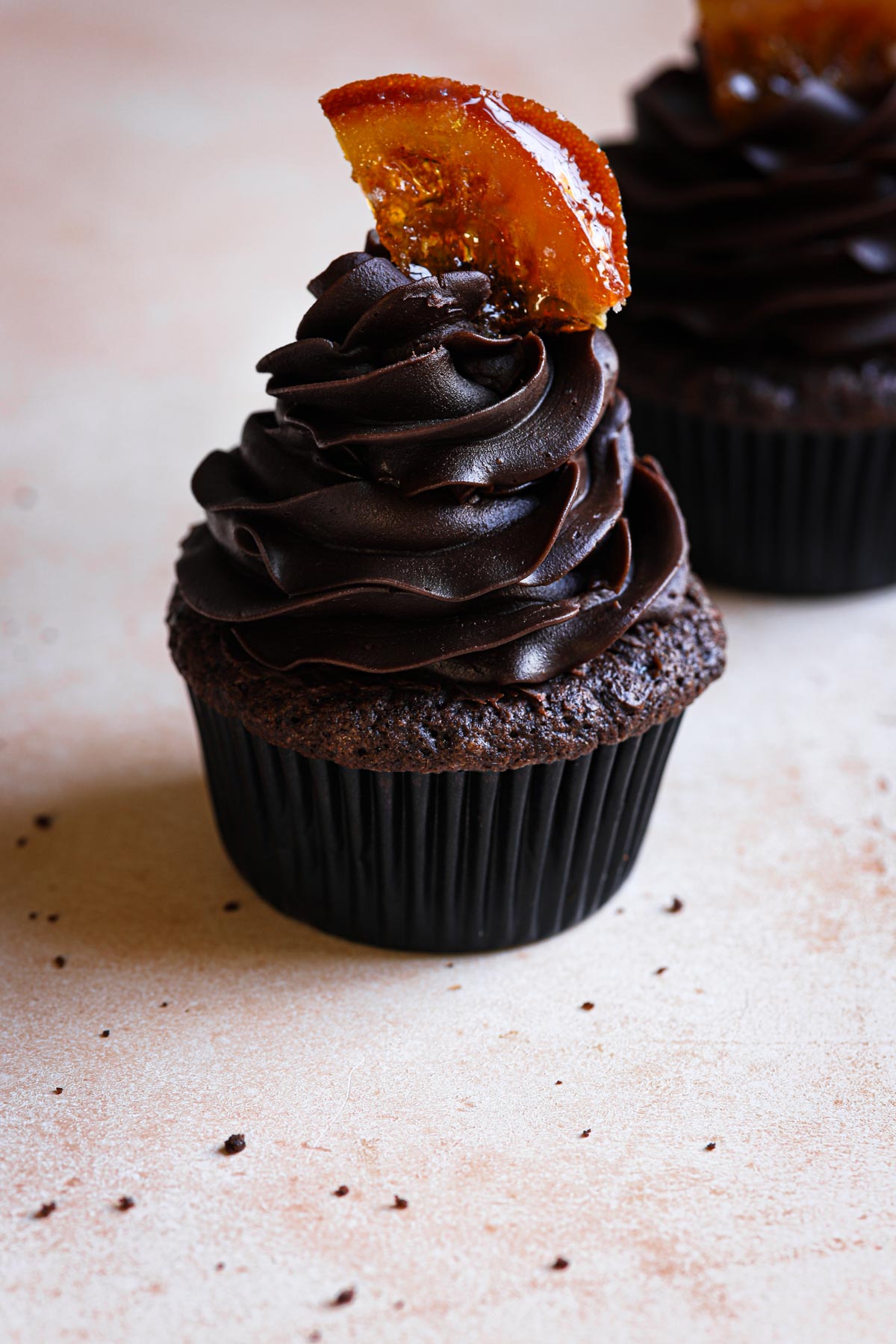 Assembling and decorating the cake
Once the cake has cooled completely, remove it from the cooling rack and place it on top of a serving plate or a cake stand.
Use an offset spatula to evenly spread the ganache over the top of the cake. Decorate with some extra candied orange slices.
Make ahead and store:
You can make it ahead one day ahead and keep it at room temperature. Or, you can bake 10 days ahead and freeze. Make sure to tightly wrap it in plastic wrap. Do not store the cake in the refrigerator, it will dry out.
Expert tips
Please take a moment to go through the tips below for a successful bake.
Make sure all of the ingredients, especially the eggs are at room temperature.
If you are making the chocolate ganache ahead of time, place it at room temperature and cover it with plastic wrap. I would avoid over mixing, it might lose its glossy appearance.
Spread the ganache up to about ½" away from the edges of the cake for easy slicing.
You can buy candied orange slices or, it is a good idea to make them at home, see below a short tutorial.
Do not store the cake in the refrigerator, it will dry out.
For even tall cake edges, make sure to only spray the bottom of the cake. The ungreased pan will allow the cake to easily rise. Then when it is time to release the cake, slide a knife between the sides of the cake and the pan and carefully invert the cake.
How to make candied oranges?
If you have some old oranges in your fridge, here is a delicious candy you can easily make. Below are the instructions for 1 medium-sized orange. Note that the orange slices are chewy.
Slice the orange 1/2″ thick, make sure they are all at the same thickness.
In a large wide pan, mix 1 cup of sugar and 1 cup of water, mix for the sugar to disolve.
Line the orange slices and cook over medium high heat until boiling, then reduce the heat to low and cook for 45-60 minutes. The oranges are ready when the white rim is translucent.
Remove from the pan and cover with sugar. Allow to cool to room temperature and set.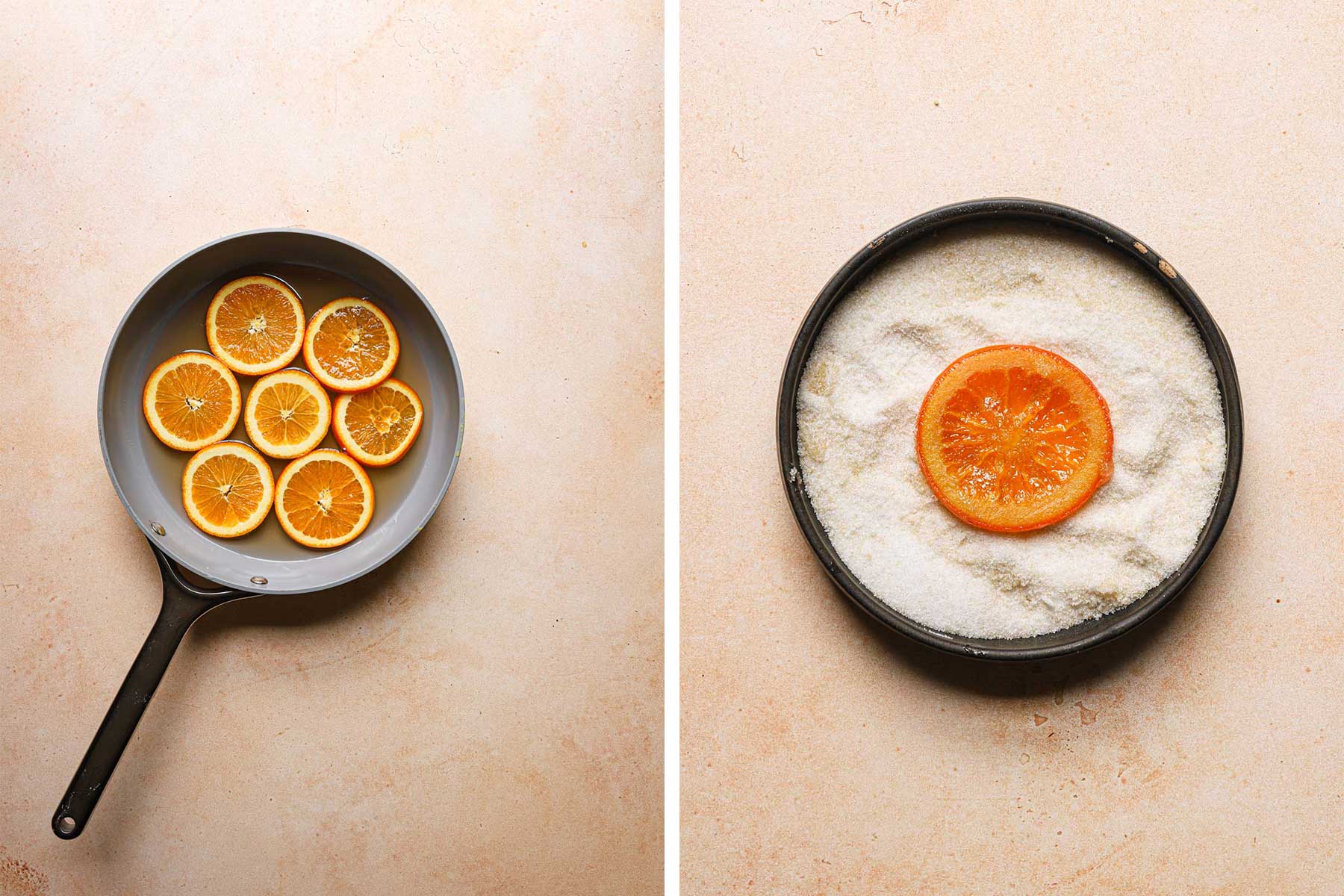 FAQ
I do not have cake flour, what should I use?
Use all-purpose flour and add 2 tsp of potato starch.
Can I omit the cocoa powder with dutch cocoa powder?
Yes, do not add the baking soda.
Can I use this recipe to make a milk chocolate orange cake recipe?
Replace the unsweetened chocolate with milk chocolate and add milk chocolate chips. Reduce sugar to ¾ cup (150 g)
Can I top this chocolate cake with orange icing?
Yes.
Can I bake this chocolate cake in an orange?
Yes. Make sure to bake just until a cake tester comes out clean from the center of the cake.
Can I bake this cake as a chocolate orange layer cake?
Yes, you will need to double the recipe.
Can I use the ganache recipe for another cake?
Yes, orange cake with chocolate frosting is another great chocolate orange cake idea.
Is there a way to turn the recipe into chocolate and orange sponge cake?
No, sponge cake is a different recipe.
I live in the UK, should I make any adjustments?
No, make sure to use the metric measurements.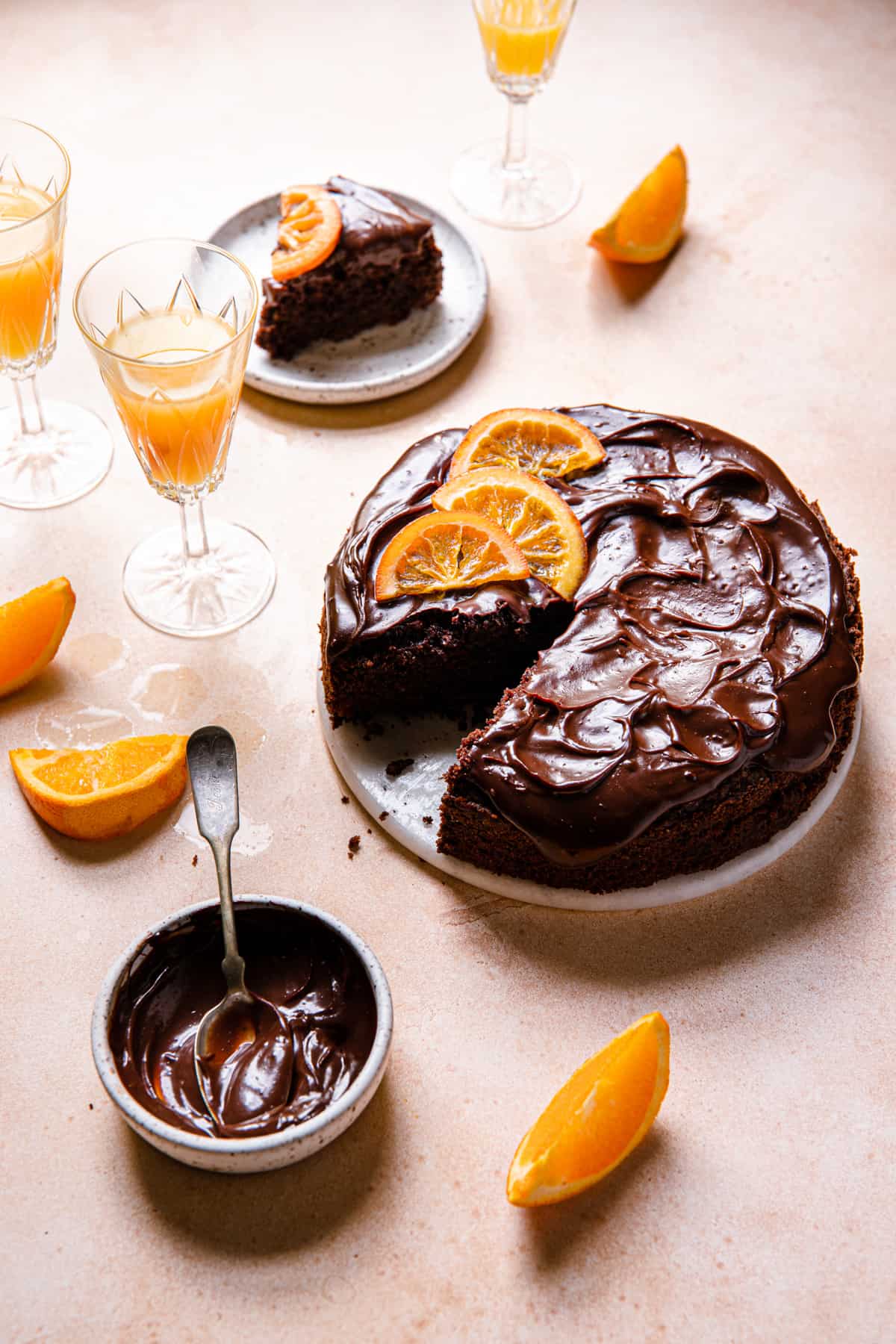 Did you try this recipe?
If you tried this recipe or any other recipe by One sarcastic Baker baking blog, please take a movement to rate and comment at the end of each recipe. Your questions, ideas, and thoughts are priceless, and here at OSB we value them more than butter!
And if you snapped some images, be sure to tag me on Instagram.
More recipes you might like
Chocolate Oreo Cupcakes, Chocolate Matcha Brownies, Chocolate Birthday Cake
Read More About Chocolate
Chocolate Orange Cake
A delicous and flavorful chocolate orange cake
Ingredients
1/8

Cup

Chopped unsweetened chocolate

(30 g / 1 oz)

1/4

Cup

Cocoa Powder

( 30 g / 1 oz)

3/4

Cup

Half and Half, hot

(180 ml / 6 oz)

3/4

Cup

Cake Flour

(90 g / 3 oz)

1/4

Cup

AP Flour

(30 g / 1 oz)

1/2

tsp

Baking powder

1/4

tsp

Baking Soda

1/2

Salt

1 + 2 TBS

Cup

Sugar

(225 g / 4 oz)

1

Zest of 1 medium orange

2

Large

Eggs

3/4

Cup

Olive oil

(180 ml / 6 oz)

6

Slices

Candied orange, finely chopped

(60 g / 2 oz)
Chocolate Ganache
2

Cups

Dark chocolate chopped

(280 g / 10 oz)

1

Cup

Heavy cream

(240 ml / 8 oz)

1/4

Cup

Light brown sugar

(56 g / 2 oz)
Instructions
Place the cocoa powder and chopped chocolate in a medium bowl and pour over the hot half and half. Let sit for about 4-5 minutes.

Use a spoon or a fork to mix the ingredients together into a smooth paste. Set aside.

In a separate bowl, sift together the flour, baking powder, baking soda, and salt, mix to blend. Set aside.

In a bowl of a standing mixer, place the sugar and orange zest and use a fork to rub the zest into the sugar.

Add the egg and beat on medium until light and fluffy, about 4 minutes.

Reduce speed to low and drizzle in the olive oil, beat until fully incorporated.

Starting and finishing with the dry ingredients, add the flour alternating with the chocolate mix.

Right after adding the last part of the flour, stop the mixer and use a rubber spatula to incorporate any flour and the chopped candied oranges.

Pour the batter into a grease 8" round cake and bake for 35-40 minutes in a 350F preheated oven.

The cake is ready when a toothpick comes out clean from the center of the cake.
Chocolate Ganache
Over the stove, heat the cream and sugar to a simmer while stirring. Do not let it boil.

Pour the cream mixture over the chocolate and set aside for about 5 minutes.

Slowly stir the chocolate and cream until smooth and shiny. If you notice some unmelted chocolate bumps heat in the microwave for 15-20 seconds.

Let the chocolate mixture cool. As it cools it will get a paste-like texture.