Last updated on October 11th, 2021.
This Pink Champagne Cake is so tender, soft, and is the perfect addition to any celebration.
Florida Crystals® is the sponsor of this post however all thoughts and opinions are my own. Thank you for supporting the brands that make One Sarcastic Baker possible.
Can we all agree that Pink Champagne is the best way to celebrate a special occasion?
And today we are celebrating Florida Crystals®'s 60th anniversary with some Pink Champagne Cake. Wow, what an impressive milestone.
For 60 years, Florida Crystals®, have been growing and milling every bit of USDA-certified Organic, non-GMO sugarcane. From before it's even planted until it's shipped off to the store, every step is controlled, so you know you're getting the quality and consistency you demand. My favorite part is that Florida Crystals® are family-owned farms and are among the most sustainable in the world. They rotate crops, laser-level the soil, utilize owls for pest control, and take every possible step to protect the agricultural area and environment.
About the Cake
This cake has a special place in my heart for two reasons. First, this cake is super easy to make. Simple steps and simple ingredients and in no time you have a delicious "home-made-bakery-style" cake.
Second, this cake is the perfect example of how baking is firstly science.
You see, in every champagne, you will find some lactic acid and tartaric acid both are a by-product of winemaking and are a part of carbonating the champagne while maintaining its clear appearance. Tartaric acid is what we use to make cream of tartar, one of the ingredients in baking powder. And baking powder not only leavens the cake but also makes is soft, tender, and moist.
Now, let's put 1+1 together and say that the addition of Champagne in the cake makes it even more so soft tender, and moist!
What does Pink Champagne cake taste like?
Well…it tastes like pink champagne. The best way to know what the cake will taste like is to try the Champagne you are using at room temperature. It has a very distinct, unique flavor and if you are not a fan of it I suggest perhaps a different recipe would be a better idea.
Do I have to use food coloring?
Absolutely not. The food coloring does not provide any value to the cake other than color. You can skip it but please know that the cake will not have a noticeable pink color since the champagne's color is so subtle.
Ingredients in this Pink Champagne Cake:
Cake flour is the best way to achieve a tender, crumbly texture. However, if you don't have cake flour available, simply use AP flour + 1 TBS potato starch.
Baking powder
Salt
Unsalted butter softened.
Avocado oil. (you can use your favorite type of oil for example canola oil or even walnut oil.
Pink Champagne, I used The Barefoot brand but you can use whichever you prefer.
Heavy cream.
All-natural food coloring.
Ingredients for the Buttercream: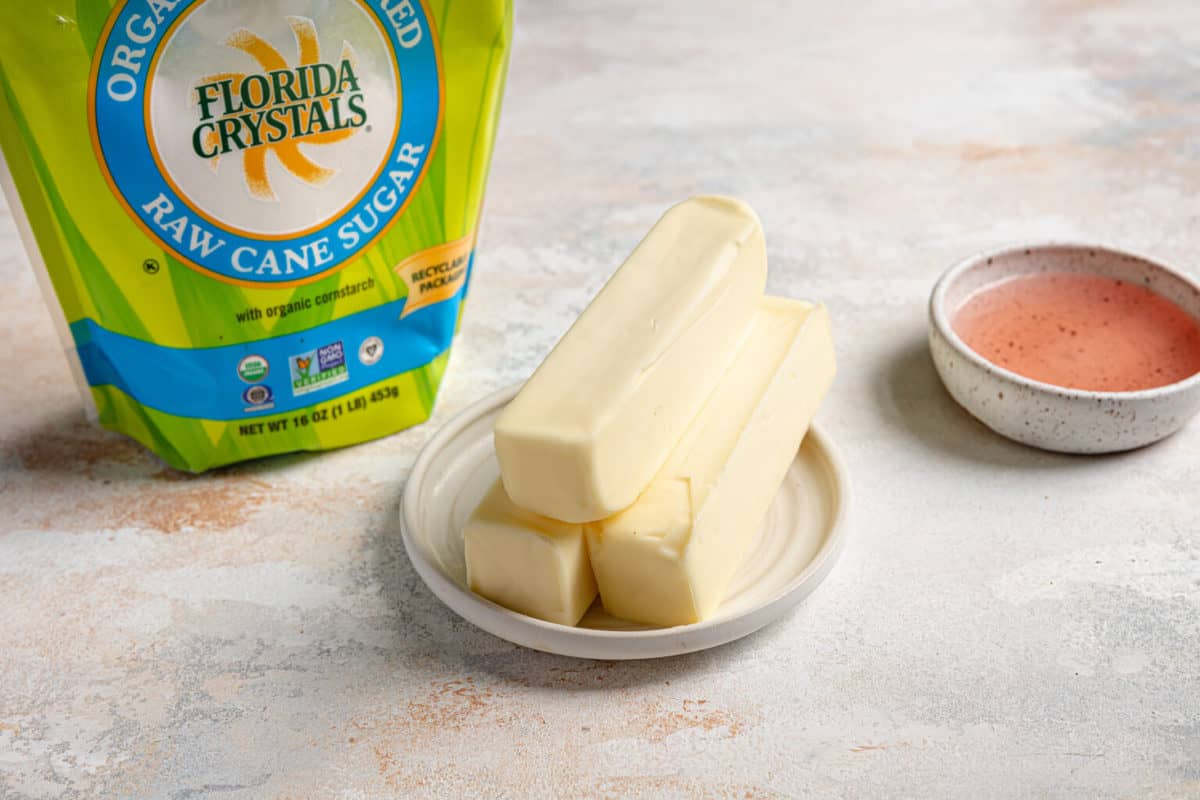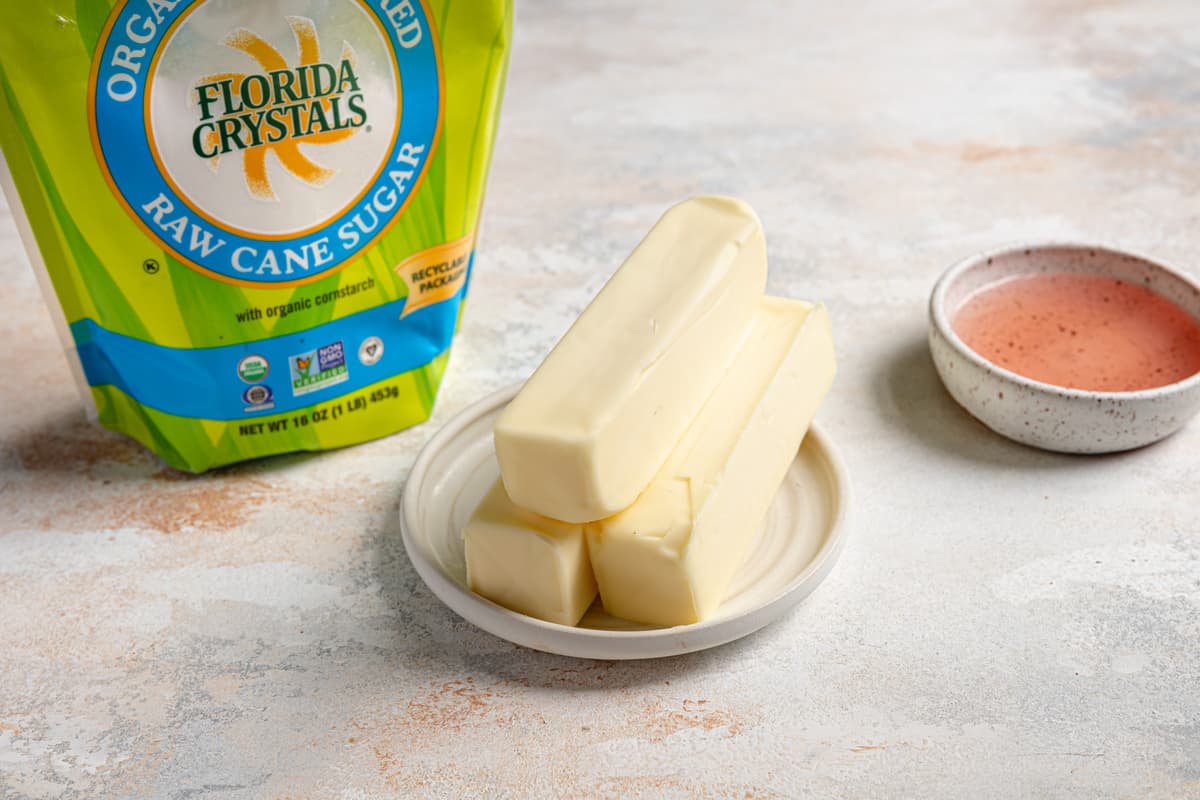 Florida Crystals® Organic powdered Sugar
Unsalted butter softened
Salt
Pink Champagne
How To Make This Pink Champagne Cake:
I highly recommend that you will use a standing mixer. However, if you prefer go ahead and use a hand mixer.
The first step would be to mix the flour, baking powder, salt, and sugar in a large bowl and mix to fully incorporate. Next, cut the butter into small pieces, add it to the flour/sugar mixture and mix on low-medium until the butter has broken up and the mixture resembles wet coarse sand. Drizzle in the Avocado oil with the mixer on low and mix until fully incorporated.
The last step would be to mix the egg whites, pink champagne, heavy cream, and food coloring in a large bowl and mix until well blended.
With the mixer on low, pour the Champagne mixture into the flour mixture and mix until a smooth pinkish batter has formed.
Pour the batter equally between the greased pans. Bake until a toothpick comes out clean from the center of the cakes.
Making the buttercream:
The most important thing when making the buttercream is making sure the butter is soft, so please plan ahead.
Making this buttercream is very simple and straight forward. Beat the butter on high then gradually add the powdered sugar followed by the salt and pink champagne.
Start with 2 TBS of pink champagne then test the texture. If it is smooth and has a thick peanut butter consistency, no need to add more champagne.
Also, you can skip adding the pink champagne. If you chose to do so, please reduce the sugar amount to 3 cups.
Storing the Cake:
When frosted the cake is best when stored at room temperature for up to 48 hours. If you wish to bake ahead, simply wrap the cake with plastic wrap and then place it in a freezable bag. Freeze up to 4 weeks. When ready to frost, remove from the freezer, unwrap and allow to come to room temperature before frosting.
HAPPY BAKING!!!
Also, don't forget to tag @OneSarcasticBaker on Instagram if you bake this recipe. I would love to see your creations!
Here are some more cookies recipe you might enjoy:
Thinking of baking this recipe soon? Pin THIS pin on your Cakes or Baking boards.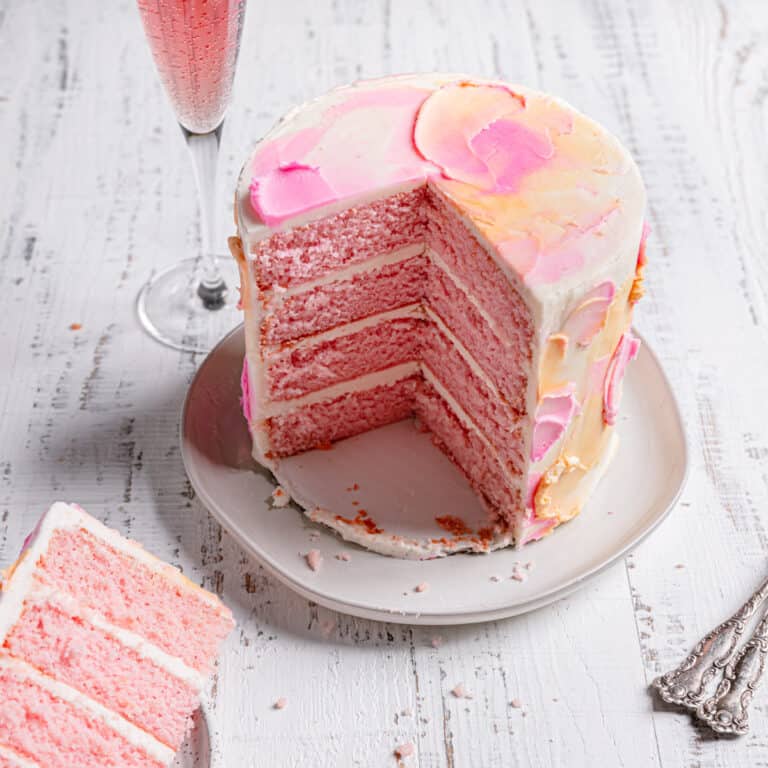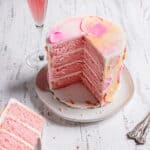 Pink Champagne Cake
Ingredients
Pink Champagne Cake
2 2/3

Cups

Cake Flour

(320 g / 11 oz)

2.5

tsp

Baking powder

1

tsp

salt

2

Cups

Florida Crystals® Organic Raw Cane Sugar

(400 g / 14 oz)

1

Stick

Unsalted butter, soft

(113 g / 4 oz)

1/3

Cup

Avocado oil

(70 g / 3 oz)

6

Large

Egg whites

2/3

Cup

Pink Champagne

(160 ml / 5 oz)

1/3

Cup

Heavy cream

(80 ml / 3 oz)

2

Drops

Organic all-natural pink food coloring
Pink Champagne Buttercream
3

Sticks

Unsalted butter, softened

(330 g / 12 oz)

4.5

Cups

Florida Crystals® Organic powdered Sugar

(560 g / 20 oz)

1/2

tsp

Salt

2-3

TBS

Pink champagne (optional, if skipping, reduce powdered sugar to 3 cups)
Instructions
Pink Champagne Cake
Preheat the oven to 350F and line 3×8" round pans with parchment paper. Set aside.

In a bowl of a standing mixer, sift flour, baking powder, and salt. Add the sugar and mix on low using the paddle attachment.

Increase speed to medium and add the butter in small pieces and mix until the mixture resembles coarse sand.

In a large mixing bowl mix together the egg whites, champagne, heavy cream, oil, and food coloring.

Pour the mixture into the flour mixture and mix until fully combined, about 20 seconds.

Divide the batter between the greased pans and bake for 25-30 minutes or just until a toothpick comes out clean from the center of the cakes.

Remove from the oven and allow to cool before removing the cakes from the pans.
Pink Champagne Buttercream
Place the butter in a bowl of a stand mixer and beat for 1 minute.

Gradually add the powdered sugar followed by the pink champagne and salt.

Mix until fully incorporated and smooth.
Assembling the cake
Place one cake on top of the serving dish and spread ⅓ cup of the buttercream. Top with another layer of cake and repeat with the remaining of the cakes.

Frost the top and sides of the cake with the rest of the buttercream. Serve at room temperature.