Last updated on February 24th, 2023.
I feel that answering the question of what is chocolate ganache is the only logical thing to do after we explored the wolrd of chocolate and answered other questions such as: what is cocoa powder? What is dark chocolate? Dutch cocoa powder vs. natural cocoa powder? What is unsweetened chocolate? and what is tempered chocolate? (and also how to temper chocolate?).
The good news is that after you read this article, you will have a vast library of chocolate frostings, fillings, syrups, sauces, and much more. It's Ganache for every occasion.
This article is another sneak peek into my book Baking Science, where I explore and demonstrate the wonderful world of baking science.
What Is Ganache?
Ganache is a fancy word for chocolate sauce. It is pronounced ganash (or ganosh) but spelled Ganache, and it is the easiest, most common accessible, and versatile recipe in the baking and pastry world.
The best way to describe Ganache's definition is when it is made in its purest, most simple form by pouring equal amounts of warm cream over the chopped chocolate and mixing the two until smooth. But it can also be made using different ratios of chocolate to heavy cream or by mixing in fat, flavoring, fruit puree, and other sugars (such as corn syrup or honey).
Uses for Ganache
The ratio of cream to chocolate, type of chocolate, and other ingredients will determine its consistency and fluidity; it can be as loose as cream or thick as cold butter. This is what makes it so adaptable, standard, and valuable. Here are the most common uses for it:
Soft Ganache
Drizzle and ice. When loose and thin, it is a great way to add drip to your cakes (like I did for this Brownie Cake and Almond Cake) or a dramatic drizzle to your cookies. I love to poke my cake and drizzle it on my cakes as I did in my favorite chocolate cake (FIRST blog recipe!).
Dip and coat cookies, donuts, or candy bars.
Firm Ganache
Filling and frosting cakes (like this Orange chocolate cake and Chocolate Ganache Cake), cupcakes, cookies, donuts, or any dessert you can think of (check out these fIlled cream puffs).
Chocolate truffles. Believe it or not, chocolate truffles are made by rolling room temperature ganache into a small and impressive dessert.
Extra Firm ganache
Modeling. When the ratio of chocolate is twice as much as the cream (and more), it is playable but also very stable and can hold its shape for an extended period. It is common in the cake decorating world to frost cakes with hard Ganache and then cover them with fondant.
Ganache Ingredients
The main ingredients in every chocolate ganache are cream and chocolate. And yes, that includes white chocolate and milk chocolate. But it is widespread to add other ingredients for flavor and texture, and below I listed a few of my favorite ways to personalize my classic Ganache:
Fats such as canola oil and vegetable shortening are a great way to thin it and add some gloss without making it too thin. My general rule is to add 2-3 teaspoons of fat per cup of Ganache.
Inverted sugar. Inverted sugar is any sugar in a liquid state, such as honey, corn syrup, and molasses. Because inverted sugar keeps its consistency, mixing corn syrup or honey with a warm ganache is a great way to ensure that it will maintain its soft and spreadable consistency. Add one tablespoon of corn syrup or honey per one cup of Ganache, or dissolve 1/4-1/3 cup of brown sugar with the cream. (BTW, caramel is also an inverted sugar)
Flavoring. The sky is the limit, and there are a few ways to flavor it: add herbs, spices, vanilla pods, extracts, or alcohol to the cream before warming it. Add flavored oil with the Ganache as you mix it. Fold crushed nuts. Replace up to 40% of the cream with fruit purees such as raspberries, strawberries, or freezer-dry fruits like I did when I made these Chocolate Filled Cream Puffs. It will change the texture and appearance and no longer have a shiny, glossy appearance.
Can I use Milk To Make Ganache?
Heavy cream is the best option, but if you must, mix 10 tablespoons (140 g) of melted butter with 1 cup of whole milk for every 1 cup of heavy cream. It will not be a 1:1 replacement, but it should yield good results.
Types of chocolate and the rations
I will just come out and say it: to make the perfect Ganache with the right consistency and best results, the quality of the chocolate has to be high. Do not use candy melts, and try to use chocolate chips only when making modeling ganache. Low-quality chocolate will give you a low-quality ganache.
I recommend using high-quality chocolate bars such as Scharffen Berger, Valrhona, or a baking bar.
Two components in chocolate will determine how firm or soft our Ganache will turn out: the amount of fat (cocoa butter) and the number of cocoa solids (cocoa powder). The higher they are, the firmer our it is, which is why the rations are different when making dark chocolate ganache or white chocolate ganache. See below the table for ganache ratios and use it as an essential guide for ganache recipes. You can find the full recipe below on the recipe card.
Chocolate Type
Soft
Firm
Extra Firm
Semi-sweet
Cho. 100%
H.C 150-200%
Cho. 100%
H.C 100%
Cho. 200%
H.C 100%
Milk
Cho. 100%
H.C 125-150%
Cho. 200%
H.C 100%
Cho. 300%
H.C 100%
White
Cho. 100%
H.C 100%
Cho. 250-300%
H.C 100%
Cho. 400%
H.C 100%
Ganache made using semi-sweet chocolate will need less heavy cream than when made using bittersweet chocolate. It will vary from brand to brand, but consider increasing the cream amount by two to three tablespoons per cup when using 70%-80% bittersweet chocolate. Do not use unsweetened chocolate.
How To Make Ganache
There are two main ways to make Ganache: a rubber spatula and a large bowl or a food processor.
Time needed: 15 minutes
Option one
Bring the cream to a soft boil.

Pour over the chopped chocolate, and allow it to sit for a few minutes.

Mix until smooth

Using a wooden spoon or a spatula to mix until smooth, or use the food processor.
Option two
While this is not a common way to make it, I found that this is the best way to ensure that the Ganache keeps its smooth consistency and there are no clumps. When we make the Ganache using the first method, we don't completely break the chocolate emulsion, so a few crystals remain intact. As it cools down, those crystals attract other chocolate molecules and bond. These bonds appear as small clumps of unmelted chocolate in the Ganache. To completely break the crystals, we need to melt the chocolate to a temperature of 115F. It might take a short while longer to cool.
In a large bowl, melt the chocolate to 115F. You can do that using the microwave or a double boiler. Make sure not to overheat the chocolate, or else it will burn, and you'll have to start over.
Pour over the warm cream and use a rubber spatula to mix the two.
Whipped Ganache
It became trendy to whip the ganache for a lighter consistency and flavor. You can quickly whip soft or firm ganache as long as it is cold. Otherwise, the cream is too warm to trap air. The more cream, the lighter the ganach will turn out. It is great for frosting and filling like I did with these Chocolate Filled Donuts.
The image below shows the difference between whipped (left), soft (middle) and firm.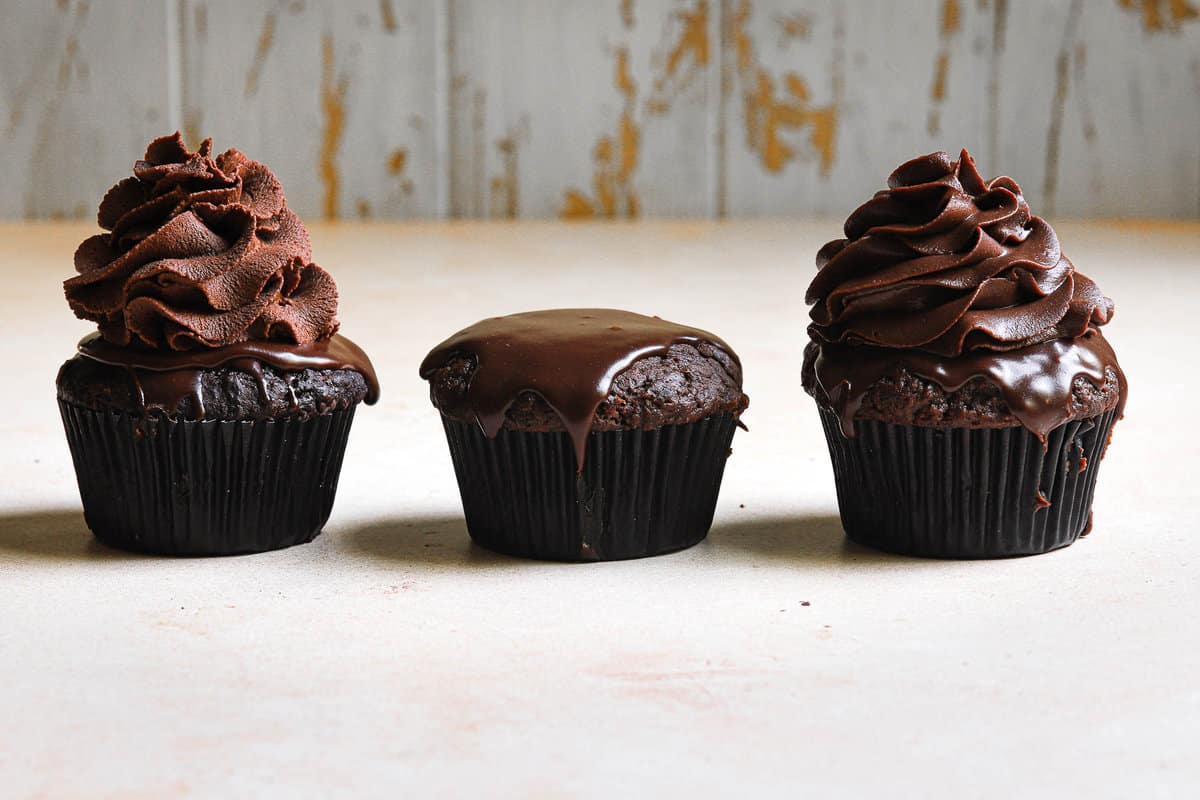 Expert tips
Always use a kitchen scale and remember that 1 cup of chopped chocolate weighs less than one cup of heavy cream. The ratios refer to the weights, not the volume.
Chop the chocolate into small pieces. The smaller the pieces, the easier it is for the cream to melt the chocolate.
Plan and make it ahead of time; not only will it have the time to set, but it will give you the time needed to troubleshoot and fix any issues.
Do not use an electric mixer or a whisk; a wooden spoon or a rubber spatula are great options.
For a shiny ganache, stir gently and not often. When stirring vigorously, we incorporate air that and when stirring too often, then we scatter the molecules creating a crowded environment that is mat-looking, and the beautiful glossy look is lost.
Do not over-heat the cream; otherwise, it will break the emulsion, separate the fat from the chocolate, and we'll end up with a grainy-looking ganache instead of a silky smooth one.
Storing
Because we warmed the heavy cream a head, the ganache can be stored at room temperature and covered for up to three days. In the refrigerator for up to 10 days and in the freezer for up to three months.
Vegan Option
To make a vegan ganache, use full-fat coconut milk (from a can, not the cereal type). There is no need to use vegan chocolate since dark chocolate does not contain any milk solids. But if you choose the vegan option, look at the ingredient list and make sure it contains cocoa butter.
Can You Freeze Ganache
Yes, it is a very stable mixture, and you can freeze it for up to three months. Line a large piece of plastic wrap and pile the leftovers at the center. Wrap the mixture with access plastic wrap, place in a freezable bag, and freeze.
When ready to use, remove from the freezer and let warm to room temperature.
Troubleshooting and solving
Even though Ganache is very simple to make, it is just as easy to come across issues and end up with a big unpleasant mess! Here are some of the common mistakes and other mistakes I came across throughout the years:
Too thin. Too much cream. Mix in more melted chocolate.
Too thick. Too much chocolate. Mix in more cream.
The chocolate seized. This should only happen before adding the cream, and if you decide to go with the second method, it should resolve itself once you add the cream.
The chocolate is not smooth and clumped when cooled. The chocolate did not reach a high enough temperature to break completely; try to use the second method.
It is not shiny, and it is more mat-looking. Over mixing, it will incorporate air and will give it a mat appearance. Avoid mixing too much and use a spatula or a wooden spoon vs. a whisk.
Chocolate isn't melting. You might be using low-quality chocolate, or the cream is not warm enough, try to warm the mixture in the microwave for 20-30 minutes.
It has a fat layer on top. You over-heated the cream, which causes the fat to break and separate from the chocolate. There is no way to save it; you'll have to start again, so pay attention.
FAQ
What is the difference between Ganache and frosting?
Ganache can be chocolate frosting, but not all frosting is Ganache.
What is Ganache made of?
Chocolate with cream.
What is ganache frosting?
It is a thick chocolate ganache used to frost a cake with
What is chocolate ganache cake?
Chocolate cake filled and frosted with Ganache.
What does chocolate ganache taste like?
Chocolate truffles.
I hope you find this post valuable and informative. If you have any questions, please leave a message below or email me at dee@onesarcasticbaker.com.
Here are some more recipes you might like
Chocolate Pizza, Chocolate Matcha Brownies, Chocolate Drop Cookies, White chocolate and raspberry loaf cake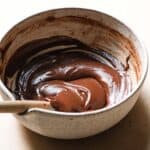 Chocolate ganache
Simple two ingredietns ganache recipe for every occasion.
Ingredients
Soft Ganache
1 1/3

Cups

Chopped semi-sweet chocolate

(225 g / 8 oz)

1 1/4-2

Cups

Heavy cream

(300-280ml)
Firm Ganache
1 1/3

Cups

Chopped semi-sweet chocolate

(225 g / 8 oz)

1

Cup

Heavy cream

(240 ml)
Extra Firm Ganache
1 1/3

Cups

Chopped semi-sweet chocolate

(225 g / 8 oz)

1/2

Cup

Heavy Cream

(120 ml)
Instructions
First method
Place the chopped chocolate in a heat-proof bowl.

Bring the heavy cream to a simmer then pour it over the chopped chocolate. Let sit for 3-5 minutes.

Using a wooden spoon gently stir the chocolate and cream until smooth.

Let sit at room temperature and allow to set/cool.
Second Method
Place the chopped chocolate in a heat-proof bowl and use the microwave or a double boiler to melt the chocolate and bring it to a temperature of 115F (46C).

Bring the heavy cream to a soft simmer (just until you notice the first few air bubbles at the sides of the pan), then pour it over the melted chocolate.

Use a rubber spatula to gently mix the cream and chocolate until smooth.

Leave at room temperature and allow to set/cool.
Recipe Notes
Use a kitchen scale for best results. One cup of chocolate weighs less than 1 cup of heavy cream.
Make sure to chop the chocolate as much as possible.
Do not use chocolate chips or candy melt.
Avoid stirring too vigorously or too much. Once the mixture is smooth, let it sit with as little stirring as possible. Over mixing will incorporate too much air, and the ganache will lose its glossy appearance.
The longer it sits, the firmer it will get, so plan.
Add flavoring such as vanilla, extracts, herbs, and spices to the cream before warming it.
Add fats and inverted sugars to the ganache when it is warm.
Best to store at room temperature, cover for up to 3 days.
If too thin, add more melted chocolate; if too thick, add more cream.