Last updated on November 3rd, 2021.
Very Berry Pie with Streusel is a combination of a buttery tender and flaky crust loaded with assorted berries and topped with crunchy and nutty streusel.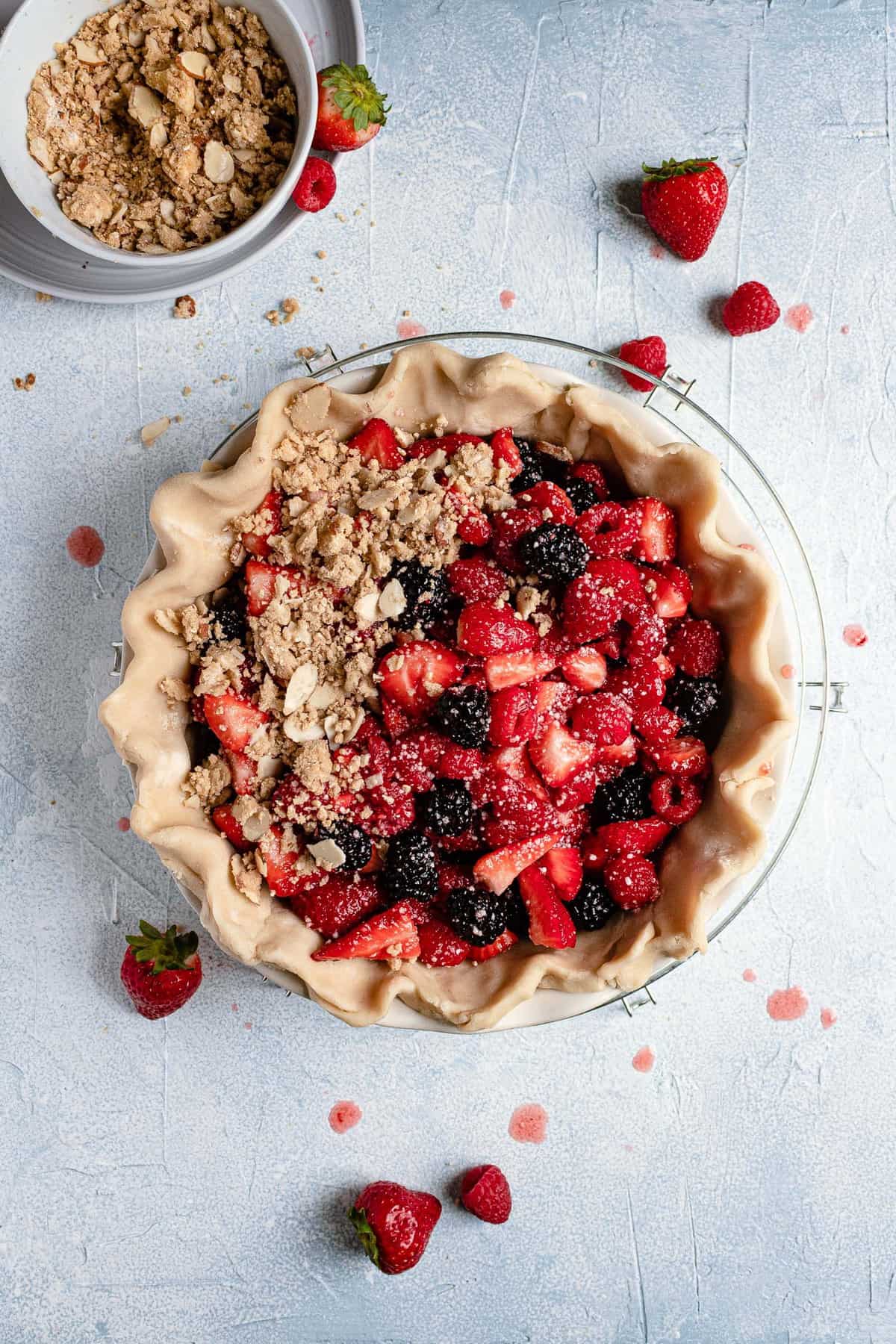 I love baking pie and eating pie, and you know what else I love? To claim the fact that I am right.
Why do people say "I hate to say I told you? ".
I don't hate to say I told you. I love to say it! It is one of life's greatest pleasures!
According to personal research I conducted, the ability to rightfully speak these words is a given to women alongside the ability to create life.
Do we have a sixth sense or the other side is just too stubborn? That question will remain unanswered.
Which is ok. I'm ok with not being heard or having my opinions argued. Enduring all of that is no match to the satisfaction one might have when saying "(I hate to say ) I TOLD YOU SO!!!"
And with it, like the pleasure of licking the spatula, I get to hear: " You were right…as always!!!"
Heck yeas, I am always right! (and always in need of one more pair of boots!)
But what is that have to do with this Berry Pie?
Not much, it's just me being nostalgic to the time when my husband, the one who claimed he has "no sweet tooth" realized I was right when I told him he should try this pie.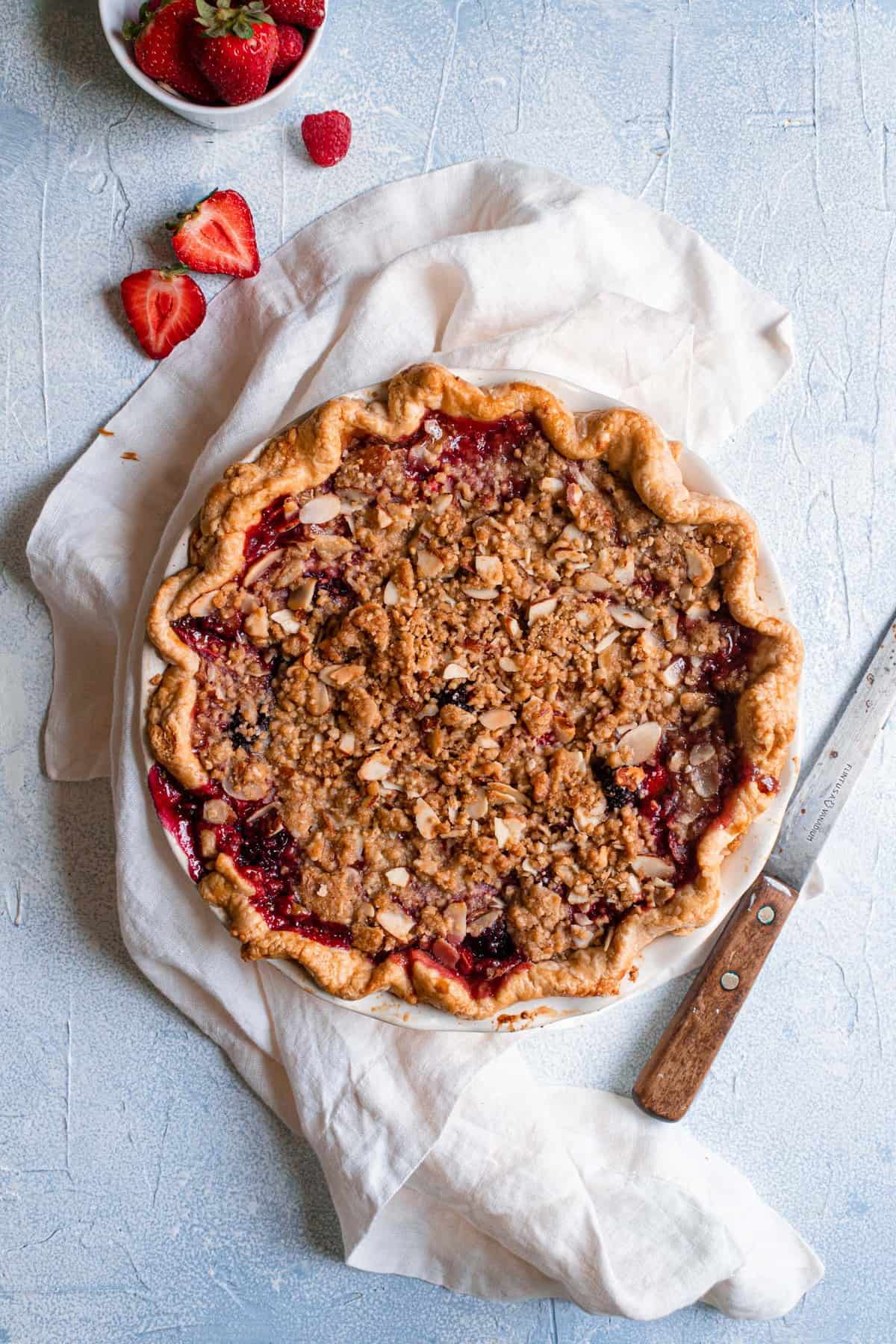 Ingredients in this Berry Pie with Streusel
9″ basic pie crust, you can use your favorite or the one in the recipe below. Also, you can find my full tutorial on how to master pie crust HERE.
A variety of berries, for example, strawberries or blackberries. I highly recommend using fresh berries. However, using frozen berries is perfectly ok.
Cooking Tapioca (Likewise minute tapioca).
Sugar
Fresh lemon juice
For the Streusel
Crushed almonds
Oats
Brown sugar
Butter
Flour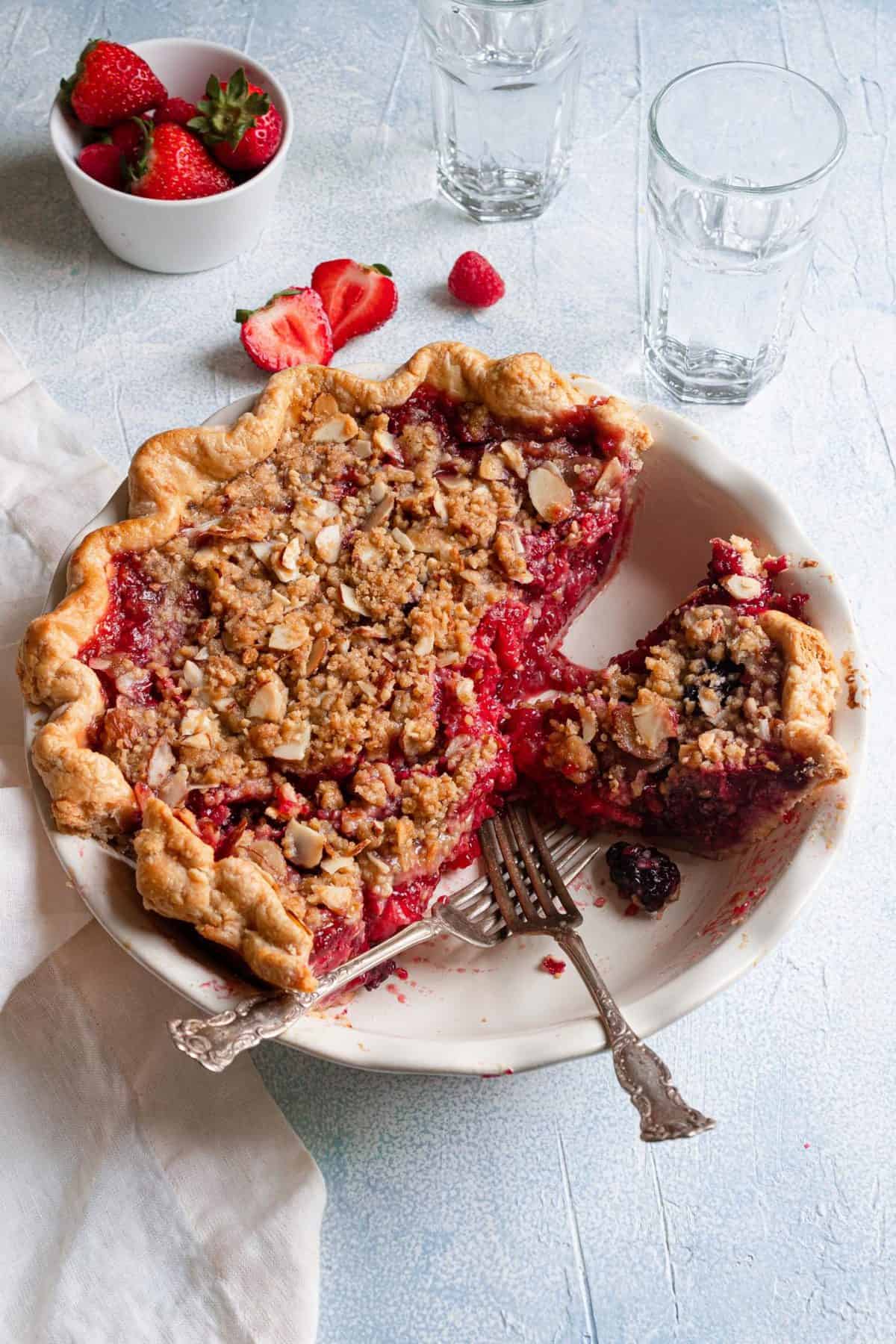 Here are some tips on how to bake this Berry Pie
When baking a fruit pie, bake the pie on top of the lowest oven rack placed on a preheated cookie pan. This will help the bottom of the pie bake faster and evenly hence, will not absorb any liquid from the fruits.
Right before adding the fruit filling in the pie shell, brush the crust with egg white and add a thin layer of almond flour (crushed cookies). Together the two will act as a barrier between the crust and filling.
Right before placing the pie in the oven, sprinkle half the amount of the streusel and the second half 25 minutes into baking. This so the liquid will have a chance to solidify before the streusel absorbs some.
When sprinkling the streusel make sure to live some "bold" spots where you can notice the liquid bubbling. Which is the best way of knowing whether the pie is done or not.
How to store the pie:
Firstly, make sure the pie has completely cooled before slicing it. The pie can be stored at room temperature for up to 48 hours likewise in the refrigerator for up to 4 days.
HAPPY BAKING!!!
Here are some more pie recipes you might enjoy:
Also, one more thing…
Don't forget to tag @OneSarcasticBaker on Instagram whenever you bake this recipe. Would love to see your creations!
Did you like this recipe and find inspiring? Save THIS PIN to your Desserts or Pie boards.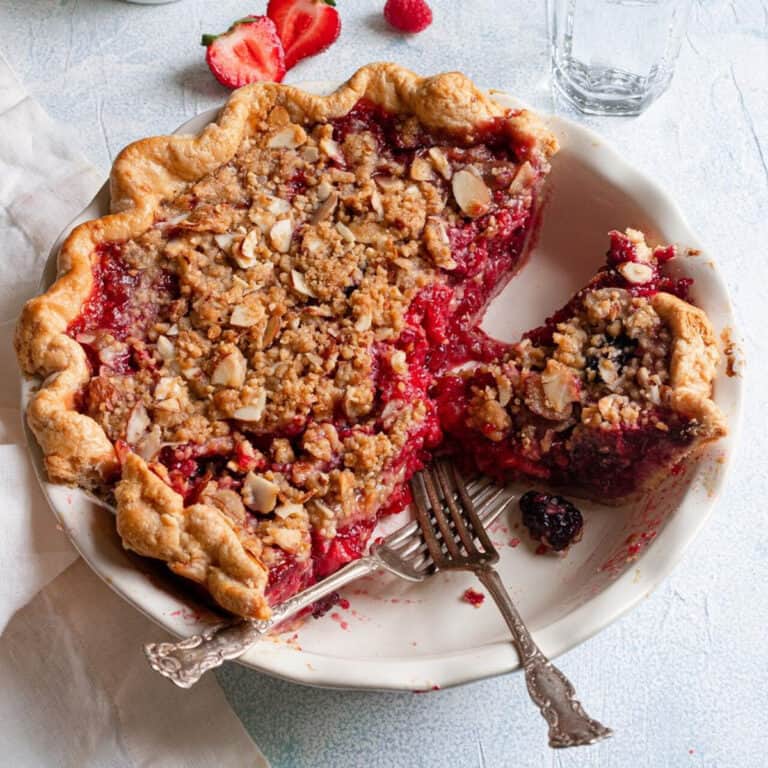 Berry Pie with Streusel
Ingredients
Pie Crust
1

Stick

Unsalted Butter, chilled

(113 g/ 4 oz)

1 1/2

Cups

Pastry Flour (can use AP)

(184 g/ 6.5 oz)

1/4

tsp

Salt

1/8

tsp

Baking Powder

2 1/2 – 3 1/2

TBS

Ice water

1 1/2

tsp

Apple Cider Vinegar

Egg White

2

TBS

Almond Flour or grained almonds
Berry Filling
1

Cup

Sugar

(200 g/ 7 oz)

1/3

Cup

Quick cooking Tapioca

2

TBS

Fresh squeezed lemon juice

5

Cups

Assorted Fresh Berries

(1.2 k / 40 oz)
Streusel Topping
6

TBS

Light Brown Sugar

(80 g/ 3 oz)

6

TBS

Almonds

(70 g / 2.5 oz)

6

TBS

Chilled unsalted butter

(90 g/ 3.5 oz)

4 1/2

TBS

Old Fashioned Oats

( 40 g/ 1.5 oz)

4 1/2

TBS

AP Flour

(50 g/ 2 oz)
Instructions
Cut the butter into 1/2″ cubes wrap in plastic wrap and refrigerate for a minimum of half an hour.

Place the flour, salt and baking powder in a bowl and refrigerate for a minimum of half an hour.

Place the flour in a food processor and pulse for a few seconds.

Add the butter and pulse until the butter is the size of small peas.

Add the lowest amount of ice water and vinegar and pulse about 5 times. Pinch a small amount of mixture with your fingers, if it does not hold together add the remaining of the ice water and pulse again.

(The mixture should not hold together unless being pinched)

Place the mixture in a medium bowl (or a plastic bag) and using your fingers pinch it together to form a disc.

Wrap the disc in a plastic wrap and allow to chill for a minimum of 1 hour (or overnight)

After the dough had chilled, roll it into a 12" circle and place it in a 9" pie dish. 

Fold in the access dough and create your choice of pattern or cut the access. Place the pie dish in the refrigerator until time to bake.
To make the filling
Place all the ingredients in a large bowl and gently stir to distribute.

Let sit for 45-60 minutes.
To make the Streusel
Place the ingredients in a medium bowl and rub it all using your fingers until you get a moist mixture. Place in the refrigerator.
To Bake
Preheat oven to 425F and place a large cookie sheet lined with parchment paper at the bottom rack of the oven.

Remove the pie shell from the refrigerator and brush it with the egg white. (including the edges)

Evenly spread 1 TBS of almond flour on the crust then add the filling.

Sprinkle half the amount of the streusel.

Bake the pie for 15 minutes.

25 minutes into the baking, remove the pie and sprinkle the streusel on top of the pie. Return the pie to the oven.

Lower the oven temperature to 400F and continue baking for 40-45 minutes longer. Or until you notice some bubbles.

Allow the pie to completely cool before slicing.