Last updated on September 29th, 2023.
Mini Apple Galettes are the ultimate summer (or any season) treat. Tender and flaky crust filled with a layer of creamy Frangipane and topped with apple slices.
Before we begin, my blog has great apple recipes like this Jewish apple cake, apple muffins, and apple bars.
How To Make These Mini Galettes:
Firstly, make the pie dough; I have the full tutorial for the perfect all-butter pie crust and Cream Cheese Pie Crust. Whenever I bake an apple pie, I love pairing it with a cream cheese pie crust. However, you can use your favorite go-to pie crust
Once the frangipane and apple slices are ready, it is time to roll the dough and cut the circles.
I highly recommend assembling the galettes on top of a baking pan, as moving them post-filling and shaping might be tricky.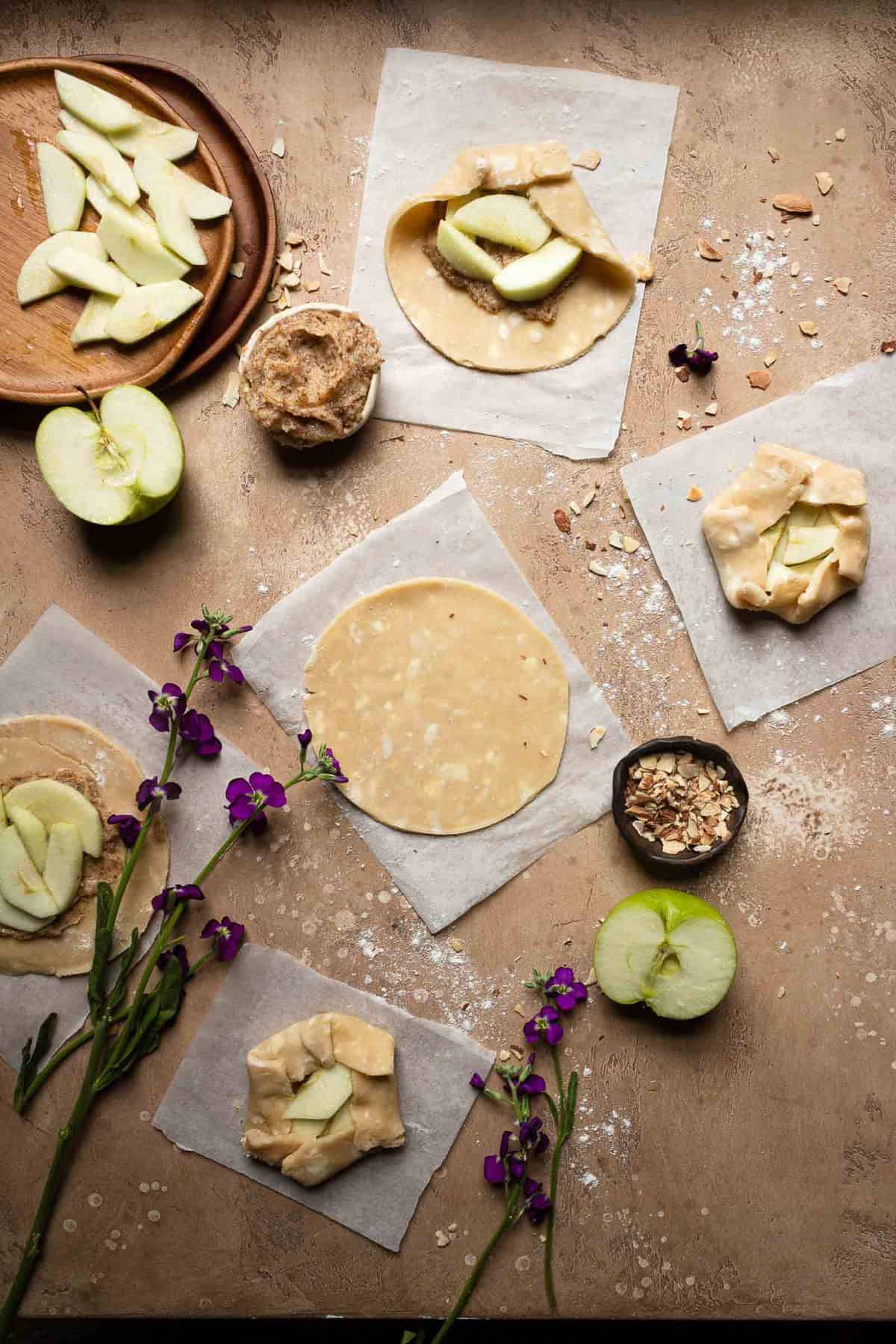 Next, spread some Frangipane at the center, leaving about 1″ of bare dough from the edges.
Top with apple slices then fold the bare edges toward the center.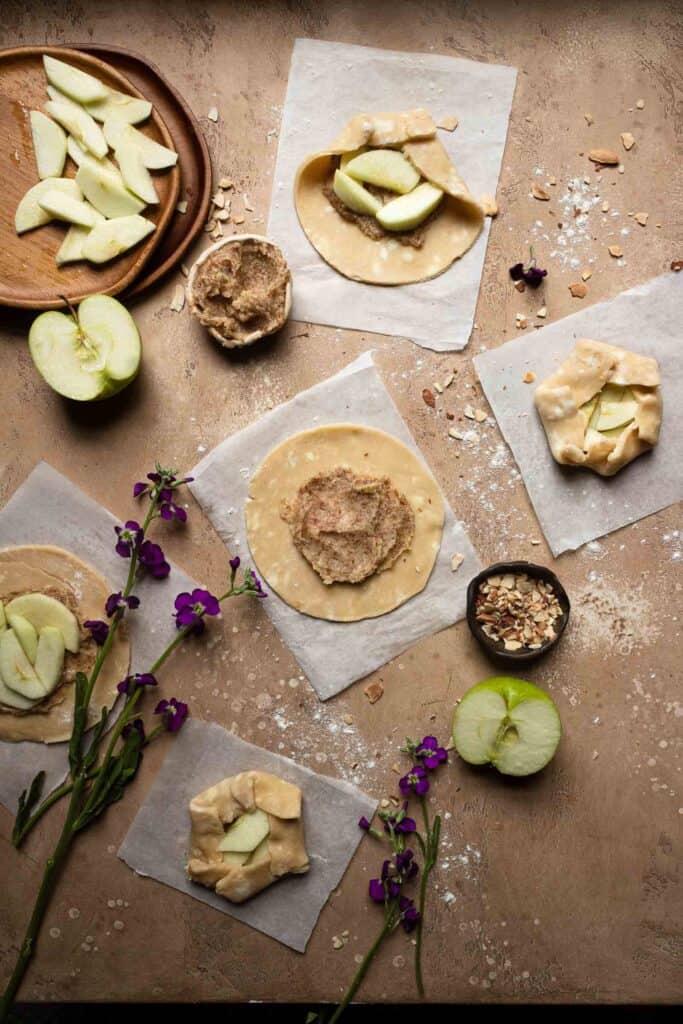 Re-Rolling Pie Dough Scraps:
I could have two extra galettes simply by re-rolling the pie crust scraps.
BUT! you can not re-roll pie craps as you would cookie or donut dough.
Here is what you need to do:
Place scraps between two pieces of plastic wrap in a way overlapping each over. Then re-roll the scraps into a smooth layer and refrigerate for about 30 minutes. Here you can find a step-by-step tutorial on how to use pie crust scraps.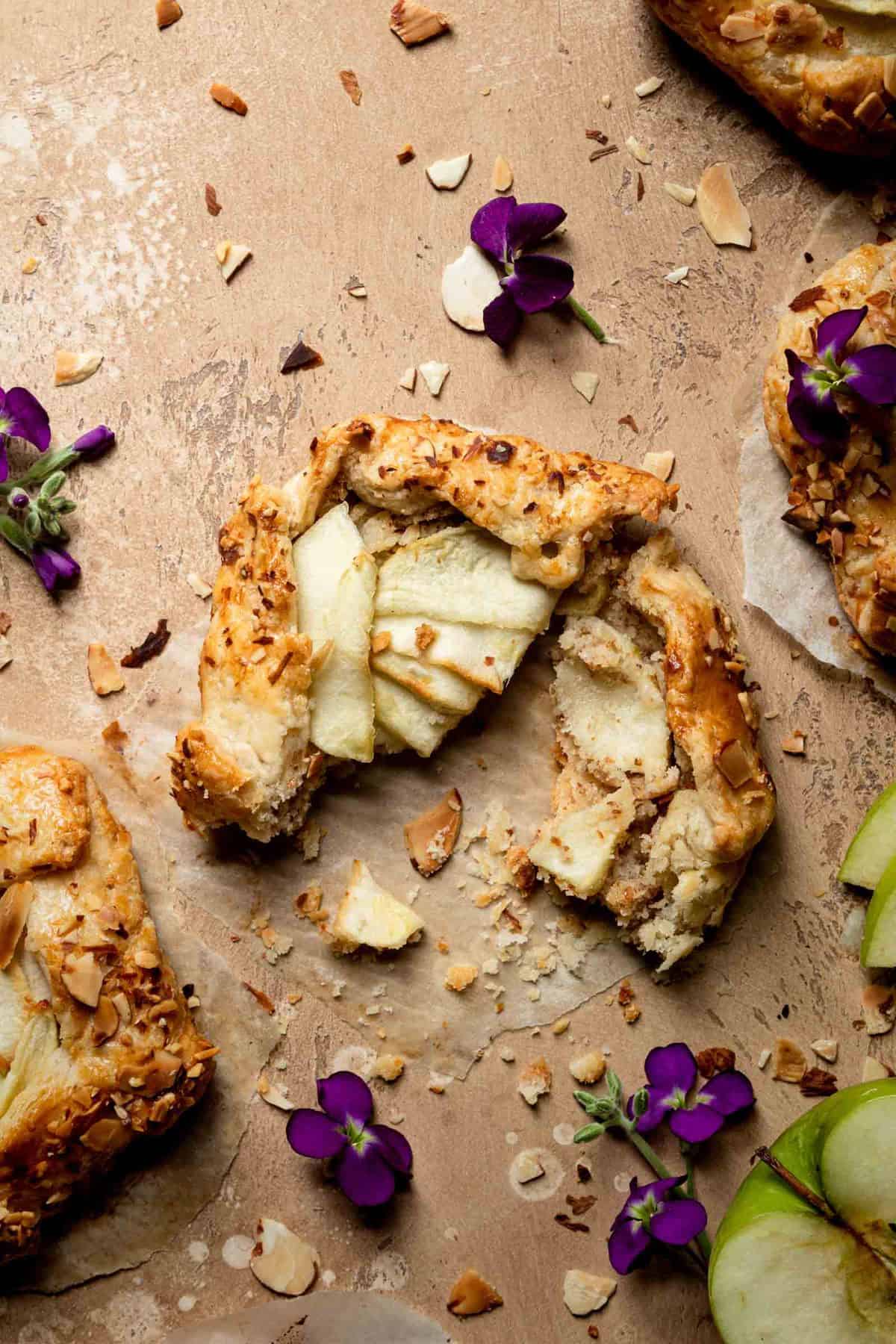 Baking The Mini Galettes:
Great news! It is SUPER EASY to know when the galettes are ready. Simply by looking at the crust. When the crust is dark brown, and it is firm when lifting, then it is done.
It is essential to "keep an eye" on the galettes as they are baking. My oven is different than yours, and baking times might differ. If overbaked the apples might lose their shape, create a gap between the filling and crust. (not a big deal either way!)
I have a few important notes about this Mini Apple Galettes Recipe :
Check out my post about The Best Apples For Baking for the perfect apples for your galette.
If you do not like Almond Frangipane, use cinnamon sugar or cinnamon filling instead.
The recipe calls for Pastry Flour. Pastry Flour is excellent for pie crust since it contains a lower percentage of protein. Less protein means less gluten which is the secret to the flaky, non-chewy crust.
Using pastry flour for pie crust can be tricky and challenging, especially if you do not bake pie very often. So this is what you can do:
Replace Pastry Flour with Pastry flour blend. It's all the pastry flour benefits but is much more "user friendly". (I recommend King Arthur Flour)
Use Bleached AP flour. (reduce the amount to 2 cups). (I recommend Gold Medal flour)
Make your pastry flour using two parts of Bleach AP flour and one piece of cake flour. (not self-rising)
Freezing the butter and flour before making the dough is the best way to make sure you will have the minimum amount of moisture in the dough.
HAPPY BAKING!!!
Here are some more recipes you might enjoy:
Also, one more thing…
Don't forget to tag @OneSarcasticBaker on Instagram if you bake this recipe. Would love to see your creations!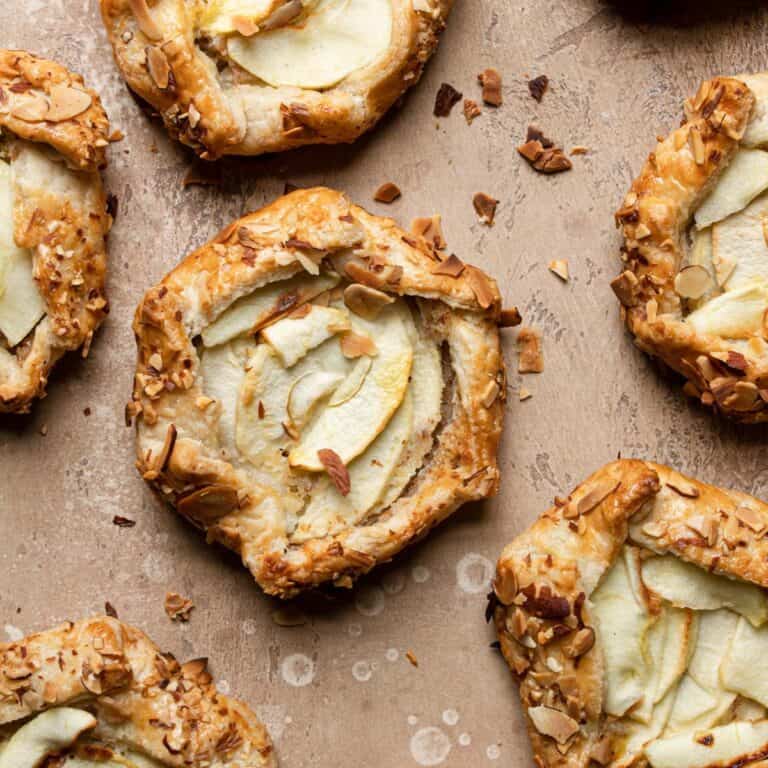 Mini Apple Galette
falky, buttery and tender mini apple galette.
Servings
6
5″ mini Galette
Ingredients
Pie Crust
1 1/2

Sticks

Unslated Butter, cold

(170 g / 6 oz)

2

Cups + 3 TBS

Pastry flour or bleached AP flour

(284 g /10 oz)

1/2

tsp

Salt

1/4

tsp

Baking Powder

1/2

Pack

Cream chesse

(128 g / 4.5 oz)

3

TBS

Heavy Cream, cold

1

TBS

Apple Cider Vinegar
Frangipane Filling
1

Cup

Almond meal or almond flour

(100 g / 3.5 oz)

1/2

Cup

Sugar

(100 g / 3.5 oz)

1

Large

Egg

1

Stick

Unsalted Butter, melted

(113 g / 4 oz)

2

tsp

Almond extract

1

TBS

Flour
Apples
4

Medium

Granny Smith apples

(400 g / 14 oz)

1

TBS

Freshly squeezed lemon

1

TBS

Sugar
Topping
1

Egg,

1/2

Cup

Sliced toasted almonds
Instructions
To Make the Crust
Cut the butter into small 1/2" cubes, wrap it with a plastic bag and place it in the freezer for a minimum of 30 minutes.

Place the flour, baking powder, and salt in a zip-lock bag and freeze for about 30 minutes.

When ready, place the flour in the food processor and pulse it for a few seconds.

Cut the cream cheese into medium size pieces (about 4-5), add it to the flour and pulse for about 10-15 seconds. You should have a rough texture meal.

Remove the butter from the freezer and pulse until the butter is no bigger than peas.

Add the heavy cream and vinegar and pulse until the mixture looks like wet sand and it is in particles. It should not hold together. 

Spoon the mixture into a medium-large bowl and using your fingers, pinch the mixture to form a dough.

Divide the dough into 2 parts, wrap each part in a plastic bag, and place it in the refrigerator for min. 1-hour pr preferably overnight.
Assembling and Baking
Slice the apples into 1/4" round slices, sprinkle the sugar on top then squeeze the fresh lemon juice on it and set aside.

Remove 1 piece of dough from the refrigerator and roll it into 12"x10" rectangle.

Cut 2×5" circles, and place it on a cookie pan lined with parchment paper. Save the scraps.

Spread about 1 TBS frangipane at the center of each cut circle leaving 1" of bare dough from the edges.

Place apple slices on top of the frangipane.

Grab the edge of the dough and fold it towards the center, repeat with the remaing of the dough.

Repeat with the rest of the cut dough circles, brush with egg wash and sprinkle with almonds.

Place the pan in the refrigerator for about 45 minutes.

When ready to bake, preheat oven to 425F , bake for 15 minutes on the lowest oven rack.

Reduce heat to 375F and bake for additional 10-15 minutes or until the dough is golden brown.

Remove from oven and let cool for 5-10 minutes.