Last updated on May 7th, 2021.
The secret to this Cream Butter cake is in its name. An addition of whipped heavy cream in the batter makes this cake a rich, creamy and a festive recipe .
Like many other great things in life, this recipe is a result of a mistake. I simple forgot to put the ice cream back in the freezer after use, and ended ups with a soggy bucket full of melted ice cream.
I guess that's when creativity hit and I figured the world could handle another buttercream recipe, which led to this Ice Cream Buttercream recipe. And since buttercream has a very important life mission, this Cream cake recipe was born right after.
The cake recipe is an old fashion butter cake, but you add whipped heavy cream right before baking. This addition adds a smooth velvety like texture and so much more richness in flavor.
(BTW, Butter cake is just like pound cake but it has less butter in compression to the flour.)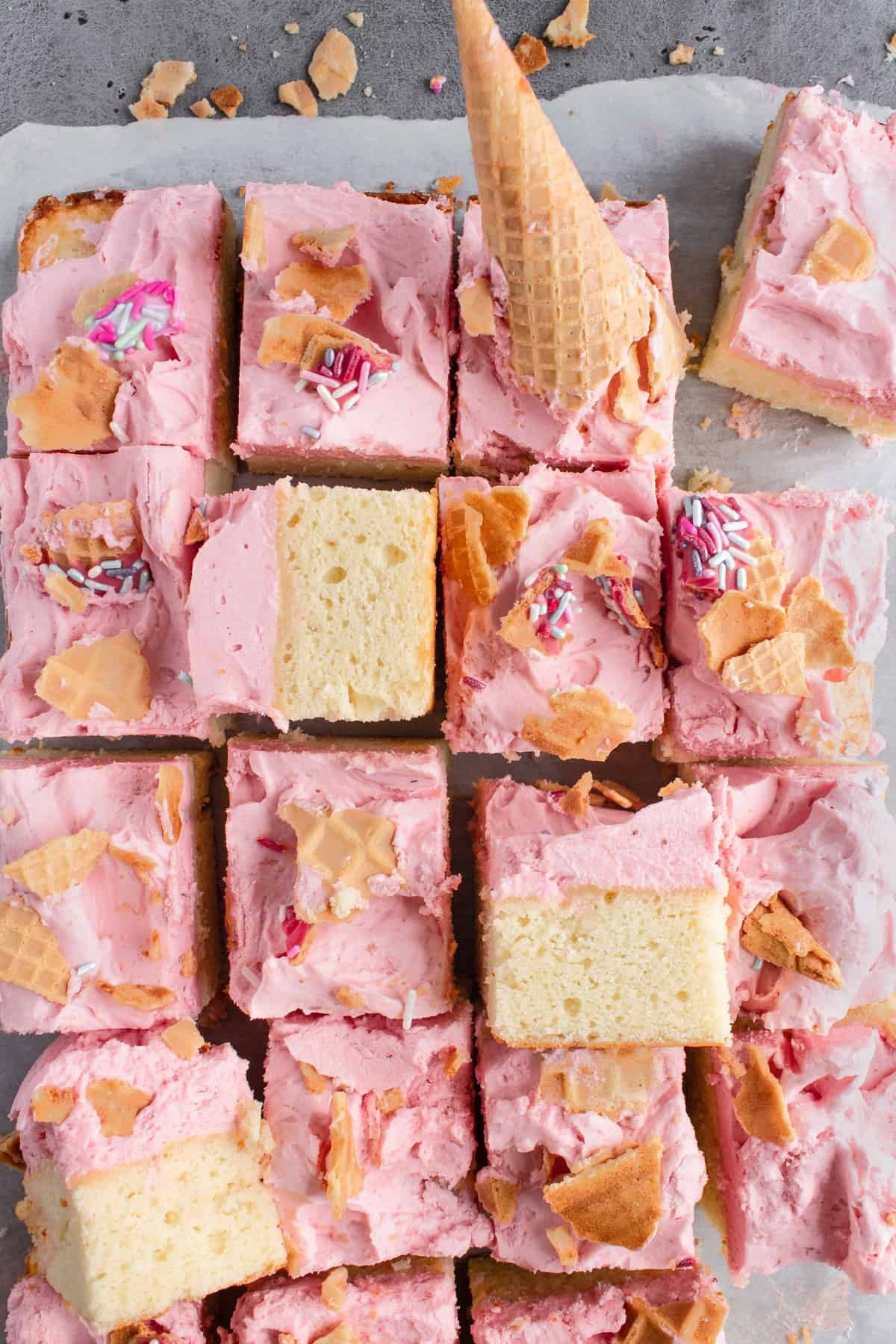 Now Let's Talk About This Cream Cake:
I baked this recipe in a 9″ x 8″ pan, but you can use three 8″ round pans or four 6″ round pans for layered cake.
Please make sure all of the ingredients are at room temperature. (excluding the heavy cream)
If you want to skip the whipped heavy cream, you can. Just add the heavy cream to the sour cream mixture.
The cake butter will be thick at first. Once you add the heavy cream it will be smoother but still thick. Use an off set spatula to evenly spread it into the pan.
You can find the recipe for the Ice Cream Buttercream HERE
HAPPY BAKING!!!
Here are some more cake recipes you might enjoy:
One more thing…
Don't forget to tag @OneSarcasticBaker on Instagram if you bake this recipe. Would love to see your creations!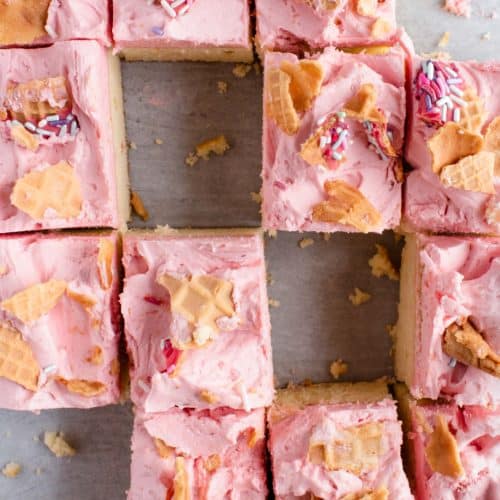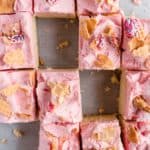 Cream Cake
Ingredients
2

Cups (+1 TBS)

AP Flour

(250 g / 9 oz)

3/4

tsp

Baking powder

1/2

tsp

Baking soda

1/2

tsp

salt

1/2

Cup

Sour Cream

1

TBS

Van. Paste

1/2

Cup

Heavy Whipping Cream

(120 ml / 4 FL OZ)

1 1/2

Sticks

Unsalted butter, softened

(168 g / 6 oz)

4

Large

Eggs

2

Cups

Sugar

(400 g / 14 oz)
Instructions
Preheat oven to 350F and line 9″-13″ pan with parchment paper.

In a medium bowl, sift the flour, baking soda and baking powder. Set aside.

In a large measuring cup, mix together the sour cream and vanilla paste. Set a side.

In a bowl of a standing mixer fitted with the paddle attachment, place the butter and sugar and mix on medium-high until you have a light and fluffy mixture.

Add the eggs, one at a time waiting for each egg to fully incoporate before adding the next. Scrap the bottom and sides of the bowl on occasion.

Add the flour mix, alternating with the sour cream mix starting and finishing with the flour (total 3 additions for the flour).

After adding the last part of the flour, stop the mixer and using a rubber spatula, mix in any flour strikes.

In a clean mixer bowl, add the heavy whipping cream and whip on high to a soft peak. Gently fold it into the cake batter.

Evenly spread the batter in the pan and bake for 35-40 minutes, or until a tooth pick comes out clean from the center of the cake.

Remove from oven and allow to completely cool before frosting.