Last updated on August 9th, 2023.
Infused with the luscious essence of mangoes. This tender, moist, and flavorful mango pound cake recipe cake is destined to win the hearts of your loved ones.
Why You'll Love This Cake
Much like my Orange Cream Cheese Cake, Almond Chocolate Cake, Lemon Blackberry Cake, and Pear Cake, this Mango Pound Cake is a divine treat that combines the richness of a classic pound cake with the lusciousness of ripe mangoes. Here's why you'll fall in love with this cake:
Tropical Twist: Mangoes are the epitome of tropical delight, and incorporating them into a pound cake brings a burst of sunny flavors to your palate. (Check out my other tropical recipe with a twist: Guava Cheese Babka).
Moist and Tender: Adding mango puree to the batter ensures the cake remains moist and tender, making each bite a heavenly experience.
Easy to Make: This recipe is beginner-friendly and requires no complicated techniques, making it the perfect choice for bakers of all levels.
Versatile Serving Options: Enjoy this Cake or pair it with various accompaniments to create delightful desserts.
Ingredients
You'll need the following ingredients to make this delightful Mango Cake.
For The Cake
All-purpose flour
Potato starch. If you have none, use one teaspoon of cornstarch instead or skip it altogether.
granulated sugar
softened butter
large eggs
Egg yolks
Sour cream For a dairy-free option, use canned coconut milk (1 cup) mixed with one tablespoon of apple cider vinegar.
Pure vanilla extract
baking powder and baking soda
Pinch of salt
Cayenne pepper. Cayenne pepper brings out the mango flavor without any pepper or spicy strains.
Mango puree
Zest from one small orange
For The Mango Puree
Ripe Mango
Granulated Sugar
How to Make Mango Pound Cake
Make the Mango Puree
Peel and dice the ripe mangoes, discarding the pit.
Place the diced mango pieces and sugar in a medium saucepan, bring to a simmer, then simmer for 5 minutes. Remove from heat, cover, and allow to cool for 15 minutes.
Strain the mango (save the liquids) and refrigerate in a food processor until used.
Make The Cake
Preheat your oven to 350°F (175°C). Grease and flour a standard-sized loaf pan or bundt pan. In a large mixing bowl, mix the flour, baking powder, baking soda, salt, and cayenne pepper. Set aside. Mix the sour cream, mango puree, two tablespoons of orange juice, and vanilla extract in a separate bowl.
In a stand mixer bowl, using the paddle attachment, beat the butter, sugar, and the zest of the orange until light and fluffy, about 5 minutes. Scrape the sides and bottom of the bowl, and one medium speed, add the eggs and egg yolks one at a time, waiting for the egg to thoroughly blend before adding the next.
Reduce speed to low, and add the dry ingredients mixture into the cream butter mixture in three additions alternating with the mango mixture, starting and ending with the flour mixture.
Fill the pan with the cake mix and bake until the top and golden brown and a toothpick comes out from the center of the cake dry.
Ideas To Serve
The Mango Pound Cake is a versatile dessert that can be enjoyed in various ways.
Plain and Simple: Savor the cake for a delightful snack or dessert.
Fresh Mango Topping: Top individual slices with new mango cubes for an extra-rich tropical mango taste or fresh fruit.
Whipped Cream: Serve slices of Mango Pound Cake with a dollop of freshly whipped cream for a delightful indulgence.
Vanilla Ice Cream: Pair warm slices of cake with a scoop of vanilla ice cream for a contrasting combination of warm and cold.
Tips
Choose ripe mangoes for the best flavor and sweetness in your cake.
Ensure the ingredients are all room temperature; otherwise, the cake might be dense and chewy.
Avoid overmixing the batter to maintain the cake's tender texture.
You can use a bundt pan, two loaf pans, or a tube pan. The critical thing to remember is not to fill the pan over 3/4 full.
Storing
This delicious cake is best for up to three days, covered at room temperature. To freeze, wrap the cake with plastic wrap and in a freezer plastic bag and freeze for up to 4 months. When ready, remove from the freezer and the plastic bags and allow to warm to room temperature.
FAQ
Can I use frozen mangoes for this recipe?
While fresh mangoes are recommended for the best flavor, you can use frozen mangoes if fresh ones are not available. Thaw and drain the frozen mangoes before blending them into a puree.

Can I replace all-purpose flour with a gluten-free alternative?
Yes, you can use a gluten-free flour blend instead of all-purpose flour for a gluten-free version of this cake.

More Recipes You Will Enjoy
Almond Poppyseed Cake, Chocolate Gin Cake, Olive Oil Cherry Cake
Don't forget to leave a comment and tag me on Instagram when you make one of my recipes.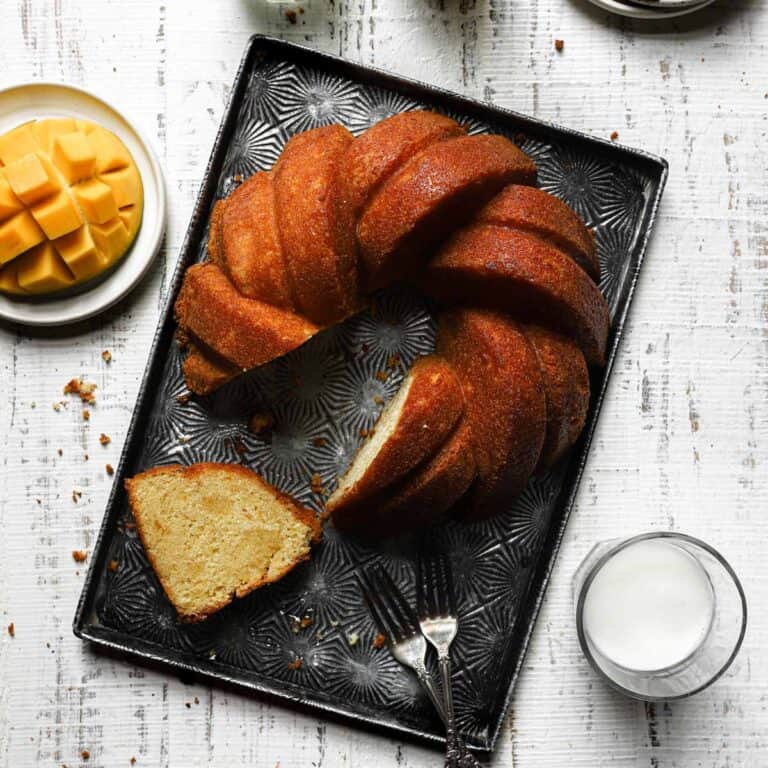 Mango Pound Cake Recipe
Tender, moist and delicous cake made with mango
Total Time
1
hour
5
minutes
Servings
1
12 cups bundt pan
Ingredients
Mago Puree
1/4

Cup

Sugar

(50 g/ 2 oz)

1

Ripe Mango
Cake
2 1/2

Cups

AP Flour

(300 g / 11 oz)

1

TBS

Potato Starch

3/4

tsp

Salt

1/4

tsp

Baking Soda

1/4

tsp

Ground Cayenne Pepper

1/2

Cup

Mango Puree

1

Cup

Sour Cream

(480 ml/ 8 oz)

1

tablespoon

Van. extract

1/2

Cup

Unsalted Butter, soften

(225g)

2 1/2

Cups

Sugar

(500g)

2

teaspoons

orange zest

5

Large

Eggs

2

Large

Egg Yolks
Instructions
To Make the Mango Puree
Cut the Mango into even pieces and mix with the sugar, and place in a pan.

Place the pan oven medium heat and let cook for about 3 minutes after it starts to simmer, Turn heat off and allow to cool for about 15 minutes

Strain the syrup and reserve for soaking syrup later on, Place the cooked Mango in a food processes and puree until completely smooth.

Pour the puree in a container and refrigerate until use.
To Make the cake
Preheat oven to 350F. Grease a 12 cup bundt cake. Make sure all the ingredients are at room temperature.

In a bowl, combine the flour, potato starch, salt, baking soda and Cayenne pepper whisk to combine and set a side.

Combine the Mango Puree, Sour Cream, and vanilla extract and whisk to combine

In a bowl of a standing mixer fitted with the paddle attachment, mix the butter,sugar and orange zest on medium speed for about 3-4 minutes.

Add the egg yolks and eggs one at a time making sure each egg had fully incorporated before adding the next one. Scrap the sides and bottom of the bowl with a rubber spatula.

Add the flour mixture alternating with the sour cream mixture in 3 or 4 additions, starting and finishing with the dry. After adding the last part of the dry mixture, stop the mixing and using a rubber spatula, scrap the sides and bottom of the bowl to make sure all the ingredients are fully incorporated.

Fill the greased pan and bake on the middle rack for 50-55 minutes, or until a tooth pick comes out dry when inserting in the center of the cake.