Last updated on May 7th, 2021.
Why Mango Puree Pound Cake?
A. It is so delicious and unique.
B. Starving children in Africa.
So I bought 2 Mangoes last week. Two fat, soft and golden looking Mangoes. The kind that spray a cloud of tropical aroma when in your hands, and give you a sweet vision of yourself laying on a white sand beach holding an umbrella drink.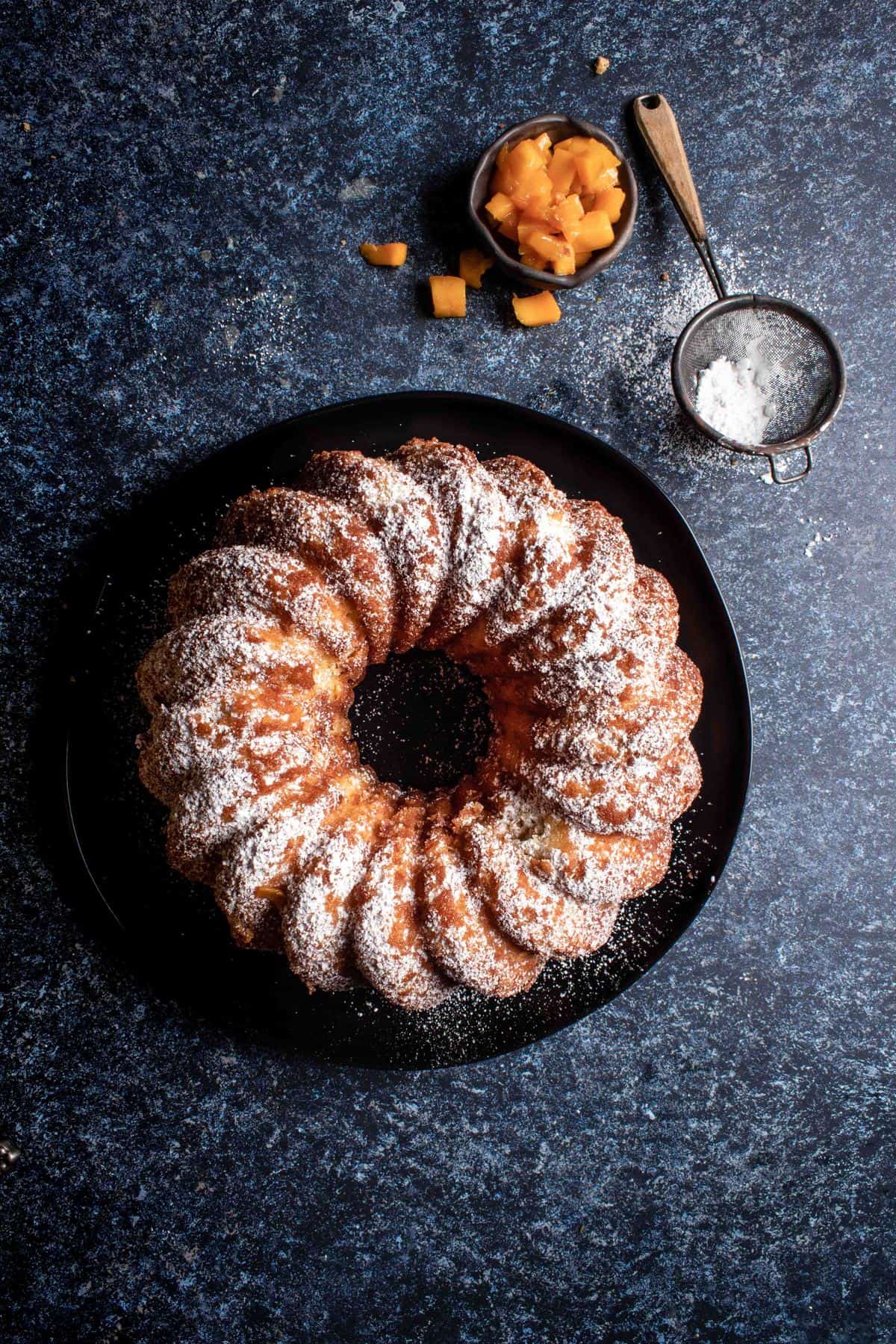 I bought two mangoes and forgot all about it. Until a week later I opened the refrigerator drawer and realized it is a minute away to a rotten mess.
The only thing I could hear was my Mother, Grandmother and other ancestors shaking their head in disappointment saying: " Are you wasting food? What about the starving children in Africa? oh, what a waste! " (BTW, why is it always Africa?).
Waste? no way! I totally "meant" to forget about it. It is now perfect to bake Mango Puree Pound Cake. I only need to buy 3, 4 or 5 more ingredients so I won't waste the $1.59 paid for each mango I go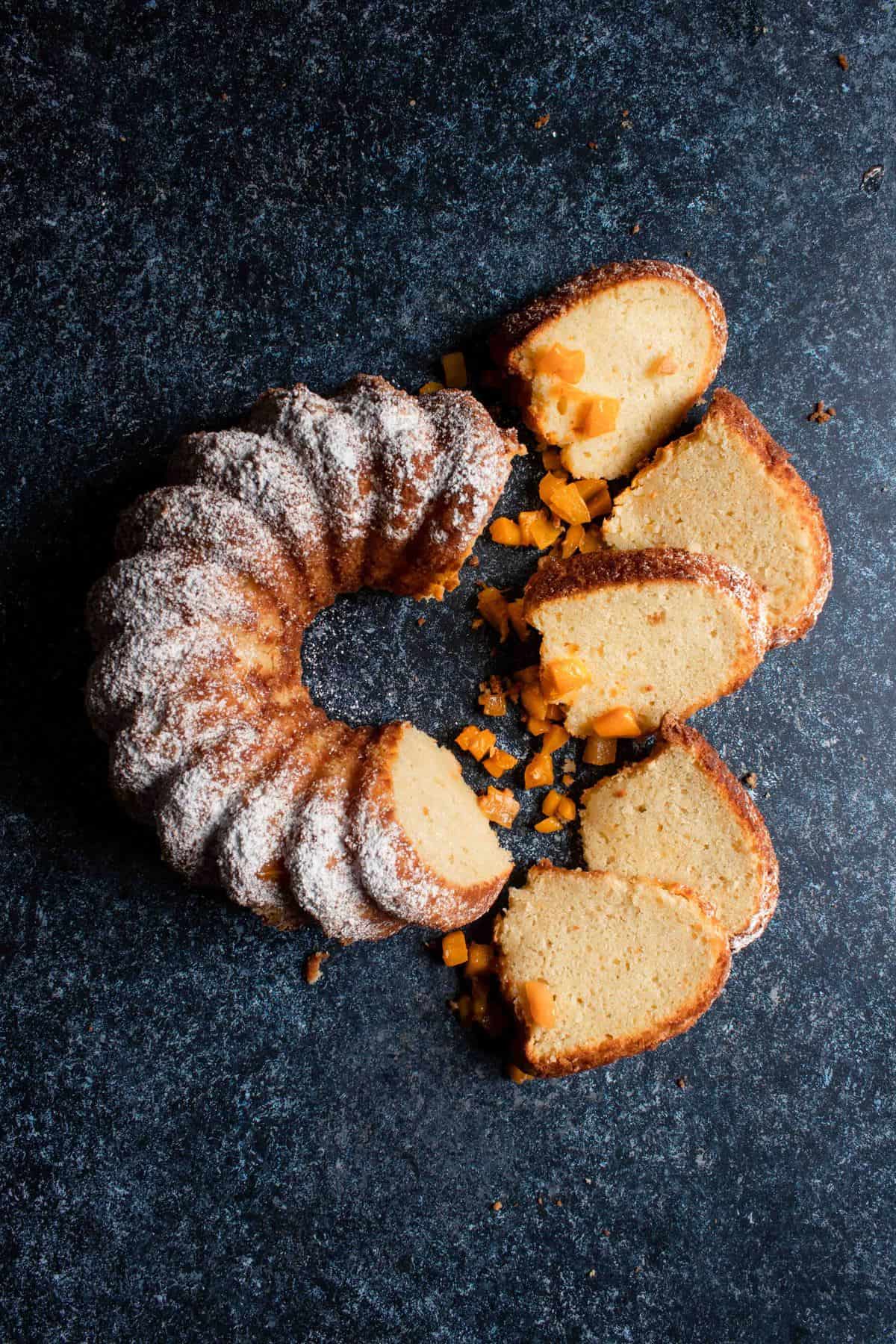 Even thou I was very proud of not wasting any food, I could still hear my ancestor's concern about world hunger. So I donated here.
No Lets Talk About This Mango Puree Pound Cake:
The secret of this cake is the cayenne pepper, it really brings all the flavors together. Do not worry about the cake being spicy, but feel free to reduce the amount to 1/4 tsp.
As always, please make sure all the ingredients are at room temperature before baking.
When mixing the cake, the mix might look a bit curdy. That is ok, the acid from the orange zest might be the reason.
You can use the juice from the mango puree to make glaze. Mix 1-2 TBS mango water and mix it with 1 cup of powdered sugar.
Here are some more great cake recipes:
Mango Puree Pound Cake
Total Time
1
hour
5
minutes
Ingredients
2 1/2

Cups

AP Flour

(300 g / 11 oz)

1

TBS

Potato Starch

3/4

tsp

Salt

1/4

tsp

Baking Soda

1/4

tsp

Ground Cayenne Pepper

1/2

Cup

Mango Puree

1

Cup

Sour Cream

(480 ml/ 8 oz)

2

TBS

Fresh squeezed Orange Juice

1

tsp

Van. extract

1/2

tsp

Pure Orange Oil

1 1/2

Sticks

Unsalted Butter, soften

(170 g/ 6 oz)

3

Cups

Sugar

( 600 g/ 21 oz)

1

tsp

orange zest

5

Large

Eggs

2

Large

Egg Yolks
Mago Puree
1

Ripe Mango

1/4

Cup

Sugar

(50 g/ 2 oz)
Whipped Cream (optional)
1

Cup

Heavy whipping cream

2

TBSP

Sugar

1

Ripe Mango, cut into small cubes
Instructions
To Make the cake
Preheat oven to 350F. Grease a 12 cup bundt cake. Make sure all the ingredients are at room temperature.

In a bowl, combine the flour, potato starch, salt, baking soda and Cayenne pepper whisk to combine and set a side.

Combine the Mango Puree, Sour Cream, orange juice, orange oil and vanilla extract and whisk to combine

In a bowl of a standing mixer fitted with the paddle attachment, mix the butter,sugar and orange zest on medium speed for about 3-4 minutes.

Add the egg yolks and eggs one at a time making sure each egg had fully incorporated before adding the next one. Scrap the sides and bottom of the bowl with a rubber spatula.

Add the flour mixture alternating with the sour cream mixture in 3 or 4 additions, starting and finishing with the dry. After adding the last part of the dry mixture, stop the mixing and using a rubber spatula, scrap the sides and bottom of the bowl to make sure all the ingredients are fully incorporated.

Fill the greased pan and bake on the middle rack for 50-55 minutes, or until a tooth pick comes out dry when inserting in the center of the cake.
To Make the Mango Puree
Cut the Mango into even pieces and mix with the sugar and place in a pan.

Place the pan oven medium heat and let cook for about 3 minutes after it starts to simmer, Turn heat off and allow to cool for about 15 minutes

Strain the syrup and reserve for soaking syrup later on, Place the cooked Mango in a food processes and puree until completely smooth.

Pour the puree in a container and refrigerate until use.