Last updated on August 3rd, 2023.
This Almond Poppyseed Bundt cake is the best afternoon snack. It is moist, tender, soft, and loaded with flavors.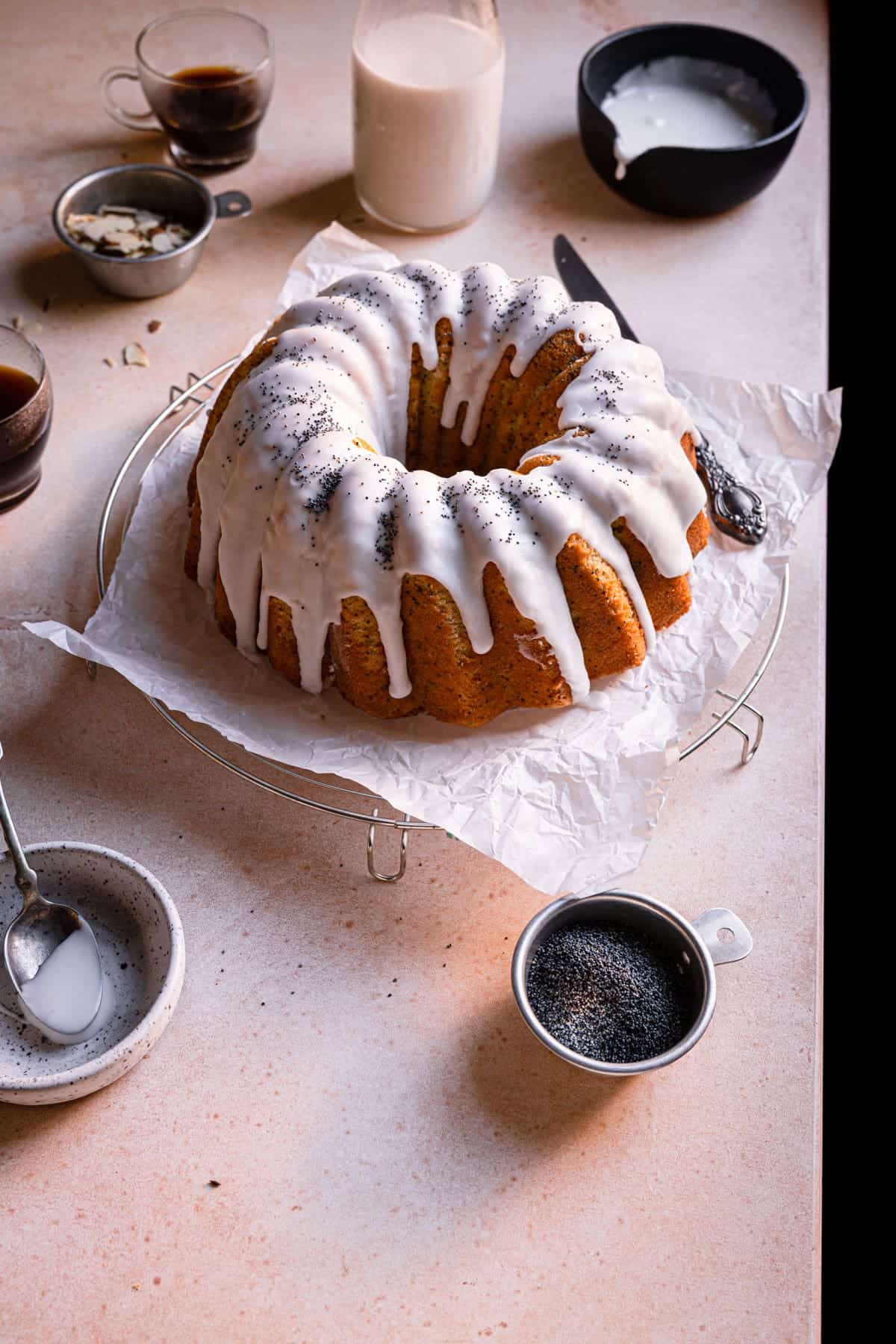 I think reading Bundt cake recipes is one of my favorite pleasures. I love it when my eyes pop out at the realization of the butter and sugar amounts. The actual baking takes the experience to a whole new level when the mixing bowl is filled with fluffy, airy, and buttery goodness.
And last but not least, taking the first bite. It's pure heaven and what baking is all about. So now you know I love bundt cakes. It's the ultimate comfort bake and most likely in everyone's top three favorite desserts. I mean, have you ever heard someone say… "Nah I am not a fan of bundt/pound cakes…"?.
That's why you should really check out more of my pound cakes like this Lemon Blackberry Cake, Snickers Cake and this Mango Pound cake.
This recipe is adapted from the The bundt collection book, by Bake from scratch. The book is a collection of 131 bundt cake amazing recipes, and it was a super easy decision to go with this cake, because I am an Almond fan, just check out my Almond Cupcakes, Almond Cookies, And Almond Chocolate Cake.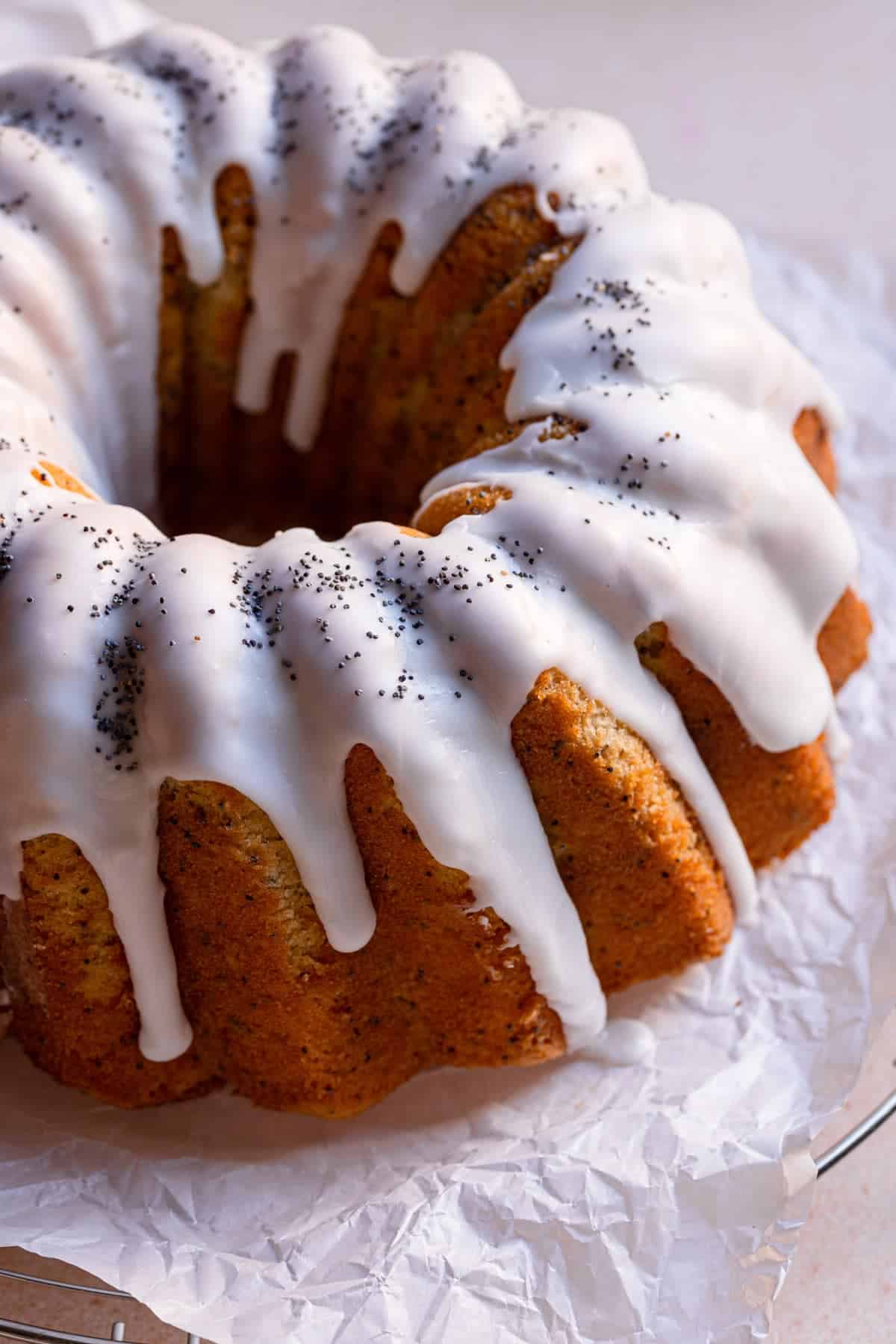 What Ingredients Are In This Almond Poppyseed Bundt Cake?
AP Flour
Baking powder
Salt
Unsalted butter
Sugar
Eggs
Vanilla extract
Almond extract
Buttermilk
Poppyseeds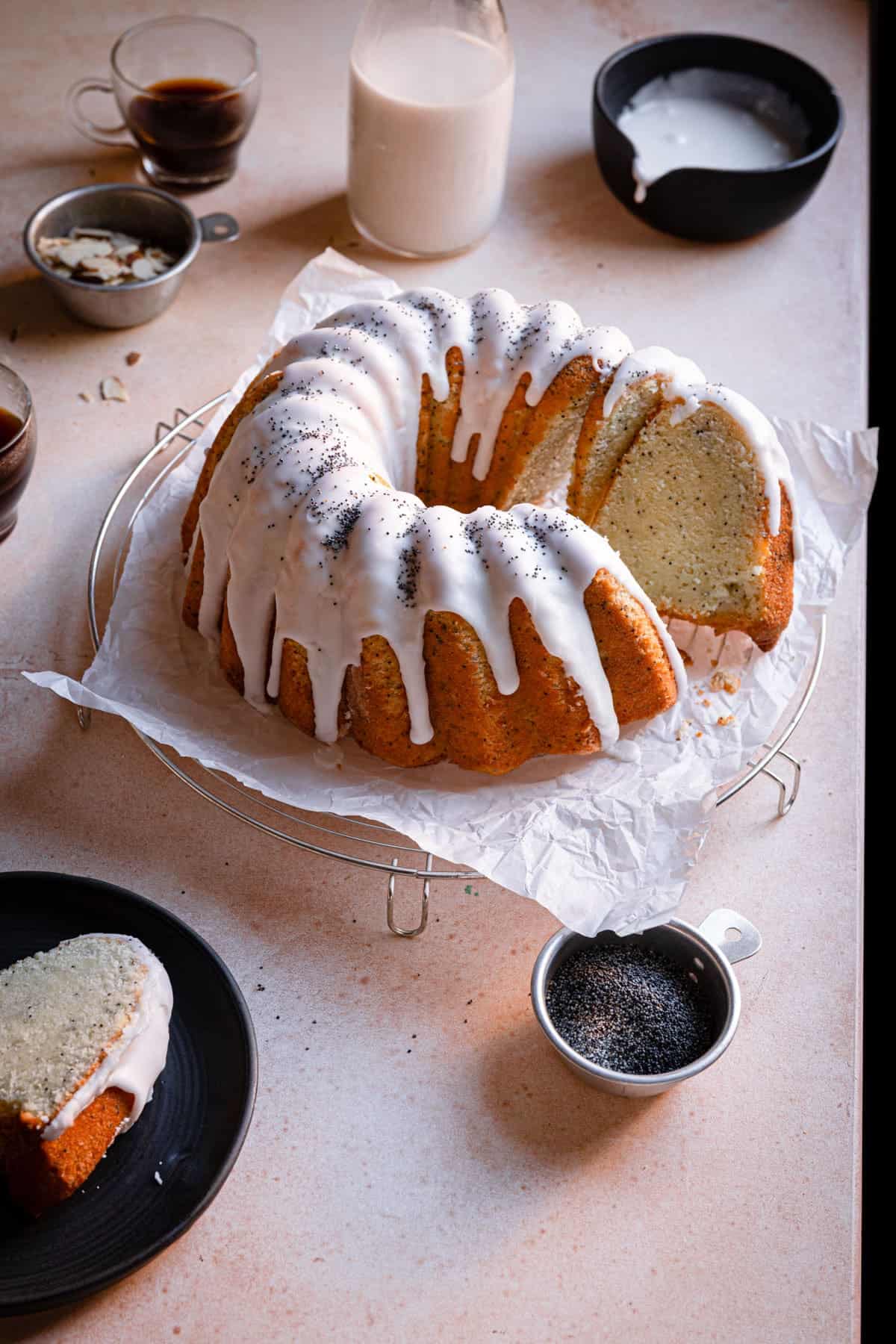 Making this Almond Poppyseed Cake?
Before you start, the most important thing is to make sure all of your ingredients are at room temperature. This is crucial and is what will guarantee a tender, moist, and soft cake. Remember when it comes to baking it's all in the texture.
For this recipe, we will use the creaming method. Meaning, we will cream the butter and sugar (plus the extracts) on medium speed for about 5 minutes. During this time the sugar crystals will break into the butter while trapping air and as a result, we will have a light and fluffy mixture.
Next, we will add the eggs, one at a time waiting for each egg to fully incorporate before adding the next.
Why?
Firstly, by adding eggs which are mostly water to the butter-sugar mixture which is mostly fat we are emulsifying. What it means is that we are mixing oil into water. To do that we need to add the eggs one at a time or else we will have a messy broken mixture. Again,
Also, when we beat the butter and sugar we created a light and airy base for the cake and now we need to take an extra step in maintaining it. When adding the eggs one at a time is the safest way to incorporate the eggs into the butter/sugar mixture without deflating it.
TIP
Many times some of the butter, eggs, and even flour sinks to the bottom of the bowl and does not blend into the batter. Make sure to use a rubber spatula and scrape the sides and bottom of the bowl during the mixing process.
Now that the eggs have been fully incorporate, we will add the flour mixture (flour, baking powder and salt) and buttermilk in three additions starting and finishing with the flour mixture.
Why?
Well, flour + liquid = gluten. This is great but we are baking a cake not bread so we need to make sure we are minimizing the formation of gluten threads. And adding flour and liquid in small amounts is the fastest way to incorporate the two.
We will take it an extra step and turn the mixer off right after the last flour addition and use a rubber spatula to fully incorporate the flour and poppyseeds.
Baking this Almond Poppyseed Cake:
At 325F for 60-75 minutes on the middle rack shelf. The cake is ready when the top is golden brown and a cake tester comes out clean from the center of the cake.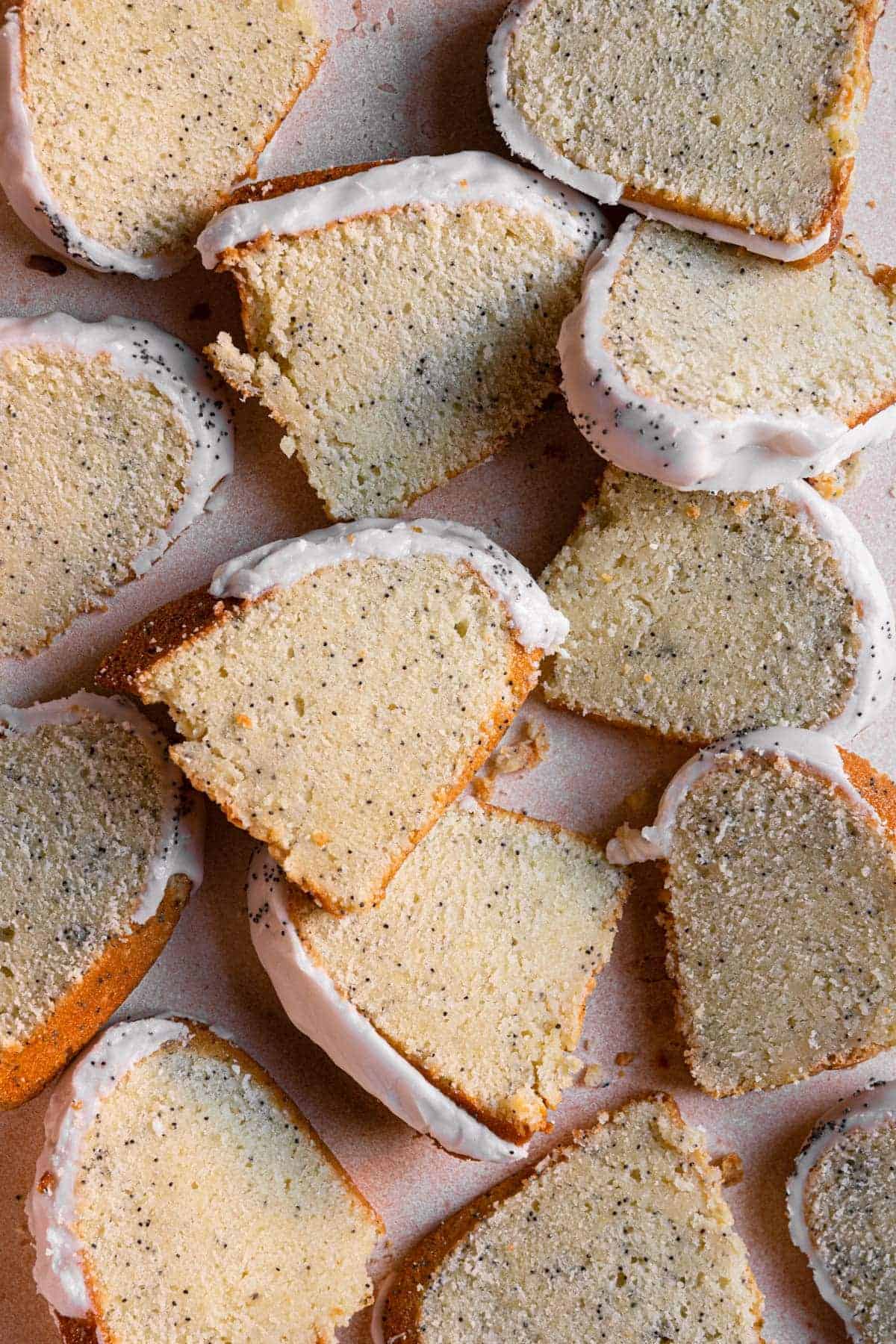 Inverting and storing the cake:
Allow the cake for cool for about 20 minutes in the pan then invert it onto a wore rack and let it cool completely on the rack. The cake can be stored at room temperature for up to 3 days.
Also, you can freeze the cake after it is baked. Wrap it in plastic wrap or aluminum foil and place it in a freezable bag.
When ready to eat, remove from the bag, unwrap, and bring to room temperature.
HAPPY BAKING!!!
Here are some more Honey Recipes you might enjoy:
Also, one more thing…
Don't forget to tag @OneSarcasticBaker on Instagram if you bake this recipe. Would love to see your creations!
Thinking of baking this recipe sometime soon? Add THIS pin to your Cakes or Baking boards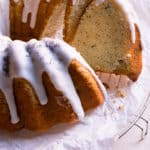 Almond poppy seed bundt cake
Cook Time
1
hour
15
minutes
Ingredients
1 1/2

Cup

Unsalted butter, softened

(340 g / 12 oz)

3

Cups

Sugar

(600 g / 21 oz)

2

tsp

Vanilla extract

2

tsp

Almond extract

5

Large

Eggs, room temperature

3

Cups

AP Flour

(375 / 13.5 oz)

1

tsp

Kosher salt

1/2

tsp

Baking powder

1

Cup

Buttermilk, room temperature

(240 ml / 8 oz)

2

TBS

Poppy seeds
Instructions
Preheat oven to 325F and spray a 10-cup bundt pan with baking spray. Set aside.

In a medium bowl, mix together the flour, salt, and baking powder. Set aside.

In a bowl of a standing mixer fitted with the paddle attachment, beat the butter, sugar and extracts until light and fluffy, about 5 minutes. Scrape the sides and bottom of the bowl.

Add the eggs, one at a time waiting for each egg to fully incorporate before adding the next. Scrape the bottom and sides of the bowl between each addition.

Reduce speed to low and add the flour mixture in three additions alternating with the buttermilk. Starting and finishing with the flour.

Once you added the last portion of the flour, turn the mixer off and use a rubber spatula to finish incorporating the flour while folding in the poppy seeds.

Spoon batter into the pan and bake for 60-75 minutes or until a cake tester comes out dry from the center of the cake.

Remove cake from oven and let cool for 15-20 minutes then invert cake onto a wire rack and allow to cool completely.