Last updated on December 2nd, 2021.
Almond Jamaretti cookies are a combination of 3 different cookies in one. Jam, Amaretti, and Biscotti. These cookies are beautiful, tender, and so flavorful.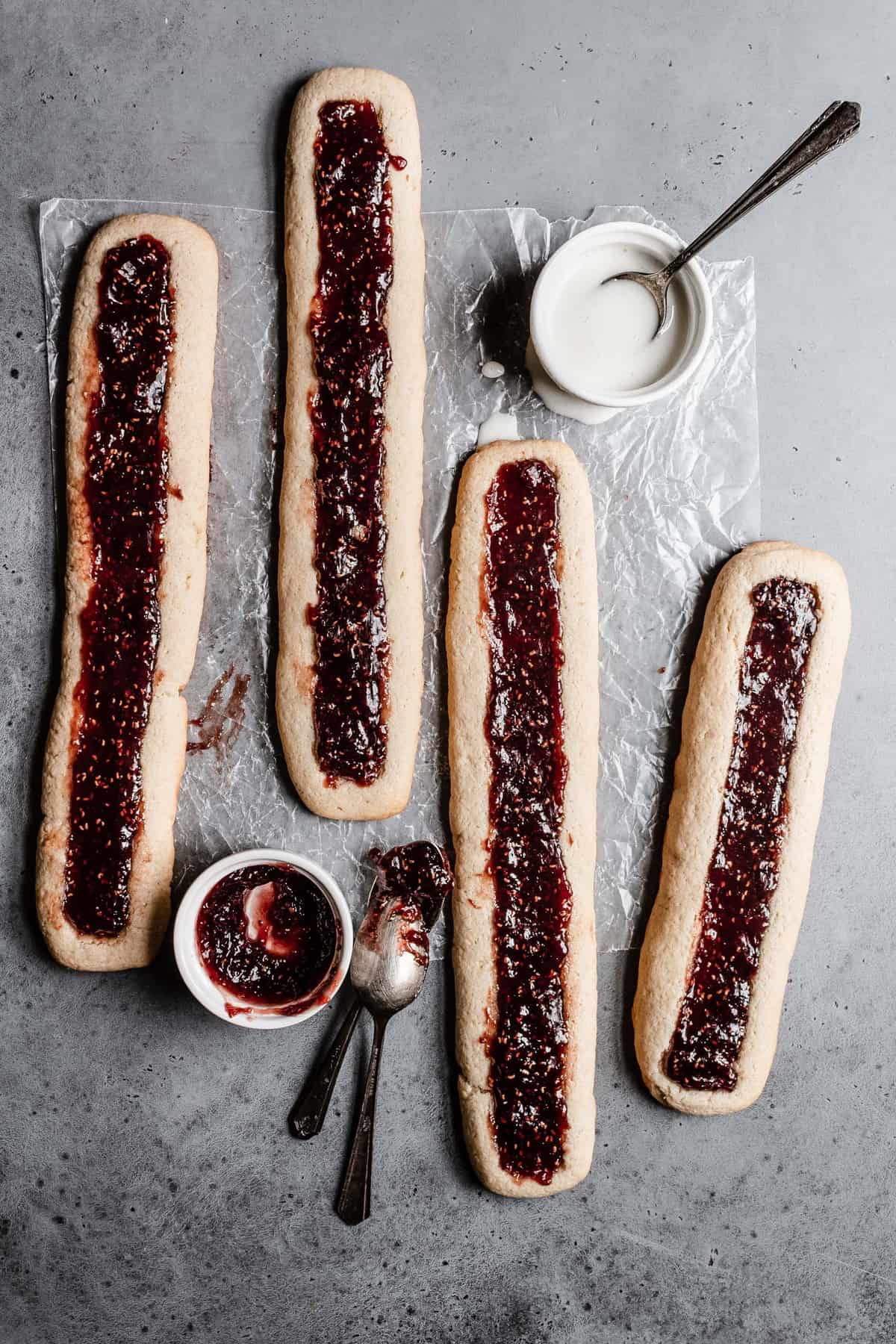 I found this recipe when I was browsing through the new Martha Stewart cookie book "Cookie Perfection". The beautiful stream of Jam at the center of the logs are just too beautiful not to notice. Moreover, add my wired obsessions with Almond flavored desserts and you got a winner.
Unlike the Biscotti, this cookie is soft and tender and can be filled with a variety of jam, pastes, and filings. For example hazelnut spread, poppy seeds filling or even almond filling. Whichever you would enjoy alongside the almond paste flavor.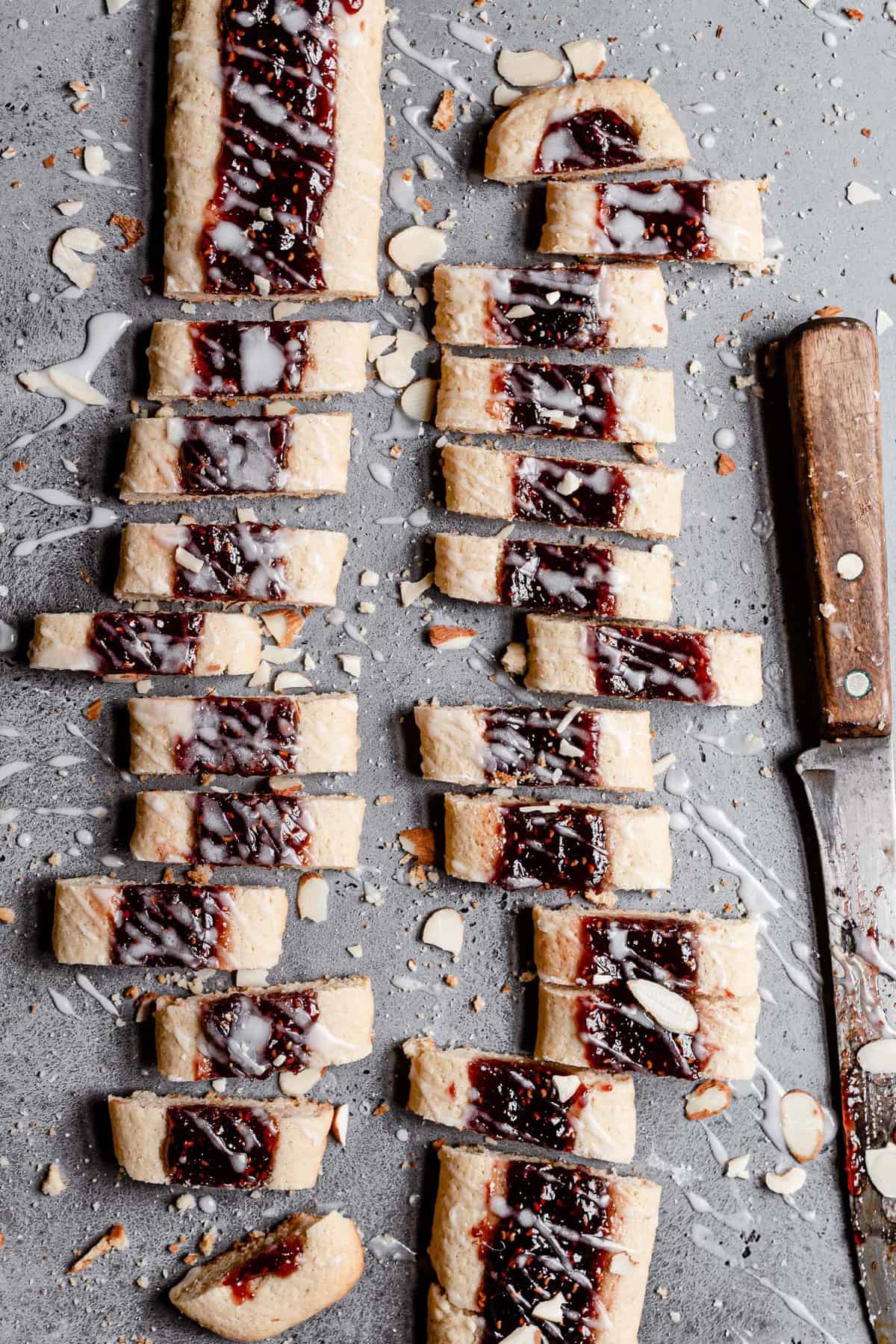 Now Let's Talk About This Jamaretti Almond Cookies Recipe:
You can divide the dough into 2 parts for longer wider cookies or 4 parts for shorter smaller cookies.
When pressing the dough to dent it, make sure not to press it too hard, it might break the cookie.
For a stronger almond flavor add 1 tsp of almond extract along with the egg.
You can freeze the dough after dividing it. Make sure to tightly wrap each part with plastic wrap and sealed with a ziplock bag. When ready to bake simply place the frozen dough in the refrigerator the night before.
The cookies can also be frozen after baked. Make sure to evenly layer them and separate each layer with parchment paper.
Another option for the drizzle is to melt some chocolate.
HAPPY BAKING!!!
Here are some more fun cookies recipes you might enjoy:
One more thing…
Don't forget to tag @OneSarcasticBaker on Instagram if you bake this recipe. Would love to see your creations!
Please note that this post contains affiliate links which means I will be paid some commission but at no cost to you.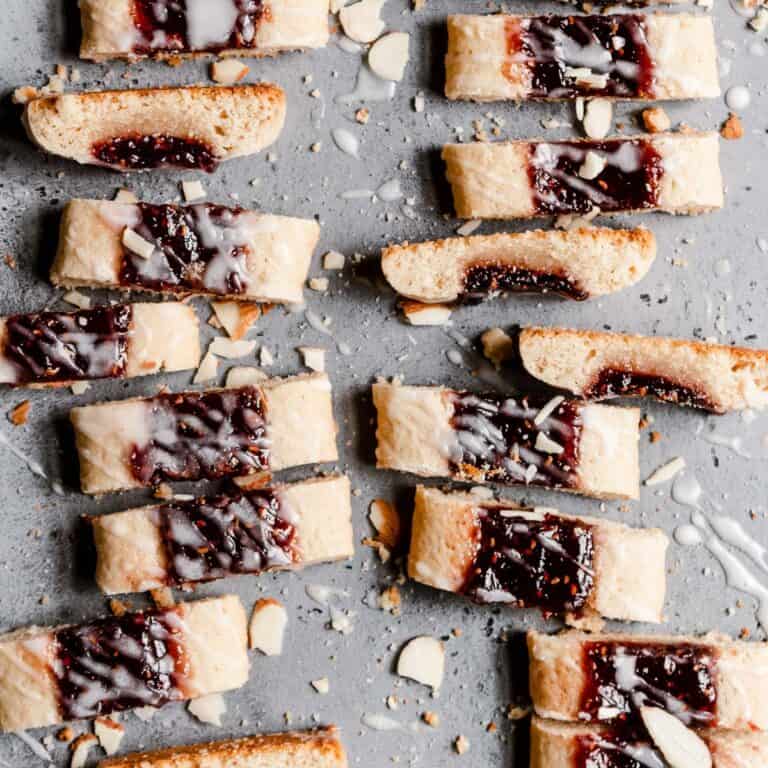 Jamaretti Cookies
Soft almond biscotti filled with jam
Ingredients
2 1/4

Cups

AP Flour

(270 g / 10 oz)

1

tsp

Baking powder

1

tsp

Coarse salt

1/2

tsp

Ground Cinnamon

1/2

Cup

Almond paste

(40 g / 1.5 oz)

1/4

Cup

Sugar

(100 g / 3.5 oz)

1

Stick

Unsalted butter, soften

(115 g / 3.5 oz)i

2

Large

Eggs

1/2

Cup

Jam

1

Cup

Confectionary sugar

(125 g / 4 oz)

4

tsp

Whole milk
Instructions
In a bowl, sift together the flour, baking powder, cinnamon, and salt. Set aside.

I a food processor, pulse together the almond paste and sugar until smooth.

Add butter, sugar and egg. Pulse until smooth.

Add flour mixture and pulse until dough is formed.

Dived dough into 4 equal parts, wrap each part with plastic wrap and let rest in the refrigerator for about 30 minutes.

Preheat oven to 350F, line a cookie sheet with parchment paper.

On a clean and smooth surface sprinkle some flour, roll each part into 10" log.

Transfer logs to a lined baking sheet and flatten to about 2".

Bake for 12-15 minutes, just until dry.

Using the back of a wooden spoon, make a trench down the center of each log. Return to oven for 8-10 minutes longer. Or until golden brown.

Remove from the oven and let cool.

In a small bowl, whisk together the confectionery sugar and milk until smooth.

Drizzle glaze over logs. Once the glaze hardens cut the logs into 2" wide cookies.