Last updated on November 11th, 2020.
Star Pie has it all. A tender crust, sweet and crunchy filling, warm spices, and above all nostalgic flavors.
I am so excited about today's Baker's Book Club because I feel like this book checks every point on my personal checklist. A beautiful, well-written novel AND it includes great recipes to follow along. Especially this Star pie recipe.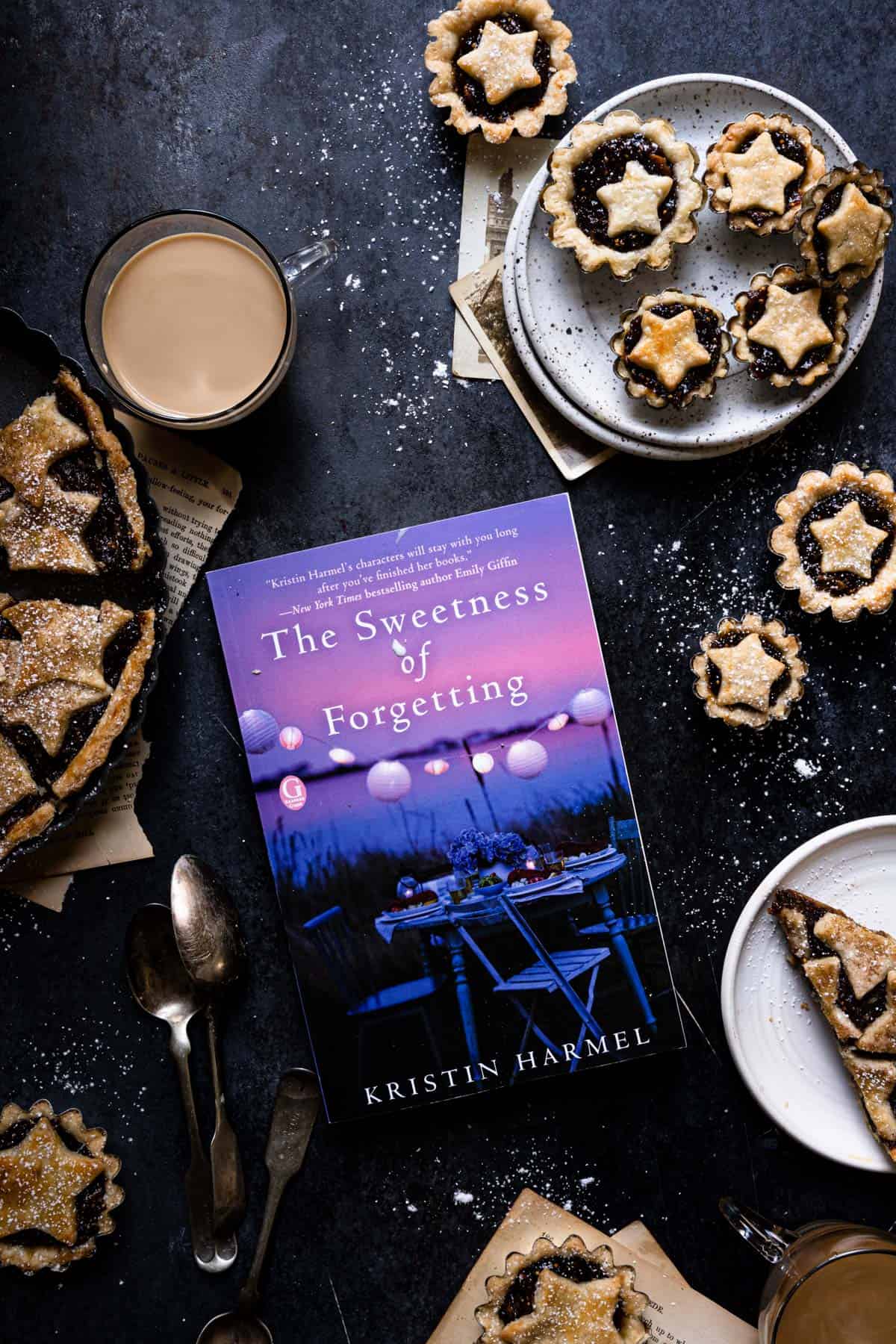 At thirty-six, Hope McKenna-Smith is no stranger to bad news. She lost her mother to cancer, her husband left her for a twenty-two-year-old, and her bank account is nearly depleted. Her own dreams of becoming a lawyer long gone, she's running a failing family bakery on Cape Cod and raising a troubled preteen.
Now, Hope's beloved French-born grandmother Mamie, who wowed the Cape with her fabulous pastries for more than fifty years, is drifting away into a haze of Alzheimer's. But in a rare moment of clarity, Mamie realizes that unless she tells Hope about the past, the secrets she has held on to for so many years will soon be lost forever. Tantalizingly, she reveals mysterious snippets of a tragic history in Paris. And then, arming her with a scrawled list of names, she sends Hope to France to uncover a seventy-year-old mystery.
I hope the wonderful writer, Kristin Harmel will forgive me for simply copying the summary of the book. This was the best I could do to describe the book in a way that gives it justice.
This book is so good, I could not put it down. The story is beautiful, heartbreaking, romantic, and hopeful all at the same time. I got to know some beautiful strong women, traveled to Paris while learning about its history during WWII, and finding some peace and a happy ending.
And of course, this is the Baker's Book Club
So it goes without saying that baking is a huge part of the story. I'm talking about different generations, different cultures and all sorts of delicious recipes are the heart and soul of this book.
This Star pie recipe I am sharing with you today can be found at the end of the book and it truly connects all the dots. I am so impressed with how Kristin thought of it all. The filling is made of simple ingredients such as figs, grapes, and cinnamon and has a nostalgic homemade taste to it. Also, I love how the stars on top of the dark filling make it look like a beautiful night sky. As much as I would like to give you more details on how it all connects I will avoid any spoilers.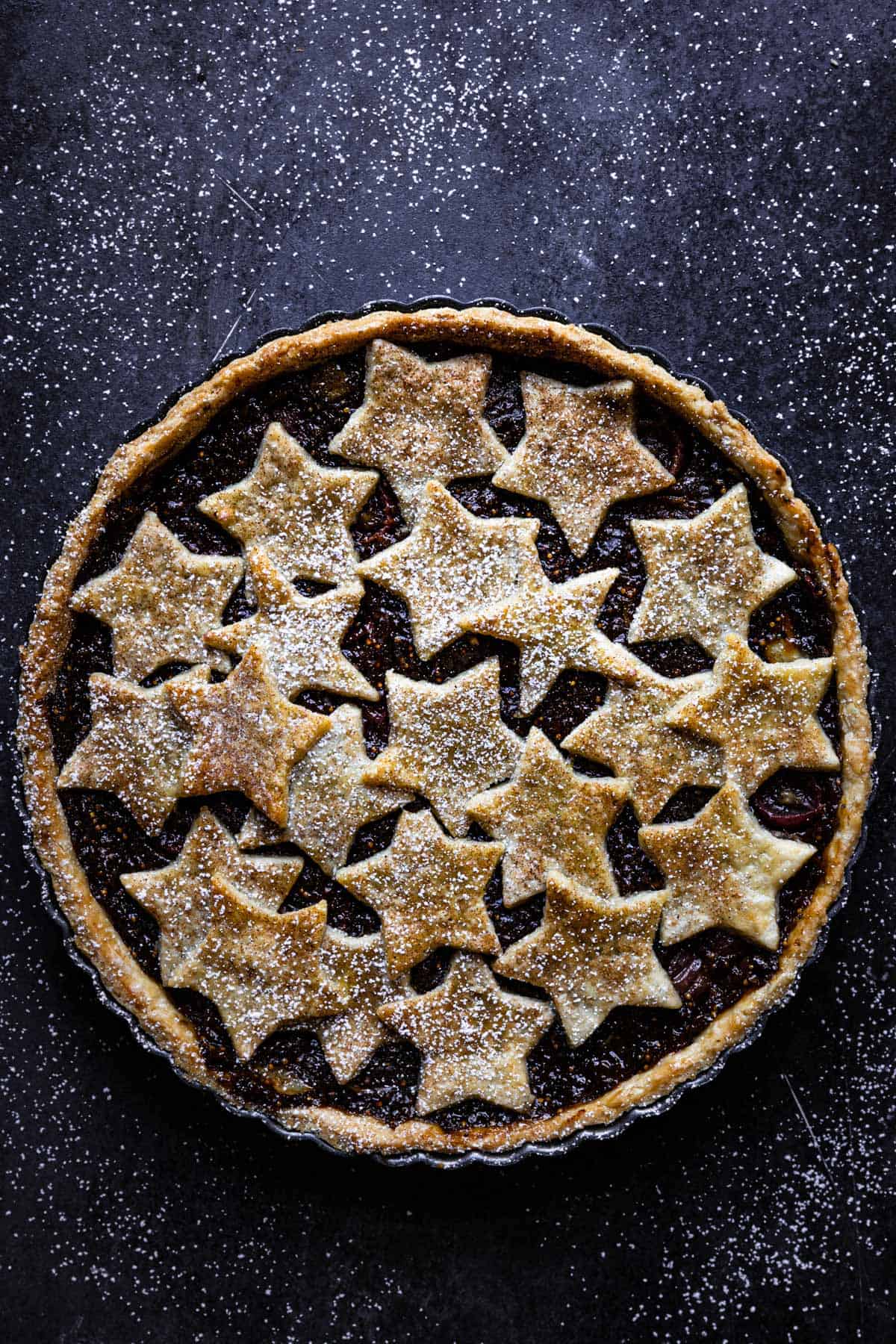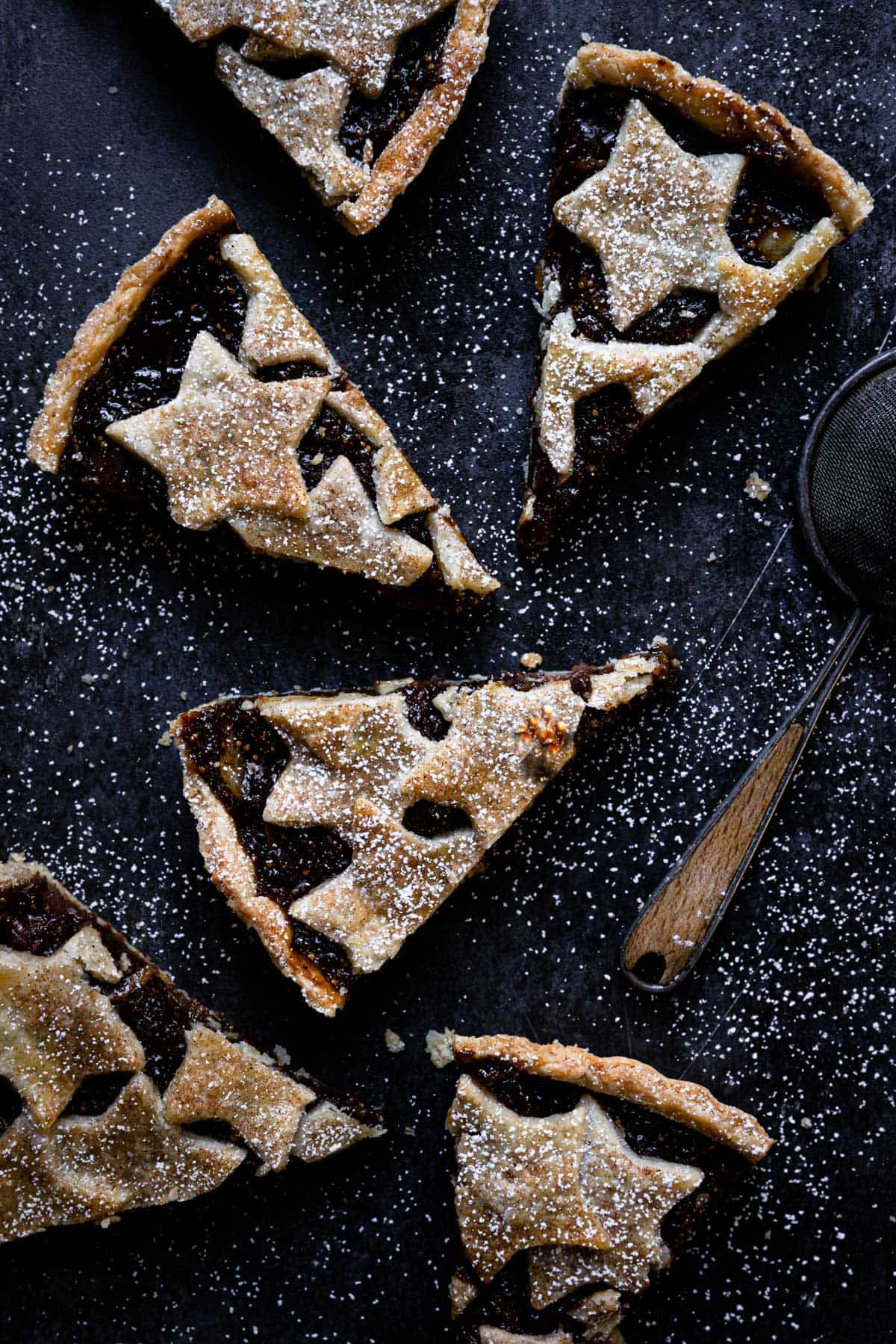 What Ingredients Are In This Star Pie Recipe:
For the Pie Crust:
AP Flour
Salt
Turbinado Sugar
Unsalted Butter, cold.
Egg
White Vinegar
Ice Water
Despite the fact that the crust includes some uncommon ingredients, the process is just like any pie crust. You can find a full tutorial HERE.
For the Filling: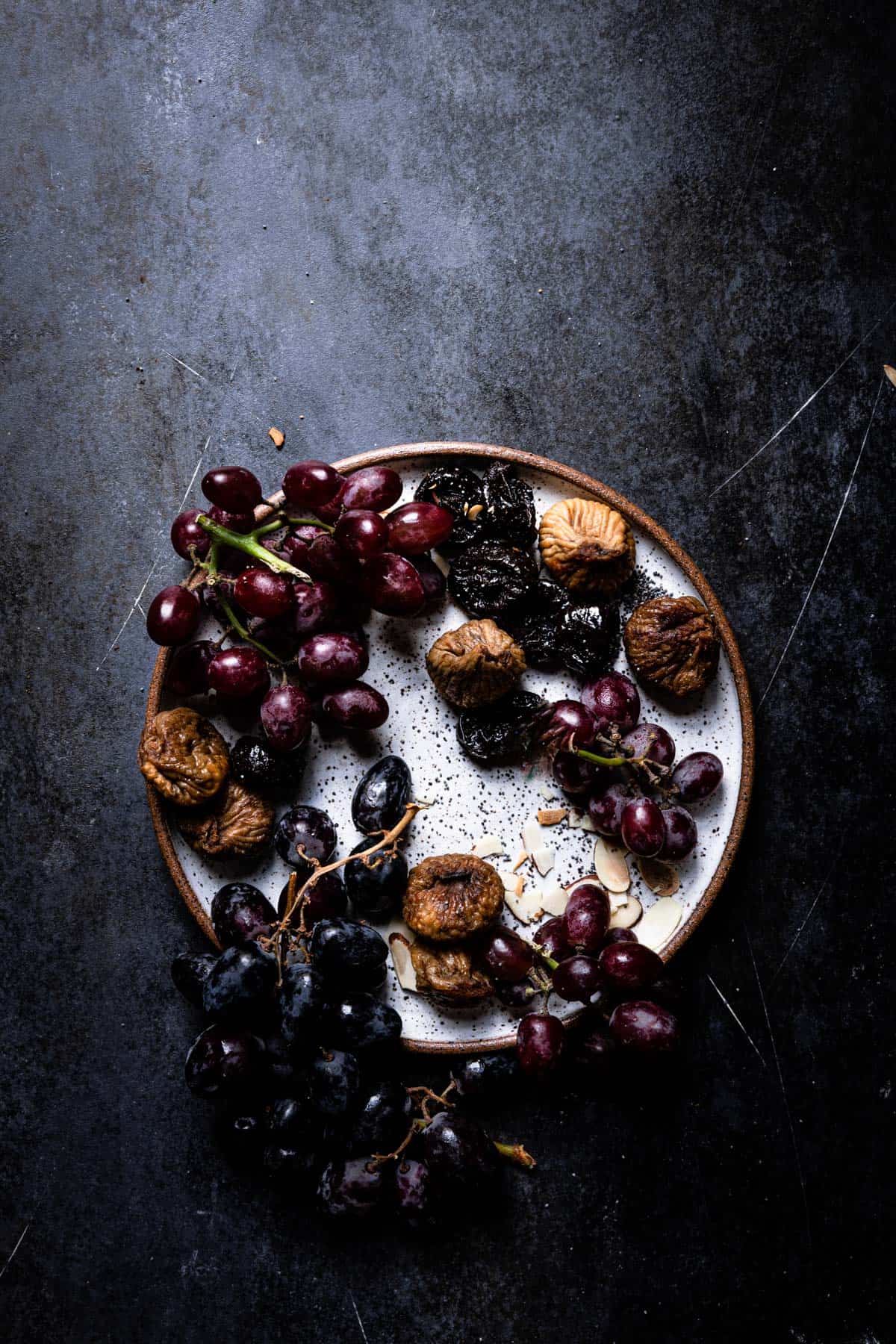 Dried Figs
Prunes
Fresh grapes, green or red.
Light brown sugar
Cinnamon
Water
Poppy seeds
Toasted sliced Almonds
Beaten egg and Cinnamon Sugar
How To Make This Star Pie:
Just like any other pie, you need to plan ahead. Make the crust a few hours ahead or even the night before, it needs about 2 hours to chill in the refrigerator. About two hours before baking the pie, roll one part of the crust and use it to line the pie pan. Also, roll the second part and cut the star shape crusts. After that, it is back to the refrigerator.
While the crust is in the refrigerator, cut the figs, prunes, half the amount of grapes, and place in a deep large saucepan. Add the cinnamon, sugar, and water and bring to a boil. Once boiling, reduce heat to simmer and cook for about 20 minutes until it is has a paste-like texture. Remove from heat and mix in the second half of grapes, poppy seeds, and toasted almonds.
Preheat oven to 350F, remove crust from the refrigerator, brush it will a beaten egg, and fill with the cooked filling. Decorate the top with crust stars.
Brush with beaten egg, sprinkle with cinnamon sugar and bake in the middle rack for 30-35 minutes until the crust is golden brown. Remove from the oven and allow it to cool for 45-60 minutes before slicing.
Making Mini Pies (Cookies):
I used mini brioche pans, to make the small pies. Make sure you cut the dough big enough to fill the sides of the pans as well. I was able to make 1 9″ pie plus 15 mini pies.
Another option is to use small, 4″ tart pans. The recipe will yield 6-8 mini tart pies.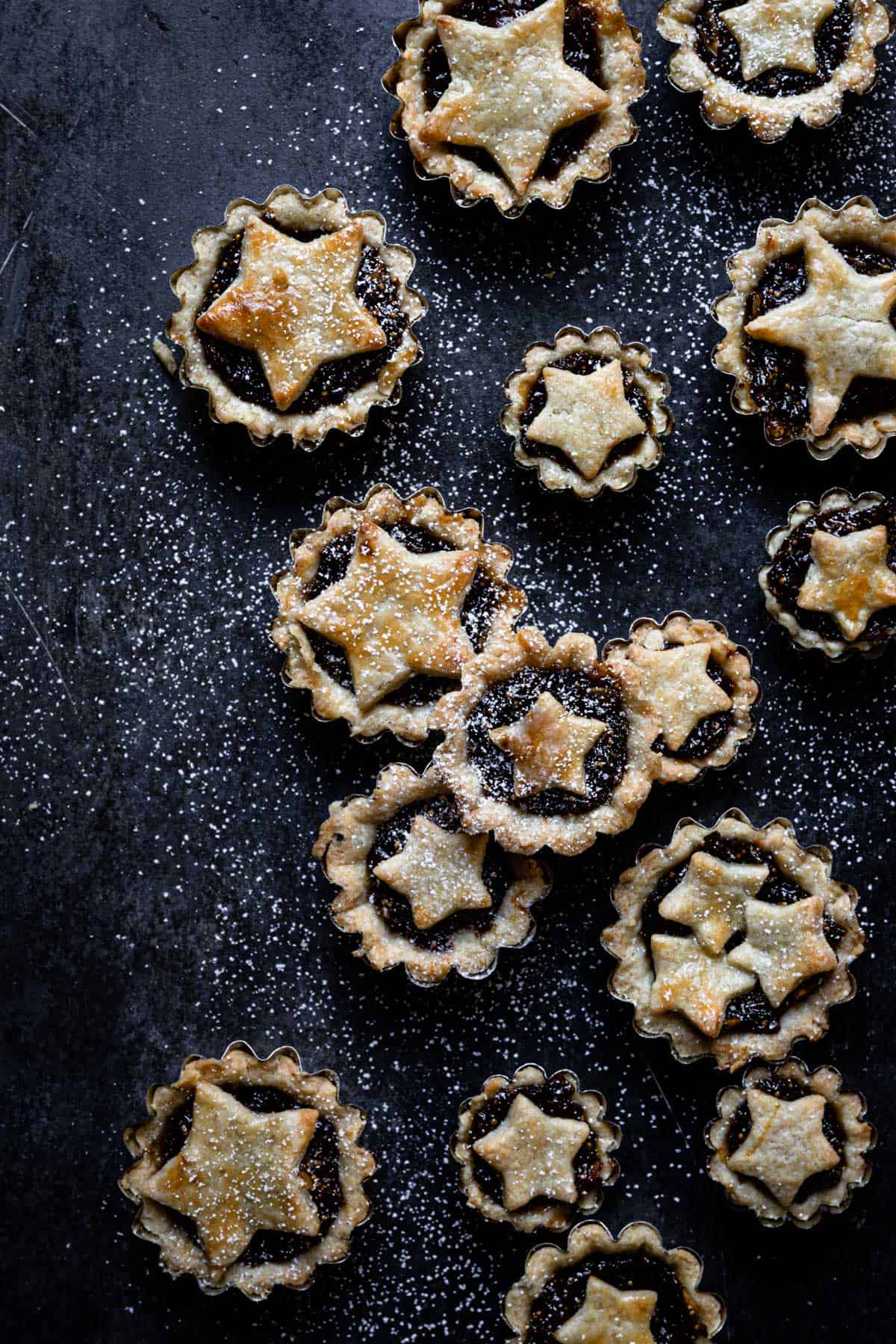 Storing the Pie(s):
The pie is beast when eaten at room temperature. You can store it at room temperature for up to 4 days.
HAPPY BAKING!!!
This post contains affiliated link.
Here are some more sweet bread recipes you might enjoy:
Also, One more thing…
Don't forget to tag @OneSarcasticBaker on Instagram if you bake this recipe. Would love to see your creations!
Lastly, did you find this recipe fun and also inspiring? If so, save THIS PIN to your Pie OR Desserts boards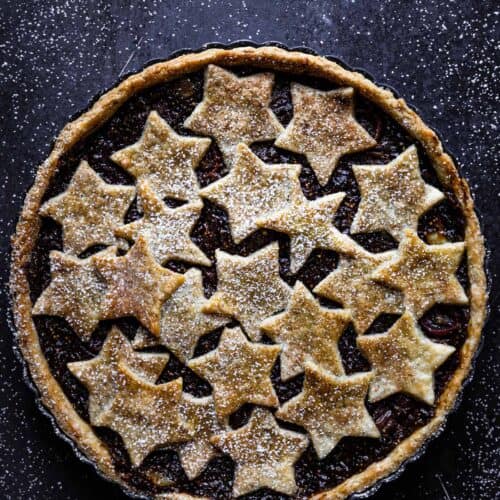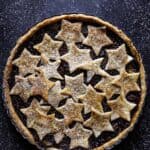 Northern Star Pie
Ingredients
For The Pie Crust
3

Cups

AP Flour

(360 g / 13 oz)

1

tsp

Salt

3

TBS

Turbinado Sugar

(30 g / 1 oz)

1

Cup

Unsalted butter, cold cut into 1" cubes

(225 g / 8 oz)

1

Large

Egg, beaten

1

TBS

White Vinegar or Apple Cider Vinegar

4

TBS

Cold water
For The Filling
1

Cup

Dried chopped figs

(100 g / 3.5 oz)

1

Cup

Dried chopped prunes

(90 g / 3 oz)

1

Cup

Red or green grapes, cut in half

(200 g / 7 oz)

6

TBS

Light brown sugar

(70 g / 2.5 oz)

1

tsp

Cinnamon

1

TBS

Poppy seeds

1/2

Cup

Sliced toasted almonds

(50 g / 2 oz)

1

Cup

Water

(240 ml / 8 oz)

2

TBS

Cinnamon sugar

1

Large

Egg, beaten for brushing the crust.
Instructions
To Make The Pie Crust
Blend together the flour, salt, and sugar.

In a food processor or using a pastry cutter, process the flour mixture with the cold butter until the butter resembles small peas.

Pour in the egg and 4 TBD of water and pulse about 8 times. The dough should look like coarse wet sand and should only come together when pressed with your finger.

Place the dough on a clean surface or a large bowl and bring it together by pressing it with your hands.

Divide the dough into two parts, shape each part into a 6" disk. Wrap each part with plastic wrap, and place it in the refrigerator for a min. of 1 hour and preferably overnight.

Remove dough from the refrigerator, roll 1 part into a 13" circle, and line a 9" pie shell trimming the edges.

Roll the second part into 1/8" thick and use a star shaped cookie cutter to cut some stars.

Place the pie pan and stars in the refrigerator to cool while you make the filling.
To Make The Filling
In a medium-sized pan, place the figs, prunes, half a cup of grapes, cinnamon, sugar, and water and let the mixture come to a boil and the sugar melt.

Reduce heat to a low simmer and cook for 20 minutes, until the mixture resembles a thick paste.

Mix in the remaining 1/2 cup grapes, poppy seeds, and almonds.

Remove the pie crust from the refrigerator and fill it with the filling. Decorate the top with the star-shaped pie dough.

Brush with egg wash and sprinkle with cinnamon sugar

Baker for 30-35 minutes on the medium oven shelf. The pie is ready when the crust is light golden brown and is set.

Remove pie from the oven and let cool for 30-60 minutes before slicing.