Last updated on November 24th, 2022.
What is Black Bottom Pecan Pie? Well, it is all the goodness coming from a pecan pie accompanied by a layer of creamy chocolate ganache.
And in case you are a nut fan, I've got some Stovetop Candied pecans, candied cashews, and Honey roasted cashews recipes for y'all.
Ok, can I just say how psyched I am about this post?
Why? Because it is all about the new and unbelievably outstanding pie book I got last week: The Book On Pie, (affiliate link) by Erin McDowell. I feel like I am preaching the choir and you already have this book and need no further information.
But just in case you missed it, this book is AMAZING! It is like the university of pie. The first chapter is dedicated to doughs and crusts and Erin explains in simple detail how to create different types of doughs (and there are so many!) using simple technics. My favorite chapter. After that, it's all about the topping, fillings, fruits, and everything you want and didn't even know about pie. I have made a decision to bake my way through this book and I can not wait to graduate!
And since it has been a while now that I wanted to bring a pecan pie to the blog, it is only fitting that I would start with a Black Bottom Pecan Pie.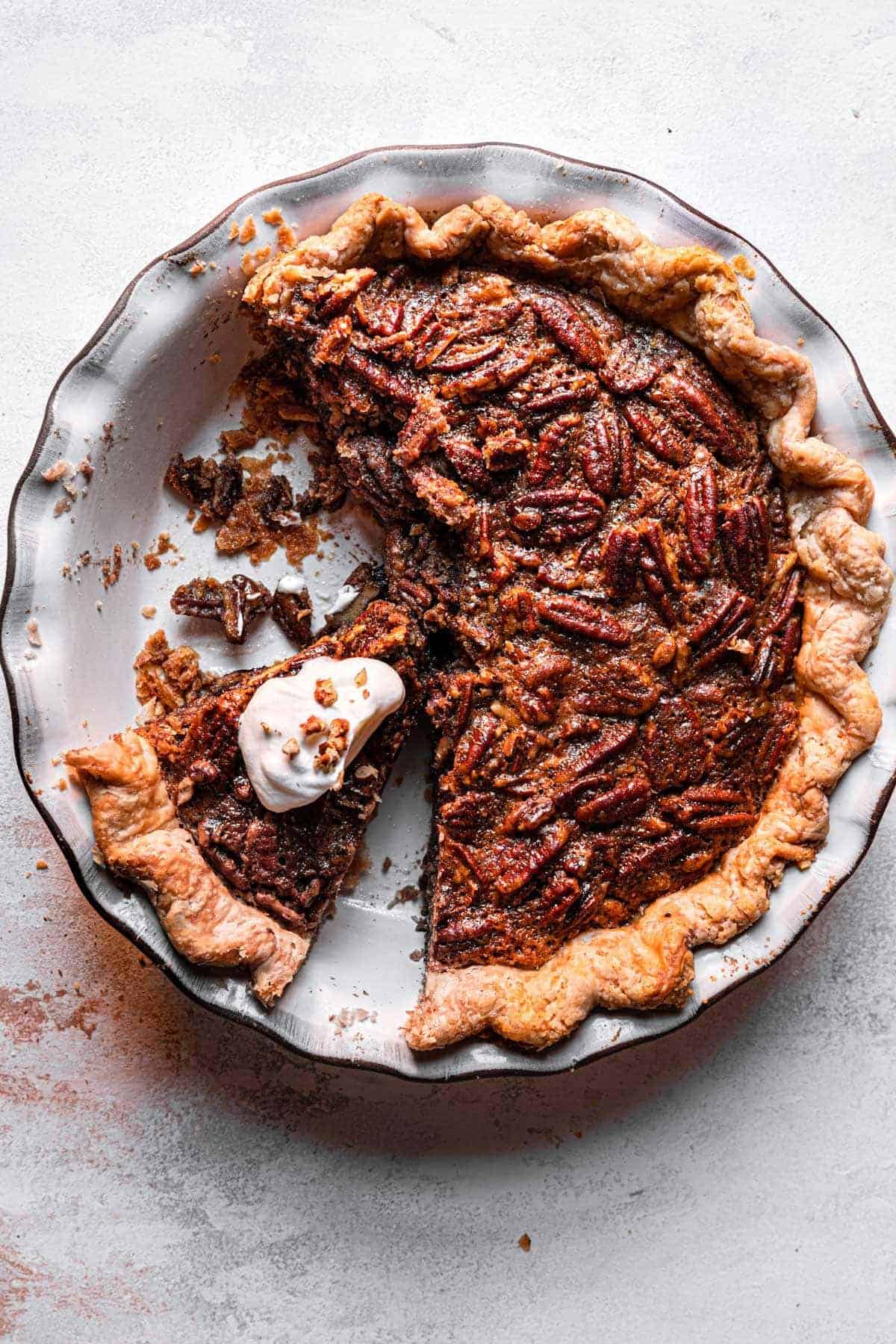 What Ingredients are in this Black Bottom Pecan Pie: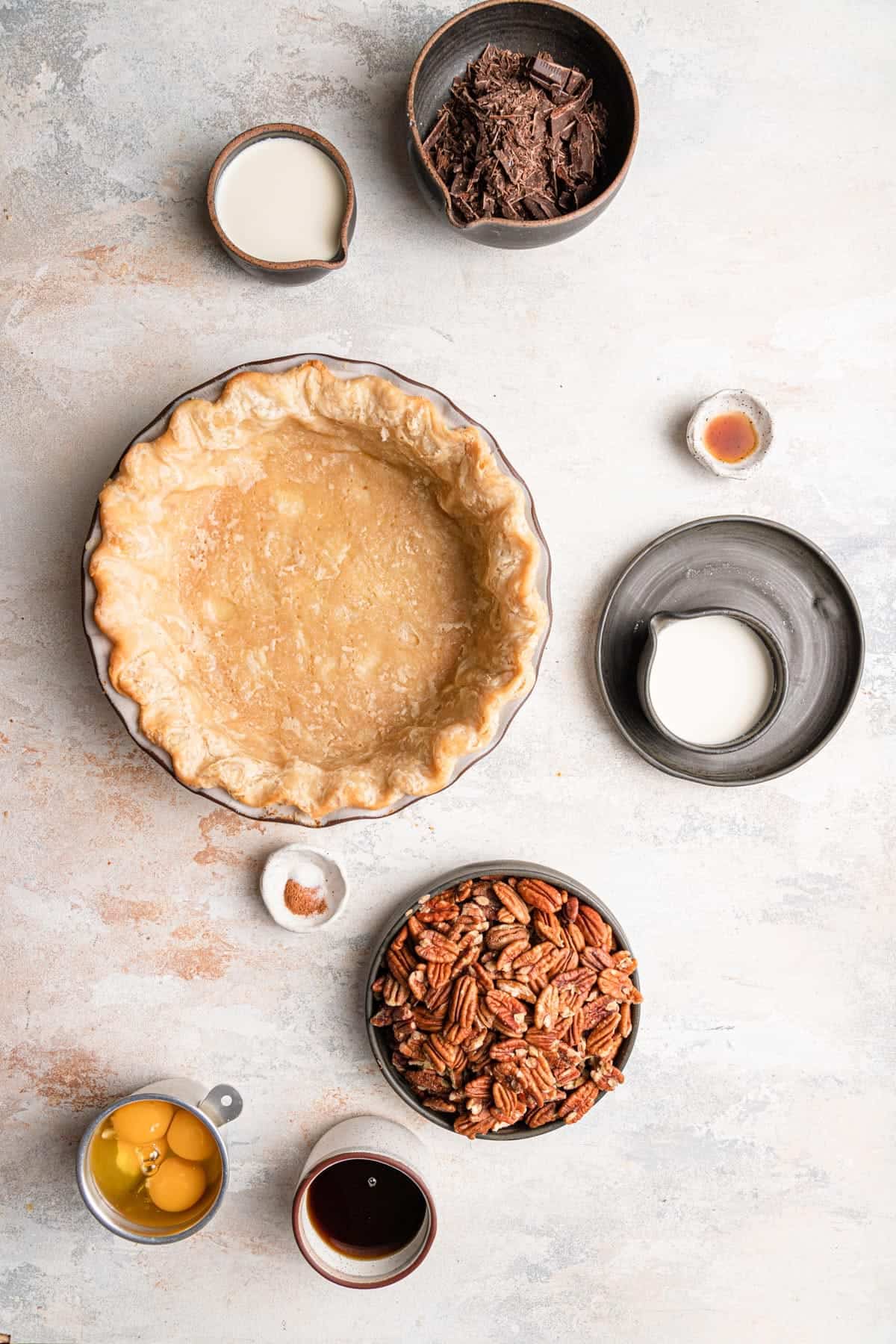 9″ Partially baked pie crust, in the book Erin gives a few great and unique ideas for pie crust that will go great with this pie. I chose to stick to a plain all-butter pie crust. For a full step-by-step, tutorial click HERE or visit my IGTV and see how I make my pie crust.
Dark chocolate + Heavy cream, the two will make the bottom chocolate layer.
Pecan halves, I created this post on how to toast pecans using three different methods.
Eggs
Egg yolk
Maple Syrup
Light brown sugar
Vanilla and almond extract
Cinnamon
Melted Butter
Making the Pie:
While there are a few make-ahead steps that will require some planning making this pie is pretty easy and fast.
Plan ahead: Making, resting, shaping, and baking the crust. (I like to start the day before)
Make the filling:
Bring the heavy cream to a boil, pour it over the chopped chocolate and wait a few minutes before stirring it into a smooth ganache. Spread it evenly on top of the crust and layer the pecans on top.
In a separate large bowl, mix the remaining ingredients, mix until smooth then pour over the pecans.
Baking A Black bottom pecan pie:
Place the pie dish on top of a baking pan lined with parchment paper. Arrange an oven rack at the lowest bottom shelf of your oven then place the pie pan. The pie baked at 375F for 35-50 minutes.
Remember that each oven is different which is the reason for the different bake times but in fact, the way to know if the pie is ready is by slightly shaking the pan. If the filling is super jiggly it needs more time. When the sides of the pie are firm and the center jiggles just slightly you can remove the pie from the oven.
Cooling the pie + Baking Science Alert:
Please remember that even though the pie is ready to be taken out of the oven, it has yet to be fully baked. In Baking there is a process called "The Carry Over ", meaning that the molecules of our object, in this case, our pie, are still containing energy and interacting with each other. Once the pie has cooled completely we know it is a sign that the interaction and energy have stopped and that the pie is set and ready to be sliced and served.
The Carryover process varies from one baked good to another and is determent by many variables such as size, baking method, the type of ingredients, and other factors. When it comes to pie the process is long since the pie big and the baking temperature is fairly high.
(If you're a Baking Science Fan, check out THESE posts)
Storing the Pie:
At room temperature for up to 2 days or in the refrigerator for up to 4 days.
HAPPY BAKING!!!
Here are some more pie recipes you might enjoy:
Blueberry Lavender Pie
Pumpkin Pie
Also, don't forget to tag @OneSarcasticBaker on Instagram if you bake this recipe. Would love to see your creations!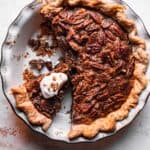 Black Bottom Pecan Pie
Ingredients
All-Buttah Pie Dough
1 1/4

Cup

All-purpose flour

(150 g / 5 oz)

1/4

tsp

Sea salt

1

Stick

Unsalted butter, cut into 1/2" cubes

(113 g / 4 oz)

1/4

Cup

Ice water

(60 ml / 2 oz)
Filling
2/3

Cups

Chopped dark chocolate

(113 g / 4 oz)

1/3

Cup

Heavy cream

(80 ml / 2.5 oz)

2 1/2

Cups

Pecan halves

(320 g / 12 oz)

5

TBS

Unsalted butter, melted

(70 g / 2 1/2 oz)

1

Cup

Dark Brown Sugar

(212 g / 7 oz)

1/3

Cup

Maple syrup

(91 g / 3 oz)

3

Large

Eggs

1

Large

Egg yolk

3

TBS

Heavy cream

2

tsp

Vanilla extract

1

tsp

almond extract

1/2

tsp

Fine sea salt

1/2

tsp

Groud cinnamon
Instructions
Place flour and salt in a large bowl and add the cubes butter. Toss to cover the butter with flour.

Using a pastry cutter (or your hands), cut the butter into the flour until is the size of small peas.

Sprinkle the water and use a rubber spatula to distribute the water evenly until you can press the mixture into a dough.

Drop the mixture on a clean surface and use your hand to press it into a disk.

Cover with plastic wrap and let cook for a minimum of 1 hour, preferably over night.
Par bake the pie crust
Remove dough from the refrigerator and roll it into a 12" circle.

Line the rolled dough on top of a 9" pie dish and press crimp the edges. Place back in the refrigerator while you warm up the oven.

Preheat the oven to 425F and place a large baking pan lined with parchment paper at the bottom rack of the oven.

When the oven is ready, remove the pie crust from the refrigerator and use a fork to prick the bottom and sides of the crust. Grease a large piece of aluminum foil , place it on top of the pie crust, and fill it with pie weights.

Bake for 15-17 minutes then remove the pie weights and foil and bake for 3 minutes more.

Remove from the oven and allow to cool while you make the filling.
Make the filling
Bring the heavy cream to a boil then pour it over the chopped chocolate. Let set while it melts the chocolate for 2-3 minutes then mix until smooth.

In a large bowl, place the melted butter, maple syrup, brown sugar, eggs, egg yolk, heavy cream, salt, cinnamon and extract and mix until smooth.

Evenly spread the chocolate mixture on top of the pie crust then sprinkle the pecan halves.

Pour the custard mixture and bake for 40-45 minutes at 375 over a baking pan.

The pie is ready when the sides are firm and the middle is slightly jiggly.

Remove from the oven and let cool completely before serving.