Few combinations are as heavenly as the sweet creaminess of white chocolate paired with the vibrant tartness of fresh juicy raspberries. These White Chocolate Raspberry Muffins are a testament to the magic that happens when these two flavors unite in soft, moist, and fluffy muffins. Perfect for breakfast, brunch, or a delightful afternoon treat, these muffins are sure to become a favorite in your baking repertoire.
Why You Will Love This Recipe
White chocolate and raspberries come together in a delightful symphony of flavors in these muffins, (and this White chocolate Raspberry Cake). The sweetness of the chocolate perfectly complements the tartness of fresh raspberries, creating a heavenly combination that will make your taste buds sing. These raspberry white chocolate muffins are not only a treat for the senses but also a breeze to whip up, making them an ideal choice for breakfast, brunch, or a sweet afternoon pick-me-up the whole family will love.
If you have leftover white chocolate, try this White Chocolate Cranberry Cake, or these White Chocolate Pecan Blondies.
Ingredients
The complete white chocolate raspberry muffin recipe can be found at the bottom of the post on the recipe card.
All-purpose flour
granulated sugar. Light brown sugar can be used instead.
Baking powder
Baking soda
Sour cream. Can be replaced with Greek yogurt or whole milk (use 3/4 cup of milk).
Vegetable oil. You can also use 1/2 cup (114g) melted butter, but vegetable oil is better to achieve moist muffins.
Large egg
Egg yolk
Vanilla extract
Fresh raspberries. Use any of your favorite juicy berries, blueberries, blackberries, and even strawberries.
White chocolate chips – for this recipe, use any white baking chips. Real chopped chocolate will melt during baking and you will not have chunks of white chocolate in every bite. You can learn more in my post about What Is White chocolate.
How to Make White Chocolate Raspberry Muffins
In a large bowl mix the flour, baking powder, and baking soda. In a medium bowl (use a separate bowl), mix the sugar, egg, egg yolk, oil, and sour cream.
Pour the wet ingredients over the dry ingredients, use a whisk, a rubber spatula, or a wooden spoon to incorporate the liquids with the dry ingredients.
Halfway through mixing the wet into the dry, add the chocolate chips and fresh raspberries and mix to distribute. Allow the batter to sit at room temperature for 25-60 minutes.
Divide the muffin batter between the muffin liners and bake.
Why Allowing The Batter To Rest
Resting time is optional but recommended many times when baking muffins like in this Pistachio Muffins recipe and this Double Chocolate Muffins recipe. The rest time allows the starches in the flour to soak in the liquids in the batter, and as a result, during baking the
Tips
Use room temperature ingredients. Cold or ingredients that are uneven in temperature will yield dense chewy muffins. If you can, use a kitchen scale to measure the ingredients, too much flour, or not enough will yield different results.
Use Fresh Raspberries: Fresh raspberries provide the best flavor and texture. If using frozen raspberries, gently fold them into the batter while still frozen to prevent excessive bleeding.
Don't Overmix: Overmixing can lead to dense muffins. Mix the batter until the ingredients are just combined, lumps are ok. This is why I do not recommend using an electric mixer, for the best result, use a large mixing bowl and a wooden spoon.
For bakery-style muffins, fill the liners all the way to the top.
Storing
Store your raspberry white chocolate muffins in an airtight container at room temperature for up to three days. For longer storage, freeze the muffins in a freezer bag for up to three months. Thaw at room temperature when ready to enjoy.
FAQ
Can I use frozen raspberries?
Yes, you can use frozen raspberries, but be sure to fold them into the batter while still frozen to prevent excessive bleeding.
Can I substitute white chocolate chips with dark chocolate?
While white chocolate complements the raspberries' tartness, you can experiment with dark chocolate or semi-sweet chocolate chips if you prefer a richer flavor.
Can I use a different type of flour, like whole wheat flour?
You can experiment with different flours, but keep in mind that it might alter the texture of the muffins. Adjust the liquid content accordingly.
More Breakfast Recipes You Will Love
Ginger Pecan Scones, Mini Pancakes, Apple Muffins
Don't forget to tag @OneSarcasticBaker on Instagram whenever you bake this recipe. Would love to see your creations!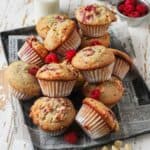 Raspberry White Chocolate Muffins Recipe
Fluffy and moist muffins dotted with fresh raspberries and white chocolate chips
Ingredients
2

Cups

All-purpose flour

(240g)

1 1/2

teaspoon

baking powder

1/2

teaspoon

baking soda

2/3

Cup

Sugar

(135g)

1

Cup

Sour cream, at room temperature

(240g)

1

Large

Egg, at room temperature

1

Large

Egg yolk

1/2

Cup

Vegetable oil

(100g)

1

Tablespoon

Vanilla extract

1

Cup

Fresh raspberries

(120g)

3/4

Cup

White chocolate chips

(130g)
Instructions
In a large bowl, mix the flour, baking powder and baking soda.

In a separate bowl mix the sugar, oil, sour cream, egg, egg yolk, and vanilla extract. Set aside for ten minutes stirring every few minutes.

Pour the wet ingredients over the flour mixture and use a rubber spatula to mix.

Midway through mixing in the dry ingredients, add the raspberries and white chocolate and continue mixing. Only mix until the flour has been hydrated, do not overmix.

Allow the batter to rest for 20-60 minutes.

Preheat oven to 350F (180C).

Line a muffin pan with muffin liners, fill each slightly over the top, and bake for 23-25 minutes, or until a toothpick comes out dry from the center of the muffins and the tops are golden brown.

Remove from the oven, allow to chill for about 5 minutes, and serve.
Recipe Notes
Make sure all of the ingredients are at room temperature.
The muffins should be stored at room temperature in an airtight container for three days.
To freeze, place the muffins in a freezer bag and freeze for up to eight weeks.
The raspberries can be replaced with blueberries, strawberries, and blackberries.
Feel free to use dark or semi-sweet chocolate chips instead of white chocolate.
Use a baking spray to grease the muffin tins to avoid the melted chocolate from sticking to the pan.