Last updated on July 13th, 2023.
Pain au Raisin, bursting with layers of buttery, flaky goodness, this irresistible treat is generously filled with plump raisins and a creamy layer of pastry cream.
What is Pain Au Raisins
Pain Au Raisins, also known as Pain Aux Raisins, is a classic French pastry that has captured the hearts of food enthusiasts worldwide. This delectable treat is made from a soft, flaky dough filled with sweet and juicy raisins and a luscious crème pâtissière. The combination of buttery dough, plump raisins, and velvety custard creates a delightful symphony of flavors and textures that make Pain Au Raisins a must-try pastry for any food lover.
Pain aux raisins can be made using Brioche or laminated dough, like in this Cornetti recipe. The main difference is the texture; while brioche dough is tender and soft, laminated (croissant dough) is crispy and flaky.
Ingredients
To make Pain Au Raisin, you'll need the following ingredients. The complete pain aux raisins recipe is in the recipe card at the end of this post. You can use this dough to make homemade croissants, pain au chocolat (chocolate croissants), or even Danish dough.
For the Dough
Bread and all-purpose flour, or only all-purpose flour
granulated sugar
teaspoon salt
Lukewarm water
Large Eggs
unsalted butter softened
Optional. Orange zest of one orange.
For the Creme Patissiere (vanilla pastry cream)
whole milk
granulated sugar
egg yolks
cornstarch
vanilla extract
Additional Ingredients
Raisins
Beaten egg for egg wash
Apricot jam (for glazing)
Optional: rum or randi for soaking the raisins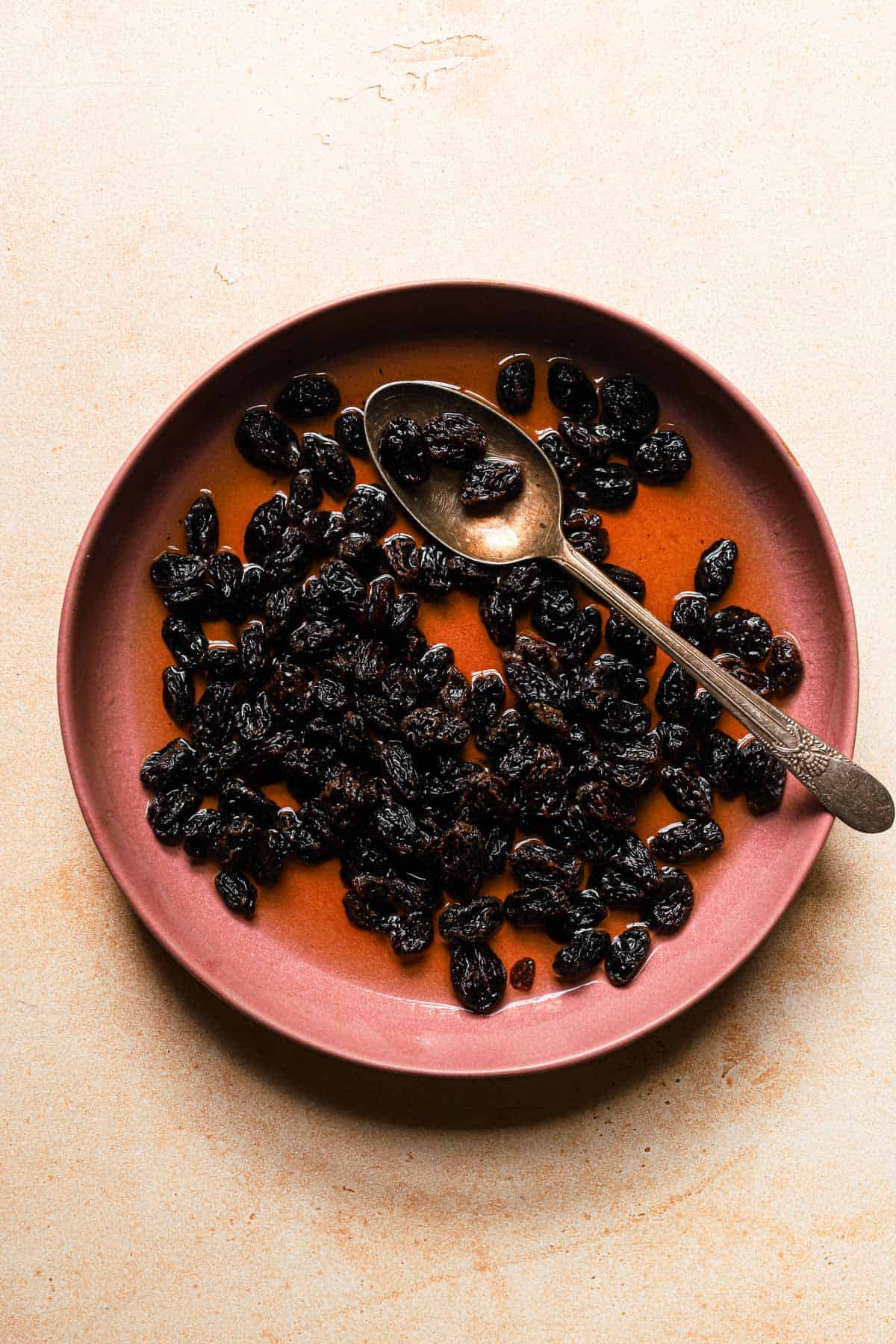 How to Make Pain Au Raisin
1. Make the Brioche Dough
Place the softened butter in a large plastic bag and roll it into a 9×10-inch rectangle. Refrigerate.
Combine the flour, sugar, yeast, and salt in a large mixing bowl. Add eggs and water to the dry ingredients, and mix until a rough dough forms. Keep kneading for additional 3 minutes.
Place the dough in an oiled bowl and refrigerate overnight.
Tap the dough using a rolling pin, then roll it into a 9×15-inch rectangle, place the butter block on one side, fold the other over the butter, and then fold the dough over itself. Cover with plastic wrap and refrigerate for 20 minutes.
Roll the dough into a 21×10-inch rectangle, then fold the left third side of the rectangle over the center part of, then the last right part over the center. Repeat this three times, and refrigerate for 20 minutes between each fold.
2. Make the Creme Patissiere
Check out my post about How To Make Creme patissiere for the complete guide and troubleshooting.
Mix the egg yolks with the cornstarch and 1/4 cup of milk in a medium bowl. Heat the milk and sugar in a saucepan until it simmers but not boil.
Gradually pour the hot milk into the egg mixture, whisking constantly.
Return the mixture to the saucepan and cook over medium heat, stirring continuously until it thickens into a smooth, creamy custard.
Remove from heat, add the vanilla extract, and let it cool completely.
3. Assemble
I choose to fold and cut the dough before rolling to achieve beautiful layers, but you can also shape it in the traditional cinnamon rolls method. You can also use the classic Cinnamon Rolls method.
Divide the dough into two parts. Roll out one part on a floured surface into a rectangle of about 10×16-inch inches.
Spread the creme patissiere evenly over the dough, leaving a small border around the edges.
Sprinkle the raisins on top of the custard.
Cut the dough into 12 equal stripes using a sharp knife, then roll each piece from the bottom up. Place over a baking pan lined with parchment paper.
Brush with egg wash, and let rest for 45-60 minutes.
4. Bake and Glaze
Bake the Pain Au Raisins in the oven for approximately 15-20 minutes or until they turn golden brown and puff up.
While still warm, use a pastry brush to brush the tops with apricot jam to give them a glossy finish.
Tips for Making Pain Au Raisins
Soaked Raisins: To plump up the raisins and make them juicier, soak them in warm water or rum for about 15 minutes before using them.
Creme Patissiere Variations: You can experiment with different flavors for the custard, such as almond, lemon, or even chocolate.
The dough is best to work with when cold. Refrigerate the dough for at least 2 hours (or overnight).
Uniform Slicing: Use a serrated knife and gently saw through the dough for even slices.
If using active dry or fresh yeast, activate the yeast with warm water and one teaspoon of sugar.
Storing
Pain Au Raisins can be stored in an airtight container at room temperature for up to 2 days, but they are best enjoyed fresh. To freeze, place the baked pastries in a freezer bag and freeze for up to 6 weeks.
FAQs
Can I freeze Pain Au Raisins?
Yes, you can freeze Pain Au Raisins after baking. Let them cool completely, then place them in an airtight container or freezer bag. They will stay fresh for up to 2 months. Thaw them at room temperature or warm them in the oven before serving.
Can I use other dried fruits instead of raisins?
Absolutely! While raisins are traditional, you can substitute them with other dried fruits like currants, sultanas, or even chopped dried apricots for a unique twist.
Is Pain Au Raisins a breakfast pastry or a dessert?
It's both! Pain Au Raisins is a versatile treat that can be enjoyed as a delightful breakfast pastry or as a scrumptious dessert with coffee or tea.
Can I use chocolate chips instead of raisins?
Although it is called Pain aux raisin, you can use chocolate chips instead.
Can I replace the dough with store-bought puff pastry?
Yes, it won't taste the same, but it will be flaky and crispy.
Here Are More Recipes You Might Enjoy
Chocolate Brioche, Cream Cheese Pastries, Brioche Cinnamon Rolls
Don't forget to leave a comment and tag me on Instagram when you make one of my recipes.
Pain Aux Raisins Recipe
Buttery, flaky and flaky croissant dough filled with pastry cream and raisins
Ingredients
For the Butter Block
1 1/2

Cups + 2 Tablespoons

Soft unsalted butter sliced into 1/2-inch slices

(350g)
Dough
2

Cups

Bread flour

(240g)

2

Cups

All-purpose unbleached flour

(240g)

1/3

Cup

Sugar

(70g)

1

tablespoon

Instant yeast

1/2

teaspoon

Salt

2

Large

Eggs, at room temperature

3/4

Cup

Lukewarm water

(180ml)

2

tablespoons

Unsalted butter, soft

(25g)
Fillin
1

Batch

Pastry Cream

1

Cup

Raisins

(140g)

1/2

Cup

Rum, whisky or brandy (optional)

(120ml)

1

Large

Beaten egg for egg wash

Apricot jam, for glaze
Instructions
Prepare the Butter Block
Arrange the butter pieces in a row inside a large freezer bag. Then, use a rolling pin to flatten and merge the pieces into a larger cohesive sheet.
Make the Dough
Put all the ingredients into the bowl of a standing mixer and mix to combine.

Once the dough forms a cohesive mixture, mix it for 3-4 minutes.

Transfer the dough to an oiled bowl, spray the top with oil spray, cover it with plastic wrap, and let it rest for 1 hour, then refrigerate overnight.
Laminating the dough
Remove the butter from the refrigerator about 20 minutes before starting the lamination process.

Lightly dust your work surface. Use the rolling pin to tap the dough a few times from top to bottom, then roll the dough into a 10×15-inch rectangle.

Place the butter block over the left side of the dough.

Fold the right side over the butter.

Fold the left side over the center. Cover with plastic wrap and refrigerate for 25 minutes.

Remove from the oven, tap the dough again to a 1/2-inch, then roll it into a 21×10-inch rectangle.

Divide the dough into three parts in your head, then fold the left part over the center part.

Fold the right part over the center. Cover and refrigerat for 25 minutes.

Repeat the third fold twice more. Refrigerating after every fold.
Assembling and Baking
Soak the raisins with the rum about 30 minutes before assembling. (optional)

Remove the dough from the refrigerator, and cut it in half (return one half to the refrigerator)

Roll one part into a 10×16-inch rectangle.

Spread about 3/4 cup of pastry cream over the dough, leaving about 1/2 inch bare dough from the edges.

Sprinkle half of the raisins over the cream.

Use a sharp knife to cut the dough into 12 equal stripes, then roll each stipe into a swirl. Place each roll over a baking sheet lined with parchment paper swirls facing up.

Brush with egg wash, and set aside for about 60 minutes.

Bake at 350F for about 18-22 minutes.

Brush the warm rolls with some apricot jam and serve.
Recipe Notes
Store at room temperature in an airtight container for up to two days, or freeze for up to six weeks.
Soaking Raisins: Enhance the plumpness and juiciness of the raisins by immersing them in warm water or rum for approximately 15 minutes before incorporating them into the recipe.
Variations of Creme Patissiere: Feel free to explore various flavors for the custard, such as almond, lemon, or even chocolate.
Optimal Dough Handling: For the best results, refrigerate the dough for a minimum of 2 hours (or overnight) before working with it.
Achieving Uniform Slices: To achieve evenly cut slices, utilize a serrated knife and gently saw through the dough.
When using active dry yeast or fresh yeast, ensure that you activate the yeast by combining it with 1/2 cup of the warm water and one teaspoon of sugar.