Last updated on July 12th, 2023.
These chocolate puff pastry croissants are the next big thing in your oven. They are flaky, buttery, and loaded with chocolate and the most crucial part is that they take less than 5 minutes to get into the oven.
Ok, maybe chocolate croissants are not the most accurate word because the Jewish Rugelach inspired them. But let's face it, Croissants sound way better than Rugelach (even chocolate rugelach) or chocolate puff pastry rolls, and either way, this is one of the easiest desserts. And you can see how I make them HERE.
To make these chocolate pastries, you will need simple ingredients and minimal effort; however, I highly recommend reading my quick tips below for the best results.
And check out my chocolate puff pastry twists recipe and morning pastries with cream cheese filling.
Ingredients
You can find the full list at the bottom of the recipe card.
Two sheets of puff pastry dough. You can use store-bought puff pastry sheets, easily found at your local grocery store in the frozen dessert aisle; most carry the Pepperidge farms brand. A homemade puff pastry will also work well for this recipe.
Nutella or other types of chocolate spread.
Egg, for egg wash.
Other options
Chocolate chips to sprinkle over the chocolate.
Crushed nuts, like pecans, almonds, and walnuts. Sprinkle over the chocolate and the egg wash.
How to make this chocolate pastry recipe?
Start by bringing the frozen puff pastry to a temperature slightly above room temperature. Puff pastry contains a few layers of butter, so if too warm, the butter will melt, making it hard to work with the dough.
Layer one pastry sheet over your work surface; I like to do it over the baking pan lined with a piece of parchment paper. Use an offset spatula to spread the chocolate spread evenly.
Top with the second sheet of puff pastry dough.
Cut the dough into long triangles using a pizza roller or a sharp knife.
Roll the dough from the wide part of the triangles towards the point part until you have a crescent shape croissant pastry filled with chocolate.
Place the chocolate-filled puff pastry over the prepared baking sheet (cookie sheet), use a pastry brush to brush all the sides of the pastry with an egg wash, and bake until puffed.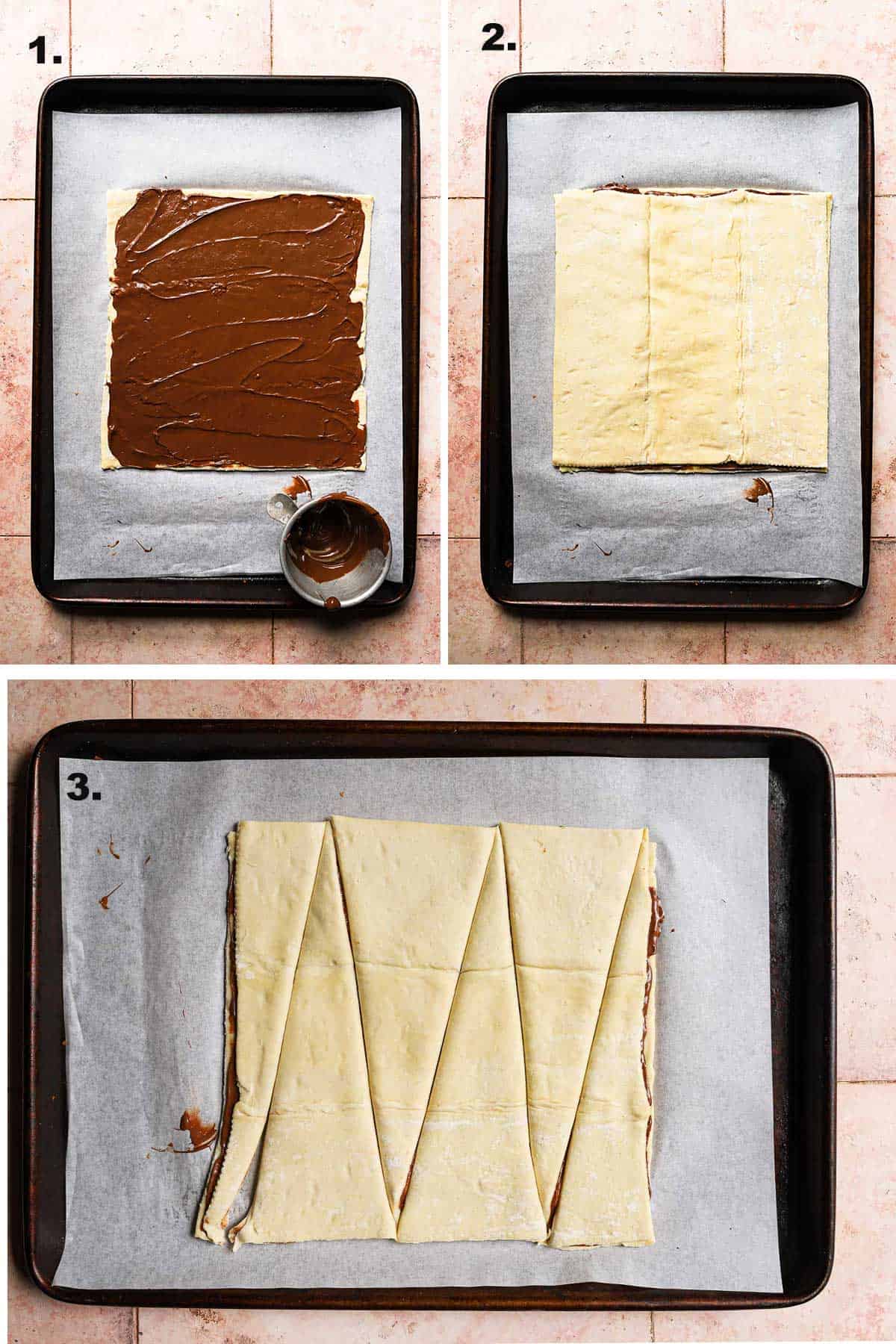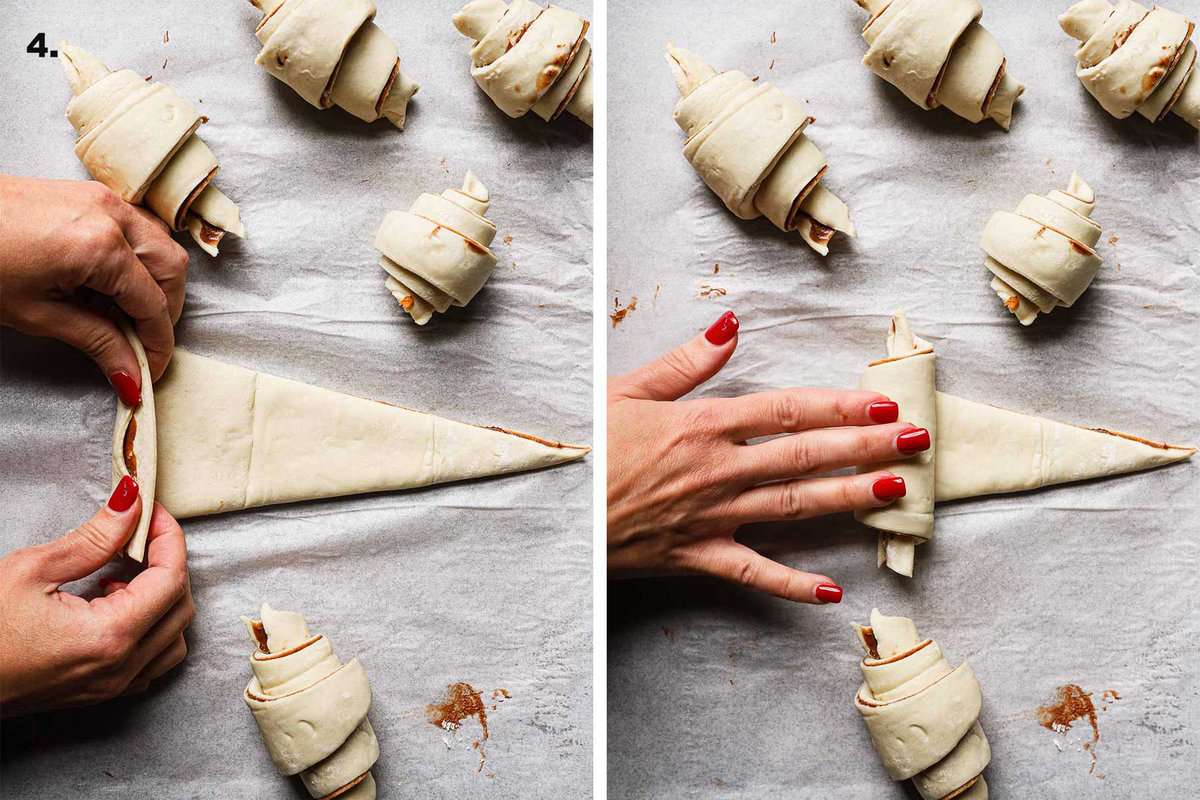 How To Know The chocolate puff is ready?
Because we are rolling the dough, it might be tricky to know if it is baked from the inside out. The first sign is to see if it is baked it to allow it to puff. During baking, the pastries, at first, will go a bit flat. Then they will puff.
The reason for that is that the butter melts at 90 degrees F (32C), and as it does, it spreads the pastries, but then, as the temperature rises, the water in the butter steams and puffs the chocolate puff pastry.
Once they are puffed, give them time to bake through. The time depends on the size of them. Mini croissants will bake faster and more thoroughly than larger ones.
Expert Tips
This is an easy recipe and a great fast sweet treat, but it can still become an epic fail if we overdo certain things. Please read the below notes before baking this recipe:
Preheat your oven and ensure it is at the right temperature when you place the pastries in it.
Check the pastries mi-baking; consider lowering the oven temperature if they look dark.
Make sure the sheet of the pastry dough is not more than 1/8-inch thick; if it is more, use a rolling pin to thin it. Roll it gently over the lightly floured surface (do not use too much flour) or between two pieces of parchment paper, and chill the dough before so.
Do not overspread with chocolate filling. Tempting, I know, but keep in mind that these chocolate puff pastries are baked at a high temperature, and the chocolate might melt and burn as it bakes.
Bigger is not better. The bigger the pastries are, the longer it will take them to bake through. I recommend that the width be about 1 1/2 inches and the length no more than 6-inches.
Brush the pastries with simple syrup (1/2 cup of water and 1/2 cup of sugar cooked together until the sugar is dissolved)for extra flavor and to keep their freshens a bit longer.
Use egg yolk only for a deep golden brown color.
To make this recipe Gluten-free, use a gluten-free puff pastry such as Schar.
You can make your laminated dough from scratch, like in this Cornetti recipe and these Pain Aux Raisins.
Storing
This choco puff pastry recipe keeps its freshness between 1-2 days. Once completely cooled, place in an airtight container.
To make ahead, freeze the croissants unbaked. Use a Ziploc bag or a container but make sure not to pile them one on top of each other, and before baking, bring them to room temperature.
FAQ
Why didn't my pastries puff?
The oven was not at the right temperature, you did not bake it long enough, or the croissants were frozen when you placed them in the oven.
What oven setting is best for puff pastry?
400-425F (200-220C), every brand is different.
What is another name for puff pastry?
pâte feuilletée.
Can I make this recipe using a single layer?
Yes. I recommend spreading the chocolate over half the length.
Are fillo dough and puff pastry the same?
No. Fillo dough does not contain any fat, or a minimal amount of fat, while puff pastry is rich with butter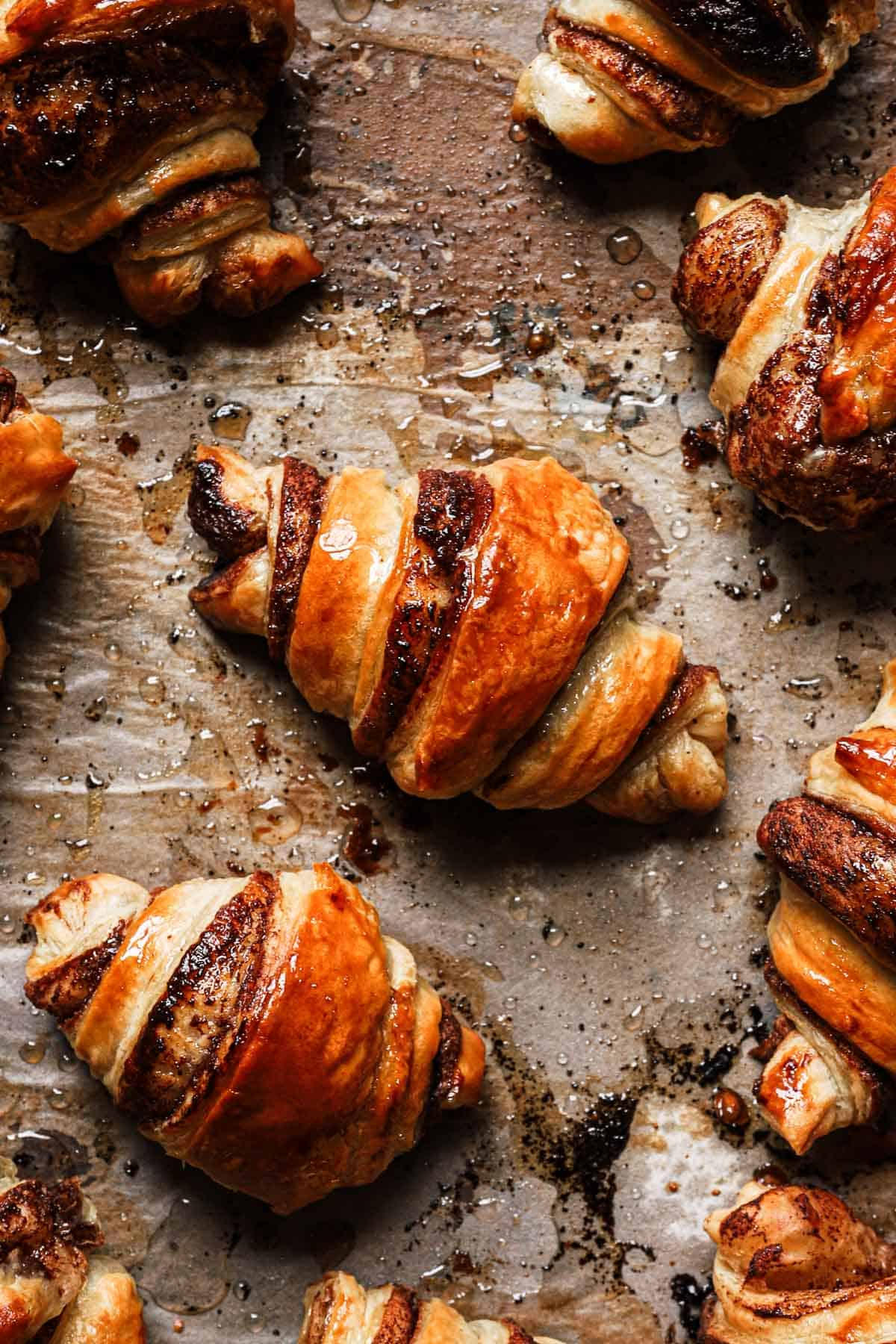 Here are more recipes you will enjoy
Jewish Apple Cake, Bavarian Cream Donuts, Chocolate Babka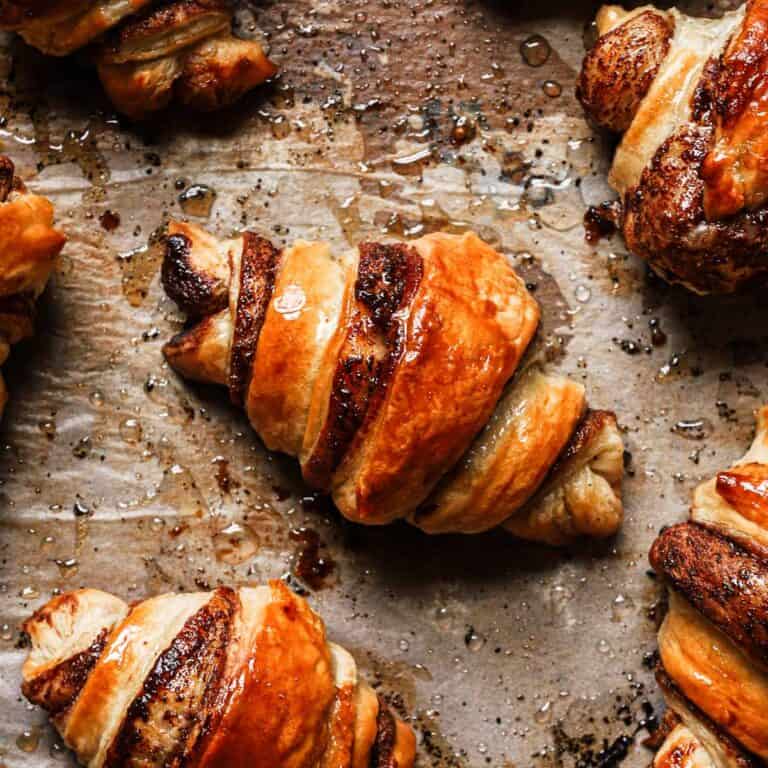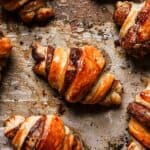 Chocolate Puff Pastry
Easy and fast croissant shaped chocolate pastries.
Ingredients
2

Puff pastry sheets (each about 12×18 -inch)

1/2

Cup

Nutella

1

Large

Eggs for egg wash

1/2

Cup

Water for simple syrup

(120ml)

1/2

Cup

Granulated suagr

(100 g / 3.5 oz)
Instructions
Preheat the oven to 425F (220C)

Place one sheet of p. pastry over a baking sheet lined with parchment paper.

Spread the Nutella using an offset spatula.

Top the second sheet over.

Use a sharp knife or a pizza roll to cut the dough into triangles.

Roll each triangle from the broad side towards to point.

Brush with egg wash and bake for 22-25 minutes or until puffed and dark golden brown.

To make the simple syrup, cook the sugar and water over medium heat until the sugar is dissolved. Brush the pastries with the simple syrup as soon as you take them out of the oven.
Recipe Notes
The dough should be no more than 1/8-inch thick; if it is more, use a rolling pin to thin it. Roll it cold between two pieces of parchment paper.
Do not spread too much chocolate, it might melt and burn during baking.
Make the croissants medium-small size.  I recommend that the width be about 1 1/2 inches and the length no more than 6-inches.

For deep golden color, brush with only egg yolk.

Store at room temperature for 1-2 days in an airtight container.

Fill, shape, and freeze for up to 6 months. Bring to room temperature before baking.