Last updated on December 1st, 2021.
Buttery and flaky PuffPastry Twists With Cake Crumbs is a delicious, easy, and fast dessert for any occasion!
Even thou this recipe is very simple and many of you have tried it before, it is very special to me. I learned this recipe and its "secrets" back when I worked at the bakery. Back then, my "Boss" (manager) use to head over to my side of the bakery and ask for some cake crumbs. Next, he would gather scraps of puff pastry and few almost empty containers of Raspberry filling then performed his magic.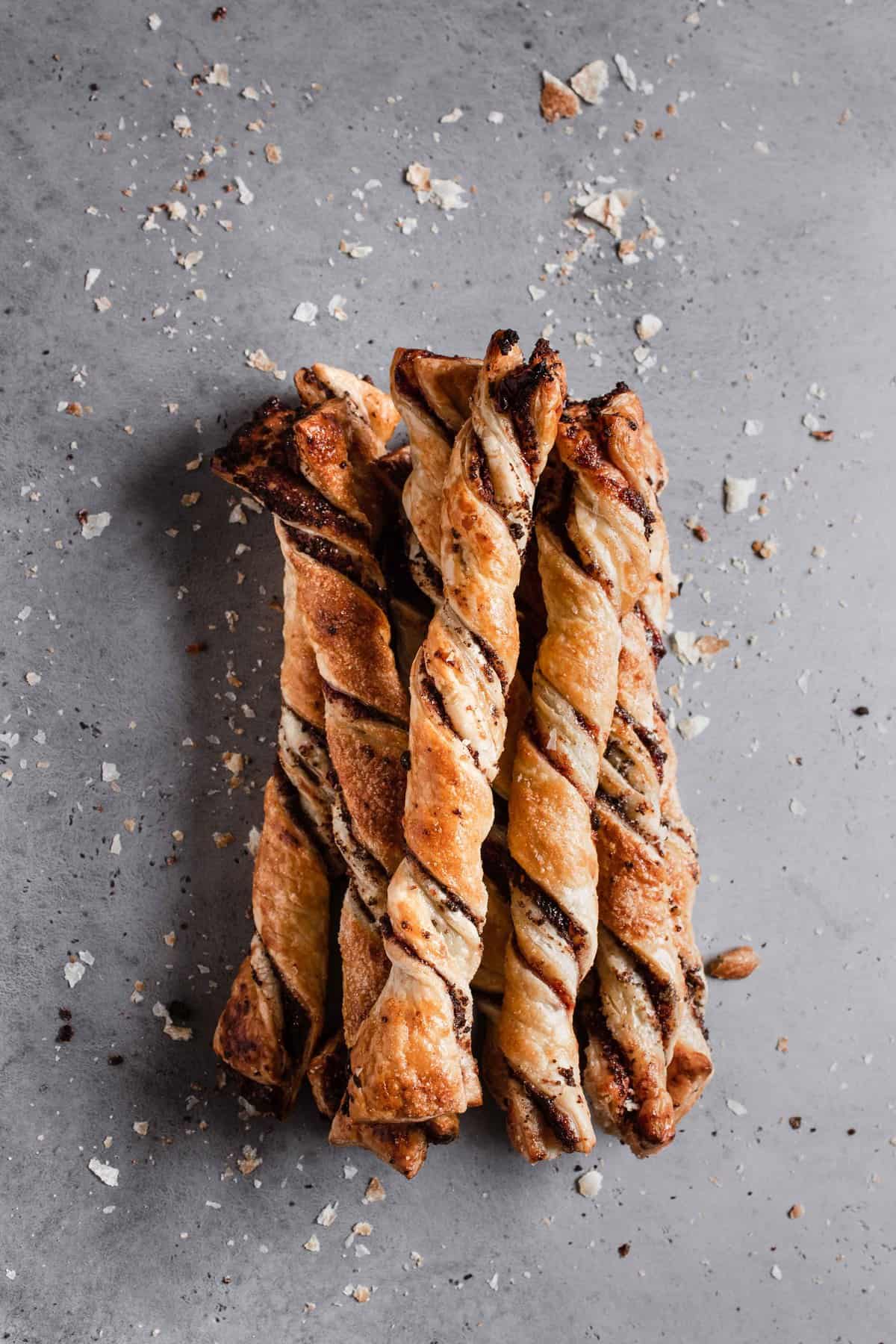 I'm not sure he ever noticed how I was studying him as he was working. But it does not matter because he always answered all my baking questions wish kindness and patient.
My favorite part is that "Boss" was born and raised in Ecuador. He had his first job at local bakery owned by Mr. Friedman, a Jewish baker who escaped Europe during WWII. Fast forward 30 years and he is teaching his Jewish employee the secrets of the Jewish Bakery. That my friend I refer as the circle of life.
Like these Cake Crumbs Linzer cookies. This PuffPastry Twists With Cake Crumbs recipe has the same history. Bakeries using scraps of puff pastry and cake crumbs to make profits from left overs. In this recipe, the cake crumbs are absorbing any excess liquid from the Jam and preventing it from leaking out.
Now Lets Talk About These PuffPastry Twists With Cake Crumbs :
If using store bought puff pastry, please check the baking instructions as they may vary from one brand to the next.
The type of cake crumbs and Jam is up to you. I used Raspberry and Chocolate cake crumbs because it was in hand.
Same with the size of the twists. You can cut the puff pastry in half horizontal before cutting the stripes for smaller twists.
During the first minutes of the bake, the twists will appear flat. Please be patient, it will puff during the baking.
HAPPY BAKING!!!
Here are some more recipes you might enjoy:
One more thing…
Don't forget to tag @OneSarcasticBaker on Instagram if you bake this recipe. Would love to see your creations!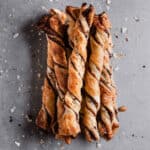 Puff Pastry Twists With Cake Crumbs
Flaky, buttery and delicous puff pastry filled with jam and cake crumbs , ready in 30 minutes.
Ingredients
2

Medium

Puff Pastry Sheets

1/4-1/3

Cup

Raspberry Jam

1/2

Cup

Cake crumbs

1

Large

Beaten Egg

1/3

Cup

Sugar
Instructions
Preheat oven to 400F and line a cookie sheet with baking paper.

Gently place a sheet of puff pastry on a piece of baking paper and evenly spread the Jam.

Sprinkle an even layer of Cake crumbs and line the second puff pastry sheet on top. Gently press the two together.

Using a sharp knife, cut the puff pastry into 1″ thick stripes.

Holding both ends each in one hand, gently twist each side to a different direction.

Line the twisted stripes on a baking sheet and brush each with beaten egg.

Sprinkle each twist with sugar and bake for 15-20 minutes or until the twits have puffed and are golden brown.