Last updated on November 3rd, 2021.
These Lemon Meringue Bars are so easy to make and make for the perfect sweet and sour dessert.
It is a known fact that us women, only wear about 5% of our wardrobe. Which is why we so often declare: "I have nothing to wear" just so we can go check out our modCloth cart, browse for about 45 minutes and then end up wearing an item borrowed from those 5% I just mentioned.
Same can be said about our stock and use of recipes. Between our books, e-Books, pinned recipes, online recipes , magazine recipes (and much more), one can easily stock hundreds and even thousand of recipes. And yet, one will actually cook and bake the same recipe over and over.
This Lemon Meringue Bars recipe is the best example. I have been baking this recipe for about 8 years when it was first published in one of my all time favorite baking blogs, Baking Bites. Since then, Pinterest got stronger and my own recipe pad is full of recipes, this is still my first Lemon Dessert "go to" recipe.
One thing that is different is that I added the meringue because: A. I LOVE meringue and B. I have seen so many cupcakes piped the same style everywhere, and really wanted to join the crowd.
Now, Lets talk about this Lemon Meringue Bars recipe:
The meringue is an option and you can skip it. Dust the top of the bars with some confection sugar instead.
I like to have a thick layer of filling so I increased the filling recipe by 50% (used 6 eggs, 2 cups sugar and 1 1/2 cup lemon juice) If you choose to do so, increase the baking time by about 10-12 minutes.
Best way to know wether the bars are ready is by shaking the pan. If it is jiggling and you notice that the jiggle is not so firm than it needs more time.
If you choose to, you can skip the pipping and just scoop some meringue of top of each bar.
For the piping I used :Wilton 1M,Wilton 21, Wilton 199, Wilton 104.
For a more elegant looking dessert, use a 9″ tart pan and follow the instructions.
HAPPY BAKING!!!
One more thing…
Don't forget to tag @OneSarcasticBaker on Instagram if you bake this recipe. Would love to see your creations!
Here are some more cookies recipe you might enjoy: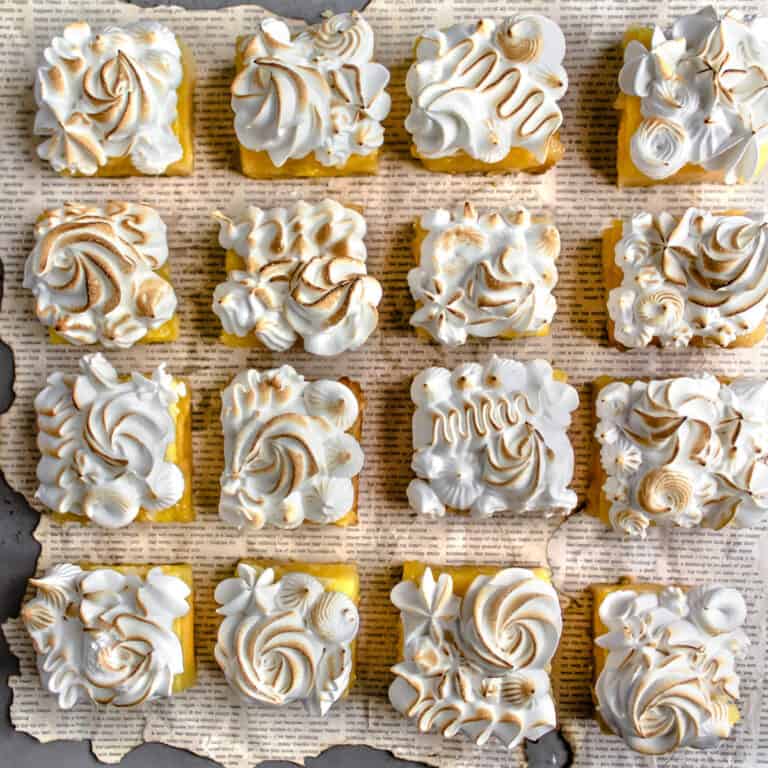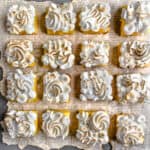 Lemon Meringue Bars
These Lemon Meringue Bars are so easy to make and make for the perfect sweet and sour dessert.
Total Time
1
hour
5
minutes
Ingredients
For the Crust
1 1/2

Cups

AP Flour

(180 g / 6.5 oz)

1/3

Cup

Sugar

( 70 g / 3 oz)

1/4

tsp

Salt

1

TBSP

Lemon Zest

1/2

Cup

Butter, soften

(113 g / 4 oz)
Lemon Filling
4

Large

Eggs

1 1/3

Cups

Sugar

(270 g / 10 oz)

1

Cup

Fresh squeezed lemon juice
Meringue
5

Large

Egg Whites

(150 g / 5 oz)

1 1/2

Cup

Sugar

(300 g / 11 oz)

1/4

Cup

Water

1

tsp

Corn Starch
Instructions
Preheat oven to 350F and cover a 9″/9″ pan with aluminum foil covering the sides as well.

In bowl of a standing mixer, fitted with the paddle attachment place the flour, sugar, salt and lemon zest and beat on low.

Cut the butter into small pieces and add it to the dry mix, change setting to medium and continue beating until a sand like mixture is formed.

sprinkle the mix evenly in the pan and using your fingers or the back of a spoon press the mix into the pan.

Bake for 16-18 minutes or until the sides of the crust are golden. While the crust is baking, make the filling.

To make the filling, whisk together all the ingredients in a medium sized bowl.

Once the crust comes out of the oven, pour over it the lemon filling and bake for about 20 minutes. The filling should look like it is jiggling. It will set once it has cooled down.

Allow the cake to completely cooled to room temperature before cutting.
To Make the Meringue
In a medium pan, place the sugar and water and allow to cook over medium heat. Do not stir the sugar. If needed, gently swirl the pan. Cook until the mix reaches 240F.

Place the egg whites in a bowl of a standing mixer and beat on medium with the cage attachment until you have a soft peak.

Lower speed to low and slowly pour in the sugar syrup. Change the setting back to high and beat for 2 minutes.

Stop the mixer and add the cornstarch. Continue beating on high until you have a shiny and stiff meringue.

Once the cake has cooled, remove it from the pan and cut it to 16 or 20 pieces. (depends on your choice of size)

Place the meringue in a piping bag fitted with your choice of tip and pipe the top of each bar.

Using a hand torch, torch the top of the meringue.