Last updated on May 7th, 2021.
This Sweet crumbly and tender cookie is a traditional staple in just about every bakery and kitchen. However, this recipe has a secret ingredient right in its title: Cake Crumbs Linzer Cookies.
If life like in life, we sometimes get left with cake scraps. First thing to come in mind: Cake pops.
"Cake pops are so easy to make, I just love it!" I say NEVER!
Don't get me wrong, I totally get what all the fuss is about and more than once I embrace my inner child at the sight of a pastel sprinkles covered pop. But making them ? well that's a completely different story. Or should I say more like Steven King Cojo chapter!
Right, it is not a pretty sight. Best to just leave it to the experts.
So what to do?
A wise woman once said: "Creativity comes from discomfort". And so I decided to live by those words, and find new ways to transform cake leftovers.
Many bakeries have adopted this recipe as a smart way to turn scraps and left overs into profit. I was lucky to learn many of the of bakeries ways. But that is another story and shall be told another time.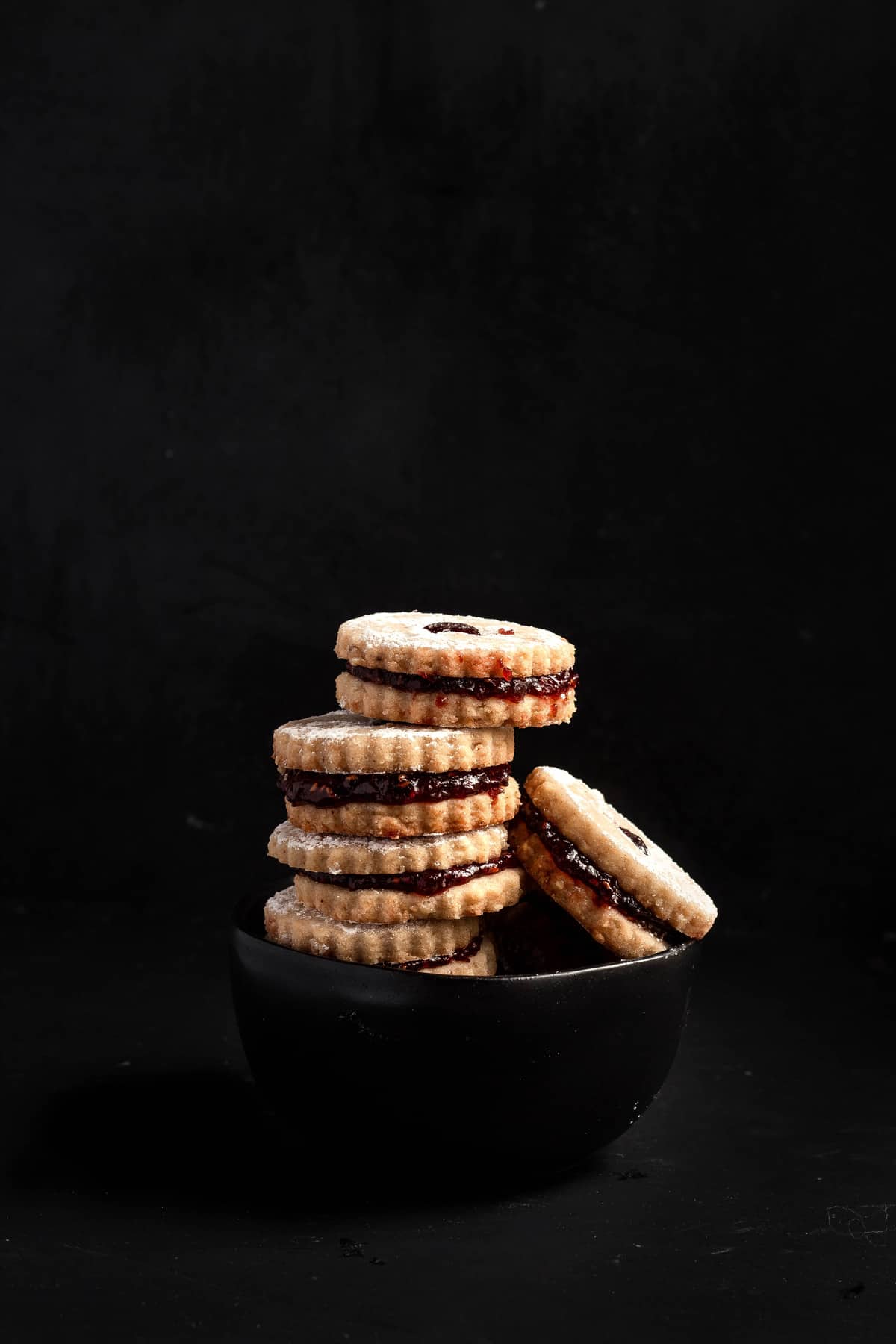 Let's Talk About These Cake Crumbs Linzer Cookies
Please note that this recipe is a bit of a time consuming. It might require some extra work depending on the texture of the dough. So if you are looking for a fast and easy cookie recipe, please look below for some ideas.
Feel free to use your choice of left over cake crumbs and nuts.Same with the filling.
You can use which ever cake crumbs you wish but please remember that texture of the dough might varies. This is due to the fact that the majority of the dough is cake crumbs.
If the dough is too soft, add more bread flour. Use a small cookie spatula to place the raw dough in the pan.
If the dough is too hard, allow it to warm up for about 15-20 minutes. Then, using the paddle attachment mix it to soften it up for about 30 seconds.
HAPPY BAKING!!!
One more thing…
Don't forget to tag @OneSarcasticBaker on Instagram if you bake this recipe. Would love to see your creations!
Here are some more cookies recipe you might enjoy: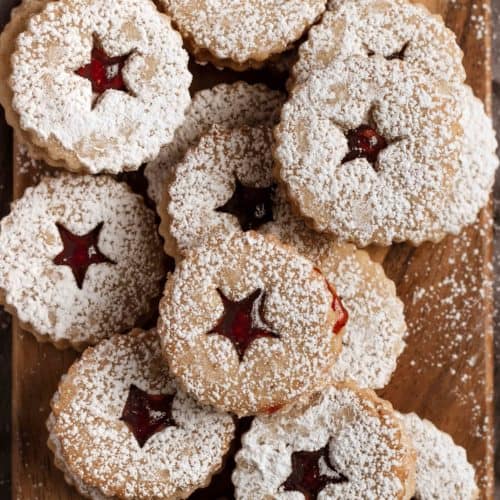 Cake Crumbs Linzer Cookies
Servings
36
Double Cookies
Ingredients
3/4 + 2 TBS

Cup

Sugar

(170 g / 6 oz)

1 2/3

Cup

Vegetable Shortening, room temp,

(340 g / 12 oz)

1/2

tsp

Salt

1 1/4

tsp

Ground Cinnamon

1

Large

Egg, beaten

13/4 + 2 TBS

Cup

Bread Flour

(255 g / 9 oz)

4 3/4

Cups

Cake Crumbs

(340 g / 12 oz)

1 + 2TBS

Cup

Toasted Hazelnuts

(85 g / 3 oz)

1/2

Cup

Powdered sugar, for dusting

1

Cup

Raspberry Jam

(320 g / 11 oz)
Instructions
In bowl of a standing mixer, place the sugar, shortening and cinnamon until smooth, 3-5 minutes. Add the egg in a slow stream mix until blended and gradually add the flour, cake crumbs and nuts.Mix for about 5 minutes until you have soft and sticky dough.

Cover the bowl with plastic wrap and refrigerate for a minimum of 12 hours.

When ready to bake, preheat oven to 375F and line 3 cookie pans with parchment paper.

Remove dough from the refrigerator and place it on a clean and smooth working space.

Roll the dough about 1/4″ thick and using a cookie cuter cutter 3″-4″ size circles, cutting a small circle in the center of half the cookies.

Arrange the cookies on the baking pans making sure there is 2″ apart between each cookie and bake on the middle rack for 8-12 minutes.

Remove from the oven and allow to completely cool. Dust the top cookies with powdered sugar and apply 1/2 tsp of raspberry jam on the bottom cookies. Place the dusted cookies on top of the raspberry cookies.