Silky smooth, creamy and ridiculously delicious Cookie Butter Cheesecake is the dessert we've all been craving.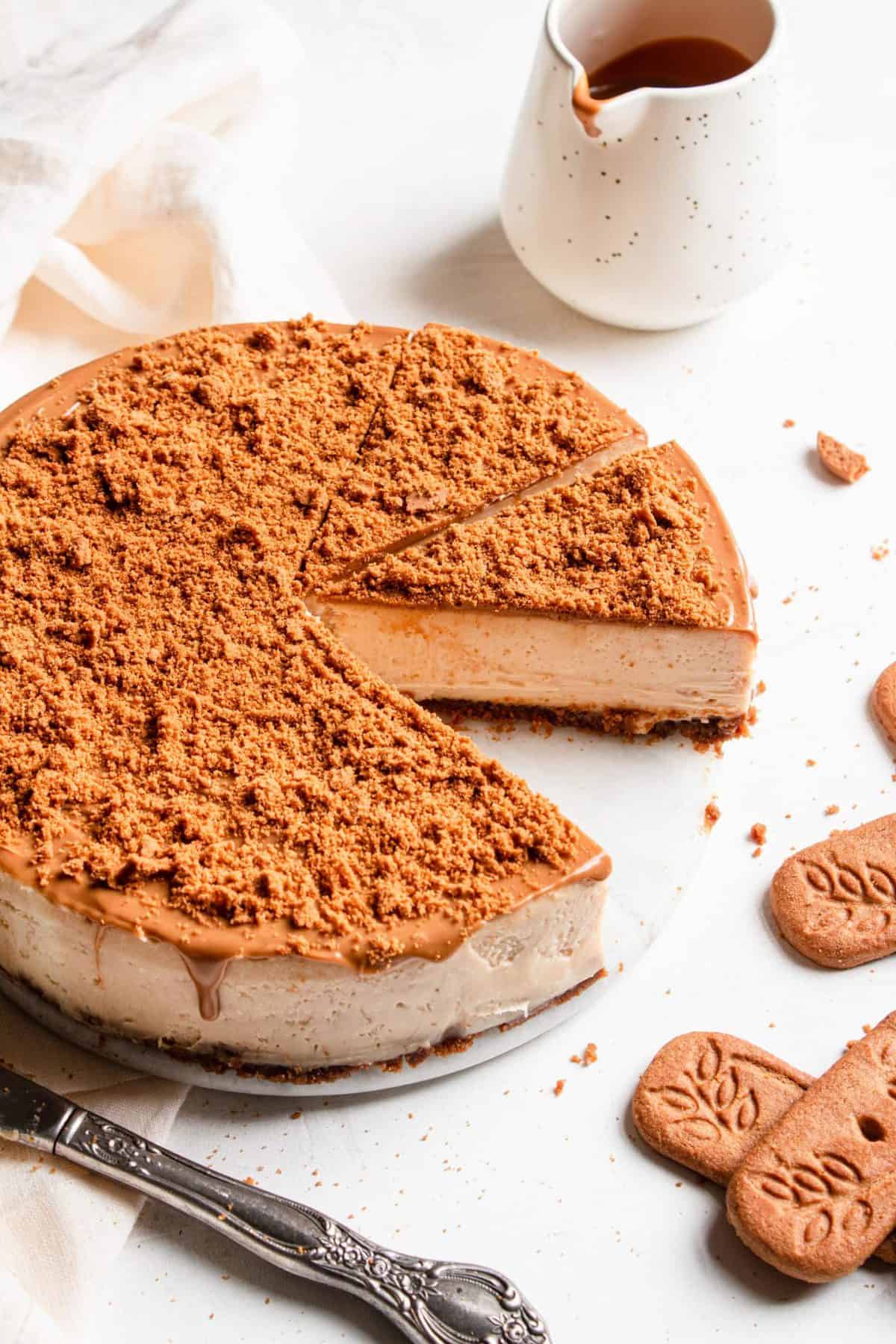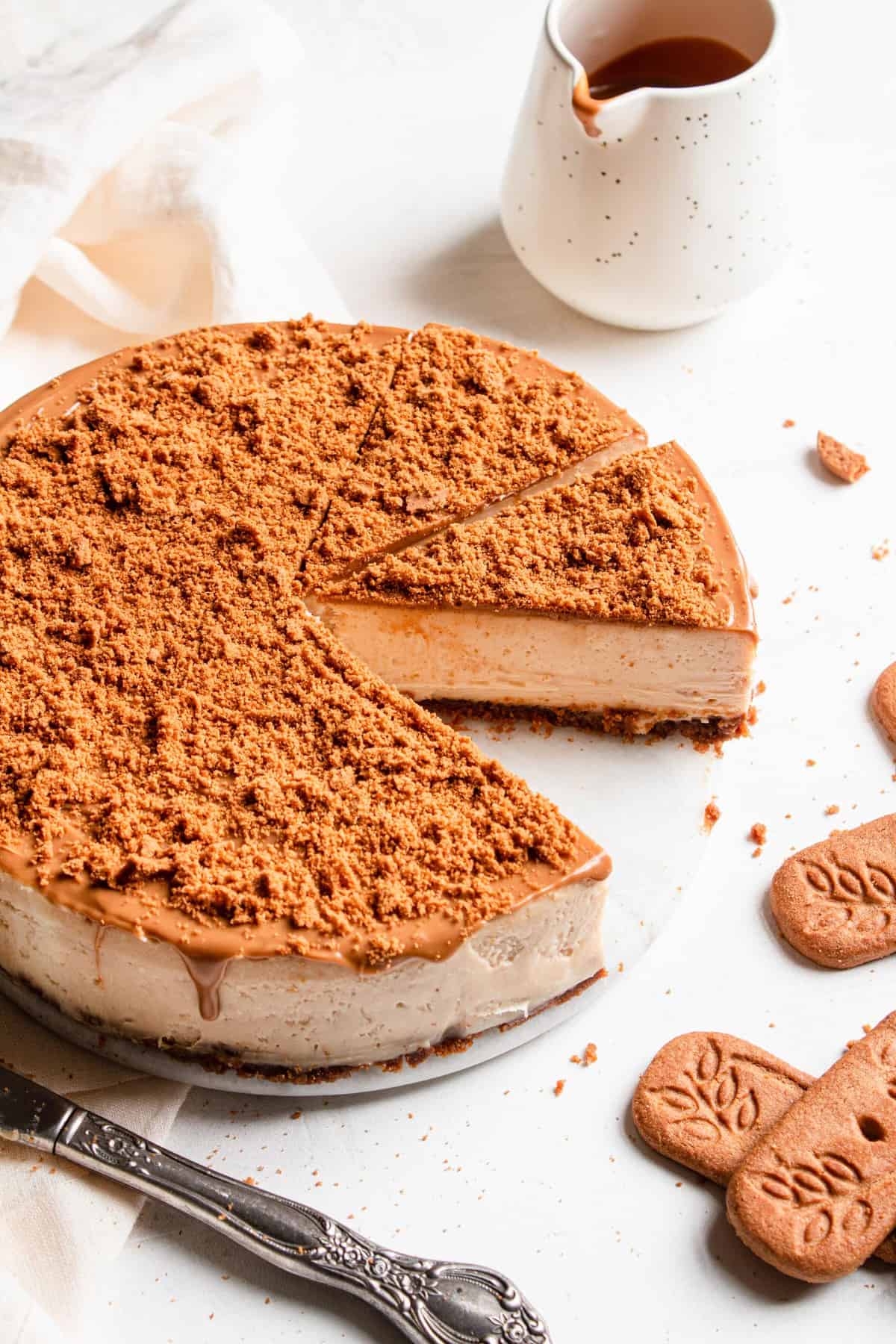 Imagine that: a thin crispy layer of buttery speculoos cookie crust, topped with thick, creamy and smooth cookie butter-flavored cheese custard filling. But this is not all because right before serving we drizzle another layer of warm cookie butter.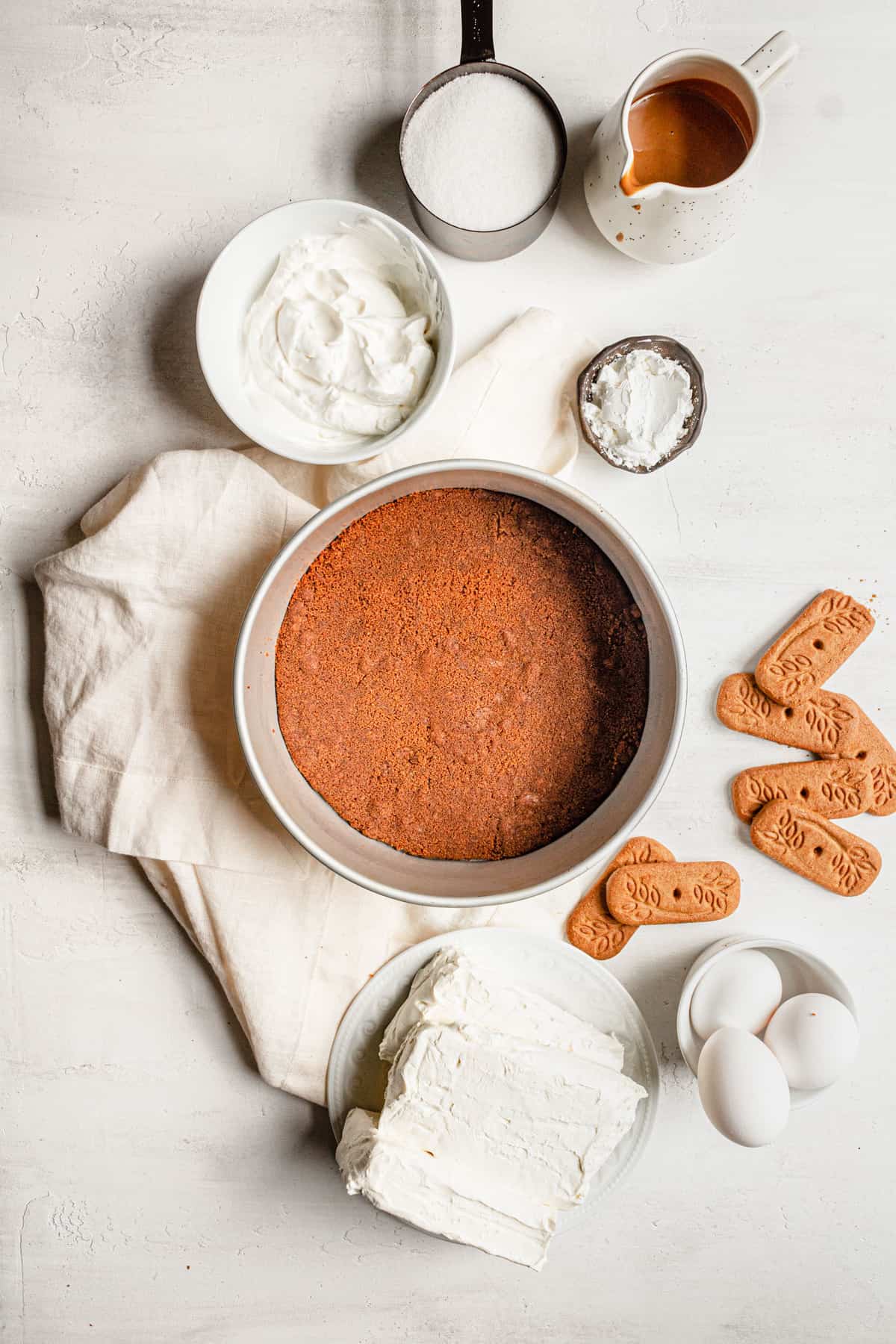 Yes. This cake is THAT good, because who doesn't LOVE cookie butter? It is the only spread giving Nutella a run for its money.
Now if you are not a savvy cheesecake baker please do not worry. Because firstly, you can bake this cake with or without a water bath. Secondly, this is the exact same method I used to bake THIS cake which includes a full step by step tutorial and tips.
However, the missing part of adding the cookie butter you can find right below.
What are the key ingredients for this recipe:
Full Fat Cream Cheese – please do not replace with reduced-fat cream cheese otherwise it will not have the same texture or taste.
Corn Starch – 2 TBS of cornstarch is what it takes to thicken and create a silky smooth texture.
Sour cream – adds some more flavor but can be replaced with heavy cream.
Cookie Butter -you can find cookie butter in most retail markets. I bought both the spread and speculoos cookies from Trader Joe's.
How to Cool And Store the cake:
This cheesecake should be stored in the refrigerator for up to 4 days. However, it should be completely cool before placing it in the refrigerator. Removing the cake from the oven or refrigerating it too soon might result in air escaping too fast and cracking the top of the cake.
Now Let's Talk About This Cookie Butter Cheesecake:
Using room temperature ingredients is the key to success in this recipe. Room temperature ingredients will mix better and will result in a smooth, lump-free batter.
Scrape the sides and bottom of the mixing bowl as many times as possible. Sometimes the mixer attachment can not reach the bottom and side and the ingredients do not mix well.
Even though this is a cookie butter cheesecake recipe, you can easily replace it with a chocolate spread such as Nutella.
Another option to bake this cake is as a marble cake. Firstly divide the batter into two. Then pour one half into the pan and mix the second half with the cookie batter. Lastly, Pour the second half on top of the batter and use a knife to create the marble pattern.
You can bake the cake without a water bath. However, please note it will have a different texture and might crack at the top. But it will be just as delicious!
HAPPY BAKING!!!
Video by: Marie Sugar Salt Magic
Here are some more fun recipes you might enjoy:
One more thing…
Also, don't forget to tag @OneSarcasticBaker on Instagram if you bake this recipe. Would love to see your creations!
Did you like this recipe and inspiring? Save THIS PIN to your Cakes, Desserts or cheesecakes boards.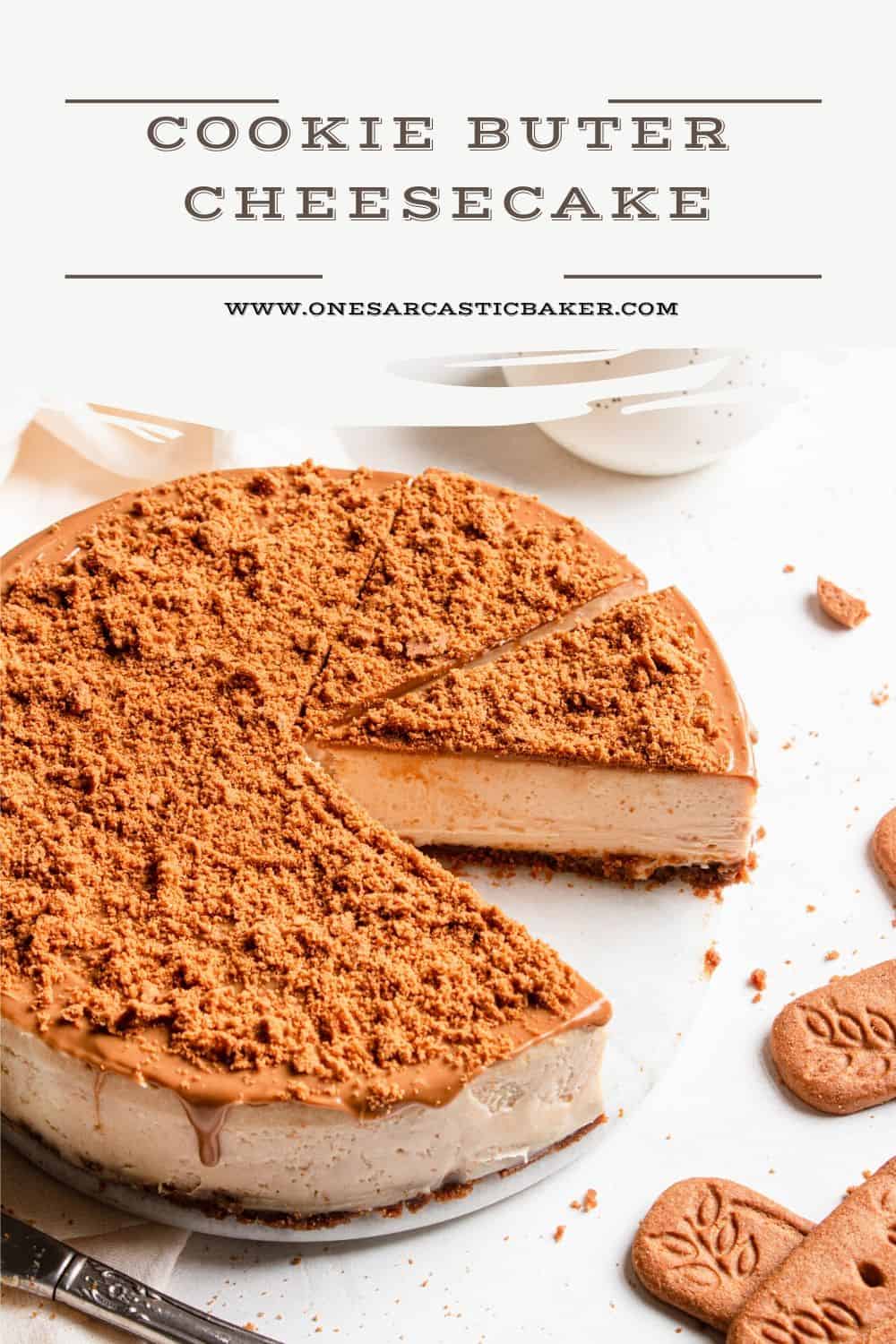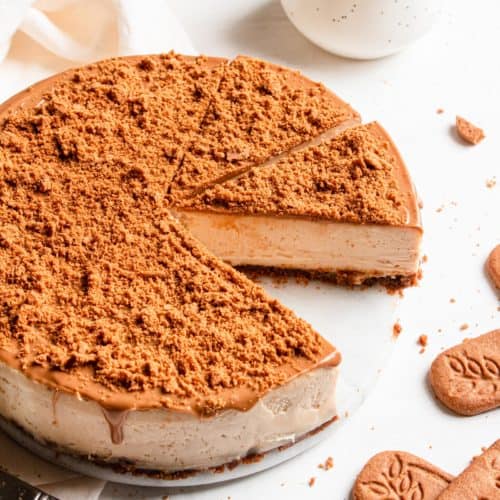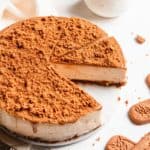 Cookie Butter Cheesecake
Servings
1
8″ cake (serves 10 people)
Ingredients
Speculoos Cookies Crust
Speculoos Cookies , about 15

(140 g / 5 oz)

2

TBS

Light Brown Sugar

(35 g / 1.25 oz)

4

TBS

Unsalted butter, melted

(55 g / 2 oz)
Cookie Butter Cheesecake
3

pkg

Full fat cream cheese (8 oz each)

(672 g / 24 oz)

1

Cup

Sugar

(200 g / 7 oz)

3

TBS

Corn starch

1

Cup

Full fat sour cream

(200 g / 7 oz)

3

Large

Eggs

1

tsp

Vanilla extract

1/2

Cup

Cookie butter, warmed
Instructions
Crust
Place the cookies in a food processor and pulse to fine crumbs. Add sugar and melted butter and pulse again to incorporate.

Evenly spread the crumbs and press into the pan. You can use your fingers or the back of a spoon.

Bake for 12 minutes in a 350F preheated oven.

Once the crust has cooled, wrap the sides of the pan with tin foil and parchment paper (tin foil bottom layer) and place it in a larger pan. The pan should be large enough to allow about 1" space between each pan and deep enough to be filled with water halfway up the side of the cake pan.
Cheesecake
Preheat the oven to 325 F (165 C).

In a small bowl mix together the sugar and cornstarch.

Using a stand mixer fitted with the paddle attachment beat the cream cheese on medium speed for about 1 minute. Occasionally scrape down the sides and bottom of the bowl and beat until smooth and lump-free.

Pour the sugar and cornstarch and mix until smooth. Scrape down the sides and bottom of the bowl.

Add the sour cream and mix until smooth. 

Mix in the eggs one at a time waiting for each egg to fully incorporate before adding the next, scraping down the sides after each addition. 

Pour the vanilla extract or bean paste then stop the mixer drizzle the cookie butter in and fold until fully incorporated.

Pour the cheesecake batter on top of the prebaked cookie crust. Bang the pan against the counter to release air from the batter.

Place the cake in the center of a larger pan and fill the pan with boiling water halfway up the sides of the cheesecake pan. Make sure the water does not splash into the cake batter.

Cover the pans with aluminum foil and poke it 4-5 times to allow some air escaping while it bakes.

Bake for about 40-45 minutes or until the center of the cake (about 1.5" from the edges of the pan) jiggles like jelly.

When the cake is done, turn the oven off and leave the door closed for the cake to cool for about 1-3 hours.

Remove the cake from the oven when it is completely cooled and run a knife blade between the cake and the sides of the pan. (dip the knife in hot water)