Last updated on April 21st, 2022.
koulouria Greek Butter Cookies are the most delicious, crispy, buttery, and best coffee, tea, and milk companion even from before Oreo.
For many Koulourias are Greek cookies that are a special treat for the Easter holiday. But to be honest, I have no idea if that is its true origin. I mean, yes. It is defiantly a Greek cookie. In fact, this is my Greek mother-in-law's recipe, and since she is not only Greek but Jewish as well, there is no point in saving it for Easter. Also, this cookie is WAY TO GOOD to be eaten once a year.
Seriously, this cookie is THE BEST!.
Obviously it so super delicious and you can not stop with just one (or three if I am completely honest). It is perfect to dip into your afternoon drink since it's sweet but not too sweet and is super crispy. (My husband likes to drop the cookie in the coffee, wait a few seconds then use a spoon to scoop it out. My girls like to sing the A, B, C as they wait for it to get soft in the milk. )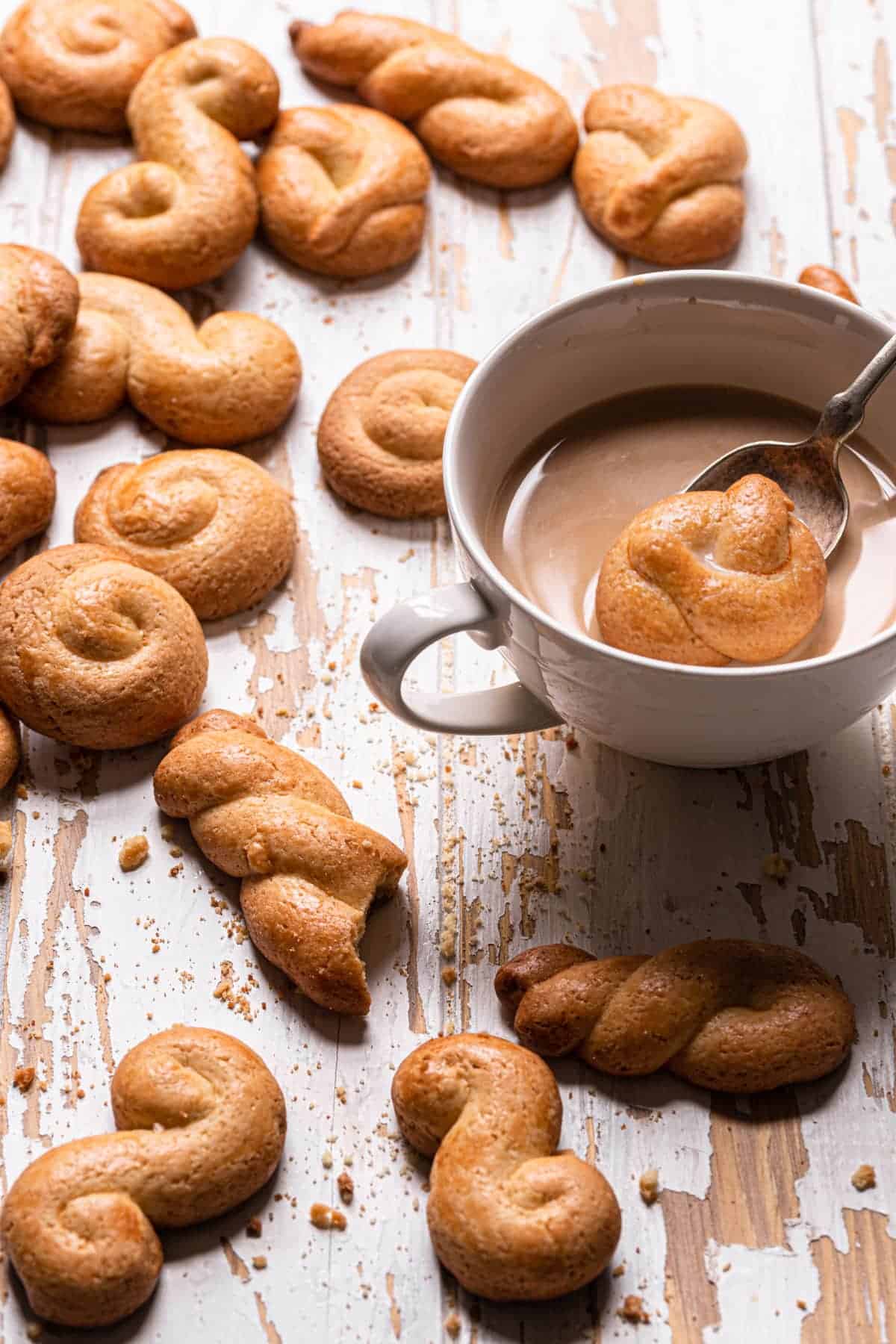 But not just that. This cookie smells and tastes like home. It's the kind of cookie you only get at your grandmother's (or ya-ya if you're lucky) house, the type you can never ever buy at the local market (local Greek restaurant, yes), and the type that makes you simply happy.
When you bake these cookies, your friends will stop by for a visit because they know that you have a large cookie jar full of Koulourias. They'll say they want to see you but really they are here for the cookies.
Ingredients Used In This Koulouria Greek Butter Cookies:
Unsalted butter
Sugar
Egg yolks
Eggs
Orange juice
Brandy (or whiskey)
Baking soda
Flour
Baking Powder
How to Make These Koulouria Greek Butter Cookies :
Firstly, I highly recommend using a standing mixer for this recipe. There is a fairly large amount of butter and flour in the recipe and I believe a standing mixer is the best fit for the job.
We start by beating the butter and sugar for about 2-3 minutes, just until the two are well blended. There is no need to have a light and fluffy mixture.
Next, we will add the rest of the ingredients separately waiting for each to incorporate before adding the next. Eggs and eggs yolk, then orange juice + vanilla extract.
Before we add the Brandy, we will mix it in a small bowl with baking soda. Once we added that to the mixture, with the mixer on low we will gradually mix in the flour (mixed with the baking powder). Set aside 1 cup of flour to mix in by hand.
Drop the dough on a clean working surface and check the dough's texture. If it sticks to your hands and work surface, mix in the remaining 1 cup of flour.
Shaping and Baking The Cookies:
This is where the fun begins. There is A LOT of dough. Enough to make 100-120 cookies. Pinch a small amount of dough with your fingers (about the size of a walnut in its shell, I measure it to 20g). Roll the dough into a ball then roll the ball into a 4″ log. Shape the log to your desired shape and place it in a cookie pan lined with parchment paper, living about 1.5″ space between each cookie.
The most traditional shape is the twist and the "s" shape, but you can basically shape however you like.
I don't like to limit myself so I fill each pan with different shape. (total of 5)
Before placing the cookies in the oven, brush them with the egg whites left over.
Bake the cookies at 350F, on the middle rack for 20-25 minutes. They are ready when they are medium-dark color. Remove from the oven and allow to cool.
If you do not have 5 pans, simply use the ones you have and reuse the ones (the parchment paper as well) you took out of the oven.
You can definitely eat them warm from the oven but please know that they have yet to set so they might be soft. Once they cool they get crispy.
Storing the cookies:
Here is the best part. The cookies are fresh for quite a while. If stored in a tight container, they can stay fresh for 2-3 weeks (I even had them for up to 4 weeks)
HAPPY BAKING!!!
Don't forget to tag @OneSarcasticBaker on Instagram if you bake this recipe. I would love to see your creations!
Here are some more cookies recipe you might enjoy:
PIN FOR LATER: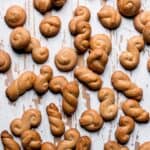 Koulouria Greek Butter Cookies
Ingredients
4

Sticks

Butter soft

(450 g / 16 oz)

2 1/2

Cups

Sugar

(500 g / 18 oz)

6

Large

Egg yolks

2

Large

Eggs (reserve egg whites for brushing the cookies)

2

tsp

Vanilla extract

1/2

Cup

Orange Juice

(120 ml / 4 oz)

2

TBS

Brandy or Whiskey

2

tsp

Baking Soda

10

Cups

AP Flour

(1200 g / 42 oz)

1

tsp

Baking Powder
Instructions
In a bowl of a standing mixer, place the butter and sugar and beat to incorporate, about 1 -2 minutes. Scrape the sides and bottom of the bowl to make sure you have a cohesive mixture.

Add the egg yolk followed by the eggs and mix to incorporate.

Add the orange juice and vanilla extract.

In a small bowl mix, the brandy and baking soda then add it to the butter mixture

Add the baking powder to the flour and mix, With the mixer on low, add 9 cups of the flour. Once the flour has been incorporated, stop the mixer and place the dough on a clean work surface.

Bring the dough into a large ball. If you feel that the dough is too sticky sprinkle the remaining of the flour (up to 1 cup). The dough should be smooth and easy to work with.

Preheat oven to 350F and line 5 cookie pans with parchment paper (if you have less that's ok)

Pinch a small dough ball, about 20 g (About half the size of a golf ball). Roll the dough into a 3" log, then shape it. You can see the traditional Greek shapes ontop.

Place the cookie on a lined pan and keep going until the pan is full. Make sure to leave about 1.5" space between each cookie.

once the pan is full, brush it with the leftover egg whites and bake for 20-25 minutes or just until the cookies are golden ontop and a bit darker at the bottom.

Remove from the oven and allow to cool.