Last updated on October 11th, 2021.
These Rye Brown Butter Shortbread Cookies are made with 100% Rye flour, brown butter, a small amount of brown sugar and are the perfect tea time cookies.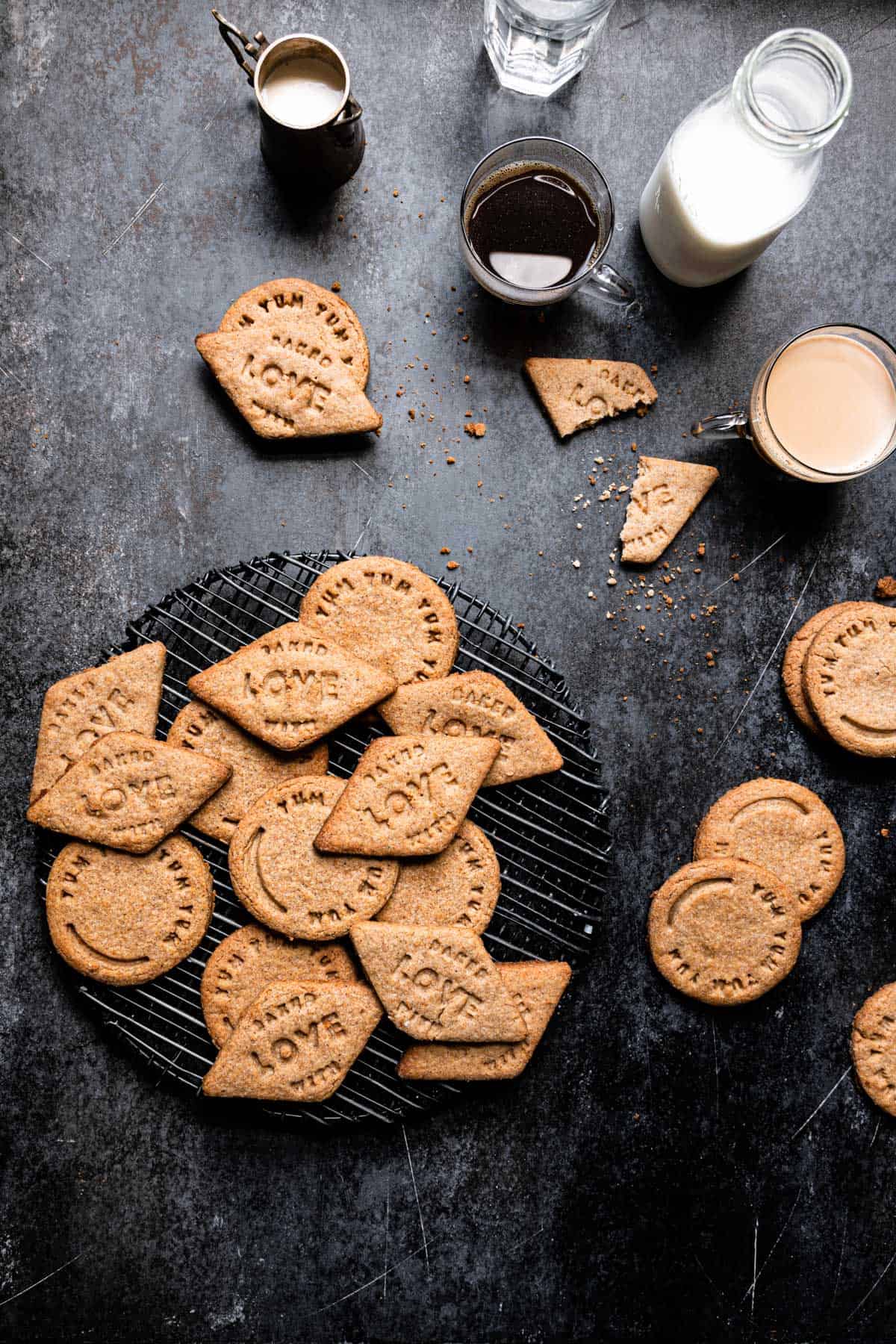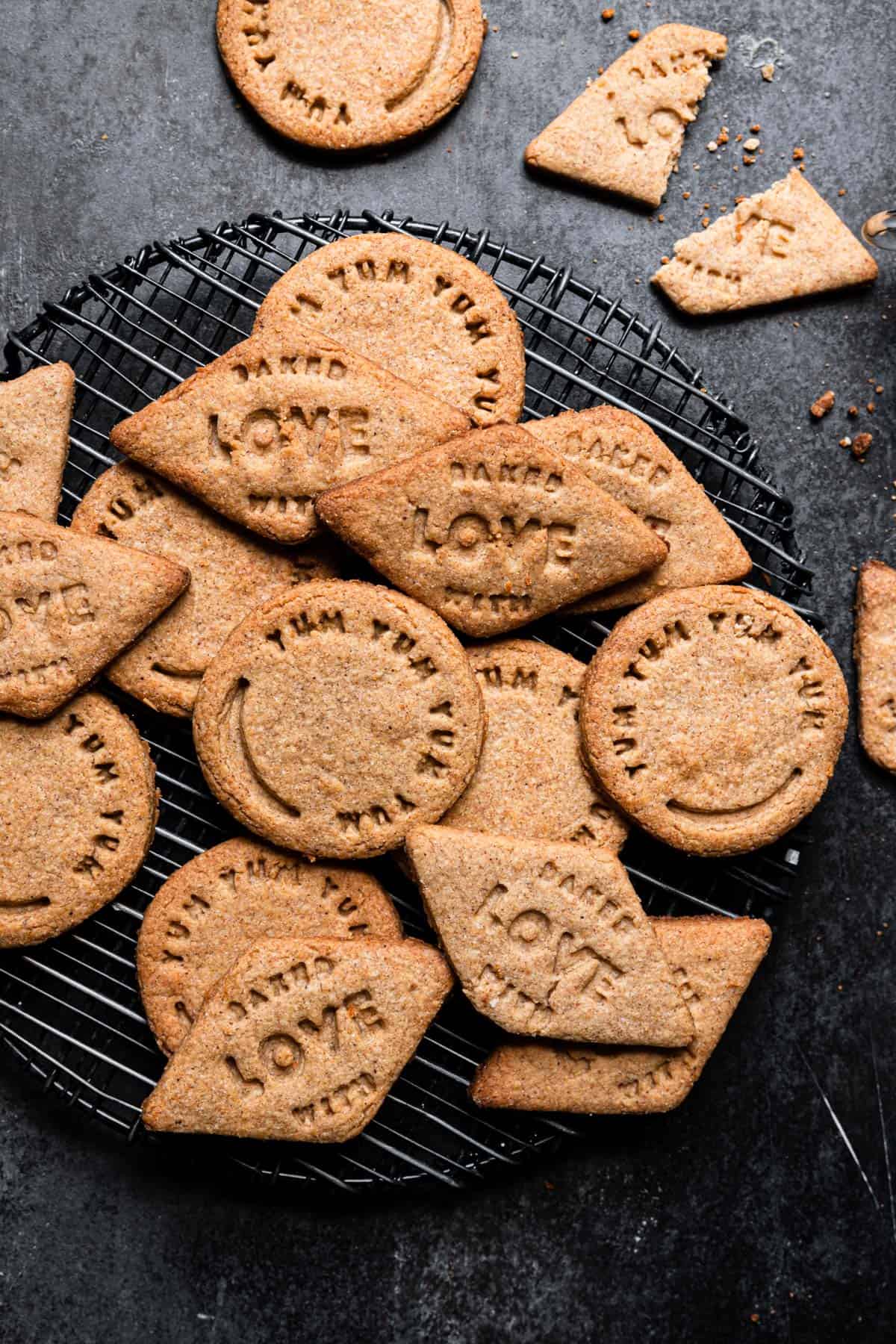 If you never baked using Rye flour, then this recipe is a great place to start. Rye flour has a very distinct nutty flavor which at first I thought it was a bit too much. But 3 bites into my cookies and I was hooked.
The cookies are not overly sweet and have a very earthy, unsophisticated taste to it. I feel that unlike chocolate chips cookies (or Oreo) where I can not eat enough (or fast enough), these cookies are more about enjoying them one bite at a time.
What is Rye Flour:
Rye flour is a powdered milled from whole Rye grains berry of the Rye wheat. There are a few types of Rye flour, white rye, medium rye, and whole wheat rye. Each refers to the amount of bran that has been removed during the milling process.
What Ingredients are in this Rye Brown Butter Shortbread Cookies:
King Arthur Organic Rye flour, the reason I specified the brand is that I only used this specific brand when baking with Rye flour. If you have experience with it feel free to use your brand of choice.
Browned butter
Dark brown sugar, this sugar really adds depths to the cookies.
Baking powder.
Salt
Milk, it is best to use as little as possible. so please start with adding 3-4 TBS. If the dough does not come together, add a TBS at a time.
How to baked these Rye Brown Butter Shortbread Cookies:
Despite the fact that this recipe calls for browned butter and rolling the dough it is fairly simple and easy to bake.
Firstly, we need to brown the butter and cool it to room temperature.
What is Brown Butter?
Brown butter is the result of cooking our butter to a point where the liquid in it has completely evaporated and the solid milk practicals are now dark and mostly separated from the melted butter. We end up with a dark brown butter with some dark speckles of the milk particles and a deep nutty flavor.
Now, back to our recipe:
Next, we will mix the flour, salt and baking powder followed by the brown butter. At this stage the mixture should be crumbly and wet but will not hold itself together.
And lastly, it is time to drizzle in the milk. The dough needs the minimum amount of milk, just to bring it together. So, start with adding 3-4 TBS and if it does not come together add 1 TBS at a time.
Rolling and cutting the dough is our next step. I recommend to roll the dough between two pieces of parchment paper to avoid it from sticking to the rolling pin.
Use your choice of cookie cutter and bare in mind that the size of the cookies will affect the baking time. (the smaller the less time it takes).
Storing the Cookies:
In a cookie jar at room temperature is best. My cookies kept fresh for 5 days.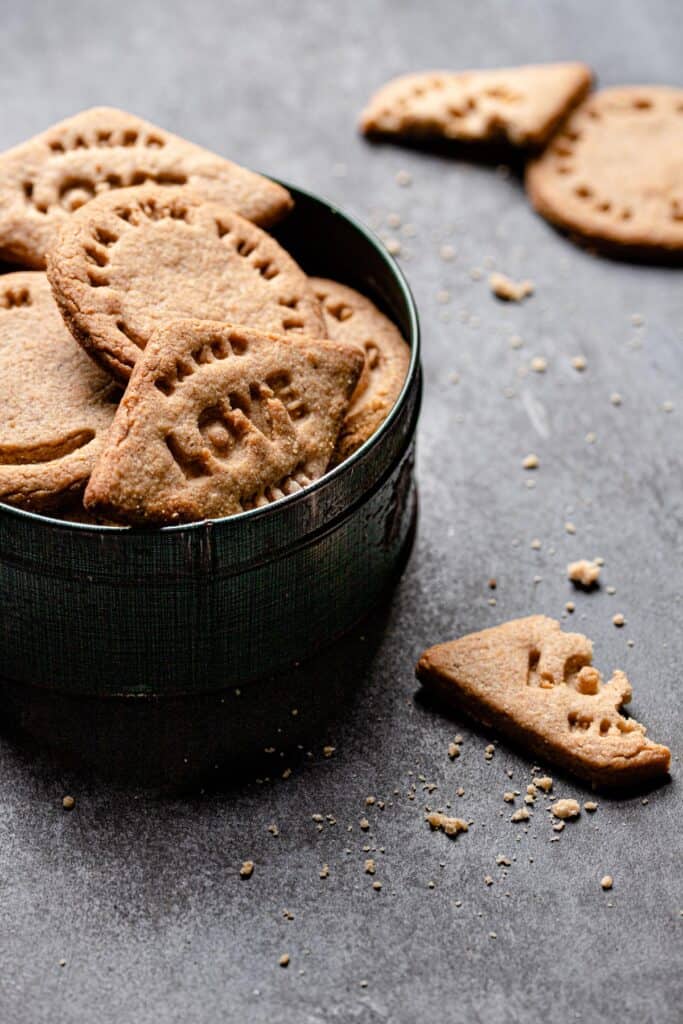 Few more notes and tips:
The recipe calls to roll the dough into 1/8″ thick. However, I rolled the dough int 1/4″-1/3″ as well. I found that the thinner the cookies are the more crispy they are. The texture of the cookies is a personal preference but please keep in mind that the thickness of the cookie will affect baking time as well.
I like my cookies with sharp edges so I did not add the baking powder. It did affect the texture a bit and made the cookies less tender and less crumbly however still super delicious.
This recipe is adapted from King Arthur Baking Company.
HAPPY BAKING!!!
Also, don't forget to tag @OneSarcasticBaker on Instagram if you bake this recipe. I would love to see your creations!
Here are some more cookies recipe you might enjoy:
Thinking of baking this recipe soon? Pin THIS pin on your Cookies, or Baking boards.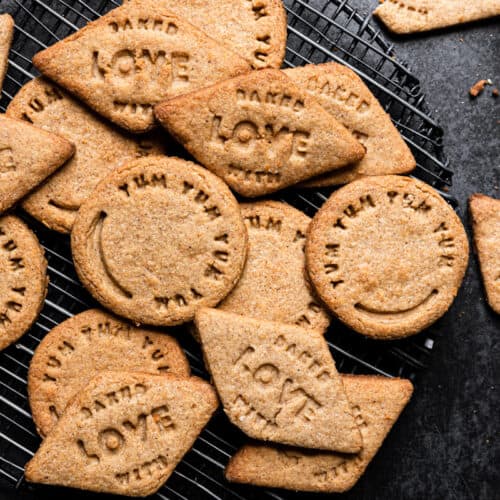 Rye Brown Butter Shortbread Cookies
Servings
12
Medium cookies
Ingredients
10

TBS

Unsalted butter

(142 / 5 oz)

2

Cups + 2 TBS

King Arthur organic medium Rye flour

(225 g / 8 oz)

1/3

Cup

Dark brown sugar, packed

(70 g / 2.5 oz)

1

tsp

Baking powder

3/4

tsp

Salt

1/4-13

Cup

Milk

(28-76 g / 2-3 oz)
Instructions
Making the Brown butter
Over medium heat, melt the butter until sizzling. Continue to cook, swirling the pan regularly.

Keep cooking until there is no more sizzling and the butter is a rich golden color and there is a layer of foam on top.

Remove from heat and pour into a medium-sized bowl. Allow to cool at room temperature for up to 10 minutes then place in the refrigerator to chill and slightly solidify (not solid).

Preheat oven to 400F and line two baking sheets with parchment paper.

Using your fingers or a standing mixer, stir together the flour, sugar, baking powder, and salt.

Add the chilled butter and work it into the flour mixture until crumbly.

Drizzle in the milk, just enough for the dough comes together (start with 3 TBS and add a TBS at a time).

Gather the dough into a bowl on a floured surface then roll it into 1/8"-1/4" thick.

Use your choice of cookie cutter or stamps to cut out the cookies, rerolling the scraps.

Transfer the cookies to the prepared baking sheets and bake for 7-12 minutes, depending on the size of your cookies, or until golden and dark around the edges.

Remove from the oven and let cool.