Last updated on November 3rd, 2021.
Valentine Cookies In A Snap are the cutest decorated heart cookies you can actually snap apart and enjoy a small piece at a time.
I am SO EXITED to share this with you guys! The idea was in my drawer for a while now, waiting for the perfect timing. And since the holiday of love is right upon us I figured an over dose of hearts is just the perfect way to share my labor (of love off course).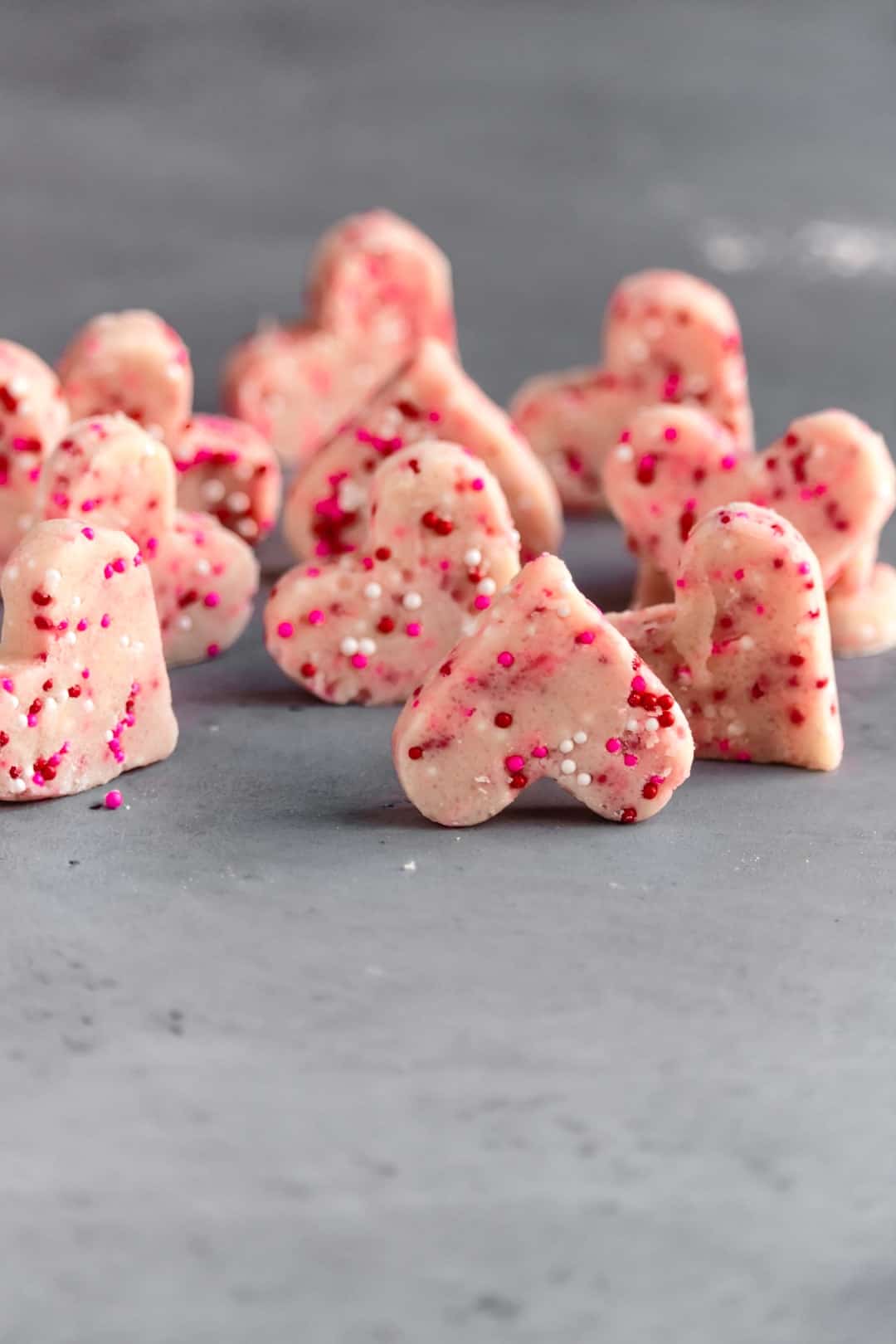 So what are Valentine Cookies In A Snap?
Valentine Cookies In A Snap are small or medium sized cookies that are "glued" and baked together. After baking, once cooled you can hold the cookie as one and snap them apart to enjoy only one.
Best part is that you can actually see the shape of each cookie and design you own pattern.
The steps are super easy!
Prepare the dough and cut using your choice of cookie cutter. (see images above)
Deep a small brush with beaten egg and brush the area where the cookies will meet. See image below.
"Glue" the cookies together in your choice of design/pattern. (see second and third image below).
Bake and cool.
Decorate (optional)
Snap!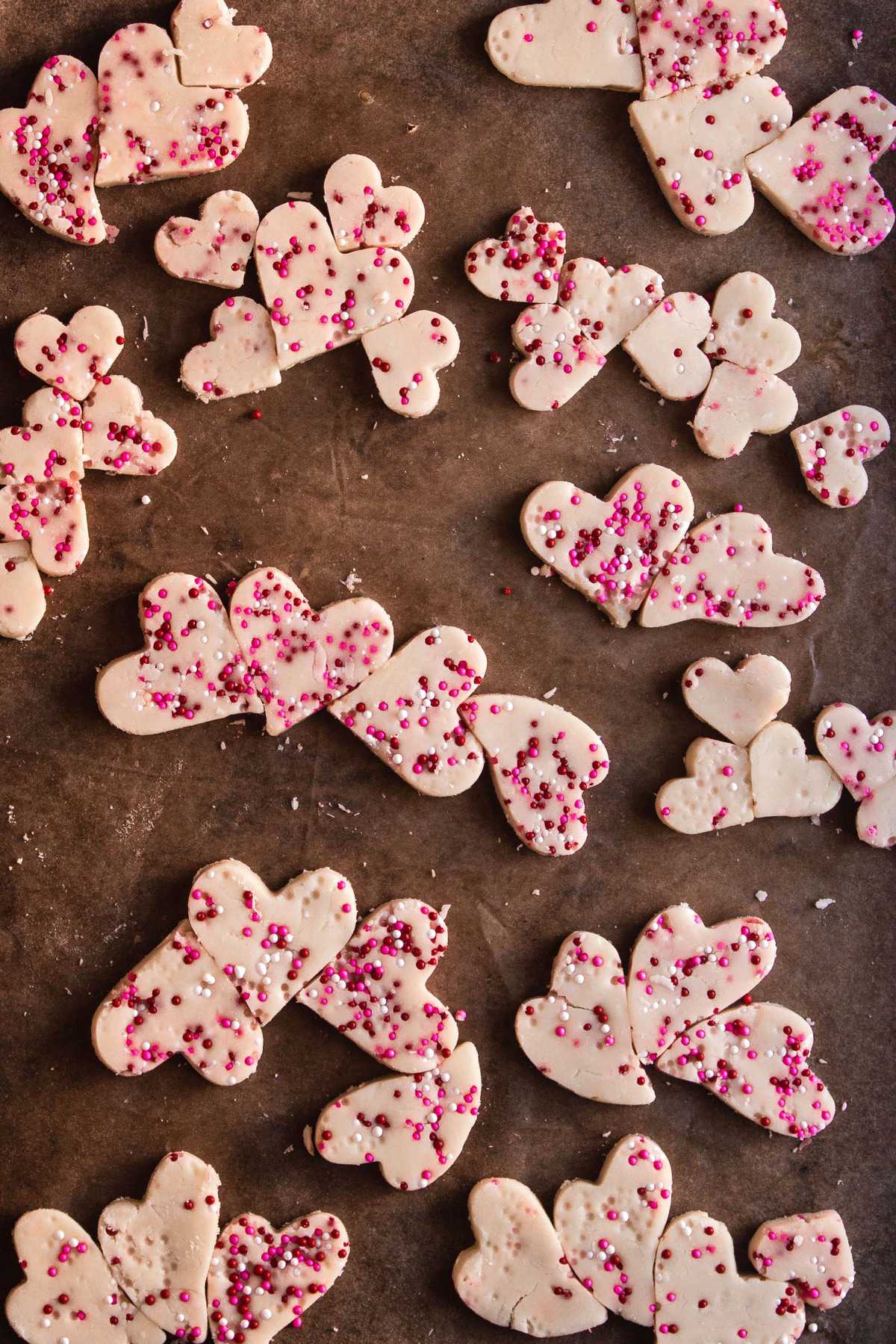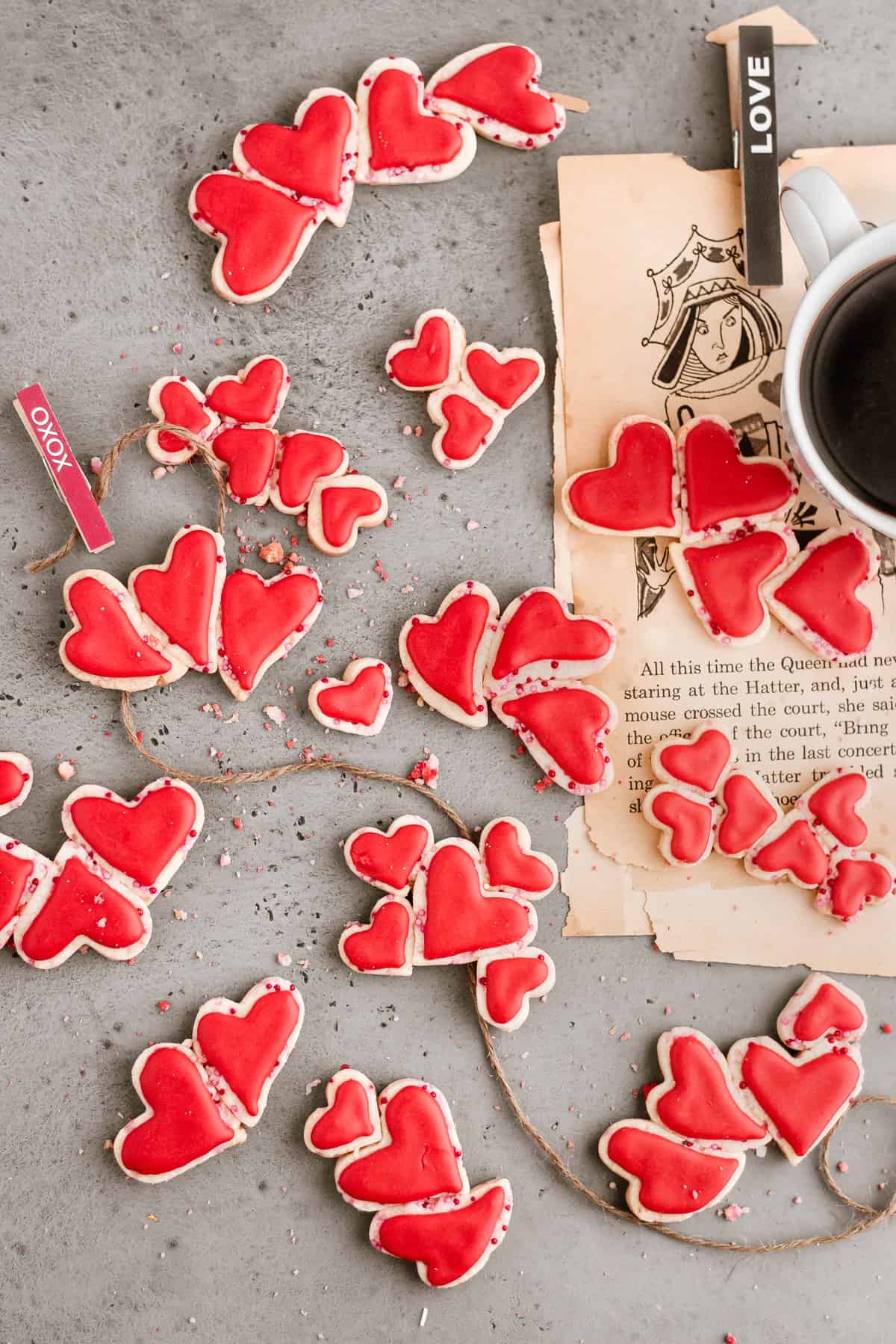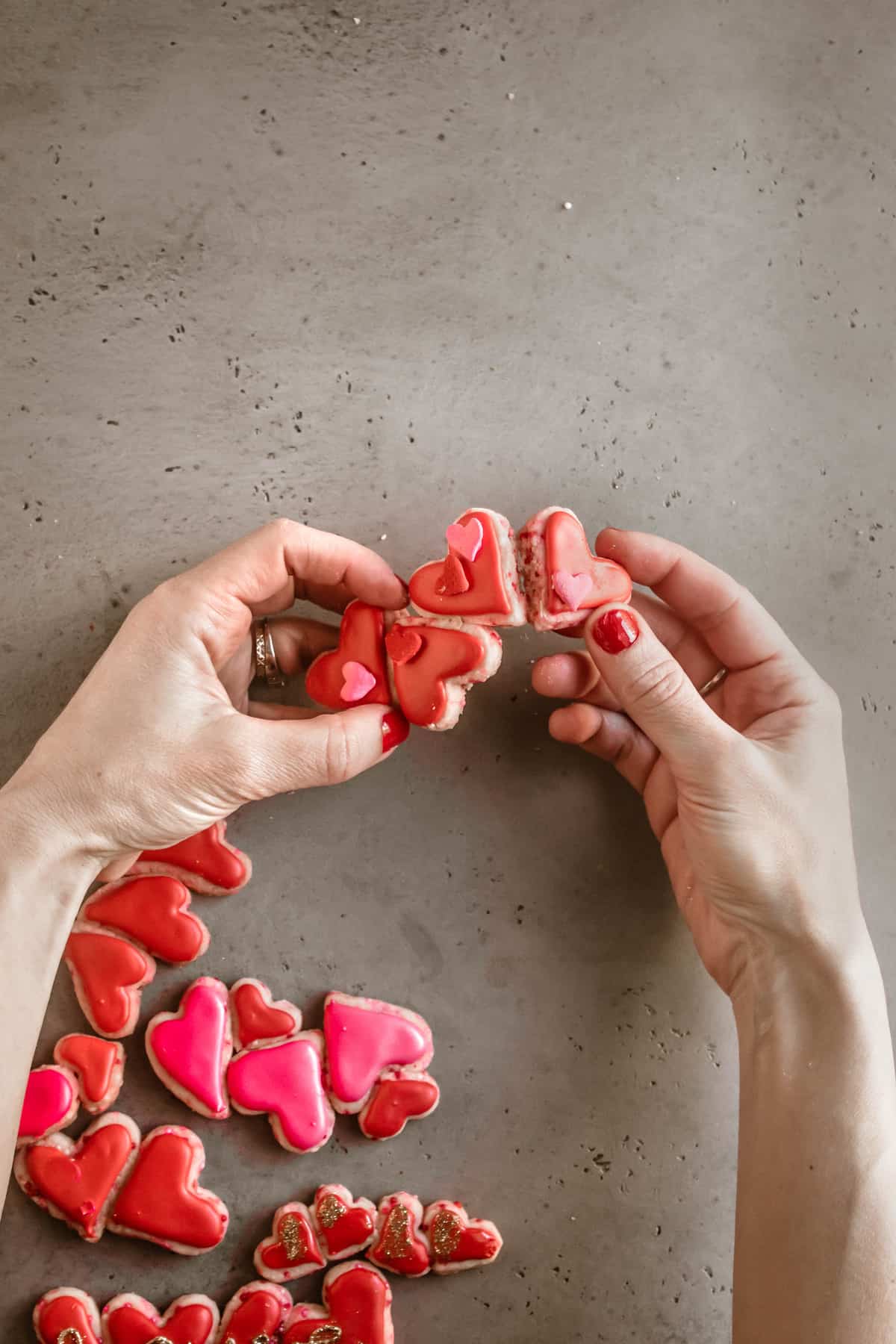 And even thou hearts are beautiful they are not the only option for the Snap cookies. I have made them for baby birth using a square shape that I decorated as baby play cubes and spelled the baby's name . Other ideas: Any type of ball sports, the easter bunny, animals at the zoo, or maybe even bachelorette party… (yes, feel free to use your imagination!).
There are unlimited options! Can't wait for you to make me look bad!! (wink, wink)
Now let's talk about these Valentine Cookies In A Snap:
I used a simple shortbread cookie recipe and exchanged the regular sugar with confectionary sugar. This will ensure: 1.The cookies will not spread and keep the sharp edges. 2. The cookies will not brown as much. 3.The snap will be easier and will leave smoother edges.
I added the sprinkles to the dough at the last stage. If you choose to add sprinkle, please try to avoid to over working the dough, so the sprinkles will not "bleed" into the dough.
When brushing the edges with egg, please use a very small amount. If you're using too much, some egg will leak between the edges and you will notice it after baking.
If you wish to use a big cookie cutter, please use a sharp knife to cut the cookie and "re-glue" it.
HAPPY BAKING!!!
One more thing…
Don't forget to tag @OneSarcasticBaker on Instagram if you bake this recipe. Would love to see your creations!
Here are some more cookies recipe you might enjoy: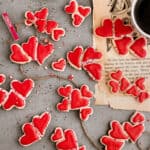 Valentine Cookies In A Snap
A decision and simple shortbread cookie that will give you a sharp smooth edges for the perfect snap.
Cooling of the dough
2
hours
Servings
24
small cookies
Ingredients
1/2

Cup

Confectionary sugar

(56 g / 2 oz)

1

Stick

Unsalted Butter, soften

(113 g / 4 oz)

1 1/3 +1 TBS

Cup

AP Flour

(170 g / 6 oz)

1/4

Cup

Sprinkles

(42 g / 1.5 oz)

1

Beaten Egg
Instructions
Place the sugar and butter in a bowl of a standing mixer and using the paddle attachment, beat on medium until you have a smooth mix. About one minute

Change speed to low and add the flour, mix just until you have big lumps.

Pour the dough on a smooth clean surface add the sprinkles and bring it together. (do not over mix)

Place the dough between two sheets of baking paper (each the size of a regular cookie sheet) and using a rolling pin, roll the dough 1/3″-1/2″ thick.

Place the dough to rest and harden in the refrigerator for minimum of 1 hour or over night.

Remove the dough from the refrigerator and preheat oven to 350F and line a baking sheet with baking paper Cut the dough using your choice of cookie cutters.

Using a small brush dipped with egg wash, brush the sides of the cookies where you wish them to meet and then gently "glue" them together into your design on the baking sheet. Make sure to leave about 1″ between each design of cookies.

Bake for about 10-11 minutes (the Botton of the cookies should be golden), on the middle rack. Remove from the oven and allow to cool.

Decorate the cookies. SNAP.