Last updated on June 21st, 2021.
Eating these Peach Pie Popsicles is like having 3 different desserts in one. Sweet summer peaches, timeless peach pie, and a summer icon: popsicles.
Florida Crystals® is the sponsor of this post however all thoughts and opinions are my own. Thank you for supporting the brands that make One Sarcastic Baker possible.
The result is a sweet, refreshing, and creamy popsicles, that is the perfect summer treat.
For this recipe, I used not just one but three types of Florida Crystals® 's sugar, Organic Raw Cane Sugar, Organic Light Brown Raw Cane Sugar and, Organic Powdered Raw Cane Sugar.
This sugar is not only grown and packed in the USA but also all organic and always NO-GMO. Each type of sugar adds its own unique quality and is the reason these popsicles are creamy, smooth, and also full of flavors.
What Ingredients are in this Peach Pie Popsicles Recipe: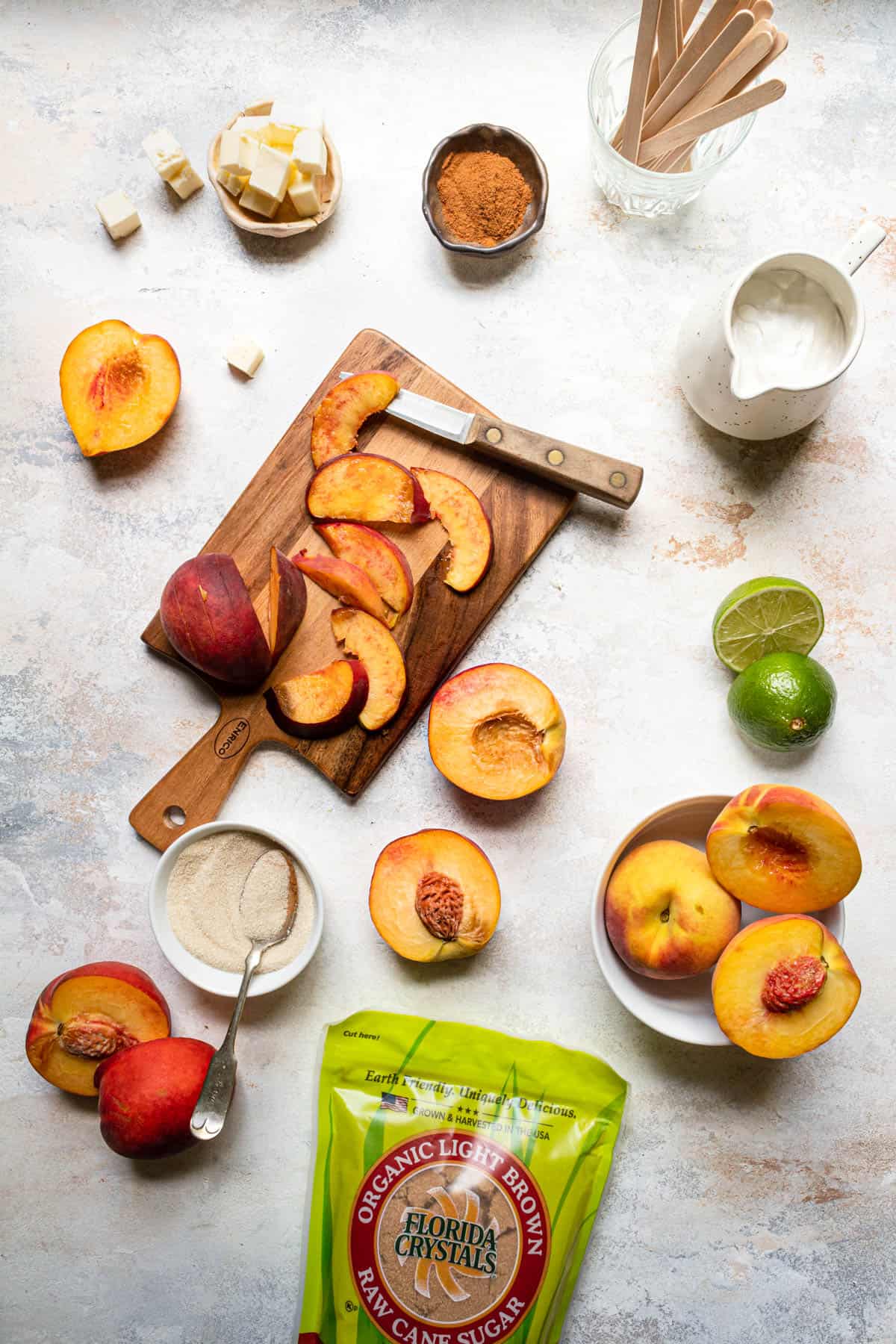 Peaches
Butter, I used regular butter but for a vegan option go ahead and use plant-based butter.
Keylime juice, adds extra freshness to the recipe. So if you are a huge citrus fan, feel free to add some key lime zest (1-2 tsp based on your preference)
Cinnamon, for extra flavor but optional.
Florida Crystals® Organic Powdered Raw Cane Sugar, to coat the peaches for a smooth bite
Plant-based heavy cream, regular heavy cream is definitely an option however, I found that the plant base one results in lighter popsicles.
How to make these Peach Pie Popsicles:
Firstly, you'll need to make sure you have popsicles molds. I got THIS from Amazon and found it to be user friendly and in addition easy to clean.
This recipe has two steps.
Step one, making the peach pie filling. Since it is peach pie filling we need to cook the peaches with some butter and cinnamon.
Next, we will cook the peaches with the butter then add the sugars and spices. Now we just need to let the peaches cook, soften and soak in all the flavors.
Step two, add the cream to the peach mix, process in the food processor, and lastly pour it in the molds.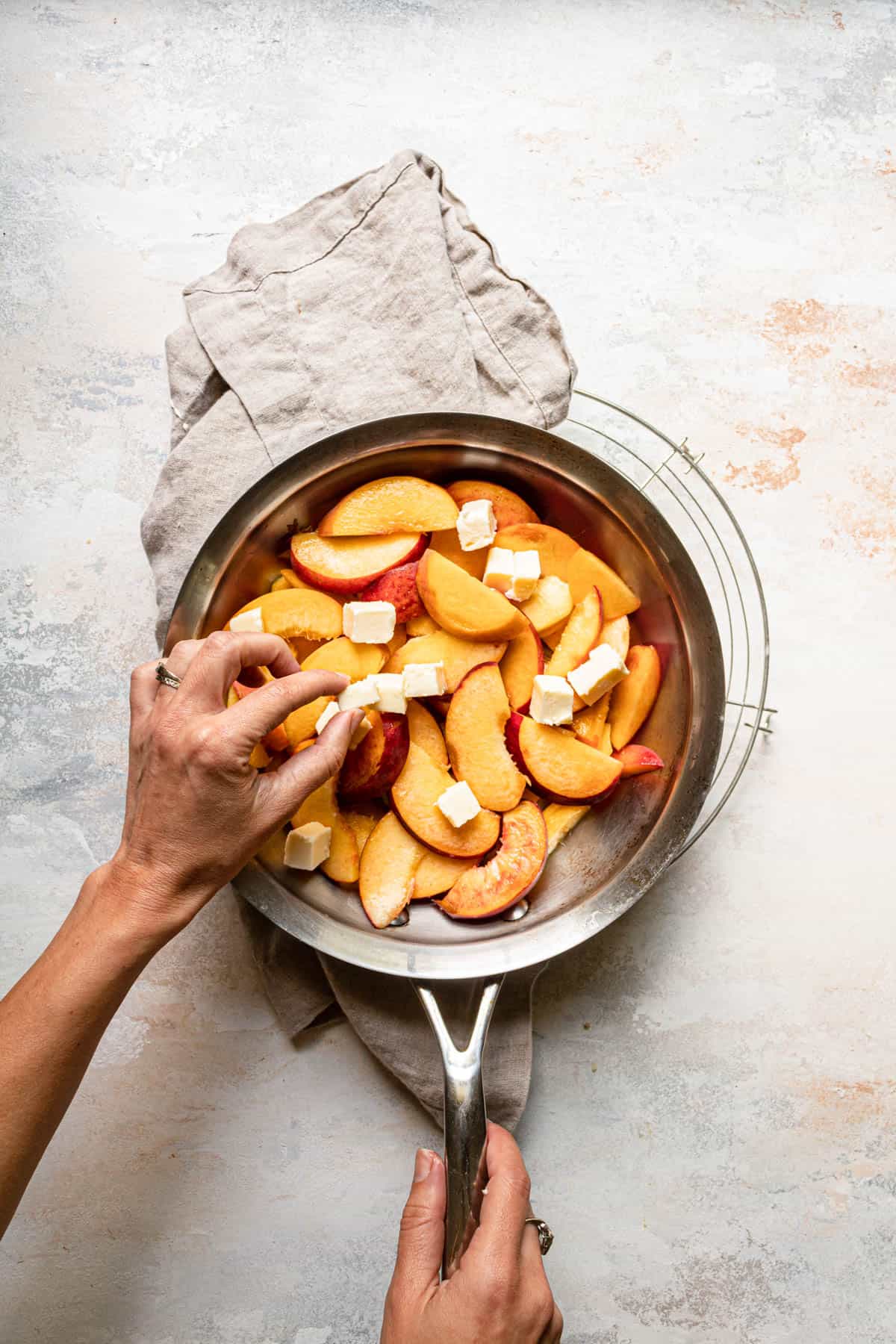 How to Store the Popsicles:
Most important is to store the popsicles in the freezer. If you have plenty of freezer space and can store all the popsicles in the molds, that is great. However, if you are short on freezer space and/or need the molds for other uses simply remove the popsicles and wrap each individually with plastic wrap and place the plastic containers.
Few More Notes About This Recipe:
When testing the recipe, I cooked the peaches with and without the skin. I found that the skin enhances the peach flavor but also adds some "grainy" texture, this is your decision.
The same note goes when it comes to the cinnamon. It added more depth to the flavor but took away some of the light refreshing notes.
Feel free to play around with the type of fruits summer has to offer. For example, cherries, plums, apricots, and/or berries would all be a great option.
HAPPY BAKING!!!
Here are some more recipes you might enjoy:
Also, don't forget to tag @OneSarcasticBaker on Instagram if you bake this recipe. Would love to see your creations!
Last, did you like this recipe and inspiring? so save THIS PIN to your Cake, Baking, or Gluten-Free boards.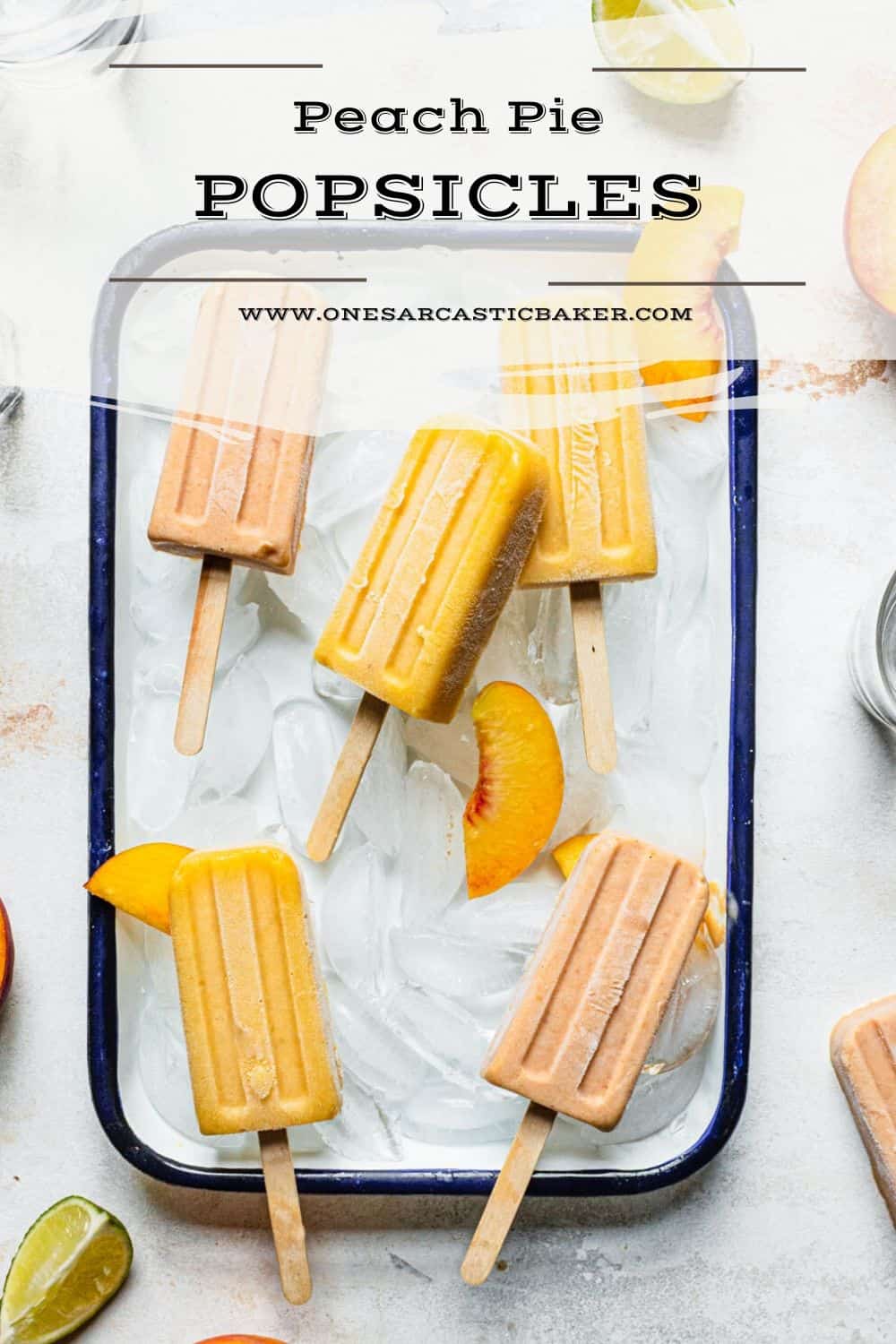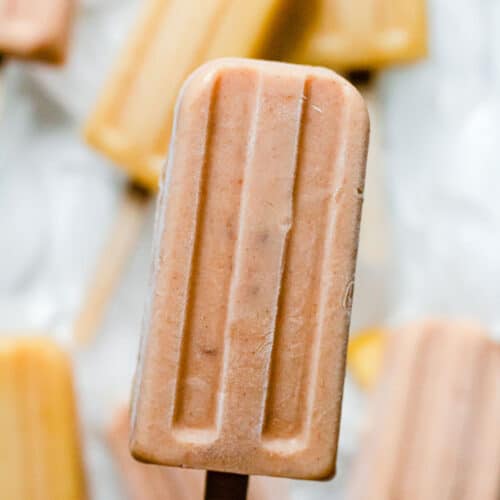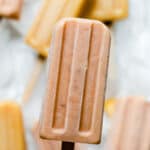 Peach pie popsicles
Ingredients
4

Medium-Large

Peaches

4

TBS

Unsalted butter, cut into small cubes

(55 g / 2 oz)

1/2

small

Juice of Key lime

1/2

Cup

Florida Crystals®  Organic Light Brown Raw Cane Sugar

(100 g / 3.5 oz)

2

TBS

Florida Crystals® Organic Powdered Raw Cane Sugar

(25 g / 1 oz)

1/2

tsp

Salt

1/2

tsp

Cinnamon

1

Cup

Plant base heavy whipping cream
Instructions
Peel and slices the peaches into 1/2" wedges, place in a wide saucepan.

Add the butter to the peaches and cook on medium heat until the butter has completely melted, about 2-3 minutes. Add the key lime juice.

In a medium bowl, mix the sugars, salt, and cinnamon and add to the peaches mix, allow the sugar to melt.

Reduce heat to simmer and let the peaches mix to cook for about 15 minutes while stirring occasionally until the mix has been thickened.

Remove mix from the stove and let cool for about 10 minutes.

Process peaches using a food processor with heavy cream until completely smooth.

Pour mix into popsicles molds and freeze for 6-12 hours.