Last updated on May 7th, 2021.
Once you'll bite into these Caramel Popcorn cookies you will be amazed how it tastes just like caramel popcorn. And because caramel popcorn is oh SO delicious you won't get enough of these cookies. These cookies are crisp, sticky and so delicious.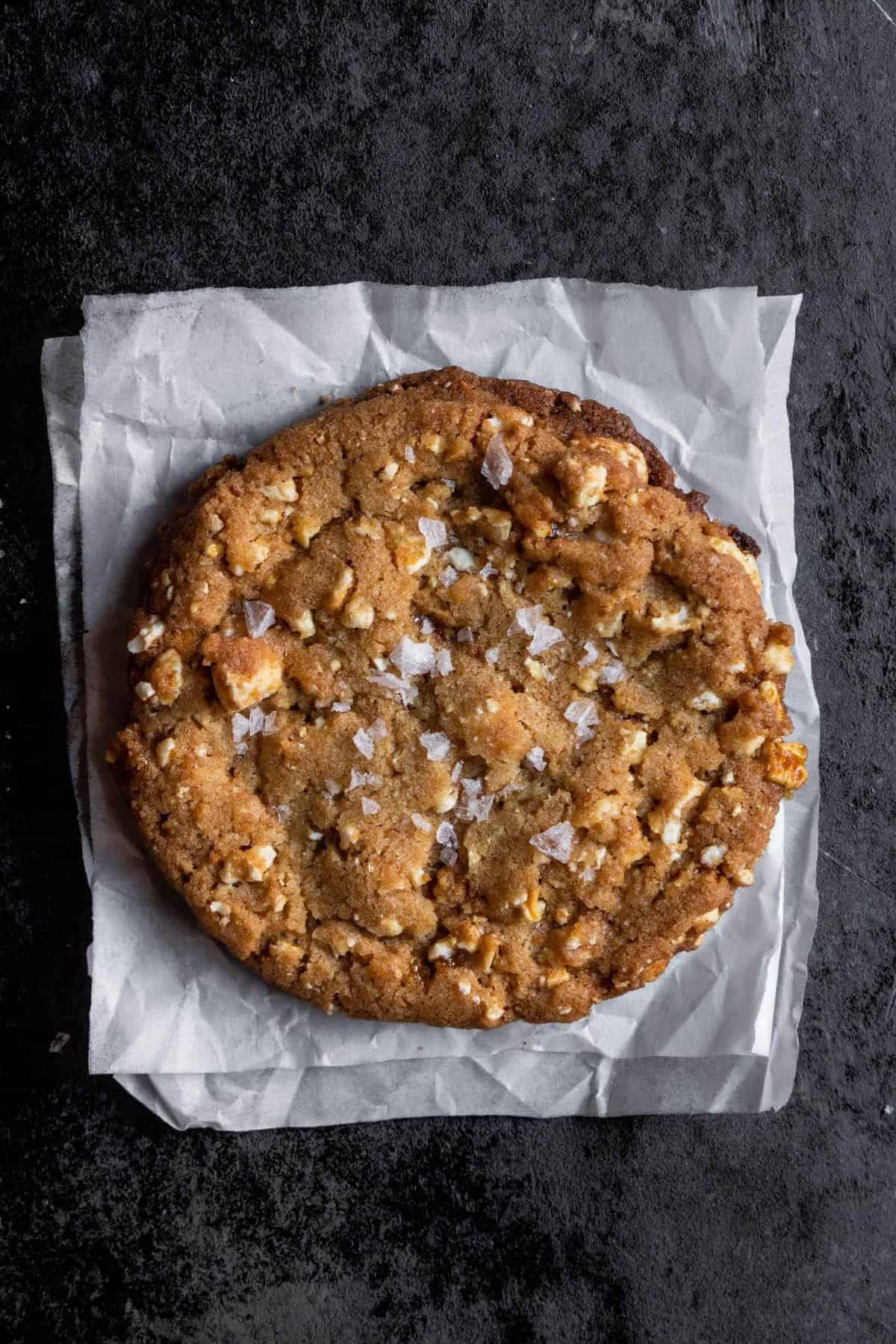 This cookie is what my recipe repertoire has been missing all along and without me even knowing.
The recipe is adapted from Joanne Chang's new book "Patry Love".
OK, so this book is the reason why I love baking so much. Firstly, it is full of amazing recipes like nutmeg cake, caramel Oreos and egg nog cheesecake. Secondly, it is a perfect example of how amazing and supportive the universal baking community is.
Joanne is a well known talented and passionate baker who owns 8 very successful bakeries.
Her knowledge is outstanding and comes only second to her passion. But this book is not about her or her success, it is about the joy of baking and how each and every one of us can be a part of it. She does not hold back and reveals all of her tips and secrets.
Throughout the book, Joan talks and shares recipes created by her team, like this one.
Now Let's Talk About This Caramel Popcorn Cookies Recipe:
You can find below a recipe for caramel popcorn however, you can use a store-bought brand.
For more evenly round cookies, grind the caramel popcorn in the food processor before adding it to the batter.
You can refrigerate the batter for up to a week before baking.
Freezing the cookies after baking is also a good option. Just make sure to seal them in a freezable plastic bag.
HAPPY BAKING!!!
Here are some more recipes you might enjoy:
One more thing…
Don't forget to tag @OneSarcasticBaker on Instagram if you bake this recipe. Would love to see your creations!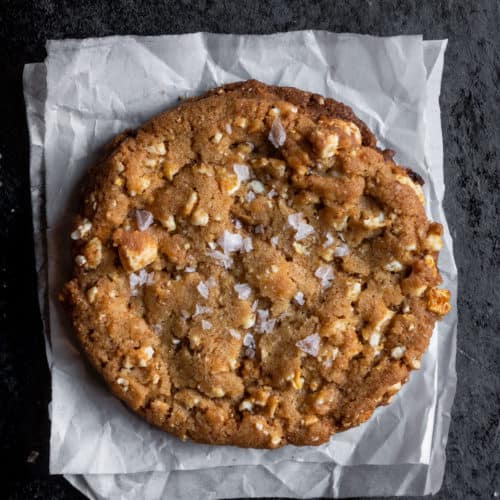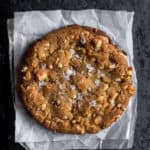 Caramel Popcorn Cookies
Ingredients
Caramel Popcorn
1

TBS

Vegetable Oil

1/4

Cup

Unpopped popcorn kernels

(60 g / 2 oz)

1

Stick

Butter

(113 g / 4 oz)

1/2

Cup

Light brown sugar

(100 g / 3.5 oz)

1/8

tsp

Baking Soda

1/8

tsp

Kosher Salt
Caramel Popcorn Cookies
1 1/2

Cup

Light brown sugar

(295 g / 10.5 oz)

14

TBS

Unsalted butter, soften

(200 g / 7 oz)

1

Large

Egg

2

tsp

Pure Vanilla extract

2

Cups

All-purpose flour

(280 g / 10 oz)

1

tsp

Baking powder

1/2

tsp

Baking soda

1

tsp

Kosher salt

6

Cups

Caramel popcorn
Instructions
Make the Caramel Popcorn
Preheat oven to 350F and line a cookie sheet with baking paper.

In a large pot, add the oil and popcorn kernel and place it on the stove, high heat.

Shake the pot to evenly coat the kernel with oil. The kernels will pop and be ready when there is 3 seconds or less between pops.

Empty the pot and place the popped popcorn in a large bowl.

Place the sugar and butter in the pot and return to heat. Allow to melt and cook until foamy and starts to change color.

Stir with a wooden spoon and let cook for 1 minute.

Remove from heat and stir in the baking soda and salt.

Pour the mix on the popped popcorn and toss to distribute.

Spread the popcorn on the baking sheet and bake for about 15 minutes, rotating the pan midway to the baking time.

Remove from oven and let cool and crisp.
Making and baking the cookies
Preheat oven to 350F and line 2 baking sheet with parchment paper.

In a medium bowl, sift together the flour, baking powder, baking soda, and 1/2 tsp of the salt. Stir and set aside.

In a bowl of a standing mixer, fitted with the paddle attachment, place the butter and sugar and beat medium-high until light and fluffy. About 5 minutes.

Add the egg and vanilla into the butter and sugar mix.

Sprinkle in the flour mixture followed by the caramel popcorn and mix on low just until the popcorn is fully incorporated.

Using a cookie scooper, scoop the batter and place on the lined baking sheets leaving about 2" space for the cookies to spread.

Sprinkle the remaining of the salt on the cookies and bake for 12-15 minutes. Rotating the pan midway through the baking time.

Remove from the oven and let cool.