We can all agree on two things: one, that apples are always a great choice (and for a good reason), and two, that picking the best apples for baking can be a nerve-wracking process.
For us bakers, visiting the farmer's market during apple season might just be the equivalent of the child visiting Disney (Or a fan at a Pearl Jam concert).
But we are also painfully aware that not all apples are created equal when it comes to flavor, texture and how they handle the heat during the baking process.
In this post, I would like to make things simple and provide some tips and information for you for the next time you bake with apples some delicious recipes.
Facts that are true for all types of apples
Apples are saturated with air (about 25%), contributing to their mealiness. With time, the apple molecules lose their energy, dry out and die. When that happened, instead of biting into the cells and busting them, we push them from each other. So, the freshness of the apples makes all the difference in the world.
Apples are best stored at 32F/0C for their potential for improvement after harvest and long shelf life.
Acid will maintain a firm texture, salt, and alkaline with speed softening. Apples that have been baked/cooked in acid will remain firm for longer (up to 4 hours during the cooking/baking) than those cooked in water, which usually softens within 15 minutes.
Precooking can provide firmness to the apples. If preheated at 130-140F/55-60C for 20-30 minutes, the cells develop a resistance to softening and can survive prolonged cooking.
Facts about the differences between apples
Flavor and Aroma. When we bite into an apple, we recognize the taste right away. However, some apples lose their unique sweet flavor when we bake with them. Mcintosh apples, Empire, Jonathan, Honey crisp, and Golden delicious all maintain their robust and distinct apple aroma and have the best flavor. Red delicious apple, and granny smith apples tend to have little aroma.
Texture. The firm and crisp texture are essential when baking pies and apple crisp but not as crucial for cakes. A soft texture is more desirable when making applesauce and apple butter. (remember that all apples become soft and mealy over time).
Sweetness and sourness. Both can be adjusted by adding acids such (lemon juice) or sugar. Sour apples such as granny smith usually have high acidity and tend to hold their shape better during baking.
The Best Baking Apple Chart
Most grocery markets here in the united states offer a limited variety of apples. While Honeycrisp apples, golden delicious apples, and gala apples are more readily available year-round at your local grocery store, other options such as the Braeburn apples, York imperial, and even pink lady apples are hard to find even though they are the best baking options.
Below is a table to help you choose the perfect apple for your favorite apple desserts and best uses. Note that the apples are listed from the best to the least good; I added a mixing recommendation for the perfect balance of sweet-tart flavor.
Type
Best Apples
Recipes
Pies, crisps, tarts, and galette
Braeburns
Granny smith
Honey Crisp
Cortland
Northern Spy
York Imperial
Fuji
Rome (mixed with Golden Delicious)
Jonagold (combined with Granny Smith)


Apple Galettes
Cakes, cupcakes, muffins
Honey crisp
Golden delicious (mixed with Braeburns)
Red Delicious
Pink Lady
Gala
fuji

Apple Muffins
Sauces, butter, Filling
Mcintosh
Golden Delicious
Red Delicious
Candied Apple Butter
Candied apple jam
Bread
Honey Crisp
Golden Delicious
Pink Lady
Fuji
Bars
Honey Crisp
Golden Delicious
Pink Lady
Fuji
Apple Bars
Whole baking
Honey Crisp
Rome Beauty
Golden Delicious
Testing Your Apples
Testing Your Apples
If you are not sure which type is best for your homemade apple pie, if you want to check the freshness of your fruit, or if you came across a new kind, you can do a short test on small batches using your oven:
Peel and slice about 1/3-1/2 of the fruit. Sprinkle with one teaspoon of lemon juice and one teaspoon of sugar.
Wrap with aluminum foil and bake at 400F (200C) for 20-15 minutes.
Remove from the oven, unwrap, and use a fork to check the apples' firmness.
During my experiment, you see in the images above that the Red Delicious was soft and effortless to smash it. The apple crisp kept its texture, and a lot more pressure was needed to cut it. The Fuji was a cross between the honey crisp and red delicious. But the most exciting thing was the Granny Smith apple. It was almost as soft as the Red delicious, indicating that it had lost its freshness and firmness.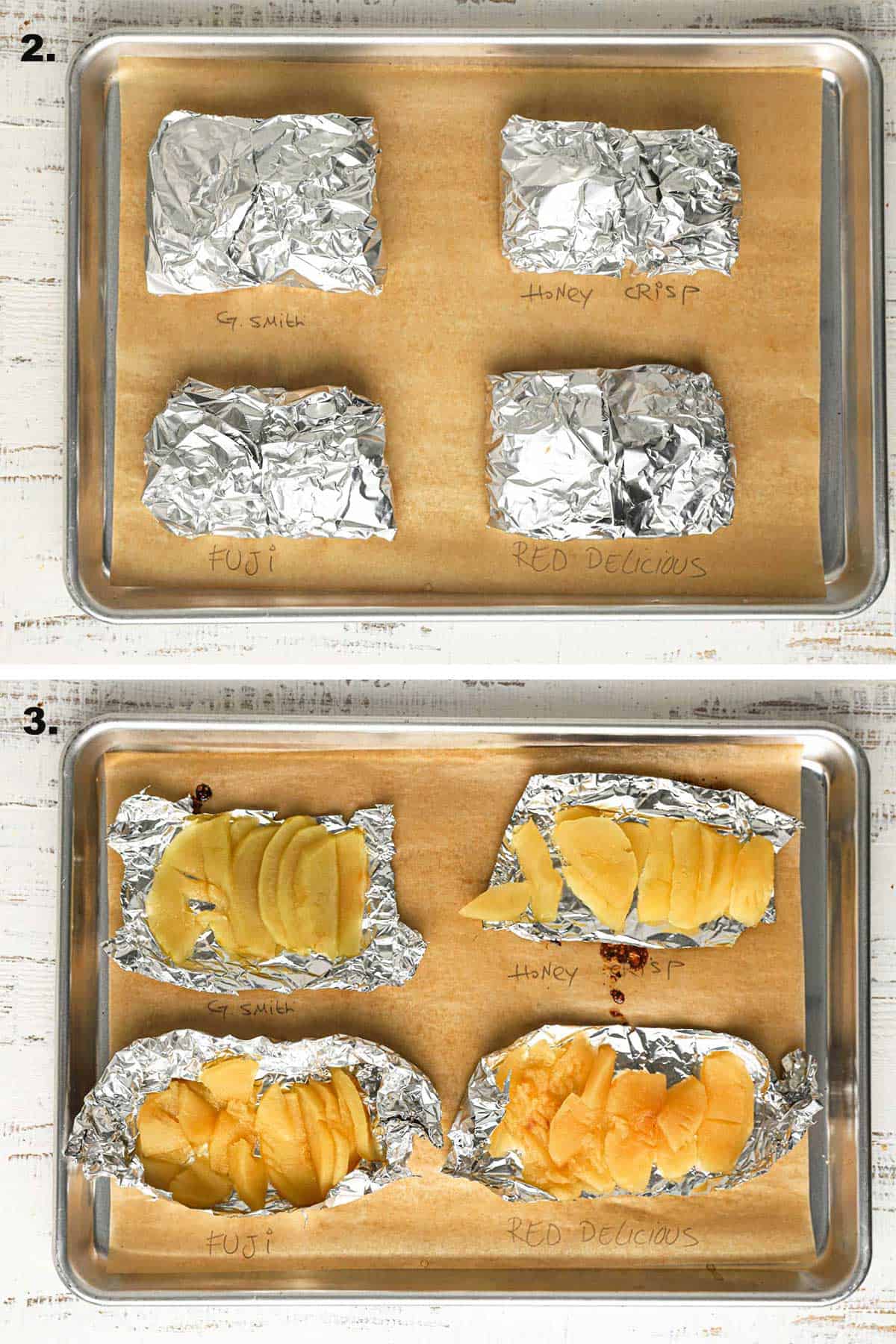 FAQ
What is an all-purpose apple?
It is the term for a type that is good for eating fresh and for cooking/baking with.
What kind of apples are best for baking?
Depends on what you are baking; see the chart above.
Here are more informative articles you might like
What Is Temper Chocolate?, Dutch Process Cocoa vs. Natural Cocoa, How Long Does Cream Last?
I hope you enjoyed this information about baking apples and if you have any questions, please feel free to leave a comment below.
If you are a baking fan and want to learn more about the process, order my book "Baking Science."