Last updated on December 1st, 2021.
What is Banana-Scotch?
Banana-Scotch is basically, a butterscotch sauce packed with some ripped bananas.
And yes, it is that good.
I think I would like to hire the same marketing agency Bananas have been working with! The one fruit I always buy, knowing I will never eat and secretly exited for it to over ripe. You with me?
I have used bananas in this recipe, and this , but my favorite Banana recipe is this Banana-scotch one. Simply because you can use it in so many ways : drizzle on ice cream, on a muffin, in a cake batter, as a frosting flavor, as a snack dip or simply as is with a spoon.
And it stores very well in the refrigerator and does not take much space.
I wish I could take credit to this amazing recipe but it should be given to the one who created Butter Scotch sauce. I was just looking for another way over ripped bananas could be used.
About the Recipe:
You will notice that I listed few different options to use in addition to heavy cream. Heavy cream will give you a thicker, more dense paste like texture while the evaporate milk will have a runny more liquid texture.
Best is to process the bananas in a food processor to avoid any lumps.
HAPPY BAKING!!!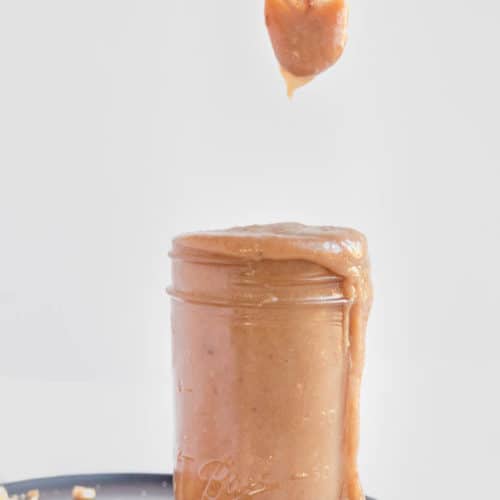 Banana-Scotch
Thick and rich banana butterscotch.
Ingredients
1/3

Cup

Butter

(90 g / 3 oz)

1

Cup

Dark Brown Sugar

(200 g / 7 1/2 oz)

2

Medium

Ripped Bananas

1

Cup

Evaporate Milk, Regular whole Milk or Heave Cream

(240 ml)

1

tbsp

Whiskey

1.5

tsp

Vanilla extract

1/2

tsp

Sea Salt
Instructions
Place the Bananas in a food processor and process until you have a smooth paste.

Add the smashed bananas in a large measuring cup and mix it with 3/4 of evaporate milk.

In a large heavy- bottomed pan over a medium heat melt butter.Add the brown sugar and stir with a wooden spoon until starts to simmer and changes into a dark liquid.

While stirring, add 1/4 cup of the evaporate milk, and then the banana milk mixture.

Turn the heat up to medium-high and occasionally stir while the sauce is boiling until it is dark in color, about 6- 8 minutes.

Remove from heat and place on a kitchen towel* . Wait about 1-2 minutes than stir in the Whiskey, Vanilla and Salt.
Recipe Notes
It is very important to remove the pan away from the heat source and not just turn off the heat. There is a chance the sauce will keep cooking and burnt, which will end up leaving you with a "wet sand" mess.
The sauce can be on the thicker side.If you wish for  to have liquid version, just take it of the stove few minutes early.You can also warm up the sauce by placing the container inside a warm water bath for a few minutes.