Last updated on November 3rd, 2021.
This Espresso Banana-Scotch Layer Cake has a unique and surprising combination of flavors.
There layer of sweet espresso cake filled with creamy Banana-Scotch buttercream and topped with crispy dried bananas.
There are many golden baking tips I have learned and embraced thru out the years. One of my favorite is by far I learned from the amazing Jenny McCoy : If it grows together, it goes together!
Like many of you I KNOW COFFEE. It only took a simple research to learn that the Banana tree requires the same agriculture climate as coffee.
And now, not only my recipe repertoire has this amazing new cake combination, it also makes me sound very sophisticated.
About The Recipe:
You can bake this cake recipe in 3, 8″ pans or 4, 6″ pans.
The recipe calls for espresso powder. However, if you do not have any, simply melt 3 TBS of instant coffee in 1/4 cup of the milk. Make sure the coffee is dissolved. After that add it to the rest of the wet ingredients.
You can find the Banana -Scotch recipe HERE.
You can use which ever buttercream you would like (Italian, old fashion).
Before filling and frosting the cake, taste the buttercream, you might want to enhance the banana flavor , therefore add more banana-Scotch.
HAPPY BAKING!!!
Here are some more "Grow together-Go together" inspired recipes you might like: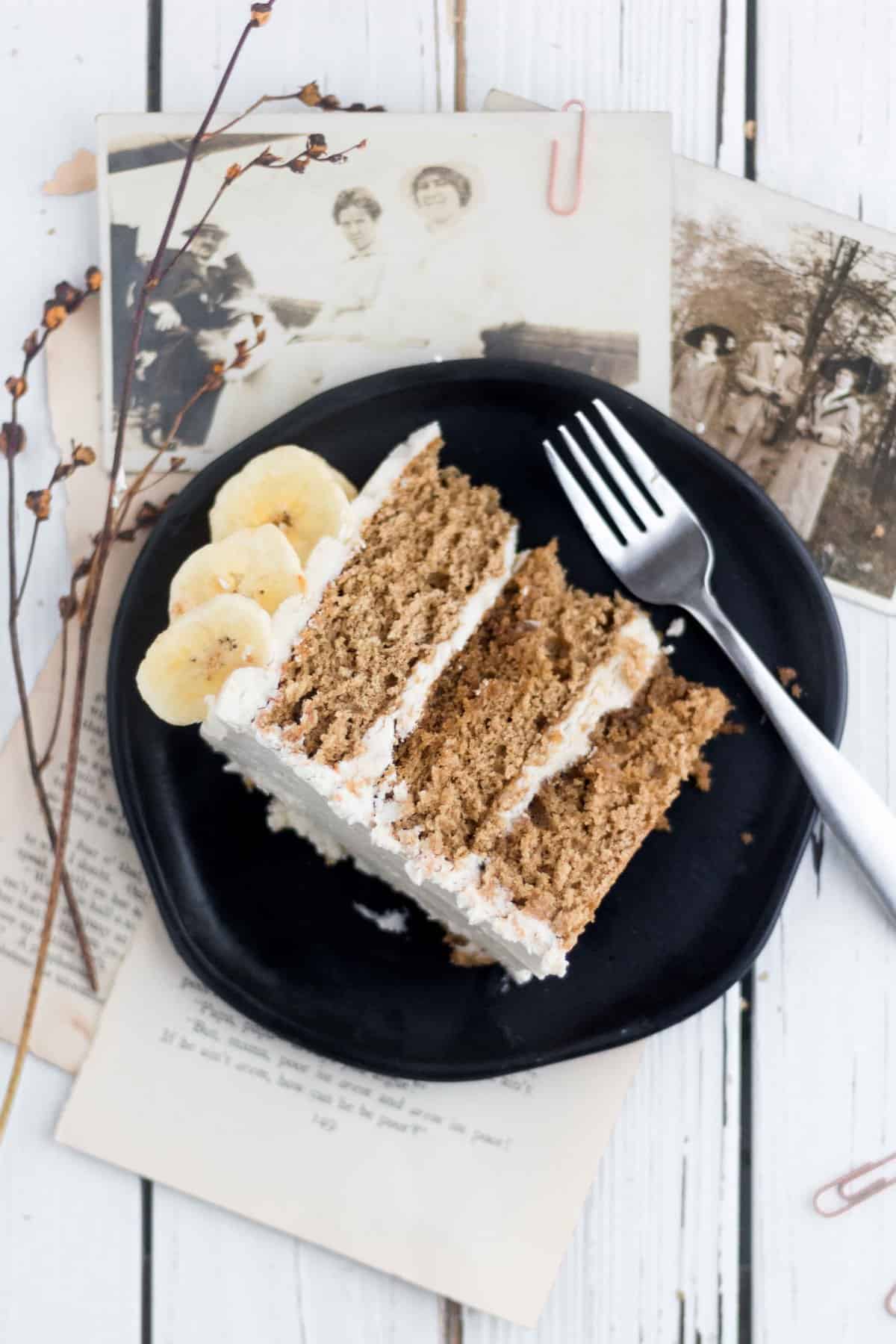 Espresso Banana-Scotch Cake
There layer of sweet espresso cake filled with creamy Banana-Scotch buttercream and topped with crispy dried bananas.
Cook Time
1
hour
15
minutes
Ingredients
Espresso Cake
6

large

Egg whites, room teperature

( 240 g/ 8.5 oz)

2/3

Cup

Whole milk

3

TBS

Espresso Powder

2

tsp

vanilla extract

3

Cup

Cake Flour

(336 g/ 12 oz)

1 1/2

Cup

Sugar

(300 g/ 10.5 oz)

4

tsp

Baking Powder

1

tsp

Salt

2

sticks

Unsalted Butter, soften and cut into 12 pieces

(226 g/ 8 oz)
Banana Scotch Swiss Meringue Butter Cream
6

Large

Egg Whites

(200 g /7 oz)

1 1/4

Cup

Sugar

(250 g / 9 oz)

1/4

tsp

Cream Of Tartar

4

Sticks

Unsalted Butter, soften

(450 g / 16 oz)

2

tsp

Vanilla Extract

1/8

tsp

Sea Salt

1/2

Cup

Banana Scotch recipe

1

Cup

Dried Bananas for decoration, oprional
Coffee Syrup for soaking
1

Cup

Strong Hot Coffee

1

Cup

Sugar
Instructions
Cake
Preheat oven to 350F . Line 3 8" pans or 4 6" pans with parchment paper and grease the sides.

Whisk the milk , egg whites and vanilla extract and set aside.

In a bowl of a standing mixer, place the flour,espresso powder sugar,salt and baking powder. Using the paddle attachment, mix on low to combine.

Increase speed to medium and add the butter one piece at a time until the mixture is moist and crumbly.

Add half a cup of the liquid mixture into the mixer bowl, once the liquid is in incorporated let it mix for about 1 minute.

Add the remaining of the liquid mixture. Mix just to combine.

Divide the batter between the pans and bake in the middle rack for 18-20 minutes for ,or until a toothpick comes out clean from the center of the cake.
To make the Butter cream
Using a hand whisker, mix the egg whites, cream of tartar and sugar in a bowl of a standing mixer. Place the bowl on top (not inside) of a pan filled 1/4 way with simmering water.

Keep whisking the egg white mixture until it thickens and warms up to 150F. (or just until it is too hot for your finger to be dipped in.)

Move the bowl to the standing mixer and mix on high with the whisk attachment until a cool and a very stiff, shiny meringue had formed.

With the mixer on high, add the butter in small pieces following the vanilla extract and salt.

Keep mixing until a smooth airy and fluffy butter cream is formed.

Add the banana scotch to the buttercream and mix to combine.
To make the soaking syrup
Place the coffee and sugar in a saucepan over the stove and allow to boil.
To Assemble
Place one layer on top of a serving dish. Soak the cake with 1/3 cup of coffee syrup and spread 1/3 cup of buttercream on top and place the second layer of cake of top and repeat.

Use the remaining of the buttercream to frost the cake and decorate with the dried banana chips.