Last updated on October 8th, 2021.
Follow my blog with Bloglovin
Why overload Marshmallows on a Chocolate Cake?
First, more Marshmallows are better than less. Second, eating a piece of this Marshmallows overload Chocolate cake requires a lot of mess and no manners. Exactly what I had in mind.
Why, you are asking?
Well, because this mom made a mistake and realized it will most likely happen again. Since we've known each ether for a while now, I feel conformable sharing this with you.
OK, soa daily parent routine involves discipline ("Mind your Manners, young lady") and a lot of driving services.
A typical drive is usually pretty short and involves a very serious conversation which is coolest Pokemon.
But every now and than the conversation in being interrupted just because my favorite (Pearl Jam) song is on and this is what happens.
Me: "OH, GIVEN TO FLY! …I LOVE THIS SONG!!!!" and up the volume goes.
Emily: "Mom…I didn't finish what I was telling you!!!!"
Me, Singing: "He's flying…." and up the volume goes again, I know that Emily is talking/yelling in the background but I REALLY love this song.
Now here comes the best part! I REALLY need the volume higher!
Emily : "MOM THIS IS TOO HIGH!"
Emily: "MOM JULIET IS A WAKE"!!!!
Me (singing): "and he still gives his love he just gives it away…." (Great! A song a bout love….great massage to my girls, II LOVE THIS BAND)
Emily: "MOM HE JUST SAID THE F WORD…!!!!"
Me (to myself) : "Ooppppsss….Well, OK the song is over, volume back to normal.
"MOM YOU REALLY NEED TO MIND YOUR MANNERS!!!"
Me: " OH ,CORDUROY is on. I LOVE THIS SONG !!!"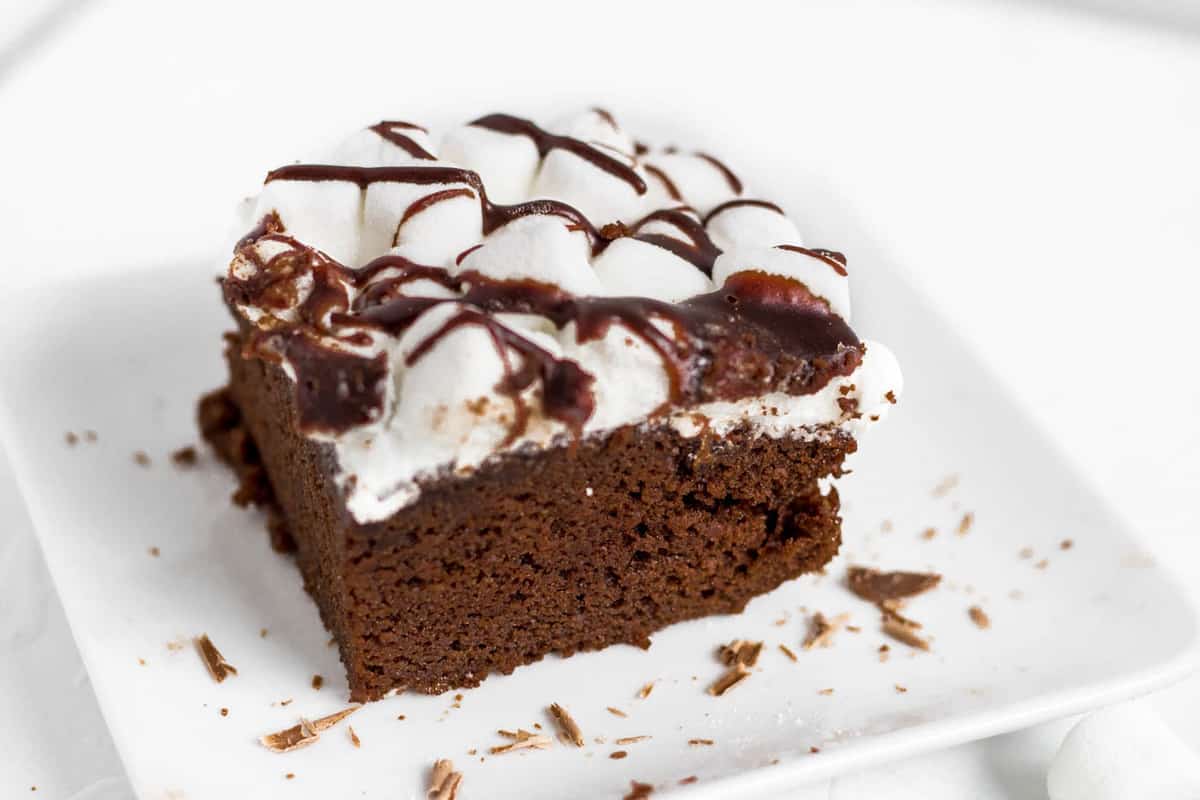 Explaining why the F word is only OK when you are a member of a rock n roll band, I trusted in my husband's hands. But I did bake this awesome messy gooey Marshmallows overload Chocolate Cake to sweeten the conversation.
Marshmallows overload Chocolate Cake
Ingredients
Chocolate Cake
2

Cups

AP Flour

(240 g/ 8.5 oz)

2

Cups

Sugar

(400 g/ 14 oz)

1

tsp

Baking Soda

1/4

tsp

salt

1

Cup

Butter

(226 g/ 8 oz)

1

Cup

Water

(240 ml/ 8 oz)

1/3

Cup

Unsweetened Cocoa

(35 g/ 1.5 oz)

2

Large

Eggs

1/2

Cup

Buttermilk

(1/2 ml/ 4 fl oz)

1 1/2

tsp

Vanilla

3-4

Cups

Mini Marshmallows
Chocolate Topper
2

Cups

Chocolate chips

(340 g/ 12 oz)

1/2

Cup

Heavy Cream

(120 ml / 4 fl oz)

1/4

Cup

Butter

(55 g/ 2 oz)
Instructions
Make sure all the ingredients are at room temperature.

Preheat oven 350 F, Line 9"x13" pan with parchment paper and grease the sides.

In a large bowl, sift the flour, sugar, salt and baking soda and stir to combine. Set aside.

In a medium saucepan, while constantly stirring, bring to a boil the cocoa powder, water and butter. Remove from heat and pour into a bowl of a standing mixer.

Add the chocolate mix into the flour mixture.Using a hand mixer (or a standing mixer) mix in the eggs and buttermilk just until combined. (batter will be thin)

Pour the batter into the prepared pan and bake for 25-30 minutes, or until a toothpick is clean when inserted into the center of the cake.

Immediately when removing cake from the oven sprinkle the marshmallows over the cake and allow the cake to cool, the Marshmallows will melt as cake is releasing heat during the cooling process.

Once the cake has cooled for a while, drizzle the chocolate topper using a spoon or a piping bag.
To Make the Chocolate Topper
Place all the ingredients into a saucepan over a low-medium heat and stir until smooth.
Recipe Notes
This recipe can be bake in 10"x15" pan.  It will not be very thick. If doing so, change baking time to 20-25 minutes.
To avoid the chocolate topper from burning,you can remove the pan from the heat when the chocolate and butter are half way melted, just keep stirring until smooth.
How do you cover up your mistakes? leave me a massage or send me an email, I would love to hear and maybe it will inspire me to bake something 🙂