Whether you feel like baking something not too complicated and time consuming or you wish to impress someone, this Fancy Traditional Honey Cake is the answer.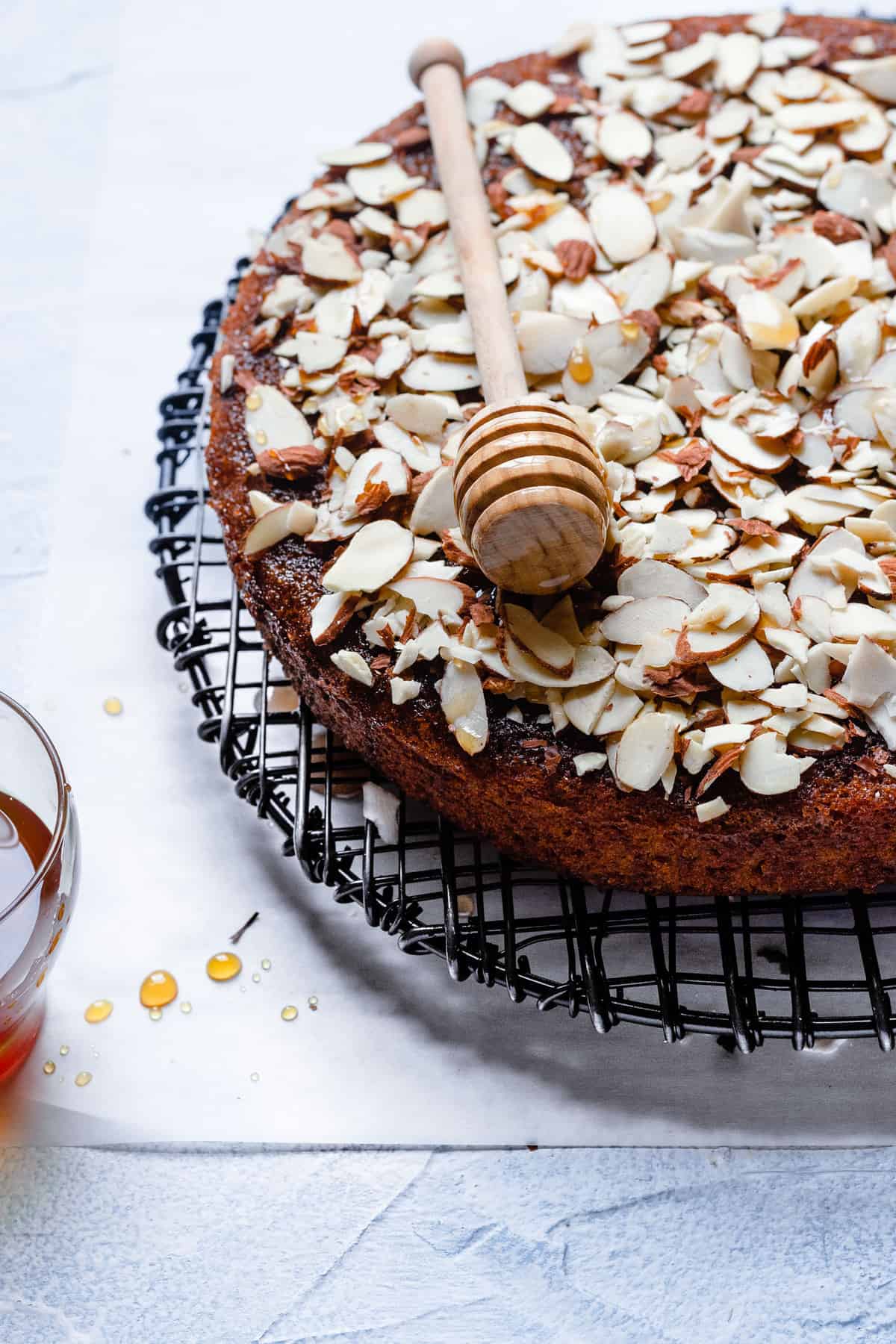 A very wise man once said: "I changed by not changing at all…" and this cake is exactly that.
Remember the Traditional Jewish Honey Cake few posts back? This is the exact same batter baked in a different pan, soaked with warm honey and topped with toasted almonds.
And even though these are minor changes the cake gets a complete upgrade. It looks festive and above all it gets the most gasps and wondering stares when served.
Now Let's Talk About This Almond Honey Cake:
You can use either light or dark brown sugar. The dark brown sugar will result in a darker and moister cake.
The recipe calls for ground cinnamon, however you can add your favorite spices such as nutmeg or ground ginger.
If you prefer a thicker cake, bake it in an 8″ round pan.
You can bake the cake days in advance and freeze. A day before you wish to serve, unfreeze it and follow the instructions for the topping below.
If the cake has a dome, just cool it after that flip it.
For best soaking result, make sure the honey and cake are in opposite temperature.
After the second bake, do not remove the cake away from the cooling pan otherwise it will break.
HAPPY BAKING!!!
Here are some more great recipes you might enjoy:
One more thing…
Don't forget to tag @OneSarcasticBaker on Instagram if you bake this recipe. Would love to see your creations!
Almond Honey Cake
Ingredients
3/4

Cup

Light or brown Sugar

(150 g / 5.5 oz)

2

Large

Eggs

1

Cup

Vegetable Oil

(200 g / 7 oz)

1 2/3

Cup

AP Flour

(200 g / 7 oz)

2 1/2

tsp

Ground Cinnamon

1/2

tsp

Baking Soda

3/4

Cup

Unsweetened Applesauce

(200 g / 7 oz)

1/3

Cup + 2 TBS

Honey

(150 g / 5.5 oz)

1/2

Cup

Sliced toasted almonds

1/2

Cup

Warm honey for soaking
Instructions
Preheat oven to 340F. Line the bottom of 9" round pan with parchment paper and grease the sides.

In a medium bowl, sift the flour, cinnamon,salt and baking soda together. set aside.

In a large measuring cup, mix the applesauce and honey together. Set aside.

In a bowl of a standing mixer, place the sugar and eggs and mix medium speed for a few minutes until the mix is lighter in color.  4-5 minutes

Change mixer speed to low and slowly drizzle the oil into the bowl. Allow to incorporate. Return speed to medium.

Add the flour in 3 additions alternating with the Applesauce honey mix.

Pour batter into greased pan.

Bake until the center is golden and a toothpick comes out clean from the center of the cake. About 25-30 minutes.

Remove the cake from the oven and let cool.

When reay to top the cake. Preheat oven to 300F. Remove the cake from the pan and place it on a cooling rack placed on a cookie sheet.

With a small tooth pick, pook the cake brush it with warm honey and top with almonds.

Bake for 5 minutes. Allow the cake to completely cool before placing in a serving dish.