Chouquettes, the delightful little pastries hailing from France, are iconic pastries in most French bakeries and a treat for both the eyes and the taste buds. These dainty puff cookies, sprinkled with pearl sugar, offer a satisfyingly sweet crunch with every bite. Whether you're looking for a charming addition to your afternoon tea or a delicious snack to enjoy with a cup of coffee, classic Chouquettes are the answer.
This post may contain some affiliate links, for more information check out our Disclosure Policy.
What Are Chouquettes
Chouquettes are small, airy pastry puffs that are simple, elegant, and delicious French pastry sugar puffs. They are made from choux pastry (pâte à choux), the same dough used to create french cream puffs, choux à la crème, choux au craquelin, chouxnuts, zeppole, and Bignè di San Giuseppe. The unique aspect of Chouquettes is their delightful topping of pearl sugar, which gives them a sweet and slightly crunchy texture. These dainty pastries are baked to golden brown perfection and are perfect for breakfast, dessert, or as a snack any time of the day.
What Is Pearl Sugar
Pearl sugar, also known as nib sugar hail sugar, and Belgian pearl sugar, is a type of sugar that's been processed into small, round grains. Due to its high melting point, it doesn't melt easily and is often used as a decorative element for baked goods. The sugar crystals are quite large and don't dissolve during baking, which means they retain their shape and add a delightful signature crunch and sweetness to the pastries.
Ingredients
The complete Chouquettes recipe including measurements can be found below on the recipe card.
For the Choux Dough
Water
Unsalted butter
Granulated sugar
Salt
All-purpose flour, or bread flour
Large eggs, at room temperature
For the Topping
How to Make Chouquettes
This recipe can be made using a stand mixer, an electric mixer, or by hand using a large bowl.
In a saucepan, combine water, butter, sugar, and salt. Bring the mixture to a boil over medium heat.
Once the butter melts, reduce the heat and add the flour all at once. Use a wooden spoon to stir vigorously until the mixture forms a smooth, thick dough that pulls away from the sides of the pan. Transfer the dough to a mixing bowl and let it cool for a few minutes.
Add the eggs one at a time, mixing well after each addition. The dough should become smooth and shiny.
Transfer the dough to a pastry bag fitted with a large round tip.
Pipe small mounds of dough onto a baking tray lined with parchment paper (or a silicone mat), leaving enough space between them for expansion.
Generously top of each mound with crunchy pearl sugar. This will give the Chouquettes their signature sweet, crunchy topping. Bake
Tips
Use room-temperature eggs for the dough.
Pay attention to the texture of the dough, the right consistency should be thin but not runny. Check out my post on how to make Choux pastry for all the tips and troubleshooting.
Use a 1-2-inch cookie cutter to mark the baking sheet, then turn it over. Pipe the dough about one inch over the pan, starting from the center of each circle.
Storing and Freezing
Chouquettes are best when freshly baked. However, if you have some leftovers, store them in an airtight container at room temperature for a day or two. They may lose a bit of their crunch, but their flavor will still be delightful.
To freeze, place the pastries in a freezer bag and freeze for four weeks.
FAQ's
Can I substitute pearl sugar with regular sugar?
Pearl sugar gives Chouquettes their unique texture and appearance, so it's best to use it if you can. If you can't find pearl sugar, you can try using crushed sugar cubes as an alternative.
Can I substitute pearl sugar with chocolate chips?
No. These French pastries are baked at a high temperature and will burn the chocolate chips.
How do I pipe the dough if I don't have a piping bag?
You can use a spoon to drop small portions of dough onto the baking sheet. While this won't give you the classic chouquette shape, it will still result in delicious pastries.
My puffs collapsed, why?
When Cream Puffs collapse is usually an indication that it wasn't baked long enough.
More Recipes You Might Enjoy
Brioche Bread, French Chocolate Tart, How To Laminate Dough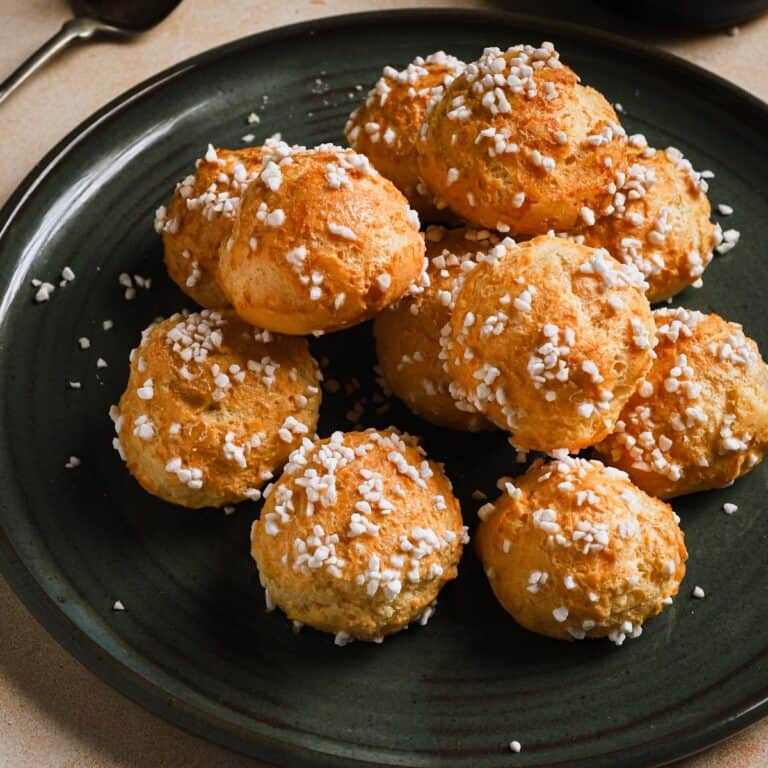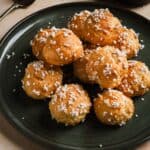 Chouquettes
Delicious and sweet sweet French cream puffs cookies
Ingredients
1

Cup

Water, or milk

(240ml)

1/2

Cup

Unsalted butter cut into 1-inch pieces

(113g)

Pinch

Salt

1

Cup

All purpose or bread flour

(120g)

4

Large

Eggs, at room temperature
Instructions
In a medium saucepan, place the water, butter, and salt and cook over medium heat until the butter has melted and the water comes to a boil.

Reduce heat to low and add the flour.

Use a wooden spoon to vigorously stir until you have a smooth ball of dough, about 2-3 minutes.

Transfer the dough to a bowl of a stand mixer (or a large bowl) and use the paddle attachment to mix on low and cook the dough. About 5 minutes.

Increase speed to medium-high and the eggs, one at a time. The mixture will look like it is curdle but as you mix it will become smooth.

Transfer the dough into a large piping bag fitted with a large round tip.

Preheat the oven to 400F. Line a baking sheet with parchment paper and use 1-2-inch round cookie cutter to mark circles, leaving about 2 inches of space for them to puff.

Turn the parchment paper so the pencil will face the pan, and pipe the dough.

Bake over the low (but the lowest) oven rack for ten minutes, then reduce the temperature to 375F and bake for an additional 13 minutes.

Turn the oven off and leave the puffs on the oven door shut for 10 minutes.

Remove from the oven. The pastries are now ready to be served. If you choose to fill them, allow them to cool completely.
Recipe Notes
The pastries should be stored at room temperature for up to three days. If filled refrigerate and store them for as long as the filling is fresh.
To freeze, pack the pastries in a freeze bag and freeze for up to four weeks. When ready to use, remove the pastries from the bag and allow them to reach room temperature.
Make sure the eggs are at room temperature.
Do not substitute the pearl sugar with chocolate chips, the high oven temperature will burn them.