Dark Chocolate Matcha Bars are an awesome addition to your chocolate recipes collection. These bars are both dense and airy at the same time and exploding with chocolate flavor.
And since rumor has it that Dark Chocolate and Matcha are great sources of anti antioxidant, I feel more than OK to add this baby to my healthy living recipes folder.
These brownies are pretty funny to describe. They both light and airy and fudgy and dense. The eggs in the recipe are added separately and more than that, the egg whites are whipped. So, not only we added a generous amount of dark chocolate followed by a small amount of flour. But we also whipped the eggs and incorporated some air to the dense chocolate batter.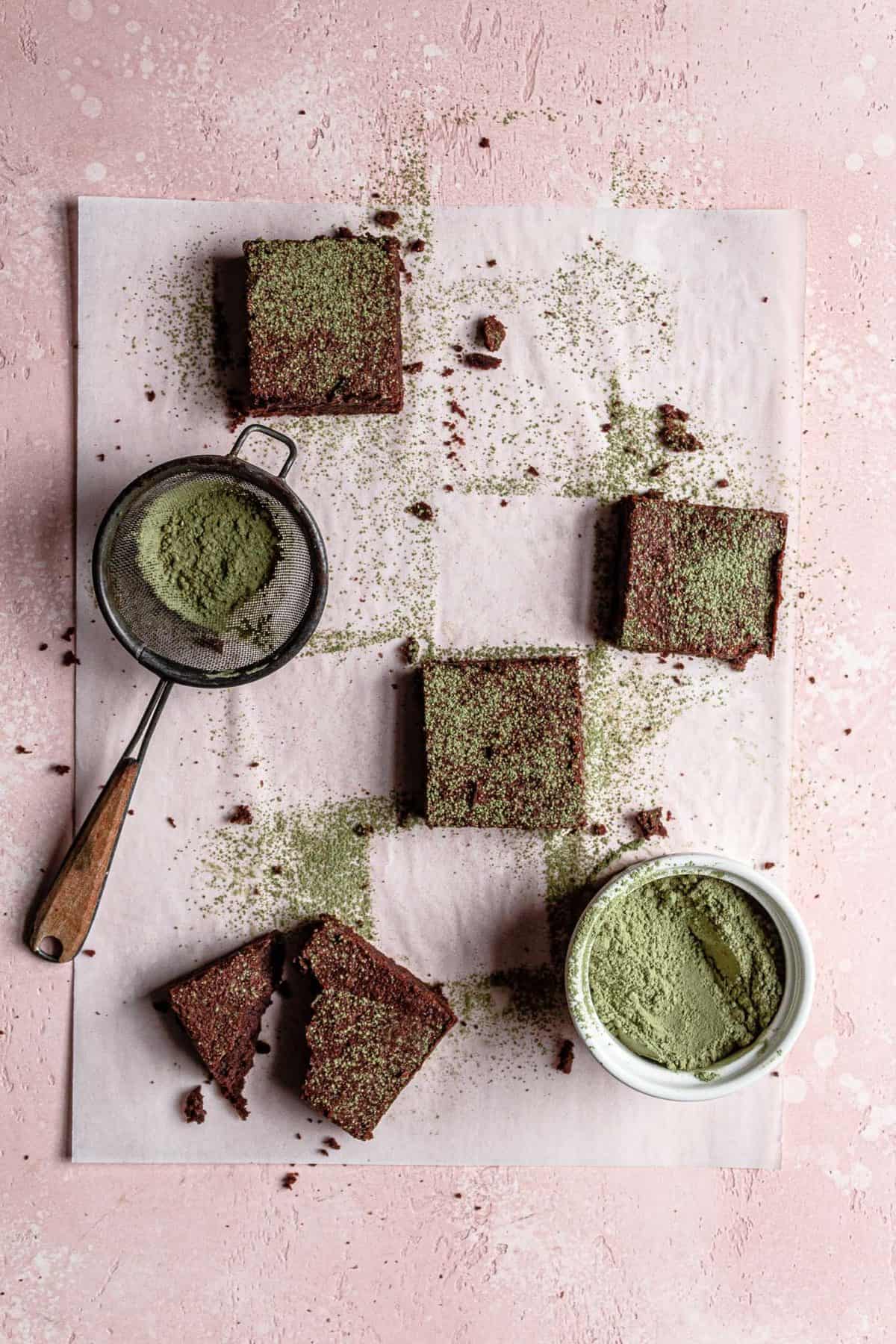 And as a result, we have the perfect yin and yang balance to our brownie.
The Marcha comes right before slicing and after the cake is completely cool. Not only it adds a beautiful green color, but it also enhances the dark chocolate flavors.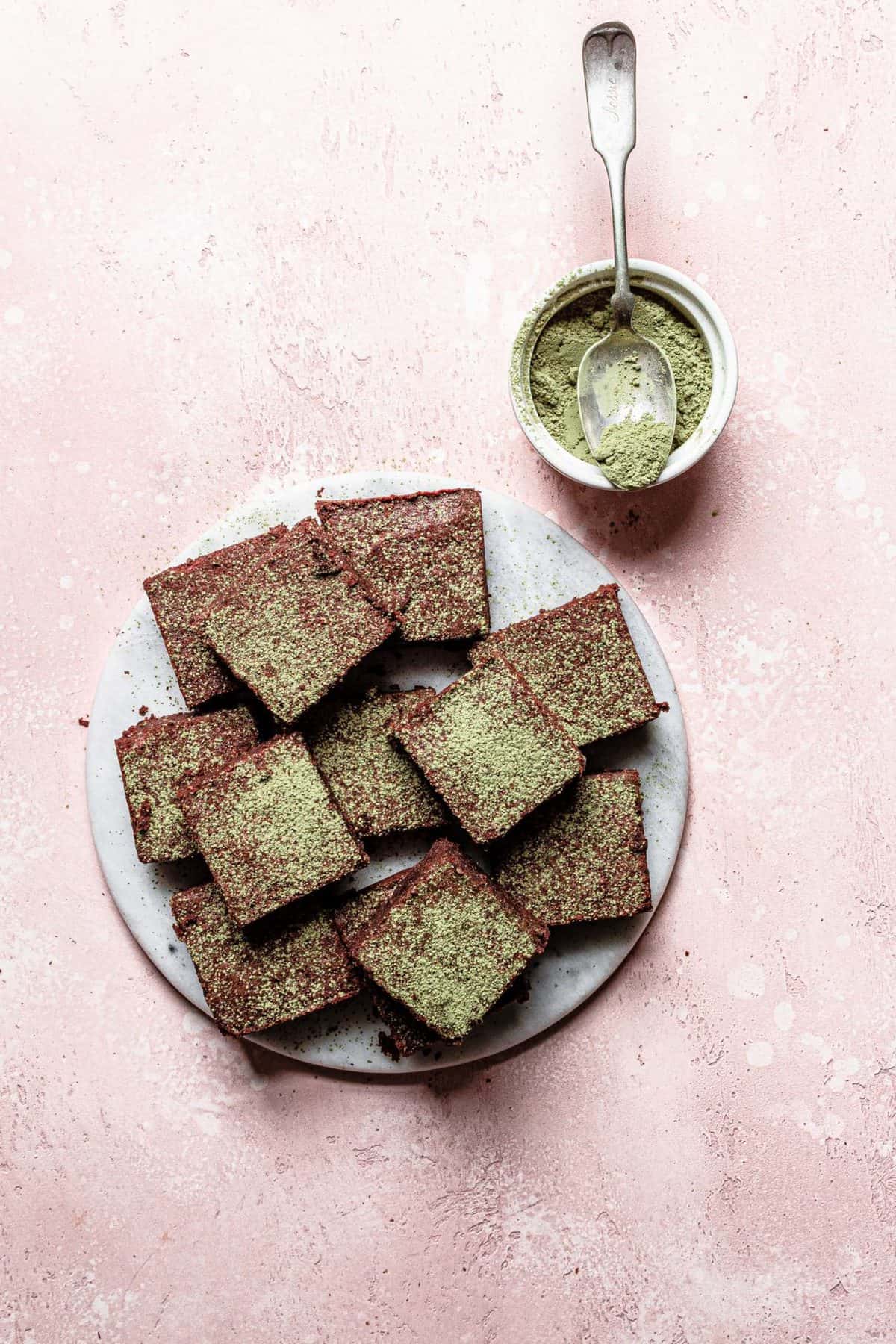 Now Let's Talk About This Chocolate Matcha Bars:
Use high-quality dark chocolate (I used 72%) for the best result.
Please allow the baked cake to completely cool before removing from the pan and slice. Removing it too soon might break it.
Be very careful when adding Matcha powder, it can be very bitter when adding too much.
If you are not a matcha fan, no worries. Skip is. Dust is with powdered sugar or maybe sprinkle with finely chopped nuts just before baking.
HAPPY BAKING!!!
Here are some more chocolate recipes you might enjoy:
Also, One more thing…
Don't forget to tag @OneSarcasticBaker on Instagram if you bake this recipe. Would love to see your creations!
Did you like this recipe and inspiring? Save THIS PIN to your Cakes, Desserts or Chocolate boards.
Chocolate Matcha Bars
Ingredients
1 1/4

Stick

Unsalted butter, soften

(150 g /5.5 oz)

3/4

Cup

Sugar

(150 g / 5.5 oz)

1

Cup

Dark Chocolate (70% or 72%)

(170 g/6 oz)

3

Large

Eggs, separated

2/3

Cup

All-Purpose Flour

(90 g / 3 oz)

1/8

tsp

Salt

1

TBS

Matcha powder
Instructions
Preheat oven to 350F and grease or line an 8" square pan with parchment paper.


Sift flour and salt in a separate bowl and set aside.

Chop the chocolate and melt it in the microwave. Set aside.

In a bowl of a standing mixer, whip butter and sugar until lighter in color and fluffy.

Stir in egg yolks following the melted chocolate.

In a separate bowl, whip the egg white to a medium peak about  1 and a half minutes.

Bake for 20-25 minutes until a toothpick comes out dry from the center of the cake.

Allow the cake to cool completely. Gently remove the cake from the pan dust it with the Matcha Powder and slice to 16 pieces.