Last updated on May 7th, 2021.
If you are a chocolate chip cookie lover, then this Layered Cookie Cake is your dream come true.
However, if you are thinking: "no way, this is way too much" , you are probably right. (Well, maybe.)
I had no intention to create this sugar monster. To be honest this cake was a result of frustration.
No, more like confusions and a sense of self doubting.
Allow me to clarify.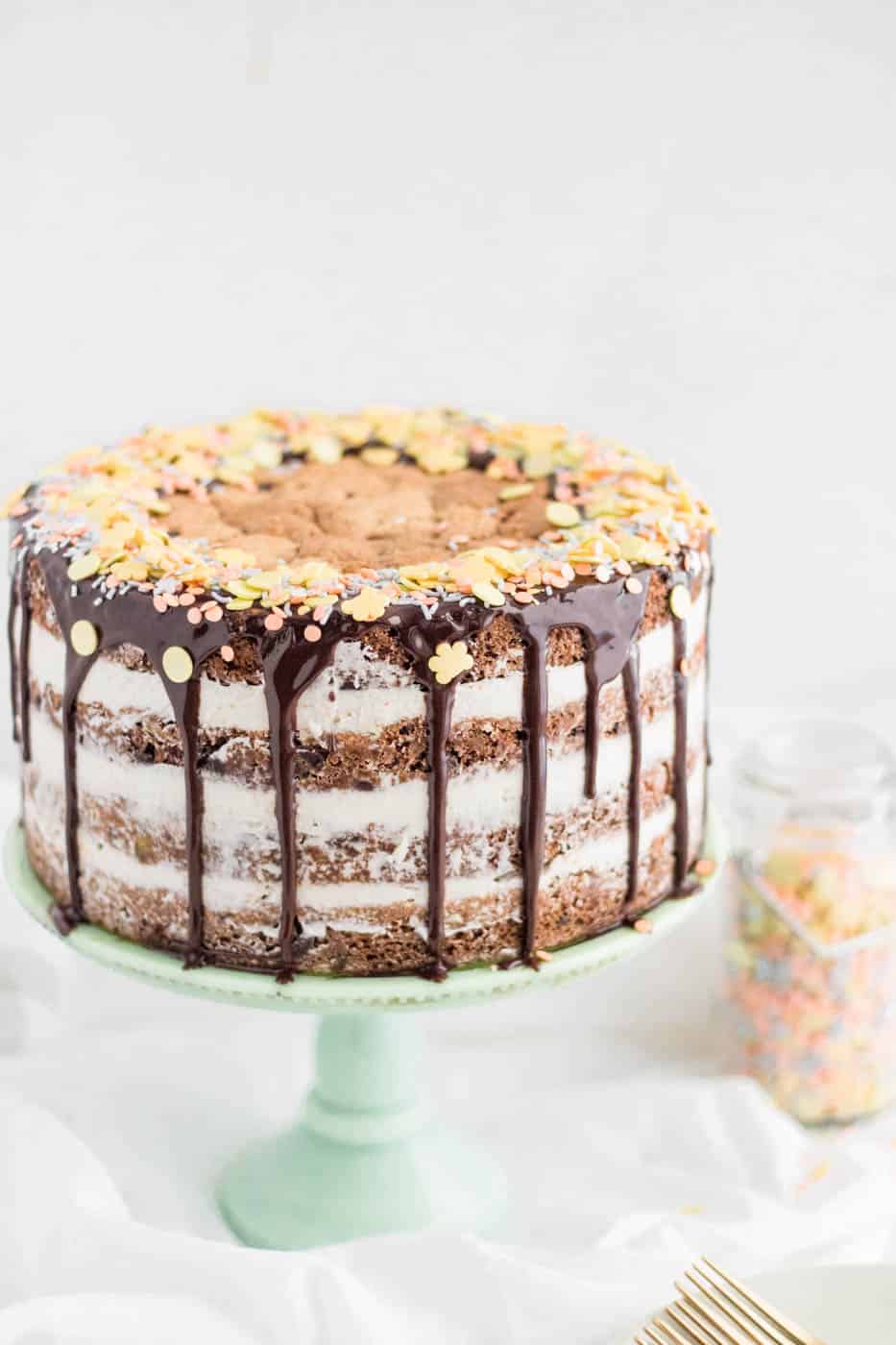 Last year, Emily was in Kindergarten. Everyday, her teacher assigned the class a word, and the kids had to create a sentence using this word.
At the bottom of the sentence, they drew a cute little illustration, just for fun.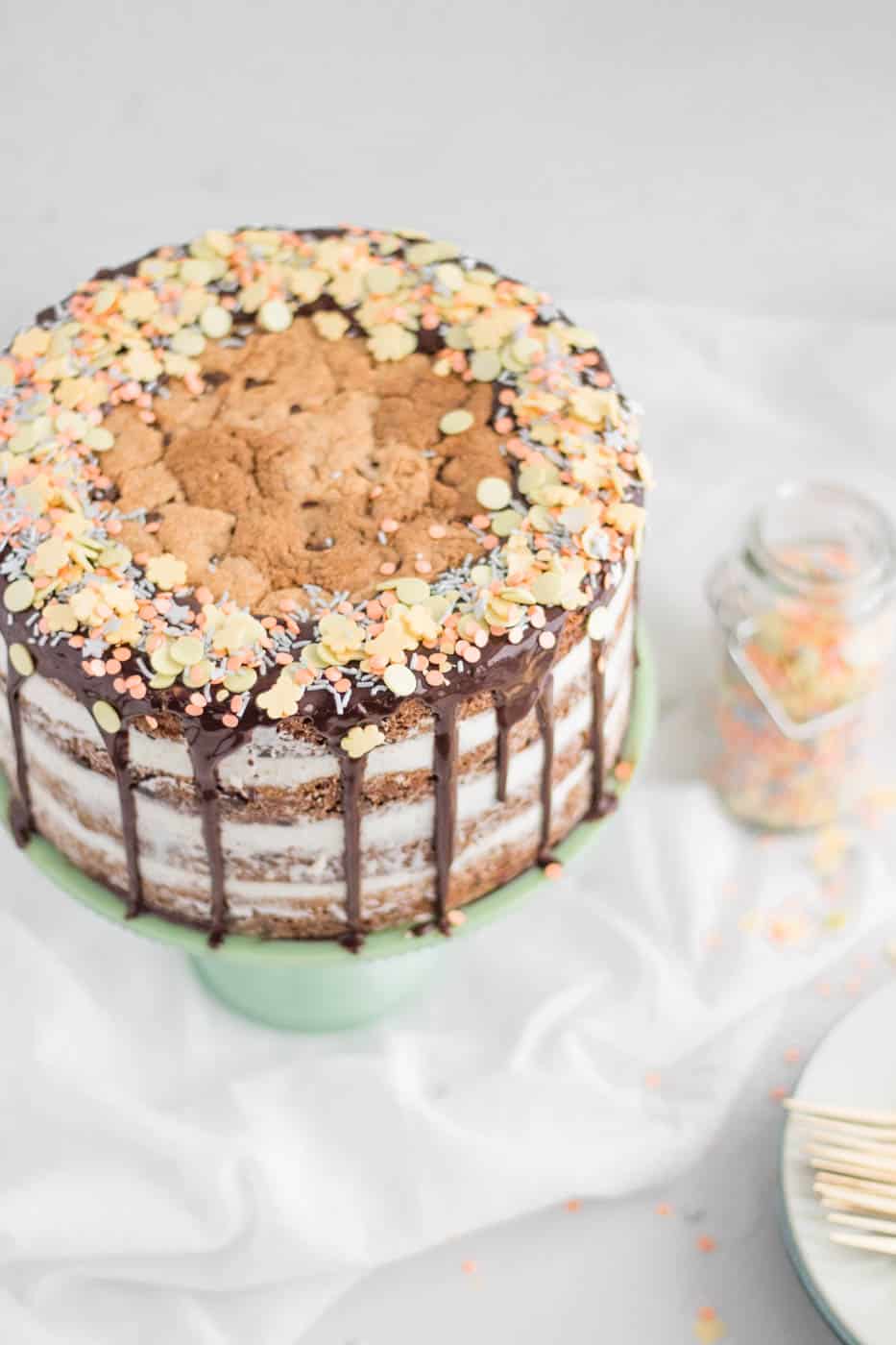 The day they learned the word "NOT", this is what my little monster had to share: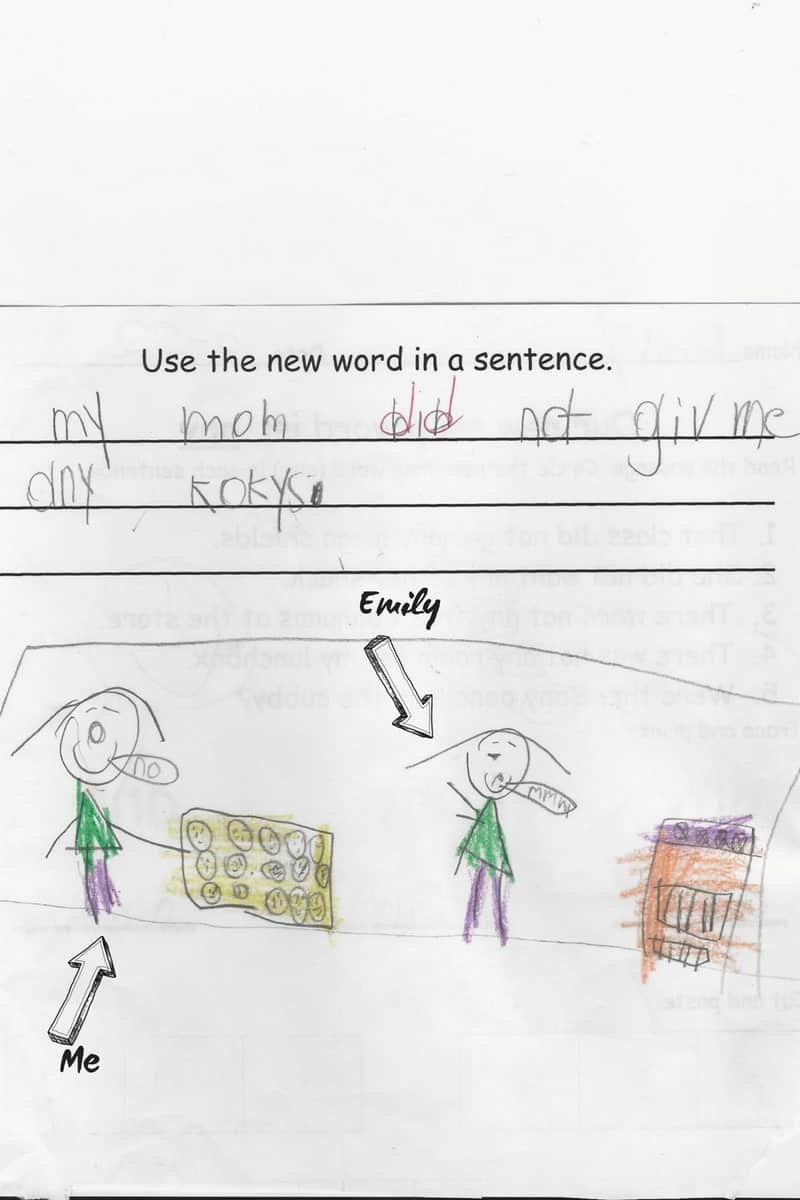 Off course I loved how she drew a tray full of cookies and a cute orange/purple oven to match my clothes. Her smile and the way she is excited for the cookies are adorable.
But my first reaction was: WHEN DID I EVER SAY NO FOR COOKIES????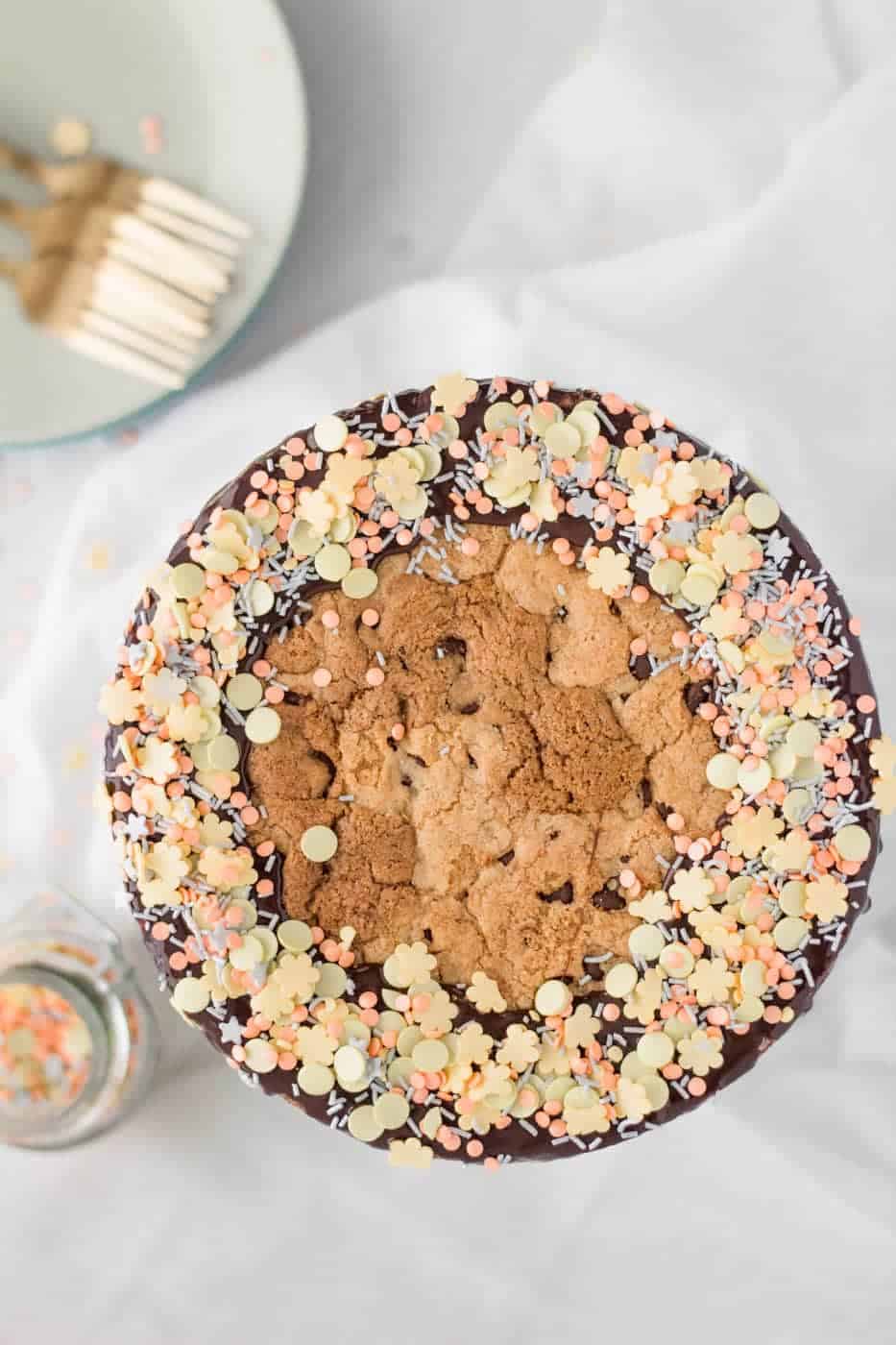 One thing had to be clear! I am the mom that always says yes to cookies (or cakes, donuts, pies, ice cream…), and to make my point I baked this layered cookie cake.
The extended family and friends welcomed it with open mouths.
Emily still, till this day claims I gave her the smallest piece.
Oh well.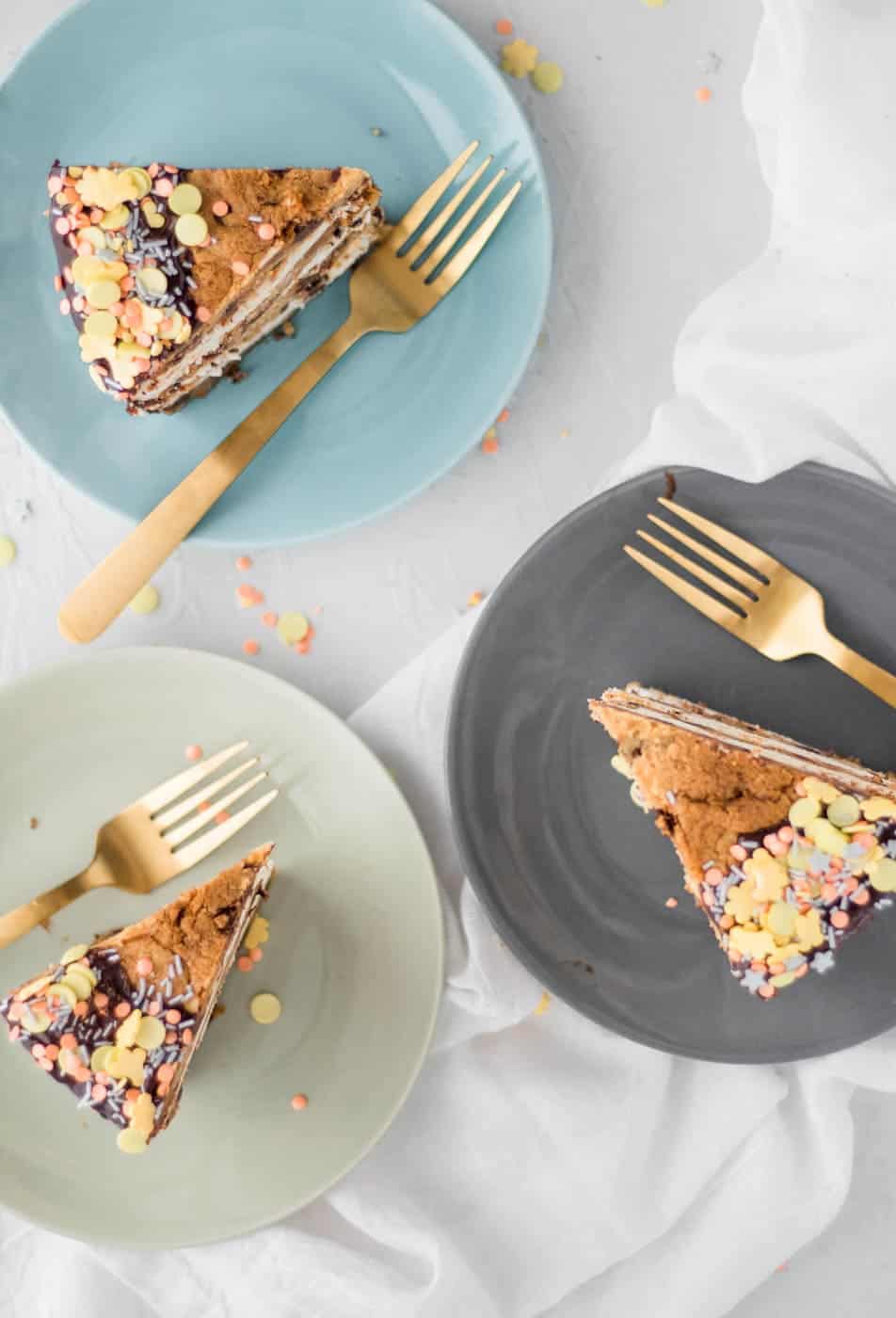 The recipe below is for soft and chewy chocolate chip cookie. You can bake it in pans and have a layered (or one layer) cookie cake. Or you can scoop it on sheet pans and just enjoy it as cookies.
Other notes about the recipe:
You can use your choice of buttercream or fudge. I used this old fashion buttercream recipe (minus the cookie butter).
Allowing the cookie dough to chill for few hours or over night will enhance the flavors,but you can go ahead and bake right away.
When baking the cakes, I recommend ta under bake it by 2-3 minutes. This will allow you to cut the cake easier later on.
When you assemble the cake, if possible use a cake ring to prevent the buttercream from coming from the outside of the edges. If you do not have a ring, go a head and stack the cake on top of your serving plate. Both cases, I recommend the refrigerate and allow the butter cream to harden. Bring to room temperature before serving.
Happy Baking!
Here are some more recipe you might enjoy: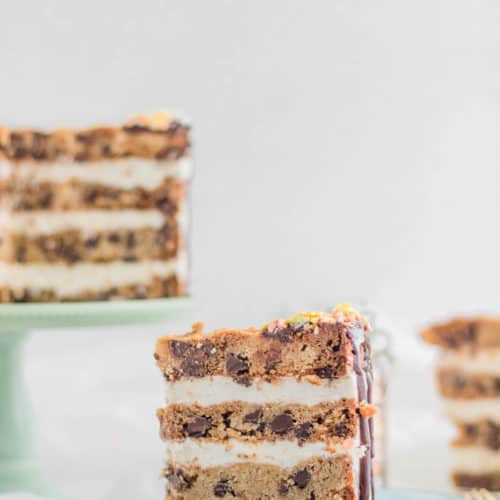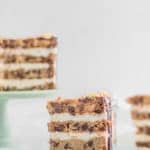 Layered Cookie Cake
Ingredients
2 1/4

Cups

Bread Flour

(270 g/ 9.5 oz)

1

tsp

salt

1

tsp

Baking Soda

1

Cup

Unsalted Butter, melted

(226 g/ 8 oz)

1/4

Cup

White Sugar

(50 g / 1.75 oz)

1 1/4

Cup

Light Brown Sugar

(250 g / 9 oz)

1

Large

Egg

1

Large

Egg Yolk

2

TBS

Milk

1

tsp

Vanilla Extract

2

Cups

Chocolate Chips

(340 g /12 oz)
Filling and Decorating
2

Cups

Your choice of buttercream

1/2

Cup

Semi sweet chocolate chips

(85 g/3 oz)

1/2

Cup

Heavy Cream

1

Cup

Your choice of sprinkles
Instructions
Line 3, 8" (or 4, 6") pans with parchment paper and grease the sides.

In a bowl sift the flour, salt and baking soda. Mix to combine and set a side.

Place the sugars in a bowl of a standing mixer and pour in the melted butter.

Mix on low with the paddle attachment.

Add the egg, egg yolk, milk and vanilla.

Sprinkle in the flour mixture and the chocolate chips and stir just to combine.

Divide the cookie dough into the prepared pans. Chill for few hours or over night.

When ready to bake, place pans in the middle rack and bake for 25 minutes in 340F.

Remove from the oven and allow to cool completely before removing from pans.
To Make the drizzle chcocolate
Place the chocolate chips in a microwave prof bowl pour the heavy cream and heat in the microwave for 45 seconds.

Stir until the chocolate had completely melted.
To Assemble
Place a layer of cookie on a serving plate or in an 8" ring, spread 1 cup of your choice of butter cream. Repeat with the remaining cookie layers.

Using a spoon, drizzle the edge of the top layer with the melted chocolate. Decorate with sprinkles.