Last updated on September 29th, 2023.
This Pear Pie with Pecan Cinnamon Streusel has a thick sweet layer of fruity filling and a crunchy nutty topping that only gets better with a scoop of Tillamook Old Fashioned Vanilla Ice Cream.
This post is sponsored by Tillamook. Thank you for supporting the brands that make One Sarcastic Baker possible.
Having a baking blog is a pretty solid testimony of my love for sweets. And although I truly cherish high quality baked sweets I do not consider myself a "Dessert Snob".
However, I can honestly say that the case is not true when it comes to pies. Tag me with a hashtag. I am 100% a Pie Snob! #IamPieSnob
There is no store-bought crust on my shopping list and it is not ok for a guest to show up with a store-bought pumpkin pie at my Thanksgiving dinner party.
Moreover, I sent a clear message to my guests (in the form of a text) that pie DOES NOT come out of the frozen aisle. It comes out of my oven! So thanks but no thanks. I'll bring the pie. But, you can bring the ice cream. Specifically, Tillamook old Fashion ice cream. Like I said, I am a pie snob. And for me, there is nothing better than a warm sweet pie loaded with high-quality ice cream.
That crunchy crisp bite with a bursting flow of sweet, soft and creamy ice cream is for me, what it is all about.
Tillamook ice cream is the best way to truly upgrade any pie. It is made from only the highest quality ingredients. In short, it means milk from cows not treated with artificial growth hormones, and no high-fructose corn syrup or artificial ingredients.
In conclusion? Tillamook takes ice cream as serious as I take pie.
But let's face it, not everybody has such strict rules when it comes to pie. Nevertheless, Tillamook ice cream is the ultimate pie crown. It just makes it taste better.
Click HERE to find Tillamook at a store near you.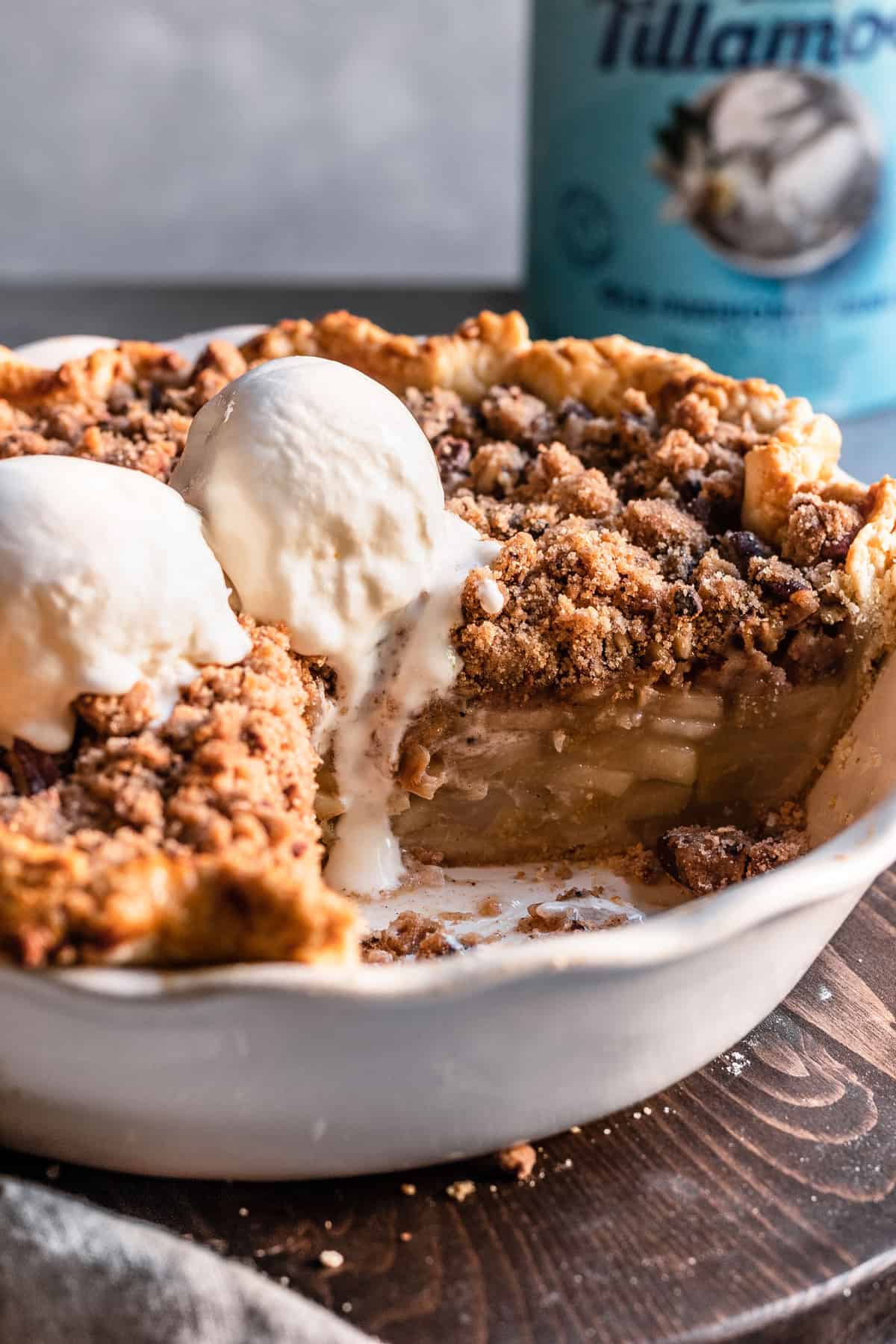 Now Let's Talk About This Pear Pie With Pecan Cinnamon Streusel:
The crust recipe is enough for 1 one 9″ x 2″ pie dish and lattice topping (or crust decorations) or one 9″ deep-dish pie.
For a full tutorial about how to achieve the perfect pie crust, click HERE.
You can use any type of pears, for example, Bosco, Red Anjou or Red Barlett, please make sure the pears are firm.
When making the filling firstly mix the sugar and cornstarch together to avoid the fruit from collapse.
When you brown the butter, you will notice some dark residues. These are the milk solids coming from the butter. Not need to strain, you can use the melted butter as is.
On the other hand, you can skip browning the butter and just use melted butter.
If you have leftover pears, consider making this Pear Frangipane Tart, or this Pear Almond Cake.
HAPPY BAKING!!!
Here are some more recipes you might enjoy:
One more thing…
Don't forget to tag @OneSarcasticBaker on Instagram if you bake this recipe. Would love to see your creations!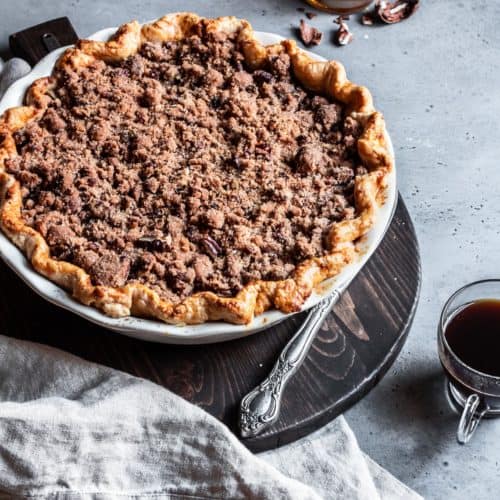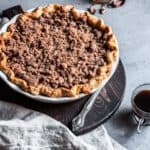 Pearl Pie with pecan streusel
Ingredients
Pie Crust
1 1/2

Sticks

Unsalted butter, cold.

(170 g / 6 oz)

2

Cups

Bleached flour or Pastry flour

(240 g / 8 oz)

1/4

tsp

salt

1/8

tsp

Baking powder

4-6

TBS

Ice Water

1

TBS

Apple cider vinegar
Pear Filling
8

Cups

Pears

(900 g / 32 oz)

1/2

Lemon,

Juiced

1/2

Cup

Sugar

(100 g / 3.5 oz)

5

TBS

Cornstarch
Pecan Cinnamon Streusel
1

Stick

Unsalted butter

1 1/2

Cup

AP Flour

(180 g / 6.5 oz)

1 1/2

Cup

Toasted chopped pecans

(180 g / 6.5 oz)

2

tsp

Ground cinnamon

1/2

tsp

Ground nutmeg

1/3

Cup

Light brown sugar

(70 g / 2.5 oz)

1/3

Cup

Sugar

(70 g / 2.5 oz)
Instructions
Cut the butter into 1/4" cubes and place back in the refrigerator for about 30 minutes.

Sift together the flour, salt, and baking powder and place it in the freezer for about 30 minutes.

Remove flour and butter from the refrigerator and have the ice water and apple cider vinegar ready for use.

Place the flour in a food processor and pulse for about 5 seconds.

Add the butter and pulse for about 10-15 seconds. The butter should resemble a coarse meal.

Drizzle in the water and apple cider vinegar and pulse for about 5-10 seconds, until the butter is the size of small peas.

Place the dough on a clean flat surface and using your hands bring the dough together by pressing it (DO NOT KNEAD!) into a disk.

If you would like to bake a lattice pie, divide the dough into 2/3 and 1/3 and wrap it in plastic wrap.

Let rest in the refrigerator for a minimum of 1 hour or overnight preferably.

When ready to bake, remove dough from the refrigerator. You can allow it to soften for 10 minutes at room temperature or bang it with a rolling pin.

Roll dough into 12"-14" circle (depending on the depth of your dish) and gently line rolled dough in the pie dish.

Create your design to crust edges and place back in the refrigerator while you make the streusel and filling.
Pecan Cinnamon Streusel
Place the butter in a pan and over the stove medium heat. Let melt and cook for additional 7-10 minutes until the butter is brown and has a nutty aroma.

Remove from heat and let cool for 5-10 minutes.

As the butter cools, in a medium bowl mix the remaining ingredients.

Drizzle in the browned butter and use a fork or your fingers to crumble ingredients into your desired texture.
Pear filling
Peel, core and slice the pears into 1/4" slices.

Sprinkle lemon juice and toss for even distribution.

Mix the sugar and cornstarch together, sprinkle mix on pears and toss to distribute.
Assembling and baking the pie
Preheat oven to 400F and place a rack at the lowest shelf of the oven. Line a large cookie sheet with parchment paper.

Remove the pie shell from the refrigerator.

Evenly line pear filling in pie shell and sprinkle with streusel. Brush crust edges with beaten egg.

Place ready to bake pie in the lined cookie sheet and bake for 10 minutes.

Reduce heat to 350F and bake for additional 45-50 minutes or until crust is golden brown and/or you notice some bubbles coming out the streusel.

Remove from oven and allow to cool completely before slicing.