Last updated on August 19th, 2019.
This Cheese Dip Bread is a combination of a soft and fluffy dough loaded with a generous layer of super easy, extremely simple and oh so delicious cheese dip recipe.
This post is sponsored by Tillamook. All thoughts and opinions are my own! Thank you for supporting the brands that help make One Sarcastic Baker possible.
IF YOU HAVE NO BREAD, EAT CAKE. If you have no bread, make some and spread lots and lots of cheese on it.
Let's face it cheese is one of life's greatest joys. Since we all aspire to enjoy life we try to make it as cheesy as possible.
And just like that we've unlocked the secret of happiness.
As simple as that.
Chances are you already have your favorite recipes picks of Cheese Cake, grill cheese, Mac n' cheese and loaded cheesy fries. So let's add one more cheesy recipe to your Pinterest Board.
This Cheese Bread is made of a fluffy and soft dough loaded with a generous layer of super easy, extremely simple and oh so delicious cheese dip recipe.
To make this recipe you only need to gather the ingredients in one bowl, mix and bake. And the best part is that you can use this recipe in so many ways like a dip in a dish and/or a savory pie filling.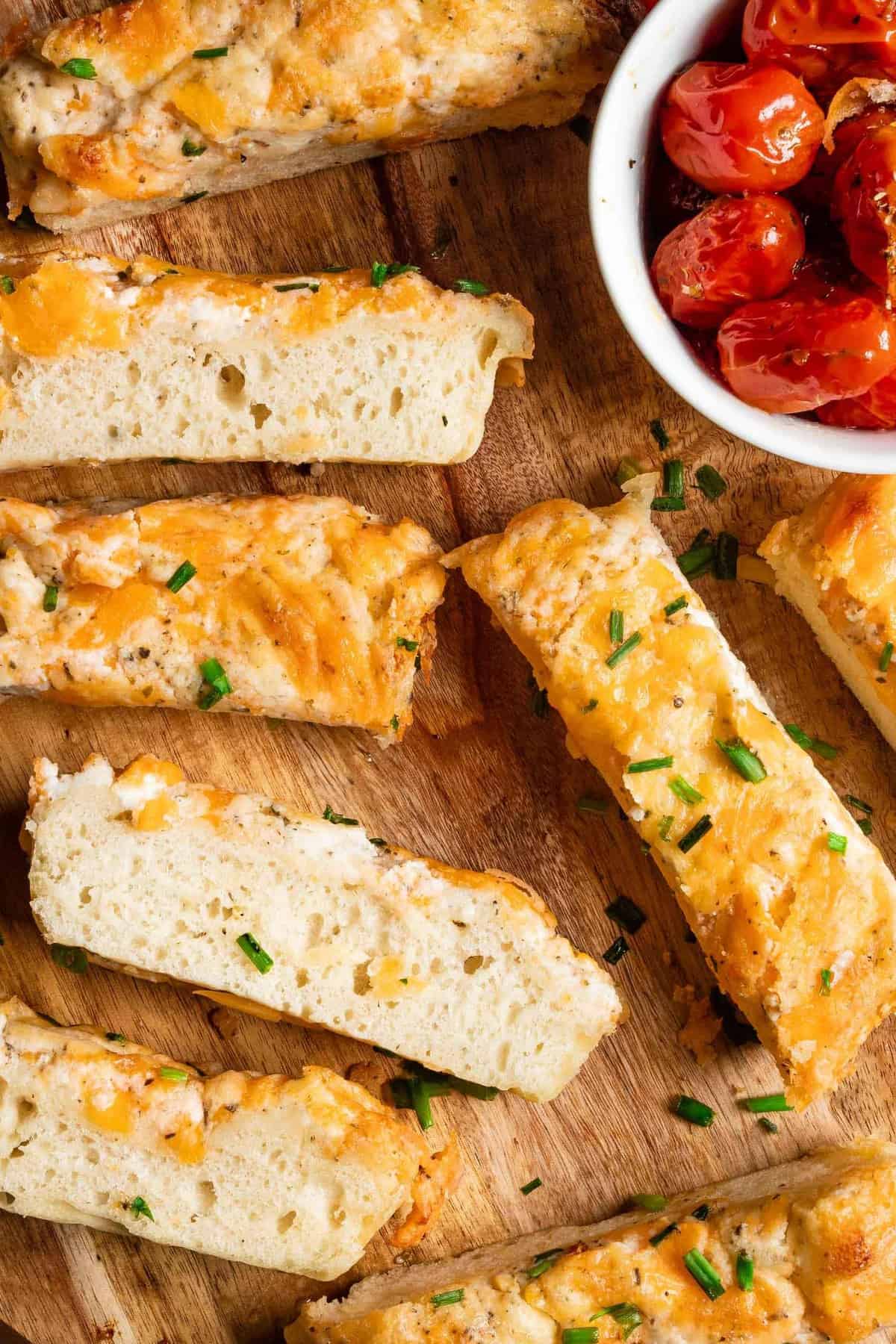 What makes this dip SO DELICIOUS is Tillamook Cheddar cheese. Tillamook cheese is creamy, flavorful and above all it is made in the USA!
First time I tried Tillamook's Cheese and AMAZING Ice cream (Strawberry is my fav!) was about a year ago when I visited Seattle. I figured it's yet another exclusive West Coast product.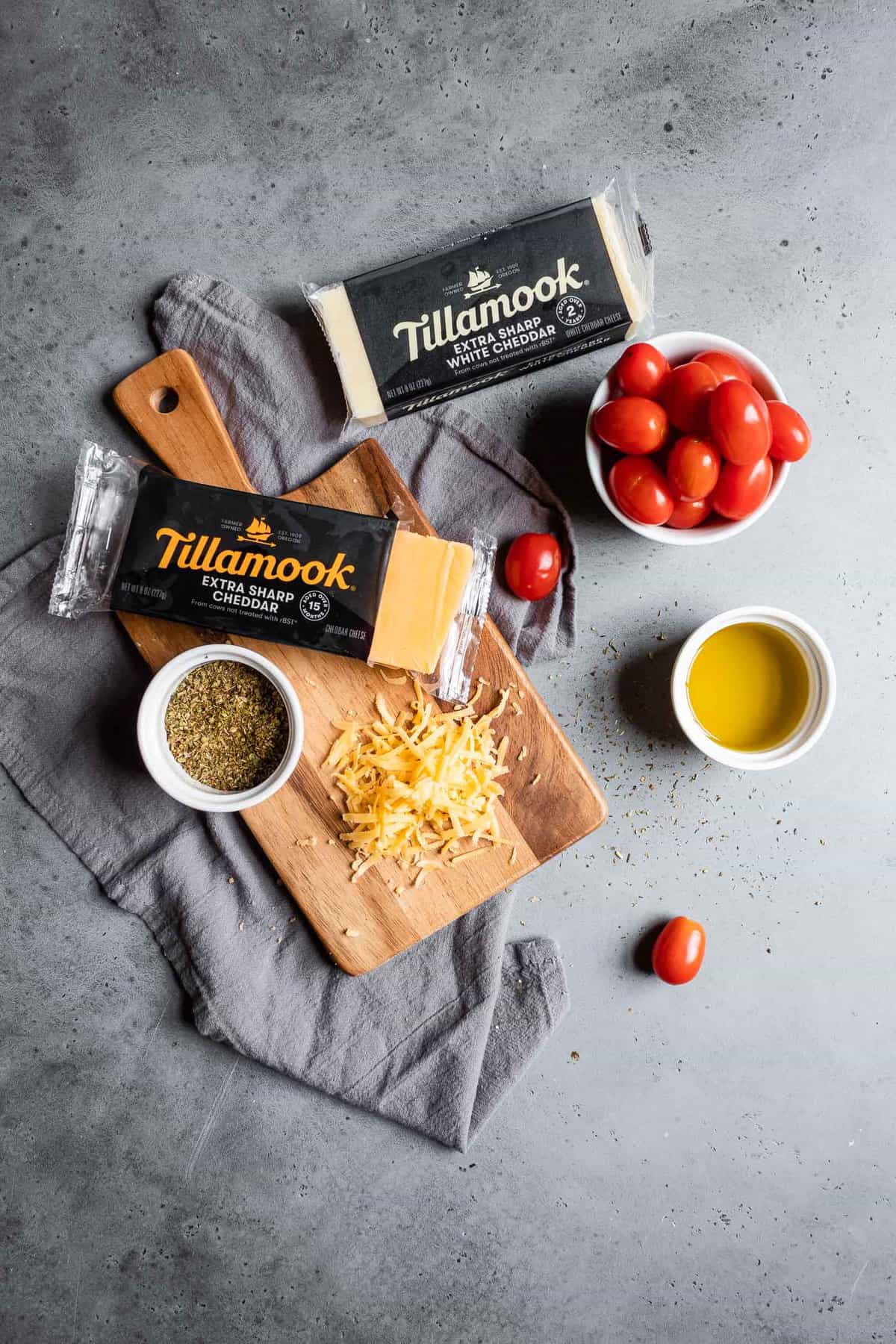 Well, no more. Tillamook Cheese and Ice Cream is now available in Charlotte NC and the East Coast. To celebrate this moment, Tillamook partnered with some of Charlotte's most renowned Chefs like Joe Kindred, and Eliott Moss for a one night event at Hello Sailor NC.
Click HERE to find a local store near you!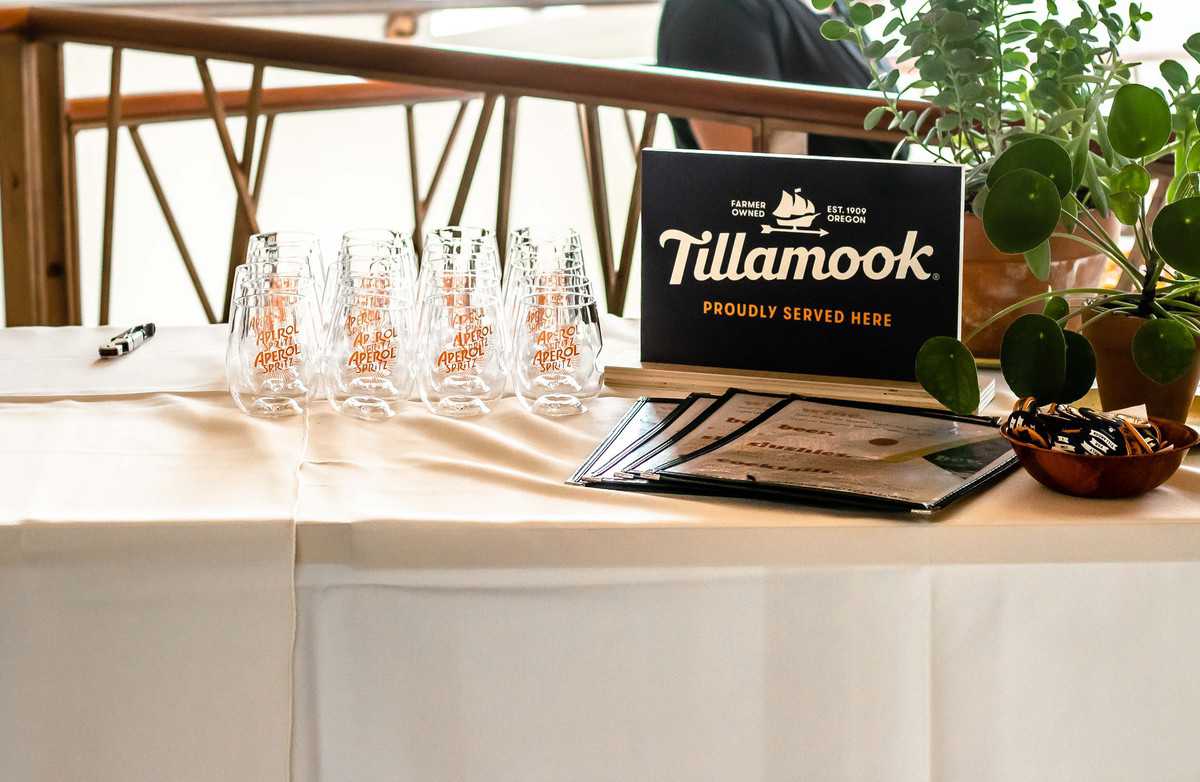 And just like their cheese this event was phenomenal.
Proudly dressed for the occasion, the Tillamook staff kindly and with a smile filled our minds and souls with the most amazing cheese dishes.
Chunks of Cheddar cheese paired with the right meat, cheesy tomato pie, cheese croquets, marinaded Colby Jack with bread crumbs and sardines, and SO MUCH MORE. This was truly one of a kind event.
And since you could not attend this event, I teamed with Tillamook and brought a piece of it TO YOU. This recipe is inspired by Joe Kindred's Cheesy Crab Dip Recipe from Hello Sailor.
Now Lets Talk About This Cheese Dip Bread Recipe:
THE CHEESE DIP
Like mentioned above, to make the dip recipe, you will only need to mix the ingredients together. In order to avoid having any lumps use a hand mixer to smooth the cream cheese as first step.
In addition, you can bake this dip in a ceramic dish until the top is golden and serve it warm with pita chips or crackers.
This recipe is great to be used as a filling for tarts, fillo cups or even puff pastry. To do that, add 2 eggs to the recipe.
Freeze what ever left overs you have in an air tight container up to 3 months.
THE DOUGH
You can skip the dough part and just use your choice of a store bought bread. For example: Crusty Italian bread, baguette or French loaf.
A standing mixer fitted with the dough hook can be used to bake this dough.
This recipe yield 4 8″ pans 2 cookie sheet pans pr 3 8″x8″ pans.
To minimize the dough from sprigging back during the assemble, let it rest for about 10-15 minutes after diving it.
Please note that the dough will puff and rise and the cheese will melt and spread during baking. So make sure the baking pan's edges are high enough to avoid any spilling.
Place an empty cookie sheet lined with parchment paper under the bread pan to catch any spills during baking.
This dough recipe is great for Pizza. Just spread some marinara sauce and sprinkle with Tillamook Mozzarella cheese.
HAPPY BAKING!!!
Here are some more fun recipes you might enjoy:
One more thing…
Don't forget to tag @OneSarcasticBaker on Instagram if you bake this recipe. Would love to see your creations!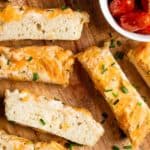 Cheesy Dip Bread
Delicous, easy and simple cheese dip
Servings
4
8″x2″ Bread pans
Ingredients
For the Cheese Filling
1

pkg

Cream cheese

(224 g / 8 oz)

2

Cup

Cottage Cheese

(454 g / 16 oz)

4

TBS

Parmesan Cheese

2

Cups

Shredded Tillamook Chedder Cheese

(224 g / 8 oz)

2

tsp

Dried Sage

1

tsp

Dried Oregano
For the Dough
1 3/4

Cup

Warm Water

(420 ml / 14 oz)

1

TBS

Sugar

1

TBS

Active dry yeast

6

Cups

AP Flour

(720 g / 26 oz)

1/4

Cup

Olive Oil

1

TBS

Salt
Instructions
To make the Cheese Filling
In a Large bowl place the cream cheese and beat using a hand mixer.

Add the rest of the ingridients and mix with a large spoon (or your hands) to completely incorporate. Set aside.
To make the Dough
Pour the water in a mixing bowl and add the sugar and yeast. Gently mix and let sit for 10-15 minutes. Until the yeast are active.

Add the first cup pf flour followed by the oil and salt.

Add another 4 1/2 cups of flour, mixing with a wooden spoon until the dough comes away from the sides of the bowl and comes together.

On a clean and flat surface, sprinkle the last 1/2 cup of flour. Place the dough and knead it until is begins to feel like it is coming together (5-7 minutes). If needed add just enough flour to keep the dough from sticking to the surface.

Let the dought rest for about 5 minutes then continue kneading until it feels smooth and springy.

Place the dough in a clean bowl and lightly grease the top with oil spray/oil.

Cover with plastic wrap and allow to rise for 3-4 hours.
To Assemble and Bake
Lighlty flour your work surface and place the dough on top.

Divide the dough into the amount of pieces you wishes to bake. (see notes)

Press each piece into a flat disk using the palms of your hands and let rest for 10-15 minutes. This will help the dough from bouncing back when you shape it.

Line your baking pan with parchment paper. Place a piece of dough in the center of the pan and spread the dough from the center out until the pan is completely lined with dough.

Brush the rolled dough with olive oil then top it with cheese filling. Evenly spread the filling.

Bake for 25-30 minutes or until the spread is golden color.

remove from the oven and allow 5-10 minutes to set a bit before slicing.