Almond Mandel Bread cookies are both tender and crisp at the same time. Full of flavor and perfect for afternoon treat.
Congratulation, you just learned your first Yiddish word. Now say Oh-Vey and you are practically a member of the family.
You probably have Biscoti in mind and you are right to do so. While both have the same baking method, Mondelbrot has a higher oil content. Which makes it a bit more tender.
I want to say go a head and call it Biscoti, but this cookie has a very protective family that makes sure its name stays in the family.
Trust me I know from experience. Moving to the states from Israel, it was a big surprise to learn that there is such think as "Jewish" cuisine, back at home we just call it food.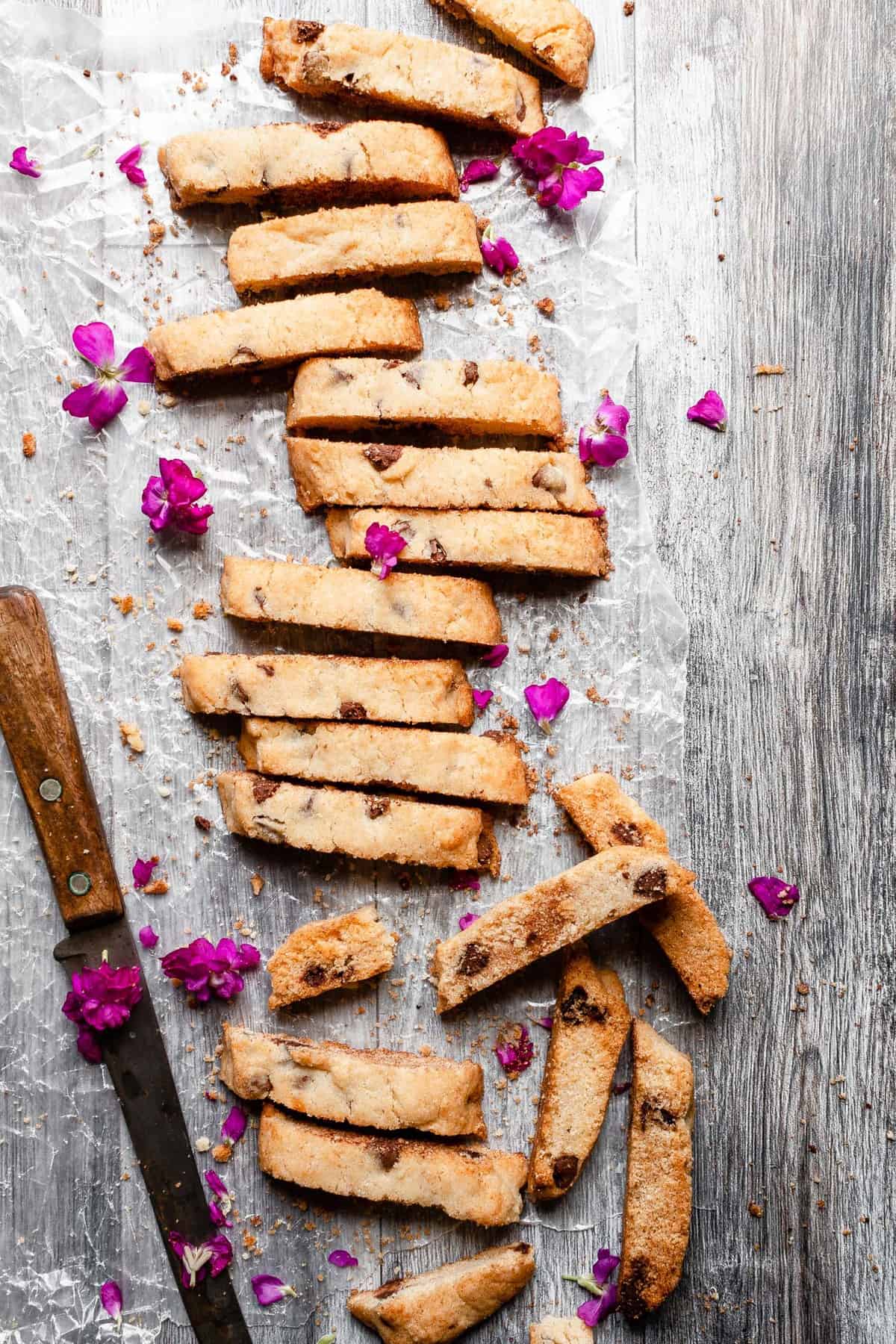 So Call this cookie a biscotti and some nice Jewish aunt will pop up out of nowhere and will correct you: "MANDELBROT! Not "Biscoti!".
Don't stress, she comes barring goodies!
Now Lets Talk About This Mandel Bread Recipe:
The below recipe is for Almond Mandel Bread, which is the most traditional flavor. However, feel free to drop the almond extract, omit the almonds with Chocolate chips and after that, sprinkle the cookies with some cinnamon sugar right before the second bake.
If you find that the dough is too sticky to shape, wash your hands and shake but do not dry. Your wet and hand will smooth the sticky dough.
The first bake should take about 30 minutes and the loafs should have a light golden color but should not be baked all the way. However, 15-20 minutes into the first bake check and make sure the bottom of the loaf is not turning too dark. If it does, place an additional cookie sheet under.
When slicing the cookies be very careful since the dough is still warm and a bit crumbly. Because of that, use the knife you are slicing with to lift and turn.
Another tip is if needed use an additional cookie sheet to spread the cut cookies for the second bake.
After baked and cooled, the cookie should be crumbly from the inside out. If it seems like it is still soft in the the middle after cooled, it possibly needs an additional 4-6 minutes of baking time.
HAPPY BAKING!!!
Here are some more recipes you might like:
One more thing…
Don't forget to tag @OneSarcasticBaker on Instagram if you bake this recipe. Would love to see your creations!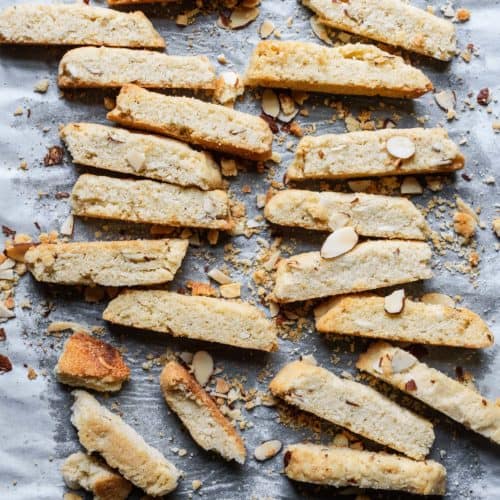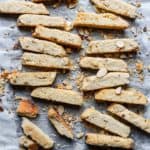 Almond Mandel bread
Ingredients
3/4

Cup

Sugar

(150 g /5.5 oz)

1

Cup

Oil

(200 g / 7 oz)

3

Large

Eggs

2

tsp

Almond Extract

Skip if baking choclate chip mandel bread

3

Cups

AP flour

(360 g/ 13 oz)

2

tsp

Baking Powder

3/4

Cup

Slivered Almonds / chocolate chips

(85 g/ 3 oz)

1

Large

Egg White for brushing (optional)

Only for Almond Mandel Bread

1/2

Cup

Almonds (for topping, optional)

(55 g/ 2 oz)

2

TBS

Cinnamon Sugar

For chocolate chips cookies but can be used for both.
Instructions
Preheat oven to 350F and line a baking sheet with parchment paper.

Place the sugar in a bowl of a standing mixer and pour in the oil. Mix on medium speed.

Once the oil and sugar have been mostly combined add eggs and almond extract.

Add the flour and sliced almonds and let mix just until a dough is formed. Turn mixer off.

Divide the dough in two and shape each part into a log.

Brush the top of each log with the egg white and sprinkle the sliced Almonds on top. (optional)

Bake 25-30 minutes and remove from the oven, allow to cool for 10 minutes.

After 10 minutes slice each loaf into about 12-15, 1" slices and lay each slice lying flat on the side. (if baking chocolate chips, this sprinkle with cinnamon sugar)

Return to oven and bake for 12 minutes. After 12 minutes remove and turn cookies the oppotise side. Bake for 12 more minutes. (if baking chocolate chips, this sprinkle with cinnamon sugar

Remove from the oven and let cool.