Last updated on May 7th, 2021.
These Giant Chocolate Chip Cookies are beautifully wrinkled with a crispy edges and a chewy center. This cookie will need an extra cup of milk!
Chocolate Chip Cookies. Three simple words that when spoken deliver so much joy, you can't help but smile and sniff the air.
There are so many great recipes out there and not only that, each claims to be the best. Now, reading about someone's best/favorite cookie is a completely different thing then adopting it to heart and actually saying it. So I decided to find MY favorite chocolate chip cookie recipe.
I can't say it was mission impossible, but definitely more in the area of The Never Ending Story. Many chapters have been written, there are many more to be added. The journey is long and only the bravest of us will dare to walk it! (talking about first world problems…)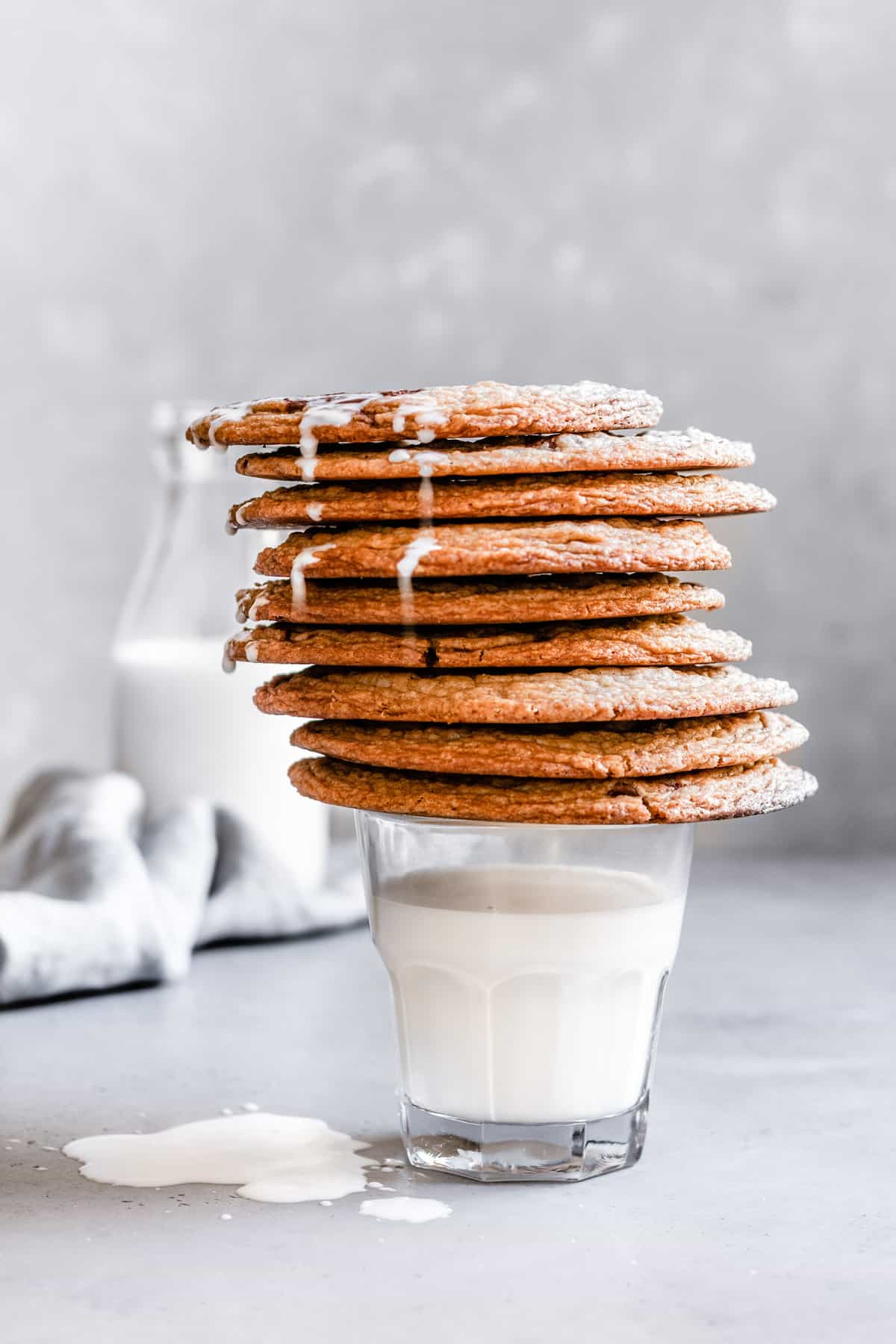 What I am trying to say is that throughout my journey I discovered the pan bang method and I am obsessed!!!
Just incase you haven't heard, the pan bang method was kindly shared with us by Sarah Kieffer. Basically she decided to lift and bang the cookie pan halfway through baking time. Just when the cookies are all puffy and unset. The bang creates beautiful raffles at the edges of the cookies.
And the result is a giant, chewy and beautifully wrinkled cookie with crispy edges and a soft center. Seriously, this method gives the French Macaron a run for its money. With extra credit since it is SO MUCH easier to make.
Now Let's Talk About this Giant Chocolate Chip Cookies Recipe:
Very important not to overbeat the cookie dough once you mix in the flour. Over mixing will create strong gluten threads and the cookies will not spread.
Please note that if you use the melted butter while it is still warm it might make the dough seem "runny". Don't worry about that, give it 5-10 minutes to settle. Or even place it in the refrigerator for 5-10 minutes.
The recipe calls to freeze the shaped cookie dough for about 10-15 minutes before baking. I baked it with and without freezing and liked both results so I highly recommend you do the same.
If you do decide to freeze, freeze 4 cookies at a time. Place one batch in the freezer while the one before is baking. (Bake 4, freeze 4, shape 4).
Make sure to leave plenty of space between each pre-baked cookie. I was extra careful and baked 3 cookies at a time. (each cookie is about 8″)
When I use chocolate wafers in the dough, I like to measure the dough into 100g (instead of 85g). I guess wafers weigh more and take more space than chocolate chip and as a result, there is less dough to spread.
The cookies are ready when the sides are brown and the center is much lighter.
HAPPY BAKING!!!
Here are some more cookies recipes you might enjoy:
One more thing…
Don't forget to tag @OneSarcasticBaker on Instagram if you bake this recipe. Would love to see your creations!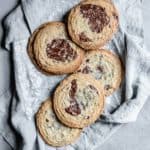 Giant Chocolate Chip Cookies
Servings
12
Large Cookies
Ingredients
2 1/4

Cups

AP Flour

(270 g / 9.5 oz)

1

tsp

Salt

1

tsp

Baking Soda

1

Cup

Unsalted Butter, melted

(226 g / 8 oz)

1/4

Cup

Sugar

(50 g / 2 oz)

1 1/4

Cup

Light brown sugar

(250 g / 9 oz)

1

Large

Egg

1

Large

Egg Yolk

2

TBS

Milk

1

tsp

Vanilla Extract

2

Cups

Chocolate Chips

(340 g / 12 oz)
Instructions
Preheat oven to 350F. Line 2-3 cookie sheets with baking paper.

In a bowl sift flour, salt and baking soda. Mix to combine and set a side.

Place the sugars in a bowl of a standing mixer and pour in the melted butter.

Mix on low with the paddle attachment.

Add the egg, egg yolk, milk and vanilla. 

Sprinkle in the flour mixture and the chocolate chips and stir just to combine.

Shape the dough into 85g / 3 oz balls. Let the shaped cookie dough rest in the freezer for 10-15 minutes.

Remove from the freezer and place 3-4 cookies in a pan.

Bake for 8 minutes, until the cookies have spread and the center is puffy. Open the oven door, lift the pan about 4" and bang in against the oven rack. Close the oven door and bake for 2 minutes and then bang again.

Repeat baning the pan for about 2-3 more times. Each bang will creat raffles at the edges of the cookies. The cookies needs about 14-16 minutes baking time total.

Remove from the oven and allow the cookies to set for about 5 minutes before placing on a cooking rack.